Zusammenfassung
Die Schulter ist das am häufigsten luxierte große Gelenk. Traumatische anteriore Schulterluxationen (TAS) kommen sehr oft vor. In den USA wird von einer Inzidenz von 23,9 pro 100.000 Personen pro Jahr berichtet – Häufigkeit zunehmend. Mehr als 90 % der traumatischen Luxationen treten in anterior-inferiorer Richtung auf. In der vorliegenden umfassenden Übersichtsarbeit wird anhand von 26 systematischen Reviews, Metaanalysen und weiteren Primärstudien über den aktuellen Stand in der wissenschaftlichen Literatur berichtet. Dabei werden die Risikofaktoren, Diagnostik und Erstbehandlung sowie die Komplikationen der traumatischen anterioren Erstluxation diskutiert. Hinsichtlich der Behandlung werden unterschiedliche operative und konservative Verfahren sowie prädisponierende Faktoren zur Reluxation erörtert. Schließlich werden Hinweise über ein Rehabilitationsprogramm und Fakten zur Wiederaufnahme des Sports und zur Wiederaufnahme von Einsätzen im Wettkampf ("return to sport" und "return to play") gegeben.
Abstract
The shoulder is the most frequently dislocated large joint. Traumatic anterior shoulder dislocations (TAS) are very common. In the USA, an incidence of 23.9 per 100,000 individuals per year is reported, frequency increasing. More than 90% of traumatic dislocations occur in the anterior–inferior direction. This scoping review reports on the current status of the scientific literature based on 26 systematic reviews, meta-analysis, and other primary studies. Risk factors, diagnosis, initial treatment, and complications of traumatic anterior first dislocation are discussed. With regard to treatment, different surgical and conservative procedures as well as factors predisposing to reluxation are presented. Finally, information about a rehabilitation program and facts about return to sport and return to play are given.
Access options
Buy single article
Instant access to the full article PDF.
US$ 39.95
Tax calculation will be finalised during checkout.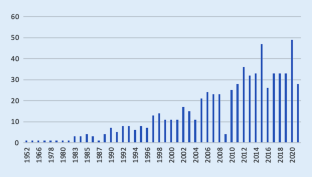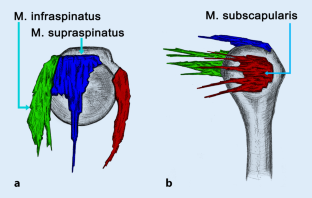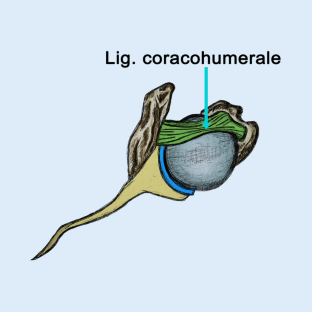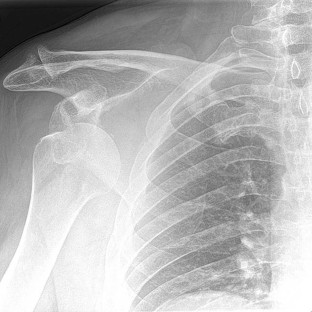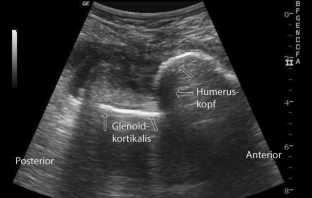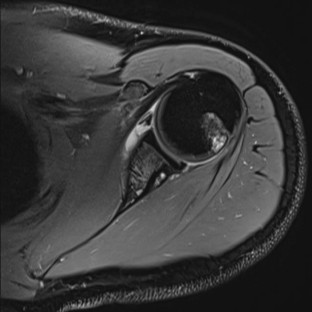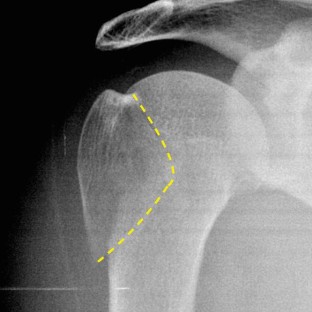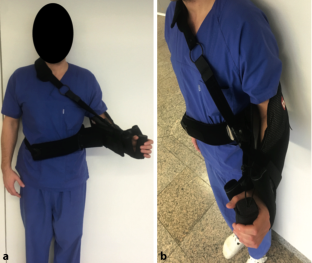 Notes
1.

1954 entwickelt und nach ihrem Erstbeschreiber Michel Latarjet (Lyon, Frankreich) benannt.
Abbreviations
95%-KI:

95%-Konfidenzintervall

OR:

Odds Ratio

RCT:

Randomisierte kontrollierte Studie

RR:

Risk Ratio

SMD:

Standardisierte mittlere Differenz

TAS:

Traumatische anteriore Schulterluxation
Literatur
1.

Aydin N, Enes Kayaalp M, Asansu M, Karaismailoglu B (2019) Treatment options for locked posterior shoulder dislocations and clinical outcomes. EFORT Open Rev 4(5):194–200

2.

Hasebroock AW, Brinkman J, Foster L, Bowens JP (2019) Management of primary anterior shoulder dislocations: a narrative review. Sports Med - Open 5(1):31

3.

Kavaja L, Lähdeoja T, Malmivaara A, Paavola M (2018) Treatment after traumatic shoulder dislocation: a systematic review with a network meta-analysis. Br J Sports Med 52(23):1498–1506

4.

Chahal J et al (2012) Anatomic Bankart repair compared with nonoperative treatment and/or arthroscopic lavage for first-time traumatic shoulder dislocation. Arthroscopy 28(4):565–575

5.

Hohmann E, Tetsworth K, Glatt V (2017) Open versus arthroscopic surgical treatment for anterior shoulder dislocation: a comparative systematic review and meta-analysis over the past 20 years. J Shoulder Elbow Surg 26(10):1873–1880

6.

Hazmy CHW, Parwathi A (2005) The epidemiology of shoulder dislocation in a state-hospital: a review of 106 cases. Med J Malaysia 60:17–21

7.

Handoll HH, Al-Maiyah MA (2004) Surgical versus non-surgical treatment for acute anterior shoulder dislocation. Cochrane Database Syst Rev 1:CD4325

8.

Leroux T et al (2015) The epidemiology of primary anterior shoulder dislocations in patients aged 10 to 16 years. Am J Sports Med 43(9):2111–2117

9.

Olds M, Donaldson K, Ellis R, Kersten P (2016) In children 18 years and under, what promotes recurrent shoulder instability after traumatic anterior shoulder dislocation? A systematic review and meta-analysis of risk factors. Br J Sports Med 50(18):1135–1141

10.

US National Library of Medicine National Institutes of Health (2021) National center for biotechnology information

11.

Nyland JA, Caborn DNM, Johnson DL (1998) The human glenohumeral joint. Knee Surg Sports Traumatol Arthrosc 6(1):50–61

12.

Adam M, Attia AK, Alhammoud A, Aldahamsheh O, Al Ateeq Al Dosari M, Ahmed G (2018) Arthroscopic Bankart repair for the acute anterior shoulder dislocation: systematic review and meta-analysis. Int Orthop 42(10):2413–2422

13.

Bain GI et al (2019) Shoulder crane: a concept of suspension, stability, control and motion. J ISAKOS 4(2):63–70

14.

Cyprien JM, Vasey HM, Burdet A, Bonvin JC, Kritsikis N, Vuagnat P (1983) Humeral retrotorsion and glenohumeral relationship in the normal shoulder and in recurrent anterior dislocation (scapulometry). Clin Orthop Relat Res 175:8–17

15.

Eichinger JK, Massimini DF, Kim J, Higgins LD (2016) Biomechanical evaluation of glenoid version and dislocation direction on the influence of anterior shoulder instability and development of Hill-Sachs lesions. Am J Sports Med 44(11):2792–2799

16.

Heitmann M, Frosch K, Wittner B (2017) Schultergelenk Erstluxation Unfallchirurgische Leitlinien für Diagnostik und Therapie, S 1–26 (AWMF-Leitlinien, no. 012)

17.

Hogan C, Corbett J‑A, Ashton S, Perraton L, Frame R, Dakic J (2021) Scapular dyskinesis is not an isolated risk factor for shoulder injury in athletes: a systematic review and meta-analysis. Am J Sports Med 49(10):2843–2853

18.

Sheehan SE, Gaviola G, Gordon R, Sacks A, Shi LL, Smith SE (2013) Traumatic shoulder injuries: a force mechanism analysis—glenohumeral dislocation and instability. AJR Am J Roentgenol 201(2):378–393

19.

Fennelly JT, Gourbault L, Neal-Smith G, Pradhan A, Gade V, Baxter JA (2020) A systematic review of pre-hospital shoulder reduction techniques for anterior shoulder dislocation and the effect on patient return to function. Chin J Traumatol 23(5):295–301

20.

Braun C, McRobert CJ (2019) Conservative management following closed reduction of traumatic anterior dislocation of the shoulder. Cochrane Database Syst Rev. https://doi.org/10.1002/14651858.cd004962.pub4

21.

Bokor-Billmann T, Lapshyn H, Kiffner E, Goos MF, Hopt UT, Billmann FG (2015) Reduction of acute shoulder dislocations in a remote environment: a prospective multicenter observational study. Wilderness Environ Med 26(3):395–400

22.

Longo UG, Loppini M, Rizzello G, Ciuffreda M, Maffulli N, Denaro V (2014) Latarjet, Bristow, and Eden-Hybinette procedures for anterior shoulder dislocation: systematic review and quantitative synthesis of the literature. Arthroscopy 30(9):1184–1211

23.

Imam MA et al (2021) Bankart repair versus Latarjet procedure for recurrent anterior shoulder instability: a systematic review and meta-analysis of 3275 shoulders. Am J Sports Med 49(7):1945–1953. https://doi.org/10.1177/0363546520962082

24.

Whelan DB, Kletke SN, Schemitsch G, Chahal J (2016) Immobilization in external rotation versus internal rotation after primary anterior shoulder dislocation: a meta-analysis of randomized controlled trials. Am J Sports Med 44(2):521–532

25.

Williams HLM, Evans JP, Furness ND, Smith CD (2019) It's not all about redislocation: a systematic review of complications after anterior shoulder stabilization surgery. Am J Sports Med 47(13):3277–3283

26.

Itoi E et al (2007) Immobilization in external rotation after shoulder dislocation reduces the risk of recurrence. J Bone Joint Surg Am 89(10):2124–2131

27.

Jordan RW, Saithna A, Old J, MacDonald P (2015) Does external rotation bracing for anterior shoulder dislocation actually result in reduction of the labrum? A systematic review. Am J Sports Med 43(9):2328–2333

28.

Minkus M et al (2021) Immobilization in external rotation and abduction versus arthroscopic stabilization after first-time anterior shoulder dislocation: a multicenter randomized controlled trial. Am J Sports Med 49(4):857–865

29.

Gaballah A, Zeyada M, Elgeidi A, Bressel E (2017) Six-week physical rehabilitation protocol for anterior shoulder dislocation in athletes. J Exerc Rehabil 13(3):353–358

30.

Lloyd G, Day J, Lu J, Lincoln A, Attanasio S, Svoboda S (2021) Postoperative rehabilitation of anterior glenohumeral joint instability surgery: a systematic review. Sports Med Arthrosc 29(2):54–62

31.

Olds M, Ellis R, Donaldson K, Parmar P, Kersten P (2015) Risk factors which predispose first-time traumatic anterior shoulder dislocations to recurrent instability in adults: a systematic review and meta-analysis. Br J Sports Med 49(14):913–922

32.

Wieser K et al (2020) Nonoperative treatment of anterior glenoid rim fractures after first-time traumatic anterior shoulder dislocation. JBS Open Access 5(4):e20.00133

33.

Chapus V, Rochcongar G, Pineau V, Salle de Chou É, Hulet C (2015) Ten-year follow-up of acute arthroscopic Bankart repair for initial anterior shoulder dislocation in young patients. Orthop Traumatol Surg Res 101(8):889–893

34.

Park J‑Y, Lee J‑H, Oh K‑S, Chung SW, Lim J, Noh YM (2019) Return to play after arthroscopic treatment for shoulder instability in elite and professional baseball players. J Shoulder Elbow Surg 28(1):77–81
Funding
Dieser Artikel entstand ohne finanzielle Unterstützung.
Ethics declarations
Interessenkonflikt
B. Reichert gibt an, dass kein Interessenkonflikt besteht.
Für diesen Beitrag wurden von den Autoren keine Studien an Menschen oder Tieren durchgeführt. Für die aufgeführten Studien gelten die jeweils dort angegebenen ethischen Richtlinien.
Additional information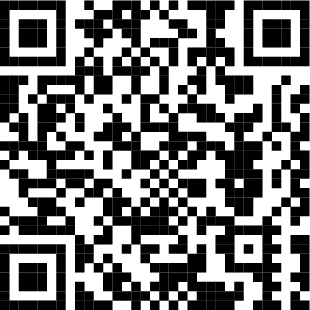 QR-Code scannen & Beitrag online lesen
About this article
Cite this article
Reichert, B. Traumatische anteriore Schulterluxation – aktuelles Forschungswissen. Manuelle Medizin (2021). https://doi.org/10.1007/s00337-021-00833-3
Schlüsselwörter
Schulterverletzungen

Rehabilitation

Schultergelenk

Bankart-Läsionen

Rezidiv
Keywords
Shoulder injuries

Rehabilitation

Shoulder joint

Bankart lesions

Recurrence