Zusammenfassung
Nach einem Sturzereignis bestand bei einer 59-jährige Patientin eine linksseitige vordere und hintere Atlasbogenfraktur mit knöchernem Ausriss des Lig. transversum atlantis Typ Gehweiler 3b/Dickmann II und verhakter Subluxation der linken Massa lateralis des Atlas gegenüber dem Axis. Therapeutisch erfolgte als Alternative zur offenen operativen Versorgung die geschlossene Reposition der verhakten Subluxation in Rückenlage mithilfe einer manuellen Technik nach linksseitigem Öffnen des kraniozervikalen Segments. Der Repositionserfolg wurde mittels Scan verifiziert, es folgte eine singuläre, perkutane linksseitige Schraubenosteosynthese des Atlas von dorsal nach ventral. Verwendet wurde ein kanüliertes Titanimplantat, dessen Einsetzen durch den Durchleuchtungsroboter navigiert und verifiziert wurde. In der routinemäßigen computertomographischen Kontrolle 8 Wochen postoperativ zeigte sich die Fraktur sicher konsolidiert. Die Patientin ist beim Follow-up nach 6 Monate beschwerdefrei.
Abstract
Following a fall, a 59-year-old female patient exhibited anterior and posterior vertebral arch fractures of the atlas on the left side, with bony avulsion of the transverse ligament of the atlas Gehweiler type 3b/Dickmann type II and atlantoaxial subluxation with locking of the left lateral mass of the atlas. As an alternative to open surgical treatment, closed therapeutic repositioning of the locked subluxation was performed via a manual technique with the patient in supine position after left-sided opening of the craniocervical segment. Repositioning was confirmed by scan. Thereafter, left-sided percutaneous single-screw osteosynthesis of the atlas from dorsal to ventral was performed via robot-assisted fluoroscopy-guided and verified placement of a cannulated titanium implant. Routine computed tomographic follow-up 8 weeks postoperatively showed good fracture consolidation. After 6 months of follow-up, the patient is free of complaints.
Access options
Buy single article
Instant access to the full article PDF.
US$ 39.95
Tax calculation will be finalised during checkout.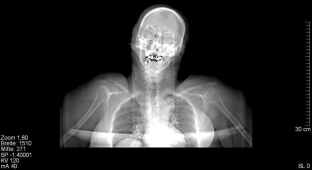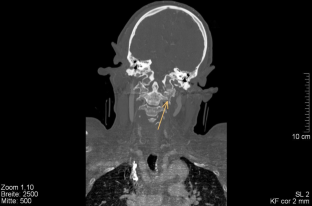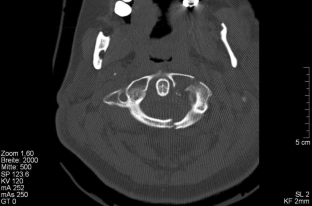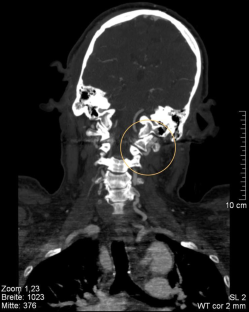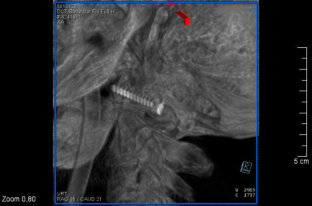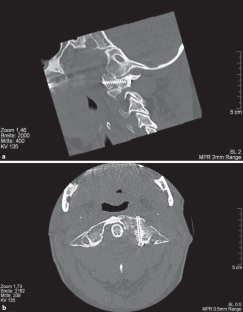 Literatur
1.

Alves OL, Pereira L, Kim SH, Grin A, Shimokawa N, Konovalov N, Zileli M (2020) Upper cervical spine trauma: WFNS Spine Committee recommendations. Neurospine 17(4):723–736. https://doi.org/10.14245/ns.2040226.113

2.

Kandziora F, Scholz M, Pingel A, Schleicher P, Yildiz U, Kluger P, Pumberger M, Korge A, Schnake KJ, Spine Section of the German Society for Orthopaedics and Trauma (2018) Treatment of atlas fractures: recommendations of the Spine Section of the German Society for Orthopaedics and Trauma (DGOU). Spine J 8(2 Suppl):5S–11S. https://doi.org/10.1177/2192568217726304
Ethics declarations
Interessenkonflikt
E. Kollig und S. Waldeck geben an, dass kein Interessenkonflikt besteht.
Für diesen Beitrag wurden von den Autoren keine Studien an Menschen oder Tieren durchgeführt. Für die aufgeführten Studien gelten die jeweils dort angegebenen ethischen Richtlinien.
Additional information
QR-Code scannen & Beitrag online lesen
About this article
Cite this article
Kollig, E., Waldeck, S. Manuelle Technik trifft Robotik. Manuelle Medizin (2021). https://doi.org/10.1007/s00337-021-00823-5
Schlüsselwörter
Subluxation

Manuelle Reposition

Halswirbelsäule

Osteosynthese

Durchleuchtungsroboter
Keywords
Joint subluxations

Manual repositioning

Cervical vertebrae

Fracture fixation, internal

Robotic fluoroscopy system