Zusammenfassung
Funktionstests sind auch trotz weitreichender apparativer Diagnostiksysteme aus dem klinischen Alltag nicht wegzudenken. Sie sind schnell durchführbar, über verschiedene Professionen anwendbar und kontrollierbar. Der zeitliche Aufwand ist zumeist gering. Mit der Kombination verschiedener Funktionstests lassen sich mitunter weitreichende Erkenntnisse zur funktionellen Zusammenhängen eruieren und ggf. Pathologien gut beschreiben. Die Kombination aller (sinnvollen) diagnostischen Maßnahmen ermöglicht eine weitreichende Kenntnis der klinischen Gesamtsituation von Patienten.
Abstract
Functional tests are an indispensable part of everyday clinical routine, even in spite of extensive device-based diagnostic systems. They are quick to perform, applicable in various professions, and controllable. The time expenditure is usually low. By combining different functional tests, it is sometimes possible to obtain extensive findings on functional relationships and, if necessary, describe pathologies well. The combination of all (meaningful) diagnostic measures provides extensive knowledge of the overall clinical situation of patients.
This is a preview of subscription content, log in to check access.
Access options
Buy single article
Instant access to the full article PDF.
US$ 39.95
Tax calculation will be finalised during checkout.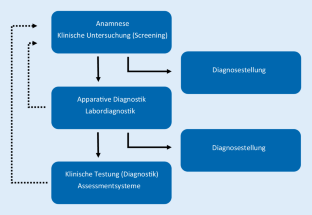 Abbreviations
ÄMM:

Ärztevereinigung für Manuelle Medizin e.V., Ärzteseminar Berlin

SLR-Test:

Straight-Leg-Raising-Test

ZNS:

zentrales Nervensystem
Literatur
1.

Buckup J, Hoffmann R (2018) Klinische Tests an Knochen, Gelenken und Muskeln. Thieme, Stuttgart

2.

Rabe T, Runnebaum B (1994) Funktionsteste und Untersuchungsmethoden in der gynäkologischen Endokrinologie und Fortpflanzungsmedizin. In: Gynäkologische Endokrinologie und Fortpflanzungsmedizin. Springer, Berlin, Heidelberg

3.

Best N, Nisser M, Loudovici-Krug D (2020) Der Jenaer-Stand-Stabilitäts-Score (JESS-Score) – Ein Score zur Evaluation der Standstabilität – Entwicklung, Normwertgenerierung und klinische Anwendbarkeit. Z Rheumatol. https://doi.org/10.1007/s00393-020-00765-8

4.

Kirsten D, Lommatzsch M (2020) Über Anamnese und klinische Untersuchung: ein pneumologisches Essay. Pneumologe 17:128–134. https://doi.org/10.1007/s10405-020-00308-7

5.

Battegay E (2017) Differentialdiagnose Innerer Krankheiten. Thieme, Stuttgart

6.

Chalmers PN, Cvetanovich GL, Kupfer N et al (2016) The champagne toast position isolates the supraspinatus better than the Jobe test: an electromyographic study of shoulder physical examination tests. J Shoulder Elbow Surg 25:322–329. https://doi.org/10.1016/j.jse.2015.07.031

7.

Lasbleiz S, Quintero N, Ea K et al (2014) Diagnostic value of clinical tests for degenerative rotator cuff disease in medical practice. Ann Phys Rehabil Med 57:228–243. https://doi.org/10.1016/j.rehab.2014.04.001

8.

Derlien S, Loudovici-Krug D, Best N (2019) Der Zielschritt-Test (ZST) – Ein Test zur Überprüfung der motorischen Differenzierungsfähigkeit. Phys Med Rehab Kuror 29:147–150. https://doi.org/10.1055/a-0805-5890

9.

Schildt-Rudloff K, Sachse J, Wirbelsäule HG (2016) Manuelle Untersuchung und Mobilisationsbehandlung für Ärzte und Physiotherapeuten. Urban & Fischer, Elsevier, München

10.

Sachse J, Harke G, Linz W (2012) Extremitätengelenke. Elsevier, München

11.

Best N, Loudovici-Krug D, Zeits P et al (2020) Klinische Anwendung des Bregma-Tests Punktprävalenz an Gesunden, Nicht-Schmerzpatienten und chronischen Schmerzpatienten sowie Änderung der Testergebnisse während einer interdisziplinären multimodalen Schmerztherapie. Schmerz. https://doi.org/10.1007/s00482-020-00453-1

12.

Horak FB, Wrisley DM, Frank J (2009) The Balance Evaluation Systems Test (BESTest) to differentiate balance deficits. Phys Ther 89:484–498. https://doi.org/10.2522/ptj.20080071

13.

Luomajoki H, Saner J (2012) Bewegungskontrolldysfunktion als Subgruppe von unspezifischen Rückenschmerzen. Man Medizin 50:387–392. https://doi.org/10.1007/s00337-012-0948-x

14.

Conradi S, Smolenski UC, Bak P et al (2003) Reliabilität der manualmedizinischen Tests bei Low Back Pain (LBP) Patienten. Man Med 41:272–278. https://doi.org/10.1007/s00337-003-0236-x

15.

Patijn J (2004) Validity Studies. In: Committee FS (Hrsg). https://www.fimm-online.com/file/repository/reproduciblity_validity.pdf
Ethics declarations
Interessenkonflikt
N. Best gibt an, dass kein Interessenkonflikt besteht.
Für diesen Beitrag wurden von den Autoren keine Studien an Menschen oder Tieren durchgeführt. Für die aufgeführten Studien gelten die jeweils dort angegebenen ethischen Richtlinien.
About this article
Cite this article
Best, N. Die Bedeutung von Funktionstests in der ambulanten und klinischen Physiotherapie. Manuelle Medizin (2020). https://doi.org/10.1007/s00337-020-00740-z
Schlüsselwörter
Diagnostische Techniken und Verfahren

Körperliche Untersuchung

Reliabilität und Validität

Diagnostische Routinetests

Diagnostik
Keywords
Diagnostic techniques and procedures

Physical examination

Reliability and validity

Routine diagnostic tests

Diagnosis