Zusammenfassung
Hintergrund
Bei gesetzlich Krankenversicherten in Deutschland kommen akute unspezifische untere Rückenschmerzen (aLBP) häufig vor. Akut bedeutet hier eine Beschwerdedauer von maximal 6 Wochen. Die aktuelle Leitlinie bewertet manuelle Therapie (MT) mit "kann eingesetzt werden". Es existiert kein geeignetes manualtherapeutisches Untersuchungs- und Therapieschema, das folgende Bedingungen erfüllt: schnelle Durchführbarkeit durch den Arzt sowie Verbesserung von Schmerzen und Beweglichkeit.
Fragestellung
Präsentation und Diskussion eines definierten, therapeutisch effektiven MT-Akutschemas (2 + 2-Schema), das dem limitierten Zeitbudget (Gesamtdauer ca. 6 min) der Akutsprechstunde gerecht wird. Die Durchführung erfolgt durch den behandelnden Arzt.
Material und Methoden
Auf Basis des bewährten Behandlungsablauf des ÄMM wurde ein manualtherapeutisches Konzept entwickelt, das zeitlich in der Akutsprechstunde gut umsetzbar ist und Strukturen behandelt, deren Reizung die Schmerzwahrnehmung und Beweglichkeit positiv beeinflussen können: zwei aktive Triggerpunkte (TrPs) und zwei in der gestörten Region gelegene Gelenke. Bei Vernetzung mit anderen Körperregionen wird das 2 + 2-Schema nicht angewandt.
Diskussion
Die manualtherapeutische Reizung von TrPs und Gelenken kann zu einer Beeinflussung des segmentalen und zentralen Erregungsniveaus führen. Die relativ kurze Beschwerdedauer der Patienten lässt eine regionale MT-Diagnostik und Therapie zu, weil eine Vernetzung mit anderen Körperregionen wahrscheinlich noch nicht stattgefunden hat. Das 2 + 2-Schema soll möglichst nur einmal eingesetzt werden. Bei fehlendem Therapieerfolg ist die Diagnose zu überprüfen. Das Akutschema ist ausschließlich für aLBP anwendbar. Weitere (Versorgungs‑)Studien sind notwendig, um die Evidenz dieses Diagnostik- und Therapieregimes zu untersuchen.
Abstract
Background
Individuals in Germany with statutory health insurance often experience acute low back pain (aLBP). Acute means a maximum of 6 weeks of complaints. The current German guideline rates manual therapy (MT) with "can be applied". There is no suitable MT examination and therapy regimen that meets the following conditions: rapid implementation by the physician and improvement of pain and mobility.
Objectives
Presentation and discussion of a defined, therapeutically effective acute MT treatment (2 + 2-regimen) that meets the limited time budget (total duration approx. 6 min) of the acute consultation. The procedure is carried out directly by the treating physician.
Material and methods
On the basis of the proven treatment procedure of the German Physicians Society for Manual Medicine (ÄMM, Berlin), an MT concept was developed that can be expediently implemented during the acute consultation and treats structures, the stimulation of which can positively affect pain perception and mobility: two active trigger points (TrPs) and two joints located in the disturbed region. This concept is not applied when a functional chain has taken place in other body regions.
Discussion
Manual therapeutic stimulation of TrPs and joints can influence segmental and central arousal levels. The relatively short duration of patients' complaints (maximum 6 weeks) allows regional MT diagnosis and therapy since a network to other body regions has probably not formed as yet. This treatment is carried out preferably only once. In the case of insufficient efficacy, diagnostics and therapy need to be reconsidered. The 2 + 2 regimen applies only to aLBP. Studies to verify the effectiveness of this scheme are essential.
This is a preview of subscription content, log in to check access.
Access options
Buy single article
Instant access to the full article PDF.
US$ 39.95
Tax calculation will be finalised during checkout.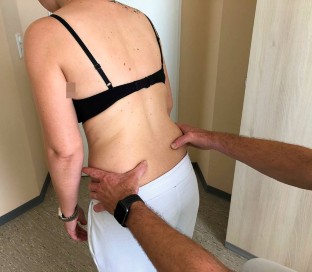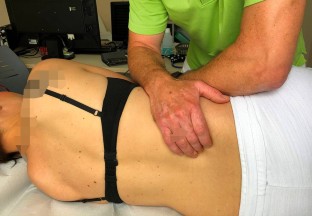 Abbreviations
aLBP:

Akuter unspezifischer unterer Rückenschmerz ("low back pain")

ÄMM:

Ärzteseminar Berlin

LL:

Leitlinie

LWS:

Lendenwirbelsäule

MT:

Manuelle Therapie, manualtherapeutisch

NSAR:

Nichtsteroidale Antirheumatika

NVL:

Nationale Versorgungsleitlinie

SIG:

Sakroiliakalgelenk

TrP:

Triggerpunkt
Literatur
1.

Abdel Shaheed C, Maher CG, Williams KA et al (2014) Interventions available over the counter and advice for acute low back pain: systematic review and meta-analysis. J Pain 15:2–15

2.

Buchmann JAU, Harke G, Smolenski UC (2010) Differentialdiagnostik manualmedizinischer Syndrome der oberen Extremität ( "Arm- und Handschmerzen") unter Einbeziehung osteopathischer Verfahren. Phys Med Rehabil Kurort 20:97–116

3.

Buchmann JHM, Röper-Krejza B (2019) Positionierung-einfach, schnell und sicher. Kiener, München

4.

Buchmann J, Neustadt B, Buchmann-Barthel K et al (2014) Objective measurement of tissue tension in myofascial trigger point areas before and during the administration of anesthesia with complete blocking of neuromuscular transmission. Clin J Pain 30:191–198

5.

Bundesärztekammer (Bäk) KBK, Arbeitsgemeinschaft der Wissenschafllichen, Medizinischen Fachgesellschaften (Awmf) (2017) Nationale Versorgungsleitlinie (NVL) Nicht spezifischer Kreuzschmerz-Langfassung, 2. Aufl. (Version 1)

6.

Cloward RB (1959) Cervical diskography. A contribution to the etiology and mechanism of neck, shoulder and arm pain. Ann Surg 150:1052–1064

7.

Dommerholt J (2020) How have the views on myofascial pain and its treatment evolved in the past 20 years? From spray and stretch and injections to pain science, dry needling and fascial treatments. Pain Manag 10:63–66

8.

Fukui S, Ohseto K, Shiotani M et al (1997) Distribution of referred pain from the lumbar zygapophyseal joints and dorsal rami. Clin J Pain 13:303–307

9.

Inami S, Shiga T, Tsujino A et al (2001) Immunohistochemical demonstration of nerve fibers in the synovial fold of the human cervical facet joint. J Orthop Res 19:593–596

10.

Irving G, Neves AL, Dambha-Miller H et al (2017) International variations in primary care physician consultation time: a systematic review of 67 countries. BMJ Open 7:e17902

11.

Lanas A, Garcia-Rodriguez LA, Arroyo MT et al (2006) Risk of upper gastrointestinal ulcer bleeding associated with selective cyclo-oxygenase‑2 inhibitors, traditional non-aspirin non-steroidal anti-inflammatory drugs, aspirin and combinations. Gut 55:1731–1738

12.

Robert Koch Institut (RKI) (2012) Rückenschmerzen Bd. 53. RKI, Berlin

13.

Robert Koch Institut (Rki), Saß AL, Ziese T, Kurth BM (2015) Gesundheit in Deutschland. In: Gesundheitsberichterstattung des Bundes. RKI und Destatis, Berlin

14.

Roelofs PD, Deyo RA, Koes BW et al (2008) Nonsteroidal anti-inflammatory drugs for low back pain: an updated Cochrane review. Spine (Phila Pa 1976) 33:1766–1774

15.

Schildt-Rudloff KSJ, Harke G (2016) Wirbelsäule. Urban & Fischer, München, Jena

16.

Schmidt CO, Raspe H, Pfingsten M et al (2007) Back pain in the German adult population: prevalence, severity, and sociodemographic correlates in a multiregional survey. Spine (Phila Pa 1976) 32:2005–2011

17.

Simons DG (2008) New views of myofascial trigger points: etiology and diagnosis. Arch Phys Med Rehabil 89:157–159

18.

Wenig CM, Schmidt CO, Kohlmann T, Schweikert B (2009) Costs of back pain in Germany. Eur J Pain 13(3):280–286

19.

Windisch A, Reitinger A, Traxler H et al (1999) Morphology and histochemistry of myogelosis. Clin Anat 12:266–271

20.

Yamashita T, Cavanaugh JM, El-Bohy AA et al (1990) Mechanosensitive afferent units in the lumbar facet joint. J Bone Joint Surg Am 72:865–870
Ethics declarations
Interessenkonflikt
W. Rachold gibt an, dass kein Interessenkonflikt besteht.
Für diesen Beitrag wurden von den Autoren keine Studien an Menschen oder Tieren durchgeführt. Für die aufgeführten Studien gelten die jeweils dort angegebenen ethischen Richtlinien.
About this article
Cite this article
Rachold, W. Rationale manuelle Therapie in der Akutsprechstunde am Beispiel des akuten unspezifischen unteren Rückenschmerzes. Manuelle Medizin 58, 298–303 (2020). https://doi.org/10.1007/s00337-020-00739-6
Schlüsselwörter
Manuelle Therapie

Triggerpunkte

Gelenke

Propriozeption

Muskuloskeletales System
Keywords
Manual therapy

Trigger points

Joints

Proprioception

Musculoskeletal system