Zusammenfassung
Sensomotorik, Schmerzen sowie der Energie‑, Bau- und anabole Hormonstoffwechsel sind eine funktionelle Einheit. Koordination, Ausdauer und Kraft generieren spezifische anabole Muster zur Adaptation des peripheren Systems und des Gehirns. Gesundheit hat primär eine sportwissenschaftliche Basis. Lernen strukturiert das Gehirn, Ausdauer steht für Regeneration, Reparatur und Adaptation, und Kraft für die Muskeln sowie die Belastbarkeit des Bindegewebes. Als Beleg für die Untrennbarkeit von Sensomotorik und Schmerz gilt, dass intensive Belastungen die Schmerztoleranz und -hemmung fördern. Die Aktivität des sensomotorischen Systems liefert eine antinozizeptive und antientzündliche Struktur, die Inaktivität eine pronozizeptive und proentzündliche Struktur, da nur die aktive Muskulatur antinozizeptiv wirkt (Myokine) und den "Crosstalk" zum Stoffwechsel, Bindegewebe und Gehirn unterhält. Degenerativen Krankheiten liegt eine niedriggradige Entzündung zugrunde. Sie sind keine "Erkrankungen des Alters". Die Pathogenese beginnt mit myofaszialen und Gelenkstörungen, die sich "eigengesetzlich weiterentwickeln". Eine periphere Sensitivierung als Disposition für eine zentrale Sensibilisierung lässt chronische Schmerzen entstehen.
Abstract
Sensory-motor coupling, pain, energy metabolism, anabolism, and anabolic hormone metabolism form a functional unit. Coordination, endurance, and strength generate specific anabolic patterns for adaptation of peripheral systems and the brain. Health has a primary basis in sports science. Learning structures the brain; endurance stands for regeneration, repair, and adaptation; and strength stands for the muscles and resilience of connective tissue. Proof of the inseparability of sensory-motor coupling and pain can be found in the fact that intensive training improves pain tolerance and inhibitory mechanisms. Activity of the sensorimotor system generates an antinociceptive and anti-inflammatory structure, its inactivity a pronociceptive and proinflammatory structure, since only active musculature exhibits an antinociceptive effect (myokines) and is capable of cross talk with the metabolism, connective tissue, and brain. Degenerative diseases are based on low-level inflammation, they are not "diseases of old age." Pathogenesis begins with myofascial and joint disorders that progress "of their own accord." A peripheral sensitization as a disposition for a central sensibilization enables pain to chronify.
This is a preview of subscription content, log in to check access.
Access options
Buy single article
Instant access to the full article PDF.
US$ 39.95
Tax calculation will be finalised during checkout.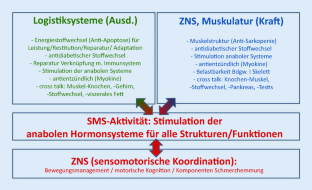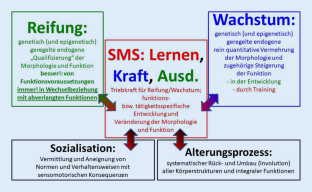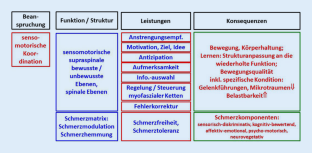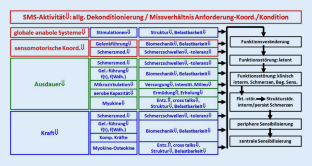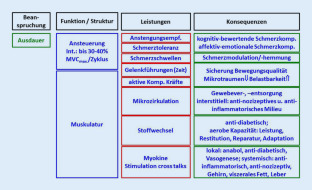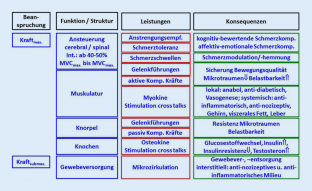 Abbreviations
BMI:

Body-Mass-Index

CPM:

Konditionierte Schmerzmodulation

EIH:

Bewegungsinduzierte Hypalgesie

MCV:

Mittleres Erythrozytenvolumen

SMS:

Sensomotorisches System

WOMAC:

Western Ontario and McMaster Universities Osteoarthritis Index

ZNS:

Zentralnervensystem
Literatur
1.

Antony B, Jones G, Venn A, Cicuttini F, March L, Blizzard L, Dwyer T, Cross M, Ding C (2015) Association between childhood overweight measures and adulthood knee pain, stiffness and dysfunction: a 25-year cohort study. Ann Rheum Dis 74(4):711–717. https://doi.org/10.1136/annrheumdis-2013-204161

2.

Antony B, Jones G, Jin X, Ding C (2016) Do early life factors affect the development of knee osteoarthritis in later life: a narrative review. Arthritis Res Ther 18(1):202. https://doi.org/10.1186/s13075-016-1104-0

3.

Crump C, Sundquist J, Winkleby MA, Sieh W, Sundquist K (2016) Physical fitness among Swedish military conscripts and long-term risk for type 2 diabetes mellitus: a cohort study. Ann Intern Med 164(9):577–584. https://doi.org/10.7326/M15-2002

4.

Crump C, Sundquist J, Winkleby MA, Sundquist K (2016) Interactive effects of physical fitness and body mass index on the risk of hypertension. JAMA Intern Med 176(2):210–216. https://doi.org/10.1001/jamainternmed.2015.7444

5.

Crump C, Sundquist J, Winkleby MA, Sundquist K (2016) Interactive effects of physical fitness and body mass index on risk of stroke: A national cohort study. Int J Stroke 11(6):683–694. https://doi.org/10.1177/1747493016641961

6.

Crump C, Sundquist J, Winkleby MA, Sundquist K (2017) Interactive effects of obesity and physical fitness on risk of ischemic heart disease. Int J Obes (lond) 41(2):255–261. https://doi.org/10.1038/ijo.2016.209

7.

Crump C, Sundquist J, Winkleby MA, Sundquist K (2017) Aerobic fitness, muscular strength and obesity in relation to risk of heart failure. Heart 103(22):1780–1787. https://doi.org/10.1136/heartjnl-2016-310716

8.

Crump C, Sundquist J, Winkleby MA, Sundquist K (2017) Interactive effects of aerobic fitness, strength, and obesity on mortality in men. Am J Prev Med 52(3):353–361. https://doi.org/10.1016/j.amepre.2016.10.002

9.

Diatchenko L, Fillingim RB, Smith SB, Maixner W (2013) The phenotypic and genetic signatures of common musculoskeletal pain conditions. Nat Rev Rheumatol 9(6):340–350

10.

Dor A, Kalichman L (2017) A Myofascial Component of Pain in Knee Osteoarthritis. J Bodyw Mov Ther 21(3):642–647. https://doi.org/10.1016/j.jbmt.2017.03.025 (Epub 2017 Apr 6)

11.

Flood A, Waddington G, Thompson K, Cathcart S (2017) Increased conditioned pain modulation in athletes. J Sports Sci 35(11):1066–1072. https://doi.org/10.1080/02640414.2016.1210196

12.

Fortin M, Videman T, Gibbons LE, Battié MC (2014) Paraspinal muscle morphology and composition: a 15-yr longitudinal magnetic resonance imaging study. Med Sci Sports Exerc 46(5):893–901. https://doi.org/10.1249/MSS.0000000000000179

13.

Géranton SM, Fratto V, Tochiki KK, Hunt SP (2008) Descending serotonergic controls regulate inflammation-induced mechanical sensitivity and methyl-CpG-binding protein 2 Phosphorylation in the rat superficial dorsal horn. Mol Pain 15(4):35. https://doi.org/10.1186/1744-8069-4-35

14.

Hidalgo-Lozano A, Fernández-de-las-Peñas C, Alonso-Blanco C, Ge HY, Arendt-Nielsen L, Arroyo-Morales M (2010) Muscle trigger points and pressure pain hyperalgesia in the shoulder muscles in patients with unilateral shoulder impingement: a blinded, controlled study. Exp Brain Res 202(4):915–925. https://doi.org/10.1007/s00221-010-2196-4

15.

Imai S, Saeki M, Yanase M, Horiuchi H, Abe M, Narita M, Kuzumaki N, Suzuki T, Narita M (2011) Change in microRNas associated with neuronal adaptive responses in the nucleus accumbens under neuropathic pain. J Neurosci 31(43):15294–15299. https://doi.org/10.1523/JNEUROSCI.0921-11.2011

16.

Kennedy DS, Fitzpatrick SC, Gandevia SC, Taylor JL (1985) Fatigue-related firing of muscle nociceptors reduces voluntary activation of ipsilateral but not contralateral lower limb muscles. J Appl Physiol 118(4):408–418

17.

Kjaer M, Jørgensen NR, Heinemeier K, Magnusson SP (2015) Exercise and regulation of bone and collagen tissue biology. Prog Mol Biol Transl Sci 135:259–291. https://doi.org/10.1016/bs.pmbts.2015.07.008

18.

Klitgaard H, Mantoni M, Schiaffino S, Ausoni S, Gorza L, Laurent-Winter C, Schnohr P, Saltin B (1990) Function, morphology and protein expression of ageing skeletal muscle: a cross-sectional study of elderly men with different training backgrounds. Acta Physiol Scand 140(1):41–54

19.

Laube W (Hrsg) (2009) Sensomotorisches System. Thieme, Stuttgart, New York

20.

Laube W (2014) Interaktion von zentralnervösen und endokrinen Funktionen bei muskulärer Beanspruchung: Bedeutung für die Prävention. In: Dienstbühl I, Stadeler M, Scholle HC (Hrsg) Prävention von Arbeitsbedingten Gesundheitsgefahren und Erkrankungen 20. Erfurter Tage. Verlag Bussert, Stadeler, S 151–174

21.

Laube W (2020) Sensomotorik und Schmerz. Wechselwirkung von Bewegungsreizen und Schmerzempfinden. Springer, Berlin, Heidelberg

22.

Lethem J, Slade PD, Troup JDG, Bentley G (1983) Outline of fear-avoidance model of exaggerated pain perceptions. Behav Res Ther 21:401–408

23.

Marcora S (1985) Perception of effort during exercise is independent of afferent feedback from skeletal muscles, heart, and lungs. J Appl Physiol 106(6):2060–2062. https://doi.org/10.1152/japplphysiol.90378.2008

24.

Naugle KM, Fillingim RB, Riley JL 3rd (2012) A meta-analytic review of the hypoalgesic effects of exercise. J Pain 13(12):1139–1150. https://doi.org/10.1016/j.jpain.2012.09.006

25.

Oullier O, Jantzen KJ, Steinberg FL, Kelso JAS (2005) Neural Substrates of Real and Imagined Sensorimotor Coordination. Cereb Cortex 15(7):975–985

26.

Pedersen BK (2009) The diseasome of physical inactivity and the role of myokines in muscle-fat cross talk. J Physiol 587:5559–5568

27.

Pietrosimone B, Pfeiffer SJ, Harkey MS, Wallace K, Hunt C, Blackburn JT, Schmitz R, Lalush D, Nissman D, Spang JT (2018) Quadriceps weakness associates with greater T1ρ relaxation time in the medial femoral articular cartilage 6 months following anterior cruciate ligament reconstruction. Knee Surg Sports Traumatol Arthrosc. https://doi.org/10.1007/s00167-018-5290-y

28.

Senba E, Kami K (2017) A new aspect of chronic pain as a lifestyle-related disease. Neurobiol Pain 1:6–15

29.

Sergienko S, Kalichman L (2015) Myofascial origin of shoulder pain: a literature review. J Bodyw Mov Ther 19(1):91–101. https://doi.org/10.1016/j.jbmt.2014.05.004

30.

Syrenicz A, Garanty-Bogacka B, Syrenicz M, Gebala A, Walczak M (2006) Low-grade systemic inflammation and the risk of type 2 diabetes in obese children and adolescents. Neuro Endocrinol Lett 27(4):453–458

31.

Syrenicz A, Garanty-Bogacka B, Syrenicz M, Gebala A, Dawid G, Walczak M (2006) Relation of low-grade inflammation and endothelial activation to blood pressure in obese children and adolescents. Neuro Endocrinol Lett 27(4):459–464

32.

Tucker K, Butler J, Graven-Nielsen T, Riek S, Hodges P (2009) Motor unit recruitment strategies are altered during deep-tissue pain. J Neurosci 29(35):10820–10826. https://doi.org/10.1523/JNEUROSCI.5211-08.2009

33.

Tucker KJ, Hodges PW (2009) Motoneurone recruitment is altered with pain induced in non-muscular tissue. Pain 141(1–2):151–155. https://doi.org/10.1016/j.pain.2008.10.029

34.

Zorina-Lichtenwalter K, Meloto CB, Khoury S, Diatchenko L (2016) Genetic predictors of human chronic pain conditions. Neuroscience 338:36–62. https://doi.org/10.1016/j.neuroscience.2016.04.041
Ethics declarations
Interessenkonflikt
W. Laube gibt an, dass kein Interessenkonflikt besteht.
Für diesen Beitrag wurden vom Autor keine Studien an Menschen oder Tieren durchgeführt. Für die aufgeführten Studien gelten die jeweils dort angegebenen ethischen Richtlinien.
About this article
Cite this article
Laube, W. Mehr Bewegung, weniger Störung. Manuelle Medizin 58, 307–315 (2020). https://doi.org/10.1007/s00337-020-00726-x
Schlüsselwörter
Übungstherapie

Physische Ausdauer-Kraft

Sensomotorisches Feedback

Chronischer Schmerz

Muskuloskeletales System
Keywords
Exercise therapy

Physical endurance-strength

Sensorimotor feedback

Chronic pain

Musculoskeletal system