Zusammenfassung
Die Dermoneuromodulation (DNM) ist eine neue klinische Argumentation in der manuellen Therapie. Sie hilft bei chronischen Schmerzen durch die Förderung der Fähigkeit des Klienten, seinen Schmerz herunterzuregulieren, um eine stärker integrierte Funktion und Plastizität der Sinnesfunktionen des Gehirns zu fördern. Grundannahmen sind, dass Gewebe und Struktur manualtherapeutisch nicht verändert werden können, ohne sie zu beschädigen. Das Nervensystem ist das zentrale Regulationssystem. Es wird nicht die Anatomie, sondern die Physiologie im biopsychosozialen Kontext behandelt. Ziel der DNM ist es, den peripheren nozizeptiven Input zu verringern, die absteigende Hemmung zu erhöhen und die Selbstwirksamkeit aufzubauen.
Abstract
Dermoneuromodulation (DNM) is a new clinical argumentation in manual therapy. DNM supports the treatment of chronic pain by promoting the client's ability to downregulate pain to promote more integrated function and plasticity of the brain's sensory functions. Basic assumptions are that manual therapeutically, tissue and structure cannot be changed without damaging them. The nervous system is the central regulatory system. Not the anatomy but rather the physiology is treated in a biopsychosocial context. The aim of DNM is to reduce peripheral nociceptive input, to increase decreasing inhibition, and to build self-efficacy.
Access options
Buy single article
Instant access to the full article PDF.
US$ 39.95
Tax calculation will be finalised during checkout.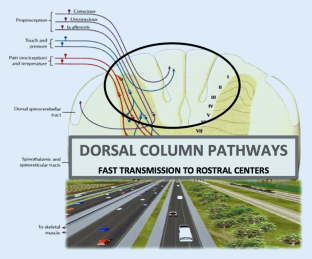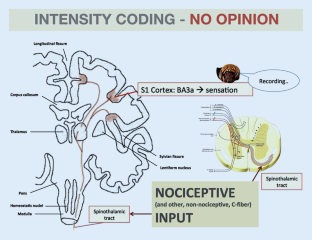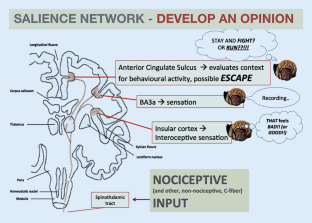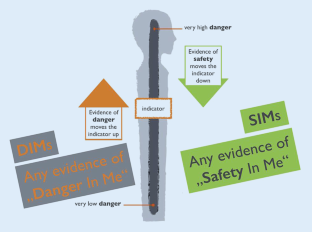 Literatur
1.

Berterame S, Erthal J, Thomas J et al (2016) Use of and barriers to access to opioid analgesics: a worldwide, regional, and national study. Lancet 387:1644–1656. https://doi.org/10.1016/S0140-6736(16)00161-6

2.

Bishop MD, Torres-Cueco R, Gay CW et al (2015) What effect can manual therapy have on a patient's pain experience? Pain Manag 5:455–464. https://doi.org/10.2217/pmt.15.39

3.

Björnsdotter M, Morrison I, Olausson H (2010) Feeling good: on the role of C fiber mediated touch in interoception. Exp Brain Res 207:149–155. https://doi.org/10.1007/s00221-010-2408-y

4.

Blickenstaff C (2011) Letter to the editor. J Man Manip Ther 19:238. https://doi.org/10.1179/106698111X13129729552100

5.

Borrell-Carrió F, Suchman AL, Epstein RM (2004) The biopsychosocial model 25 years later: principles, practice, and scientific inquiry. Ann Fam Med 2:576–582. https://doi.org/10.1370/afm.245

6.

Butler DS, Moseley GL (2013) Explain pain, 2. Aufl. Noigroup Publication, Adelaide, Australia

7.

Chae Y, Olausson H (2017) The role of touch in acupuncture treatment. Acupunct Med 35:148–152. https://doi.org/10.1136/acupmed-2016-011178

8.

Corbetta M, Shulman GL (2002) Control of goal-directed and stimulus-driven attention in the brain. Nat Rev Neurosci 3:201–215. https://doi.org/10.1038/nrn755

9.

Diener I, Kargela M, Louw A (2016) Listening is therapy: patient interviewing from a pain science perspective. Physiother Theory Pract 32:356–367. https://doi.org/10.1080/09593985.2016.1194648

10.

Gifford L (1998) Pain, the tissues and the nervous system: a conceptual model. Physiotherapy 84:27–36. https://doi.org/10.1016/S0031-9406(05)65900-7

11.

Gliedt JA, Schneider MJ, Evans MW et al (2017) The biopsychosocial model and chiropractic: a commentary with recommendations for the chiropractic profession. Chiropr Man Therap 25:16. https://doi.org/10.1186/s12998-017-0147-x

12.

Grundy PF, Roberts CJ (1984) Does unequal leg length cause back pain? A case-control study. Lancet 2:256–258. https://doi.org/10.1016/s0140-6736(84)90300-3

13.

Jacobs DF, Silvernail JL (2011) Therapist as operator or interactor? Moving beyond the technique. J Man Manip Ther 19:120–121. https://doi.org/10.1179/106698111X12998437860794

14.

Lederman E (2011) The fall of the postural-structural-biomechanical model in manual and physical therapies: exemplified by lower back pain. J Bodyw Mov Ther 15:131–138. https://doi.org/10.1016/j.jbmt.2011.01.011

15.

Liljencrantz J, Olausson H (2014) Tactile C fibers and their contributions to pleasant sensations and to tactile allodynia. Front Behav Neurosci 8:37. https://doi.org/10.3389/fnbeh.2014.00037

16.

Louw A, Zimney K, O'Hotto C, Hilton S (2016) The clinical application of teaching people about pain. Physiother Theory Pract 32:385–395. https://doi.org/10.1080/09593985.2016.1194652

17.

Lumley MA, Cohen JL, Borszcz GS et al (2011) Pain and emotion: a biopsychosocial review of recent research. J Clin Psychol 67:942–968. https://doi.org/10.1002/jclp.20816

18.

Lundblad LC, Olausson HW, Malmeström C, Wasling HB (2010) Processing in prefrontal cortex underlies tactile direction discrimination: an fMRI study of a patient with a traumatic spinal cord lesion. Neurosci Lett 483:197–200. https://doi.org/10.1016/j.neulet.2010.07.087

19.

Melzack R (1999) From the gate to the neuromatrix. Pain Suppl 6:S121–S126. https://doi.org/10.1016/s0304-3959(99)00145-1

20.

Morrison I, Löken LS, Minde J et al (2011) Reduced C‑afferent fibre density affects perceived pleasantness and empathy for touch. Brain 134:1116–1126. https://doi.org/10.1093/brain/awr011

21.

Ochsner KN, Silvers JA, Buhle JT (2012) Functional imaging studies of emotion regulation: a synthetic review and evolving model of the cognitive control of emotion. Ann N Y Acad Sci 1251:E1–24. https://doi.org/10.1111/j.1749-6632.2012.06751.x

22.

Olausson H, Wessberg J, Morrison I et al (2010) The neurophysiology of unmyelinated tactile afferents. Neurosci Biobehav Rev 34:185–191. https://doi.org/10.1016/j.neubiorev.2008.09.011

23.

Pope MH, Bevins T, Wilder DG, Frymoyer JW (1985) The relationship between anthropometric, postural, muscular, and mobility characteristics of males ages 18–55. Spine 10:644–648. https://doi.org/10.1097/00007632-198509000-00009

24.

Quintner JL, Cohen ML, Buchanan D et al (2008) Pain medicine and its models: helping or hindering? Pain Med 9:824–834. https://doi.org/10.1111/j.1526-4637.2007.00391.x

25.

Sauver SJLDOBP, Warner DO, Yawn BP et al (2013) Why patients visit their doctors: assessing the most prevalent conditions in a defined American population. Mayo Clin Proc 88:56–67. https://doi.org/10.1016/j.mayocp.2012.08.020

26.

van Tulder MW, Assendelft WJJ, Koes BW, Bouter LM (1997) Spinal radiographic findings and nonspecific low back pain. Spine 22:427–434. https://doi.org/10.1097/00007632-199702150-00015

27.

Classification of chronic pain, second edition (revised) – IASP. https://www.iasp-pain.org/PublicationsNews/Content.aspx?ItemNumber=1673. Zugegriffen: 15. Okt. 2019
Ethics declarations
Interessenkonflikt
M. Roth gibt an, dass kein Interessenkonflikt besteht.
Für diesen Beitrag wurden von den Autoren keine Studien an Menschen oder Tieren durchgeführt. Für die aufgeführten Studien gelten die jeweils dort angegebenen ethischen Richtlinien.
Additional information
Dieser Beitrag beruht auf einem Vortrag, gehalten auf dem Kongress "Chronische vertebragene Schmerzsyndrome – Multimodalität versus Polypragmasie" im Juli 2019 in Pörtschach
About this article
Cite this article
Roth, M. Chronische Schmerzen und Dermoneuromodulation (DNM). Manuelle Medizin 58, 39–45 (2020). https://doi.org/10.1007/s00337-019-00632-x
Schlüsselwörter
Nozizeption

Spinothalamischer Trakt

Präfrontaler Kortex

Periphere Dissemination

Absteigende Modulation
Keywords
Nociception

Spinothalamic tracts

Prefrontal cortex

Peripheral dissemination

Descending Modulation