Abstract
This study concerns the influence of spondylogenic factors on hemodynamics in the vertebrobasilar system. Two groups of patients with spondylogenic vertebrobasilar insufficiency and discirculatory encephalopathy (n=57) were included. Complex diagnostics were performed in all participants (ultrasound of the cervical intervertebral disks, MRI, X-ray, duplex scanning of the brachycephalic arteries and veins, МR angiography). It was determined whether the degree of degenerative, dystrophic changes in the cervical spine directly effects extra-vessel compression of the vertebral arteries.
Zusammenfassung
Die Studie befasst sich mit dem Einfluss spondylogener Faktoren auf die Hämodynamik im Vertebrobasilarsystem. Zwei Patientengruppen mit spondylogener vertebrobasilärer Insuffizienz und minderperfusionsbedingter Enzephalopathie (n=57) wurden aufwendig diagnostiziert: Sonographie der zervikalen Zwischenwirbelscheiben, Magnetresonanz (MR)-Tomographie, Röntgenaufnahmen, Duplexuntersuchungen der Aa. et Vv. brachiocephalicae und MR-Angiographie. Überprüft wurde, ob der Grad der Ausprägung von degenerativ-dystrophischen Veränderungen an der Halswirbelsäule die extravasale Kompression der Vertebralarterien direkt beeinflusst.
Access options
Buy single article
Instant access to the full article PDF.
USD 39.95
Price excludes VAT (USA)
Tax calculation will be finalised during checkout.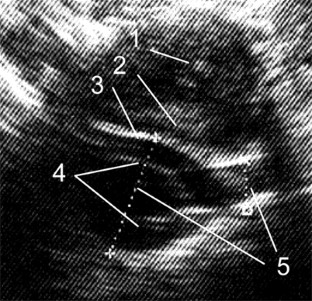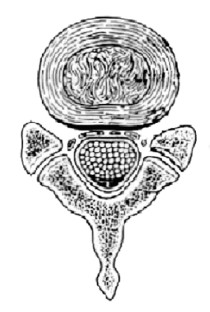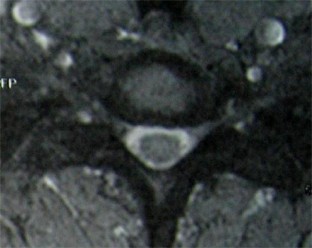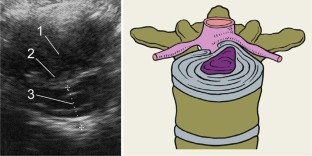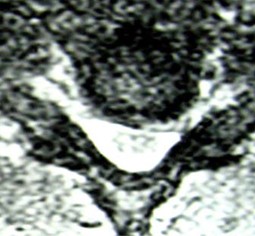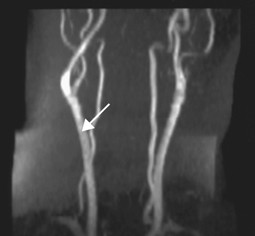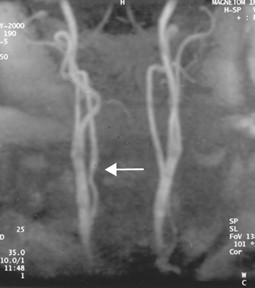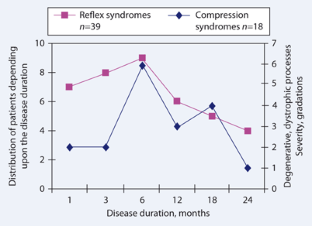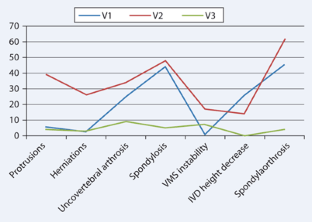 References
Bakhtadze МА (2002) Kimmerle' anomaly part in development of the vertebral artery compression syndromes. PhD Thesis. Моscow

Belichenko ОА, Dadavani SА, Аbramov NN, Теrnovoy SK (1998) Magnetic resonance tomography in the diagnosis of cerebrovascular diseases. "Vidar". Мoscow p 101

Beljakov VV (2005) Structural-functional disorders when reflexion and compression spondylogenic syndromes. Abstract of the thesis for DSc. Мoscow p 36

Vereshagin NV (1962) The part of the vertebral arteries extracranial section in cerebral blood flow failure. J Neurol Psychiatry 11:1645–1656

Vereshagin NV, Borisenko VV, Vlasenko AG (1993) Cerebral blood flow. Up-to-date methods of research in clinical neurology. Мoscow, Меditsina

Gusev ЕI (2000) Меthods of research in neurology and neurosurgery. Моscow, p 330

Каmchatnov РR (2001) Vertebrobasilar insufficiency. Thesis for DSc. Моscow

Кinzersky АU (1999) Ultrasonography in the diagnosis of spinal degenerative-dystrophic diseases.: Авstract of the thesis for DSc. Tcheljabinsk

Кuzminov КО (2003) Dynamic ultrasound indices of the epidural space in disko-radiculitis conflict // 1st Russian Congress of Rehabilitationists. Мoscow

Кuperberg ЕB (1981) Occlusion lesions of the brachycephalic arteries (clinical, Doppler ultrasound imaging, angiography). Thesis for PhD. Мoscow

Leljuk VG, Leljuk SE (1998) Duplex scanning in diagnosis of the aortic arch and basilar arteries in the book "Doppler ultrasound diagnosis of vascular diseases" edited by. Nikitin UМ, Тurukhanov АI (eds) "Vidar". Мoscow, pp 128–163

Lutsik АА, Каzantsev VV (1997) Surgical aspects of the vertebral and spinal cord pathology. Novosibirsk. p 34

Rink PA (1990) Introduction into magnetic resonance in medicine. Thieme Medical Publishers, Stuttgart, p 228

Nefjodov АYU (2005) Pathogenesis and diagnosis of spondylogenic insufficiency of the blood flow in the vertebrobasilar area. New approaches to treatment. Thesis for DSc. Моscow

Popeljansky YAYU (2003) Orthopaedic neurology (Vertebroneurology): Manual for doctors. – Third edition, revised and supplemented – М.: МЕDpress-inform

Rozhdestvensky АS, Smjalovskiy VE, Savchenko АYU et al (2005) Vertebrogenic and atherosclerotic mechanisms of the vertebrobasilar insufficiency: comparative ultrasound characteristics. J Neurology and Psychiatry named after S.S. Коrsakov. Stroke 13:42–51

Salazkina VМ (1986) The part of cervical pathology in pathogenesis of the cerebral blood flow disorders. Thesis for PhD. Моscow

Sytel AB (1998) Маnual therapy. Manual for doctors. Мoscow

Sytel АB, Bakhtadze МА, Sidorskaya NV (2001) Vertigo as a symptom of vertebrobasilar insufficiency when rotating occlusion of the vertebral artery. J Manual therapy. Оbninsk:14–18

Sharapov IN, Beljakov VV (2004) Ultrasonography and magnetic resonance comparison when cervical ache syndromes.// International Manual Medicine Congress. Materials. Моscow. p 83

Shmidt IR (1991) Peculiarities of diagnosis in manual medicine // Маnual Medicine 3:25–32

Barré JA (1926) Sur un syndrome sympathicue cervical posterieur et sa cause fréquente: l'arthrite cervicale. Rev Neurol 1:1246–1248

Baumgartner MD, Williamson WP, Steegman AT (1995) Transcranial color-coded duplex sonography, magnetic resonance angiography: methods, applications, advantages and limitations. J Clin Ultrasound 23:89–111

Bartschi-Rochaix W (1949) Migraine cervical. Das Encephale Syndrom nach Halsvirbelbeltrauma. Bern

Doherty BJ, Heggenes MHO (1994) The quantitative anatomy of the atlas. Spine 19:2497–2500

Dumas JL, Salama J (1996) MRA analysis of atlantoaxial rotation. Anatomic bases of compression of the VA. Surg Radiol Anat 18:303–313

Epstein NE, Syrquin MS, Epstein JA et al (1990) Intradural disc herniations in the cervical, thoracic and lumbar spine: report of three cases and review of the literature. J Spinal Disord 3(4):396–403

Faris AA, Poser CM (1963) Radiological visualization of neck vessels in healthy men. Neurology 13:386–396

Francois-Franck CHA (1899) Anatomie du nerf vertébral. J Physiol Générales.T.I

Hofferberth B (1990) Monitoring of vascular brain stem diseases. In: Hofferberth B et al (eds) Vascular Brain Stem Diseases/ Workshop on Vascular Brain Stem Diseases, Gütersloh, September 15–16, 1988. Karger, pp 165–173

Kaiser MC, Ramos L (1990) MRI of the spine. Thyme Medical Publishers, New York, pp 2–7

Lieou YC (1928) Syndrome Sympathique cervical postérier et artrite chrinique de la colonne vertébrale cervicale (Etude clinique et radiologique). – Imperie Francaise. In: Shuler Ch, Mink L (eds) Strasburg

Manelfe C (1992) Imaging of degenerative processes of the spine. Curr Opin Radiol 4(1):225–227

Modic MT, Weinstein MA, Dengel F et al (1983) Nuclear magnetic resonance scanning of intervertebral disk disease. Radiology 149:143

Nakamura K, Saku Y, Torigoe R et al (1998) Sonographic detection of hemodynamic changes in a case of vertebrobasilar insufficiency. Neuroradiology 40(3):164–166

Pasto ME, Ritkin MP, Rubinstein JB et al (1984) Real-time ultrasonography of the spinal cord. Intra-operative and postoperative imaging. Neuroradiology 26(3):183–187

Porter RW, Bewley B (1994) A ten-year prospective study of vertebral canal size as a predictor of back pain. Spine 19(2):173–175

Sato K, Watanabe T, Yoshimoto T, Kameyama M (1994) Magnetic resonance imaging of C2 segmental type of vertebral artery. Surg Neurol 41(1):45–51

Tatlow TWF, Bummer HG (1957) Syndrome of vertebral artery compression. Neurology 7:331–340

Tervonen O, Videman T (1988) Comparison of ultrasound and discography for the evaluation of disc changes: An experimental study. Neuro-Orthopedics 6:81–86

Von Torclus D (1972) The upper cervical spine. Regional anatomy, pathology and traumatology. A systematic radiological atlas and textbook, 3rd edn. Butterworth, London, pp 20–29

White AA, Panjabi MM (1978) Clinical biomechanics of the spine. Lippincott, Toronto, p 205

Luxon LM (1988) Signs and Symptoms of the vetebraobasilar insufficiency. In: Hofferberth B (eds) Vascular brain stem diseases/workshop on vascular brain stem diseases. September 15–16, 1988. Karger, Gütersloh, pp 93–111
Conflict of interest
The corresponding author states that there are no conflicts of interest.
About this article
Cite this article
Sitel, A., Kuzminov, K. & Bakhtadze, M. Degenerative, dystrophic processes of the cervical spine and hemodynamic failure in the vertebrobasilar system. Manuelle Medizin 49, 91–98 (2011). https://doi.org/10.1007/s00337-010-0785-8
Published:

Issue Date:

DOI: https://doi.org/10.1007/s00337-010-0785-8
Keywords
Schlüsselwörter