Abstract
The signal transducer and activator of transcription 3 (STAT3) gene plays a crucial role in leptin-mediated energy metabolism, upon which the growth and development of animals depend. Nevertheless, no studies have reported the effects of STAT3 gene polymorphisms on body weight and fatness modulation in sheep. This study aimed to illustrate STAT3 mRNA expression across tissues and various developmental stages of sheep and to highlight the association of STAT3 gene polymorphisms with body weight and fat-related traits in sheep, in order to identify a genetic marker that may conceivably be of value for marker-assisted selection (MAS). This study revealed that STAT3 was differentially expressed across age and sex (p < 0.05), with higher expression in the ram liver. The abundant expression of STAT3 in the liver of male sheep and increased expression in the hypothalamus and longissimus dorsi muscle from birth to six months of age may indicate the vital role of the STAT3 gene in animal growth and development. Moreover, SNP association analysis also revealed that the novel SNPs of the STAT3 gene detected in this study showed a significant association with body weight and fatness traits (p < 0.05). In conclusion, the significant genetic effects of the STAT3 gene polymorphisms on sheep growth and development revealed that STAT3 could be a marker gene for the selection of growth-related traits in sheep.
Access options
Buy single article
Instant access to the full article PDF.
US$ 39.95
Tax calculation will be finalised during checkout.
Subscribe to journal
Immediate online access to all issues from 2019. Subscription will auto renew annually.
US$ 79
Tax calculation will be finalised during checkout.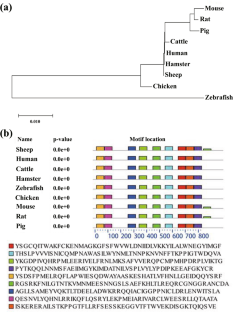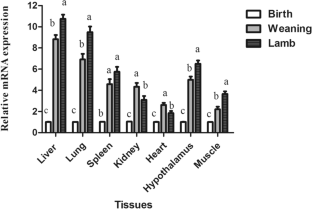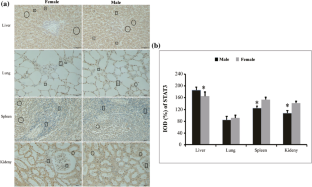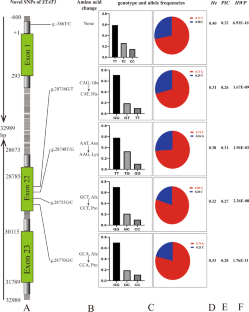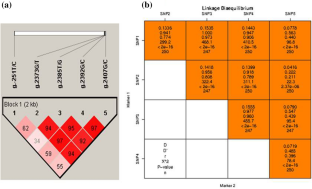 References
Alvarado JJ, Betts L, Moroco JA et al (2010) Crystal structure of the Src-family kinase Hck SH3-SH2-linker regulatory region supports an SH3-dominant activation mechanism. J Biol Chem jbc M110:145102

Ansari AR, Ge XH, Huang HB et al (2016) Effects of lipopolysaccharide on the histomorphology and expression of toll-like receptor 4 in the chicken trachea and lung. Avian Pathol 45:530–537

Bates SH, Stearns WH, Dundon TA et al (2003) STAT3 signalling is required for leptin regulation of energy balance but not reproduction. Nature 421:856–859

Burland TG (2000) DNASTAR's Lasergene sequence analysis software. Methods in Mol Biol 132:71–91

Cernkovich ER, Deng J, Bond MC et al (2008) Adipose-specific disruption of signal transducer and activator of transcription 3 increases body weight and adiposity. Endocrinology 149:1581–1590

Cui Y, Huang L, Elefteriou F et al (2004) Essential role of STAT3 in body weight and glucose homeostasis. Mol Cell Biol 24:258–269

Davidovich O, Kimmel G, Shamir R (2007) GEVALT: an integrated software tool for genotype analysis. BMC Bioinformatics 8:1–8

Dekkers JC (2004) Commercial application of marker-and gene-assisted selection in livestock: strategies and lessons. J Anim Sci 82:E313–328

Derecka M, Gornicka A, Koralov SB et al (2012) Tyk2 and Stat3 regulate brown adipose tissue differentiation and obesity. Cell Metab 16:814–824

Gao Q, Wolfgang MJ, Neschen S et al (2004) Disruption of neural signal transducer and activator of transcription 3 causes obesity, diabetes, infertility, and thermal dysregulation. P Natl Acad Sci USA 101:4661–4666

Gorogawa S-i, Fujitani Y, Kaneto H et al (2004) Insulin secretory defects and impaired islet architecture in pancreatic β-cell-specific STAT3 knockout mice. Biochem Bioph Res Co 319:1159–1170

Gough DJ, Corlett A, Schlessinger K et al (2009) Mitochondrial STAT3 supports Ras-dependent oncogenic transformation. Science 324:1713–1716

Huang HB, Xiang QH, Wu H et al (2014) TLR4 is constitutively expressed in chick thymic epithelial cells. Vet Immunol Immunop 158:182–188

Jia W, Wu X, Li X et al (2015) Novel genetic variants associated with mRNA expression of signal transducer and activator of transcription 3 (STAT3) gene significantly affected goat growth traits. Small Ruminant Res 129:25–36

Jones DT, Taylor WR, Thornton JM (1992) The rapid generation of mutation data matrices from protein sequences. Bioinformatics 8:275–282

Kamran MZ, Patil P, Gude RP (2013) Role of STAT3 in cancer metastasis and translational advances. Biomed Res Int 2013:421821

Kirkpatrick L A and Feeney BC (2012) A simple guide to IBM SPSS: for version 20.0: Nelson Education.

Livak KJ, Schmittgen TD (2001) Analysis of relative gene expression data using real-time quantitative PCR and the 2− ΔΔCT method. Methods 25:402–408

Maxa J, Norberg E, Berg P et al (2007) Genetic parameters for carcass traits and in vivo measured muscle and fat depth in Danish Texel and Shropshire. Acta Agr Scand A 57:49–54

Milner JD, Vogel TP, Forbes L et al (2015) Early-onset lymphoproliferation and autoimmunity caused by germline STAT3 gain-of-function mutations. Blood 125:591–599

Pan C, Wu C, Jia W et al (2013) A critical functional missense mutation (H173R) in the bovine PROP1 gene significantly affects growth traits in cattle. Gene 531:398–402

Peakall R, Smouse PE (2006) GENALEX 6: genetic analysis in Excel. Population genetic software for teaching and research. Mol Ecol Notes 6:288–295

Ranjan S, Bhushan B, Panigrahi M et al (2015) Association and expression analysis of single nucleotide polymorphisms of partial tumor necrosis factor alpha gene with mastitis in crossbred cattle. Anim Biotechnol 26:98–104

Raza SHA, Khan R, Schreurs NM, et al (2019) Expression of the bovine KLF6 gene polymorphisms and their association with carcass and body measures in Qinchuan cattle (Bos Taurus). Genomics.

Schust J, Sperl B, Hollis A et al (2006) Stattic: a small-molecule inhibitor of STAT3 activation and dimerization. Chem Biol 13:1235–1242

Shishay G, Liu G, Jiang X et al (2019) Variation in the Promoter Region of the MC4R Gene Elucidates the Association of Body Measurement Traits in Hu Sheep. Int J Mol Sci 20:240

Sicheri F, Moarefi I, Kuriyan J (1997) Crystal structure of the Src family tyrosine kinase Hck. Nature 385:602–609

Song N, Gui L, Xu H et al (2015) Identification of single nucleotide polymorphisms of the signal transducer and activator of transcription 3 gene (STAT3) associated with body measurement and carcass quality traits in beef cattle. Genet Mol Res 14:11242–11249

Sukhija PS, Palmquist D (1988) Rapid method for determination of total fatty acid content and composition of feedstuffs and feces. J Arg Food Chem 36:1202–1206

Swindell SR, Plasterer TN (1997) Seqman. Contig assembly Methods in Mol Biol 70:75–89

Tamura K, Stecher G, Peterson D et al (2013) MEGA6: molecular evolutionary genetics analysis version 6.0. Mol Biol Evol 30:2725–2729

Vaisse C, Halaas JL, Horvath CM et al (1996) Leptin activation of Stat3 in the hypothalamus of wild–type and ob/ob mice but not db/db mice. Nat Genet 14:95–97

Williams JC, Weijland A, Gonfloni S, Thompson A, Courtneidge SA, Superti-Furga G et al (1997) The 2.35 Å crystal structure of the inactivated form of chicken src: a dynamic molecule with multiple regulatory interactions. J Mol Biol 274:757–775

Wilson C, Harvey A and Thompson J (1999) ClustalG: Software for Analysis of Activities and Sequential Events. Workshop on Longitudinal Research in Social Science: A Canadian Focus, (October 2005), 1–18.

Wood J, Enser M, Fisher A et al (2008) Fat deposition, fatty acid composition and meat quality: A review. Meat Sci 78:343–358

Wu S, Wang Y, Ning Y et al (2018) Genetic Variants in STAT3 Promoter Regions and Their Application in Molecular Breeding for Body Size Traits in Qinchuan Cattle. Int Mol Sci 19:1035

Yu H, Pardoll D, Jove R (2009) STATs in cancer inflammation and immunity: a leading rolefor STAT3. Nat Rev Cancer 9:798–809
Acknowledgements
We gratefully thank Teketay Wassie, Abdelmotaleb Elokil, Dongdong Bo, Chenghui Liu, Sohail Ahmed, and all other people whose hard work in the Laboratory of Small Ruminant Genetics, Breeding and Reproduction, Huazhong Agricultural University, China, contributed to this work.
Funding
This work was financially supported by the China Agricultural Research System (CARS-38-01A) and the National Key R&D Program of China (2018YFD0502105).
Ethics declarations
Conflict of interest
There is no conflict of interest that could be perceived as prejudicing the impartiality of the research reported.
Additional information
Publisher's Note
Springer Nature remains neutral with regard to jurisdictional claims in published maps and institutional affiliations.
Electronic supplementary material
Below is the link to the electronic supplementary material.
About this article
Cite this article
Chong, Y., Liu, G., Girmay, S. et al. Novel mutations in the signal transducer and activator of transcription 3 gene are associated with sheep body weight and fatness traits. Mamm Genome 32, 38–49 (2021). https://doi.org/10.1007/s00335-020-09850-4
Received:

Accepted:

Published:

Issue Date: