Abstract
Pancreatic acinar atrophy (PAA) is a degenerative disease of the exocrine pancreas and is the most common cause of exocrine pancreatic insufficiency in the German Shepherd Dog. Analyses of inheritance have shown that a single gene segregating in an autosomal recessive fashion is causative for PAA. To date the gene and causative mutation have not been determined. To identify a region of interest and/or candidate genes, we conducted linkage and gene expression studies. Analysis of 384 microsatellite markers resulted in a maximum two-point LOD score of 2.5 for FH2107 on CFA03. We used an oligonucleotide array to generate gene expression profiles for normal and affected pancreata. It revealed 244 genes with greater than two-fold difference in expression levels. Five genes of interest were further assessed by TaqMan quantitative real-time RT-PCR that confirmed trends observed using the microarray. One gene, gp25L, located on CFA03, was found to be downregulated by more than 500-fold in affected pancreata and was further investigated as a candidate gene. Sequence data did not reveal a mutation in the coding sequence that segregates with PAA.
This is a preview of subscription content, log in to check access.
Access options
Buy single article
Instant access to the full article PDF.
US$ 39.95
Price includes VAT for USA
Subscribe to journal
Immediate online access to all issues from 2019. Subscription will auto renew annually.
US$ 99
This is the net price. Taxes to be calculated in checkout.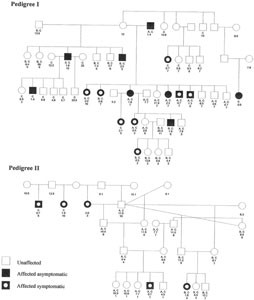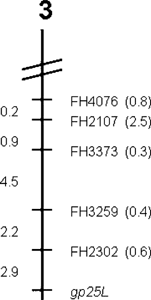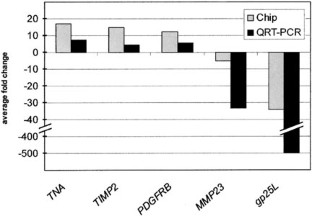 References
L Almasy J Blangero (1998) ArticleTitle Multipoint quantitative trait linkage analysis in general pedigrees Am J Hum Genet 62 1198–1211 Occurrence Handle10.1086/301844 Occurrence Handle9545414 Occurrence Handle1:STN:280:DyaK1c3htlGrtg%3D%3D

R Blum P Feick M Puype J Vandekerckhove R Klengel et al. (1996) ArticleTitleTmp21 and p24A, two type I proteins enriched in pancreatic microsomal membranes, are members of a protein family involved in vesicular trafficking J Biol Chem 271 17183–17189 Occurrence Handle10.1074/jbc.271.48.30736 Occurrence Handle8663407 Occurrence Handle1:CAS:528:DyaK28XksFamtrw%3D

EJ Cargill LA Clark JM Steiner KE Murphy (2002) ArticleTitleMultiplexing of canine microsatellite markers for whole-genome screens Genomics 80 250–253 Occurrence Handle10.1006/geno.2002.6827 Occurrence Handle12213193 Occurrence Handle1:CAS:528:DC%2BD38XmsV2ks7Y%3D

LA Clark KL Tsai JM Steiner DA Williams T Guerra et al. (2004) ArticleTitleChromosome-specific microsatellite multiplex sets for linkage studies in the domestic dog Genomics 84 550–554 Occurrence Handle10.1016/j.ygeno.2004.06.006 Occurrence Handle15498461 Occurrence Handle1:CAS:528:DC%2BD2cXmtlOktrg%3D

E Dimagno VL Go W Summerskill (1973) ArticleTitleRelations between pancreatic enzyme outputs and malabsorption in severe pancreatic insufficiency N Engl J Med 288 813–815 Occurrence Handle4693931 Occurrence Handle1:STN:280:DyaE3s7ks1ygtg%3D%3D Occurrence Handle10.1056/NEJM197304192881603

P Durie (2000) ArticleTitlePancreatic aspects of cystic fibrosis and other inherited causes of pancreatic dysfunction Med Clin North Am 84 609–620 Occurrence Handle10.1016/S0025-7125(05)70244-3 Occurrence Handle10872418 Occurrence Handle1:STN:280:DC%2BD3czjtFahsA%3D%3D

H Friess J Ding J Kleeff L Fenkell JA Rosinski et al. (2003) ArticleTitleMicroarray-based identification of differentially expressed growth- and metastasis-associated genes in pancreatic cancer Cell Mol Life Sci 60 1180–1199 Occurrence Handle12861384 Occurrence Handle1:CAS:528:DC%2BD3sXls1Wqsrg%3D

ER Gauthier SD Madison RN Michel (1997) ArticleTitleRapid RNA isolation without the use of commercial kits: application to small tissue samples Pflugers Arch 433 664–668 Occurrence Handle10.1007/s004240050328 Occurrence Handle9049153 Occurrence Handle1:CAS:528:DyaK2sXhslClurk%3D

R Guyon TD Lorentzen C Hitte L Kim E Cadieu et al. (2003) ArticleTitleA 1-Mb resolution radiation hybrid map of the canine genome Proc Natl Acad Sci USA 100 5296–5301 Occurrence Handle10.1073/pnas.0831002100 Occurrence Handle12700351 Occurrence Handle1:CAS:528:DC%2BD3sXjs1yitrc%3D

N Hamajima K Matsuda S Sakata N Tamaki M Sasaki et al. (1996) ArticleTitleA novel gene family defined by human dihydropyrimidinase and three related proteins with differential tissue distribution Gene 180 157–163 Occurrence Handle10.1016/S0378-1119(96)00445-3 Occurrence Handle8973361 Occurrence Handle1:CAS:528:DyaK28XntlOitLo%3D

H Han D Bearss W Browne R Calaluce RB Nagle et al. (2002) ArticleTitleIdentification of differentially expressed genes in pancreatic cancer cells using cDNA microarray Cancer Res 62 2890–2896 Occurrence Handle12019169 Occurrence Handle1:CAS:528:DC%2BD38XjvFSmt7c%3D

B Ji X Chen D Misek R Kuick S Hanash et al. (2003) ArticleTitlePancreatic gene expression during the initiation of acute pancreatitis: identification of EGR-1 as a key regulator Physiol Genomics 14 59–72 Occurrence Handle12709512 Occurrence Handle1:CAS:528:DC%2BD3sXnsFSisrY%3D

W Ji W Zhou K Gregg N Yu S Davis et al. (2004) ArticleTitleA method for cross-species gene expression analysis with high-density oligonucleotide Nucleic Acids Res 32 e93 Occurrence Handle10.1093/nar/gnh084 Occurrence Handle15247326

L Jones M Humphreys F Campbell JP Neoptolemos MT Boyd (2004) ArticleTitleComprehensive analysis of matrix metalloproteinase and tissue inhibitor expression in pancreatic cancer: increased expression of matrix metalloproteinase-7 predicts poor survival Clin Cancer Res 10 2832–2845 Occurrence Handle15102692 Occurrence Handle1:CAS:528:DC%2BD2cXjt1Clur8%3D Occurrence Handle10.1158/1078-0432.CCR-1157-03

S Kaur O Norkina D Ziemer LC Samuelson RC Lisle ParticleDe (2004) ArticleTitleAcidic duodenal pH alters gene expression in the cystic fibrosis mouse pancreas Am J Physiol Gastrointest Liver Physiol 287 G480–490 Occurrence Handle10.1152/ajpgi.00035.2004 Occurrence Handle15064229 Occurrence Handle1:CAS:528:DC%2BD2cXmvV2ms7g%3D

C Logsdon D Simeone C Binkley T Arumugam JK Greenson et al. (2003) ArticleTitleMolecular profiling of pancreatic adenocarcinoma and chronic pancreatitis identifies multiple genes differentially regulated in pancreatic cancer Cancer Res 63 2649–2657 Occurrence Handle12750293 Occurrence Handle1:CAS:528:DC%2BD3sXjsleht7Y%3D

EM Moeller JS Steiner LA Clark KE Murphy TR Famula et al. (2002) ArticleTitleInheritance of pancreatic acinar atrophy in German Shepherd Dogs Am J Vet Res 63 1429–1434 Occurrence Handle12371772 Occurrence Handle10.2460/ajvr.2002.63.1429

T Nakamura Y Furukawa H Nakagawa T Tsunoda H Ohigashi et al. (2004) ArticleTitleGenome-wide cDNA microarray analysis of gene expression profiles in pancreatic cancers using populations of tumor cells and normal ductal epithelial cells selected for purity by laser microdissection Oncogene 23 2385–2400 Occurrence Handle10.1038/sj.onc.1207392 Occurrence Handle14767473 Occurrence Handle1:CAS:528:DC%2BD2cXisVGksLo%3D

B Orelle V Keim L Masciotra JC Dagorn JL Iovanna (1992) ArticleTitleHuman pancreatitis-associated protein. Messenger RNA cloning and expression in pancreatic diseases J Clin Invest 90 2284–2291 Occurrence Handle1469087 Occurrence Handle1:CAS:528:DyaK2cXltFGrtA%3D%3D Occurrence Handle10.1172/JCI116115

M Raiha E Westermarck (1989) ArticleTitleThe signs of pancreatic degenerative atrophy in dogs and the role of external factors in the etiology of the diseases Acta Vet Scand 30 447–452 Occurrence Handle2640782 Occurrence Handle1:STN:280:DyaK3czkt1KntA%3D%3D

M Richman CS Mellersh C André F Galibert EA Ostrander (2001) ArticleTitleCharacterization of a minimal screening set of 172 microsatellite markers for genome-wide screens of the canine genome J Biochem Biophys Methods 47 137–149 Occurrence Handle10.1016/S0165-022X(00)00160-3 Occurrence Handle11179770 Occurrence Handle1:CAS:528:DC%2BD3MXhtFeitb0%3D

WA Rogers TM O'Dorisio SE Johnson S Cataland RP Stradley et al. (1983) ArticleTitlePostprandial release of gastric inhibitory polypeptide (GIP) and pancreatic polypeptide in dogs with pancreatic acinar atrophy Dig Dis Sci 28 345–349 Occurrence Handle10.1007/BF01324952 Occurrence Handle6831998 Occurrence Handle1:CAS:528:DyaL3sXktVeksLc%3D

J Rötter R Kuiper G Bouw J Martens (2002) ArticleTitleCell-type-specific and selectively induced expression of members of the p24 family of putative cargo receptors J Cell Sci 115 1049–1058 Occurrence Handle11870223

M Stamnes M Craighead M Hoe N Lampen (1995) ArticleTitleAn integral membrane component of coatemer-coated transport vesicles defines a family of proteins involved in budding Proc Natl Acad Sci USA 92 8011– 8015 Occurrence Handle7644530 Occurrence Handle1:CAS:528:DyaK2MXnsFOnurg%3D Occurrence Handle10.1073/pnas.92.17.8011

I Wada D Rindress P Cameron WJ Ou JJ Doherty Suffix2nd et al. (1991) ArticleTitleSSRα and associated calnexin are major calcium binding proteins of the endoplasmic reticulum membrane J Biol Chem 266 19599–19610 Occurrence Handle1918067 Occurrence Handle1:CAS:528:DyaK38XhsVKgsLs%3D

E Westermarck M Wiberg (2003) ArticleTitleExocrine pancreatic insufficiency in dogs Vet Clin Small Anim 33 1165–1179 Occurrence Handle10.1016/S0195-5616(03)00057-3

E Westermarck RM Batt C Vaillant M Wiberg (1993) ArticleTitleSequential study of pancreatic structure and function during development of pancreatic acinar atrophy in a German Shepherd Dog Am J Vet Res 54 1088–1094 Occurrence Handle8368604 Occurrence Handle1:STN:280:DyaK3sznvVWltg%3D%3D

M Wiberg S Saari E Westermarck (1999) ArticleTitleExocrine pancreatic atrophy in German Shepherd Dogs and Rough-coated Collies: an end result of lymphocytic pancreatitis Vet Pathol 36 530–541 Occurrence Handle10.1354/vp.36-6-530 Occurrence Handle10568434 Occurrence Handle1:STN:280:DC%2BD3c%2FjtlSrsA%3D%3D
Acknowledgments
This work was supported by grants from the Canine Health Foundation. The authors thank the GSD owners that generously participated in this study. The authors also thank Catherine André for providing assistance with RH mapping.
About this article
Cite this article
Clark, L.A., Wahl, J.M., Steiner, J.M. et al. Linkage analysis and gene expression profile of pancreatic acinar atrophy in the German Shepherd Dog. Mamm Genome 16, 955–962 (2005). https://doi.org/10.1007/s00335-005-0076-1
Received:

Accepted:

Published:

Issue Date:
Keywords
Exocrine Pancreatic Insufficiency

Exocrine Pancreatic Insufficiency

Multipoint Linkage Analysis

Pedigree Member

Sequential Oligogenic Linkage Analysis Routine