Abstract
Here we present the results of stable carbon isotope (δ13C) analysis on charred crop seeds from the Bronze Age site of Kaymakçı in western Anatolia. The δ13C data, in conjunction with some 14C-dated seeds, allows for insights into the water availability for crops and a comparison among taxa, enabling a relatively high-resolution investigation of field agriculture, crop cultivation, and crop and field management around the site. From this data, we discuss agroeconomic structures and local paleoenvironmental and paleoclimatic conditions in the local micro-region, as well as more generally for western Anatolia. A total of 35 single carbonized seeds were analysed, including seeds of wheat, barley, bitter vetch, pulses, and grape. Almost all samples date to the first half of the second millennium bc, based on radiocarbon dating of 24 seeds from the sample assemblage. The δ13C data demonstrates that crops at Kaymakçı were generally moderately to well-watered, and water availability was likely not a limiting factor for growth. This water availability is unlikely to result from artificial and man-made irrigation systems, however, but rather crop-management and field-location choices, taking advantage of the humid conditions along the shores of Lake Marmara and in surrounding wetland environs. A seeming paradox is the ubiquity of risk buffering crops (barley and bitter vetch) despite a supposed abundance of water availability. This evidence for mixed approaches further underlines the importance of versatility in local agricultural systems and their underlying structures, favored and implemented by local communities.
Access options
Buy single article
Instant access to the full article PDF.
USD 39.95
Price excludes VAT (USA)
Tax calculation will be finalised during checkout.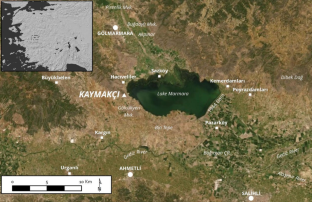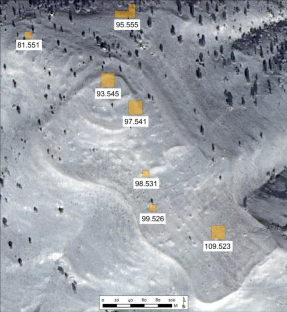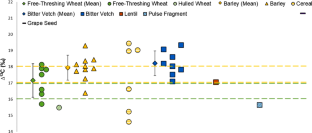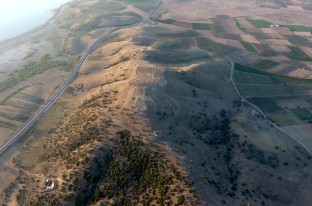 References
Araus JL, Febrero A, Buxó R et al (1997) Identification of ancient irrigation practices based on the carbon isotope discrimination of plant seeds: a case study from the south-east Iberian Peninsula. J Archaeol Sci 24:729–740. https://doi.org/10.1006/jasc.1997.0154

Arbuckle BS (2014) The rise of cattle cultures in bronze age Anatolia. J East Mediterr Archaeol Heritage Stud 2:277–297. https://doi.org/10.5325/jeasmedarcherstu.2.4.0277

Bachhuber C (2012) The Anatolian Plateau. In: Potts DT (ed) A companion to the archaeology of the ancient Near East. Wiley-Blackwell, Chichester, pp 575–595

Başer KHC, Honda G, Miki W (1986) Herb drugs and herbalists in Turkey. Institute for the Study of Languages and Cultures of Asia and Africa, Tokyo

Beckman G (1999) Hittite diplomatic texts. Writings from the Ancient World Series, vol 7, 2nd edn. Society of Biblical Literature, Atlanta

Bogaard A, Hodgson J, Nitsch E et al (2016) Combining functional weed ecology and crop stable isotope ratios to identify cultivation intensity: a comparison of cereal production regimes in Haute Provence, France and Asturias, Spain. Veget Hist Archaeobot 25:57–73. https://doi.org/10.1007/s00334-015-0524-0

Bronk Ramsey C (2009) Bayesian analysis of radiocarbon dates. Radiocarbon 51:337–360. https://doi.org/10.1017/S0033822200033865

Bryce TR (2003) The relations between Hatti and Ahhiyawa in the last decades of the bronze age. In: Beckman G, Beal R, McMahon G (eds) Hittite Studies in Honor of Harry A. Hoffner Jr. on the occasion of his 65th birthday. Eisenbrauns, Winona Lake, Indiana, pp 59–72

Bryce T (2005) The Kingdom of the Hittites, New Edition. Oxford University Press, Oxford

Bryce T (2011) The late bronze age in the West and the Aegean. In: Steadman SR, McMahon G (eds) The Oxford Handbook of Ancient Anatolia: (10,000-323 BCE). Oxford University Press, Oxford, pp 363–375

Çelik S, Luke C, Roosevelt CH (2022) Ottoman lakes and fluid landscapes: environing, wetlands and conservation in the Marmara Lake Basin, circa 1550–1900. Environ History. https://doi.org/10.3197/096734022X16470180631460

Charles M, Forster E, Wallace M, Jones G (2015) Nor ever lighting char thy grain"1: establishing archaeologically relevant charring conditions and their effect on glume wheat and grain morphology. STAR: Sci Technol Archaeol Res 1:1–6. https://doi.org/10.1179/2054892315Y.0000000008

De Souza CR, Maroco JP, dos Santos TP, Rodrigues ML, Lopes CM, Pereira JS, Chaves MM (2005) Impact of deficit irrigation on water use efficiency and carbon isotope composition (δ13C) of field-grown grapevines under Mediterranean climate. J Exp Biol 56:2163–2172. https://doi.org/10.1093/jxb/eri216

Diffey C, Neef R, Seeher J, Bogaard A (2020) The agroecology of an early state: new results from Hattusha. Antiquity 94:1204–1223. https://doi.org/10.15184/aqy.2020.172

Ehleringer JR (1991) 13 C/12 C fractionation and its utility in terrestrial plant studies. In: Coleman DC, Fry B (eds) Carbon Isotope techniques. Academic Press, San Diego, pp 187–200

Farquhar GD, O'Leary MH, Berry JA (1982) On the relationship between carbon isotope discrimination and the intercellular carbon dioxide concentration in leaves. Aust J Plant Physiol 9:121–137

Farquhar GD, Ehleringer JR, Hubick KT (1989) Carbon isotope discrimination and photosynthesis. Annu Rev Plant Physiol Plant Mol Biol 40:503–537. https://doi.org/10.1146/annurev.pp.40.060189.002443

Ferrio JP, Araus JL, Buxó R, Voltas J, Bort J (2005) Water management practices and climate in ancient agriculture: inferences from the stable isotope composition of archaeobotanical remains. Veget Hist Archaeobot 14:510–517. https://doi.org/10.1007/s00334-005-0062-2

Ferrio JP, Aguilera M, Voltas J, Araus JL, Stratigraphy (2020) & Timescales Series 5. Academic Press, Cambridge, 107–145. https://doi.org/10.1016/bs.sats.2020.08.008

Fiorentino G, Ferrio JP, Bogaard A, Araus JL, Riehl S (2015) Stable isotopes in archaeobotanical research. Veget Hist Archaeobot 24:215–227. https://doi.org/10.1007/s00334-014-0492-9

Fındıklar Ş (2021) Mighty cattle: Zooarchaeological analyses of Bos husbandry practices in Late Bronze Age Kaymakçı Western Anatolia. MA Thesis, Koç University, Sarıyer/İstanbul

Gander M (2017) An alternative view on the location of Arzawa. In: Mouton A (ed) Hittitology Today: Studies on Hittite and Neo-Hittite Anatolia in Honor of Emmanuel Laroche's 100th Birthday: Istanbul 21–22 novembre 2014. Recontres d'Archéologie de l'IFÉA 5. Institut Français d'Études Anatoliennes Georges - Dumézil, Beyoğlu-İstanbul, pp 163–190

Glatz C (2009) Empire as network: spheres of material interaction in late bronze age Anatolia. J Anthropol Archaeol 28:127–141. https://doi.org/10.1016/j.jaa.2008.10.003

Gül O, Onmuş O, Sıkı M (2013) Significant impacts of the water level and human intervention on the natural habitats and breeding waterbirds in Marmara Lake. Ekoloji 22:29–39

Guo P, Baum M, Grando S et al (2009) Differentially expressed genes between drought-tolerant and drought-sensitive barley genotypes in response to drought stress during the reproductive stage. J Exp Bot 60:3531–3544. https://doi.org/10.1093/jxb/erp194

Hawkins JD (1998) Tarkasnawa, King of Mira 'Tarkondemos', Boğazköy sealings and Karabel. Anatol Stud 48:1–32. https://doi.org/10.2307/3643046

Heinhold-Krahmer S (1977) Arzawa: Untersuchungen zu seiner Geschichte nach den hethitischen Quellen. Texte der Hethiter 8. Universitätsverlag Winter, Heidelberg

Irvine B, Özdemir K (2020) Biogeochemical approaches to bioarchaeological research in Turkey: a review. J East Mediterr Archaeol Heritage Stud 8:174–199. https://doi.org/10.5325/jeasmedarcherstu.8.2.0174

Jacobson MJ, Flohr P, Gascoigne A et al (2021) Heterogeneous late holocene climate in the Eastern Mediterranean – The Kocain Cave record from SW Turkey. Geophys Res Lett 48. https://doi.org/10.1029/2021GL094733. e2021GL094733

Kohler TA, Smith ME, Bogaard A et al (2017) Greater post-neolithic wealth disparities in Eurasia than in North America and Mesoamerica. Nature 551:619–622. https://doi.org/10.1038/nature24646

Maltas T, Şahoğlu V, Erkanal H, Tuncel R (2022a) Prehistoric farming settlements in western Anatolia: archaeobotanical insights into the late Chalcolithic of the Izmir region, Turkey. J Mediterr Archaeol 34:252–277. https://doi.org/10.1558/jma21981

Maltas T, Şahoğlu V, Erkanal H, Tuncel R (2022b) From horticulture to agriculture: New data on farming practices in late chalcolithic western Anatolia. J Archaeol Sci Rep 43:103482. https://doi.org/10.1016/j.jasrep.2022.103482

Marston JM, Çakırlar C, Luke C, Kováčik P, Slim FG, Shin N, Roosevelt CH (2022) Agropastoral economies and land use in bronze age western Anatolia. Environ Archaeol 27:539–553. https://doi.org/10.1080/14614103.2021.1918485

Masi A, Sadori L, Balossi Restelli F, Baneschi I, Zanchetta G (2014) Stable carbon isotope analysis as a crop management indicator at Arslantepe (Malatya, Turkey) during the late chalcolithic and early bronze age. Veget Hist Archaeobot 23:751–760. https://doi.org/10.1007/s00334-013-0421-3

McCreery DW (2003) Bronze age agriculture in the Dead Sea basin: the cases of Bâb edh-Dhrâ', Numeira and tell nimrin. In: Gunn DM, McNutt PM (eds) Imagining' biblical Worlds: studies in spatial, social and historical constructs in honor of James W. Flanagan. Journal for the study of the Old Testament supplement 359. Sheffield Academic Press, New York, pp 250–263

Meriç R (2020) The Arzawa Lands. The historical geography of Izmir and its environs during late bronze age in the light of new archaeological research. TÜBA-AR 27:151–177. https://doi.org/10.22520/tubaar.2020.27.009

Mountjoy PA (1998) The East Aegean-West Anatolian interface in the late bronze age: Mycenaeans and the Kingdom of Ahhiyawa. Anatol Stud 48:33–68. https://doi.org/10.2307/3643047

Nitsch EK, Charles M, Bogaard A (2015) Calculating a statistically robust δ13C and δ15N offset for charred cereal and pulse seeds. STAR: Sci Technol Archaeol Res 1:1–8. https://doi.org/10.1179/2054892315Y.0000000001

Nitsch E, Andreou S, Creuzieux A et al (2017) A bottom-up view of food surplus: using stable carbon and nitrogen isotope analysis to investigate agricultural strategies and diet at bronze age Archontiko and Thessaloniki Toumba, northern Greece. World Archaeol 49:105–137. https://doi.org/10.1080/00438243.2016.1271745

Oybak Dönmez E, Akın Akyol A, Karadağ R, Torgan E, Iren K (2017) Ancient plant remains with special reference to buckthorn, Frangula alnus Mill., pyrenes from Dascyleum, Balıkesir, NW Turkey. Acta Soc Bot Pol 86:3520. https://doi.org/10.5586/asbp.3520

Porson S, Falconer S, Pilaar Birch S, Ridder E, Fall P (2021) Crop management and agricultural responses at early bronze IV tell Abu en-Ni'aj, Jordan. J Archaeol Sci 133:105435. https://doi.org/10.1016/j.jas.2021.105435

Reimer PJ, Austin WEN, Bard E et al (2020) The IntCal20 Northern Hemisphere radiocarbon age calibration curve (0–55 cal. BP). Radiocarbon 62:725–757. https://doi.org/10.1017/RDC.2020.41

Riehl S (1999) Bronze age environment and economy in the troad: the archaeobotany of Kumtepe and Troy. BioArchaeologica 2. Mo Vince Verlag, Tübingen

Riehl S (2009) Archaeobotanical evidence for the interrelationship of agricultural decision-making and climate change in the ancient Near East. Quat Int 197:93–114. https://doi.org/10.1016/j.quaint.2007.08.005

Riehl S (2019) Resource management at tell el-'Abd: economic specialization despite or because of environmental limitations? In: Finkbeiner U (ed) Final reports of the syrian-german excavations at tell el-'Abd. Small Objects and Environmental Studies. Studies in Near and Middle Eastern Archaeology 5/2, vol 3. Zaphon, Münster, pp 169–185

Riehl S, Marinova E (2008) Mid-holocene vegetation change in the troad (W Anatolia): man-made or natural? Veget Hist Archaeobot 17:297–312

Riehl S, Marinova E (2016) The interplay of environmental change, socio-political stress and human resilience at Early to Middle Bronze Age Troy. In: Pernicka E, Ünlüsöy S, Blum SWE (eds) Early Bronze Age Troy: Chronology, Cultural Development and Interregional Contacts. Proceedings of an International Conference held at the University of Tübingen May 8–10, 2009. Studia Troica Monographien 8. Habelt

Riehl S, Pustovoytov KE, Weippert H, Klett S, Hole F (2014) Drought stress variability in ancient Near Eastern agricultural systems evidenced by δ13C in barley grain. Proc Natl Acad Sci USA 111:12348–12353. https://doi.org/10.1073/pnas.1409516111

Riehl S, Pustovoytov K, Othmanli H (2016) Agricultural patterns in the Aegean in the 4th millennium BC - an explanatory model. In: Horejs B, Mehofer M (eds) Western Anatolia before Troy: Proto-Urbanisation in the 4th millennium BC? Austrian Academy of Sciences Press, Vienna, pp 367–384

Roosevelt CH (2009) The Archaeology of Lydia, from Gyges to Alexander. Cambridge University Press, Cambridge

Roosevelt CH, Luke C (2017) The story of a forgotten kingdom? Survey archaeology and the historical geography of central western Anatolia in the second millennium BC. Eur J Archaeol 20:120–147. https://doi.org/10.1017/eaa.2016.2

Roosevelt CH, Luke C, Ünlüsoy S et al (2018) Exploring space, economy, and interregional interaction at a second-millennium BCE citadel in central western Anatolia: 2014–2017 research at Kaymakçı. Am J Archaeol 122:645–688. https://doi.org/10.3764/aja.122.4.0645

Santesteban LG, Miranda C, Royo JB (2011) Regulated deficit irrigation effects on growth, yield, grape quality and individual anthocyanin composition in Vitis vinifera L. cv. 'Tempranillo' Agric Water Manage 98. https://doi.org/10.1016/j.agwat.2011.02.011. 1,171-1,179

Schwall C, Thanheiser U, Börner M, Horejs B (2023) The crop is on fire: evidence of subsistence strategies from late Chalcolithic Çukuriçi Höyük. Arkeoloji Bilimleri Dergisi /. Turkish J Archaeol Sci 3:107–135

Shin N, Marston JM, Luke C, Roosevelt CH, Riehl S (2021) Agricultural practices at bronze age Kaymakçı, western Anatolia. J Archaeol Sci Rep 36:102800. https://doi.org/10.1016/j.jasrep.2021.102800

Slim FG, Çakırlar C, Roosevelt CH (2020) Pigs in sight: late bronze age pig husbandries in the Aegean and Anatolia. J Field Archaeol 45:315–333. https://doi.org/10.1080/00934690.2020.1754081

Stroud E, Bogaard A, Charles M (2021) A stable isotope and functional weed ecology investigation into chalcolithic cultivation practices in Central Anatolia: Çatalhöyük, Çamlıbel Tarlası and Kuruçay. J Archaeol Sci Rep 38:103010. https://doi.org/10.1016/j.jasrep.2021.103010

Styring AK, Ater M, Hmimsa Y et al (2016) Disentangling the effect of farming practice from aridity on crop stable isotope values: a present-day model from Morocco and its application to early farming sites in the eastern Mediterranean. Anthropocene Rev 3:2–22. https://doi.org/10.1177/2053019616630762

Styring AK, Charles M, Fantone F et al (2017) Isotope evidence for agricultural extensification reveals how the world's first cities were fed. Nat Plants 3:17076. https://doi.org/10.1038/nplants.2017.76

Uerpmann H-P (2003) Environmental aspects of economic changes in Troia. In: Wagner GA, Pernicka E, Uerpmann H-P (eds) Troia and the troad: scientific approaches. Springer, Berlin, pp 251–262

Uğurlu E, Seçmen Ö (2007) Medicinal plants popularly used in the villages of Yunt Mountain (Manisa-Turkey). Fitoterapia 79:126–131. https://doi.org/10.1016/j.fitote.2007.07.016

Valamoti SM, Moniaki A, Karathanou A (2011) An investigation of processing and consumption of pulses among prehistoric societies: archaeobotanical, experimental and ethnographic evidence from Greece. Veget Hist Archaeobot 20:381–396. https://doi.org/10.1007/s00334-011-0302-6

Vermeersch S, Riehl S, Starkovich BM, Kamlah J (2021) Developments in subsistence during the early bronze age through the Iron Age in the southern and central Levant: integration of faunal and botanical remains using multivariate statistics. Quat Sci Rev 253:106776. https://doi.org/10.1016/j.quascirev.2020.106776

Von den Driesch A, Pöllath N (2004) Vor-und Frühgeschichtliche Nutztierhaltung und Jagd auf Büyükkaya in Boğazköy-Hattuša, Zentralanatolien. Boğazköy-Berichte 7. von Zabern, Mainz

Wallace M, Jones G, Charles M, Fraser R, Halstead P, Heaton THE, Bogaard A (2013) Stable carbon isotope analysis as a direct means of inferring crop water status and water management practices. World Archaeol 45:388–409. https://doi.org/10.1080/00438243.2013.821671

Wallace MP, Jones G, Charles M, Fraser R, Heaton THE, Bogaard A (2015) Stable carbon isotope evidence for neolithic and bronze age crop water management in the eastern Mediterranean and southwest Asia. PLoS ONE 10:e0127085. https://doi.org/10.1371/journal.pone.0127085

White CE, Miller NF (2018) The archaeobotany of grape and wine in Hittite Anatolia. Die Welt des Orients 48:209–224. https://doi.org/10.13109/wdor.2018.48.2.209

Wollstonecroft MM, Hroudová Z, Hillman GC, Fuller DQ (2011) Bolboschoenus glaucus (Lam.) S.G. Smith, a new species in the flora of the ancient Near East. Veget Hist Archaeobot 20:459–470. https://doi.org/10.1007/s00334-011-0305-3

Yousfi S, Serret MD, Araus JL (2013) Comparative response of δ13C, δ18O and δ15N in durum wheat exposed to salinity at the vegetative and reproductive stages. Plant Cell Environ 36(1). https://doi.org/10.1111/pce.12055. ,214-1,227
Acknowledgements
We would like to thank the Manisa Museum Directorate and the General Directorate of Cultural Heritage and Museums of the Ministry of Culture and Tourism, Republic of Türkiye, for permissions for excavations, sampling, and analyses. We are grateful to the directors and staff of Beta Analytic, Inc., Florida, USA, and the Turkish Energy, Nuclear and Mineral Research Agency (TENMAK), Ankara, Türkiye, for their helpful responsiveness and careful analyses. For assistance and guidance in field and laboratory work, we acknowledge all participants of the 2014–2019 seasons of the Kaymakçı Archaeological Project, especially J. M. Marston. NS thanks S. Riehl for support and advice. BI acknowledges a joint DAI-ANAMED Environmental Archaeology Fellowship held during the research and writing of this article. This research was supported by Koç University, the Merops Foundation, private donors, and the "Groundcheck" research cluster of the German Archaeological Institute (DAI) through a collaborative project of the German Archaeological Institute-Istanbul and Koç University Research Center for Anatolian Civilizations called 'Humidity and Society: 8,500 Years of Climate History in Western Anatolia'. With respect to the latter project, the authors thank F. Pirson and R. Özbal for the pleasant and fruitful collaboration. We would also like to thank the two anonymous reviewers for their time, and for their comments and suggestions which helped to improve the quality of this paper.
Ethics declarations
Conflicts of interest
The authors declare no conflicts of interest and have no competing interests to declare that are relevant to the content of this article.
Additional information
Communicated by S. M. Valamoti.
Publisher's Note
Springer Nature remains neutral with regard to jurisdictional claims in published maps and institutional affiliations.
Electronic supplementary material
Below is the link to the electronic supplementary material.
Rights and permissions
Springer Nature or its licensor (e.g. a society or other partner) holds exclusive rights to this article under a publishing agreement with the author(s) or other rightsholder(s); author self-archiving of the accepted manuscript version of this article is solely governed by the terms of such publishing agreement and applicable law.
About this article
Cite this article
Irvine, B., Shin, N., Luke, C. et al. Stable carbon isotope (δ13C) analysis of archaeobotanical remains from Bronze Age Kaymakçı (western Anatolia) to investigate crop management. Veget Hist Archaeobot (2023). https://doi.org/10.1007/s00334-023-00941-1
Received:

Accepted:

Published:

DOI: https://doi.org/10.1007/s00334-023-00941-1
Keywords