Abstract
Analysis of plant remains of 73 taxa obtained from the graveyard of the Haihun Marquis (circa 59 bc) at Nanchang, China, is presented. Chronology was confirmed by direct AMS radiocarbon dating of both a seed and wood, while plant seeds were collected by wet sieving. Detailed composition of the samples suggests that the fundamental landscape of the graveyard was composed of Platycladus orientalis, a symbol of solemnity and compatible with the high status of the tomb owner Liu He. Furthermore, seeds of Sapium sebiferum, Castanopsis sclerophylla and Lauraceae, among other high-status plants were also discovered and thus could be included in the landscaping of the graveyard of the Haihun Marquis. In addition, plants like Poaceae, Santalaceae, Cyperaceae and Broussonetia sp., among others, represented a considerable share of the graveyard growth. Fruit stones of Amygdalus persica, Armeniaca mume and Cerasus pseudocerasus discovered in the well may have been included as fruit trees, but grew outside the graveyard. In the main tomb (M1), remains of five plant were discovered, i.e. Oryza sativa (rice), Cannabis sativa (hemp), Setaria italica (foxtail millet) and Cucumis melo (sweet melon), as well as Armeniaca mume (Japanese apricot) and had been placed in the tomb for further use as cereals and fruit by the deceased in the world beyond, thus also demonstrating diversified plant use in the Western Han Dynasty.
Access options
Buy single article
Instant access to the full article PDF.
US$ 39.95
Tax calculation will be finalised during checkout.
Subscribe to journal
Immediate online access to all issues from 2019. Subscription will auto renew annually.
US$ 79
Tax calculation will be finalised during checkout.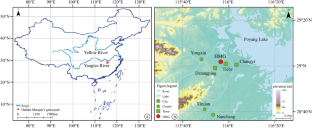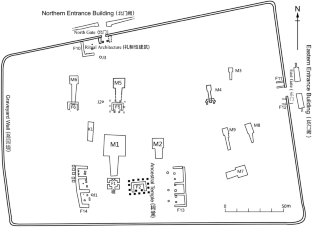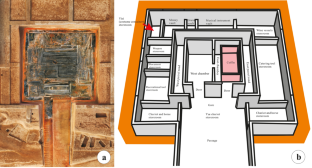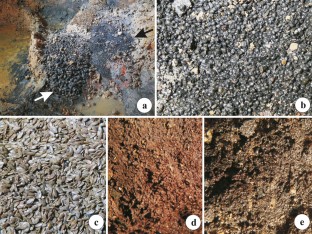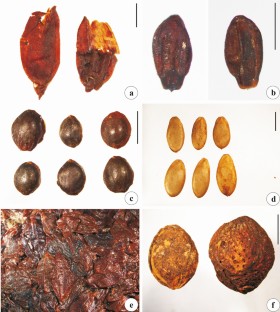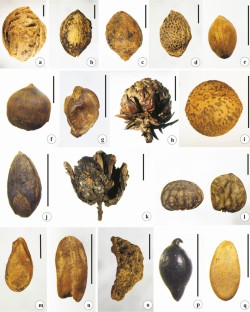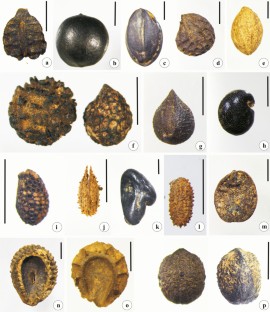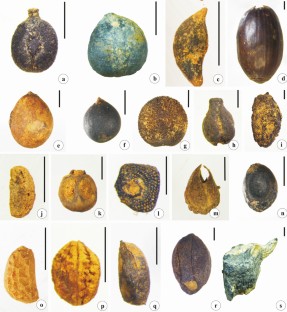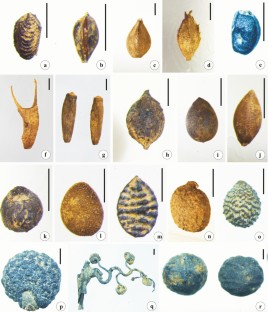 References
Chang KC (1977) Ancient China. In: Chang KC (ed) Food in Chinese Culture: anthropological and historical perspectives. Yale University Press, New Haven, pp 23–52

Chen J, Ye X (1963) Report on the excavation of the Han cemetery of the suburb of Luoyang. Acta Archaeol Sinica 2:1–58 (in Chinese)

Chen T, Wang B, Mai H, Jiang H (2020a) Last meals inferred from the possible gut contents of a mummy: a case study at the Astana Cemetery, Xinjiang, China. Archaeometry 62:847–862

Chen T, Wang B, Power RC, Jiang H (2020b) The first archaeobotanical evidence of Medicago sativa L. in China: hay fodder for livestock. Archaeol Anthropol Sci 12:1–7

Deng Z, Hung HC, Fan X, Huang Y, Lu H (2018) The ancient dispersal of millets in southern China: new archaeological evidence. Holocene 28:34–43

Deng Z, Yan Z, Yu Z (2020) Bridging the gap on the southward dispersal route of agriculture in China: new evidences from the Guodishan site, Jiangxi province. Archaeol Anthropol Sci 12:1–10

Feng G, Bao Y, Zhao J, You Y (2012) Textual research on reality and titles of plants cultivated in the shanglinyuan royal garden of the Qin to Han Dynasties. Science Press, Beijing (in Chinese)

Fu L, Yu Y, Farjon A (1999) Cupressaceae. In: Wu Z, Raven P (eds) Flora of China, vol 4. Science Press and Missouri Botanical Garden Press, Beijing, St Louis, pp 62–77

Fuller DQ (2018) Long and attenuated: comparative trends in the domestication of tree fruits. Veget Hist Archaeobot 27:165–176

Fuller DQ, Qin L (2009) Water management and labour in the origins and dispersal of Asian rice. World Archaeol 41:88–111

Fuller DQ, Stevens CJ (2019) Between domestication and civilization: the role of agriculture and arboriculture in the emergence of the first urban societies. Veget Hist Archaeobot 28:263–282

Fuller DQ, Harvey E, Qin L (2007) Presumed domestication? Evidence for wild rice cultivation and domestication in the fifth millennium bc of the Lower Yangtze region. Antiquity 81:316–331

Fuller DQ, Qin L, Zhao Z, Zheng Y, Hosoya L, Chen X, Sun G (2011) Archaeobotanical analysis at Tianluoshan: evidence for wild-food gathering, rice cultivation and the process of the evolution of morphologically domesticated rice. Center for the Study of Chinese Archaeology, Peking University and Zhejiang Province Institute of Archaeology and Cultural Heritage (eds) Integrated Studies on the Natural Remains from Tianluoshan. Wenwu Press, Beijing, pp 47–96 (in Chinese)

Fuller DQ, Denham T, Arroyo-Kalin M et al (2014) Convergent evolution and parallelism in plant domestication revealed by an expanding archaeological record. Proc Natl Acad Sci USA 111:6,147-6,152

Fuller DQ, Castillo C, Kingwell-Banham E, Qin L, Weisskopf A (2018) Charred pomelo peel, historical linguistics and other tree crops: approaches to framing the historical context of early Citrus cultivation in East, South and Southeast Asia. In: Zech-Matterne V, Fiorentino G (eds) AGRUMED: Archaeology and history of citrus fruit in the Mediterranean Acclimatization, diversifications, uses. Publications du Centre Jean Bérard, Naples, pp 31–50

Geng J, Liu L (1974) Seeds of peach and Japanese bush cherry discovered in a Shang dynasty site of Gaocheng. Antiquity 8:54–55 (in Chinese)

HAU and IBCAS (Hunan Agricultural University, Institute of Botany, Chinese Academy of Sciences) (1978) A study of the agricultural products. In: Anonymous (ed) Studies on the animal and plant specimens unearthed from the Han Tomb No 1 at Mawangdui. Cultural Relics Press, Beijing, pp 1–20 (in Chinese)

Hosoya L, Wollstonecroft M, Fuller DQ, Qin L (2010) Experimental pilot study of peach/apricot kernel detoxification for reconstruction of Chinese early rice farmers broad spectrum subsistence strategy. In: Makibayashi K, Uchikado M (eds) Studies of Landscape History on East Asian Inland Seas (NEOMAP Project). Research Institute for Humanity and Nature, Kyoto, pp 69–76

Hsu C (1980) Han agriculture: the formation of early Chinese Agrarian Economy (206 BC–AD 220). University of Washington Press, Seattle

IAJ and NM (The Institute of Archaeology of Jiangxi, The Nanchang Museum) (2001) Excavation of a group of Eastern Jin tombs at the Nanchang railway station. Wenwu 2:12–41 (in Chinese)

Ishikawa R, Castillo CC, Fuller DQ (2020) Genetic evaluation of domestication-related traits in rice: implications for the archaeobotany of rice origins. Archaeol Anthropol Sci 12:197

Jiang T, Qiu Z, Liang Z, Liang J (1978) Preliminary report on the excavation of the No. 1 tomb of the Luobowan, Guixian of Guangxi. Cultural Relics of Central China 9:25–42, 4 plates (in Chinese)

Jiang H, Li X, Zhao YX et al (2006) A new insight into Cannabis sativa (Cannabaceae) utilization from 2500-year-old Yanghai Tombs, Xinjiang, China. J Ethnopharmacol 108:414–422

Jiang H, Zhang Y, Li X, Yao Y, Ferguson DK, Lu E, Li C (2009) Evidence for early viticulture in China: proof of a grapevine (Vitis vinifera L., Vitaceae) in the Yanghai Tombs, Xinjiang. J Archaeol Sci 36:1,458-1,465

Jiang H, Yang J, Ferguson DK, Li Y, Wang CS, Li CS (2013) Fruit stones from Tiao Lei's tomb of Jiangxi in china, and their palaeoethnobotanical significance. J Archaeol Sci 40:1,911-1,917

Keng H (1973) Economic plants of ancient North China as mentioned in Shih Ching (Book of Poetry). Econ Bot 28:391–410

Kong Z, Liu C, Zhao F (2011) Discovery and analysis of the plant remains in the Laoshan tomb in Beijing. Cultural Relics of Central China 3:103–108 (in Chinese)

Laufer B (1919) Sino-Iranica: Chinese contributions to the history of civilization in ancient Iran, with special reference to the history of cultivated plants and products. Field Museum of Natural History, Chicago

Li H (1969) The vegetables of ancient China. Econ Bot 23:253–260

Li HL (1974) An archaeological and historical account of cannabis in China. Econ Bot 28:437–448

Li Y (1979) Morphology and anatomy of gramineous crops. Shanghai Scientific and Technical Publishers, Shanghai (in Chinese)

Li Y (1985) Vegetation and resources plants of the Liangcun, Wanggang of Xinjian. J Nanchang Normal Univ (Nat Sci) 2:10–24 (in Chinese)

Liu H (2015) Analysis of the Han cemeteries in Jiangxi in the view of lives and death. Cultural Relics in Southern China 3:169–188 (in Chinese)

Lu X (2012) Peach branches and peach figures in archaeology. Archaeology 12:78–85 (in Chinese)

Lu H, Zhang J, Yang Y et al (2016) Earliest tea as evidence for one branch of the Silk Road across the Tibetan Plateau. Sci Rep 6:18955

Ma X (2002) The Han dynasty: its climate & agricultural development. J Lit Hist Philos 5:128–133

Qin L, Fuller DQ (2019) Why rice farmers don't sail: coastal subsistence traditions and maritime trends in early China. In: Wu C, Rolett BV (eds) Prehistoric maritime cultures and seafaring in East Asia. The Archaeology of Asia-Pacific Navigation 1. Springer, Singapore, pp 159–191

Qin G, Liu L, Peng S (1962) Investigation and excavation of the Shanbei district of Xiushui, Jiangxi. Kaogu 7:353–367 (in Chinese)

Reimer PJ, Baillie MGL, Bard E et al (2004) IntCal04 terrestrial radiocarbon age calibration, 0–26 cal kyr bp. Radiocarbon 46:1,029-1,058

Shi S (1956) Translation of the Book written by Fanshengzhi (Fan sheng zhi shu jin shi). Science Press, Beijing (in Chinese)

Shi S (2013) Translation of the Book of Agricultural Arrangements (Si min yue ling jiao zhu). Zhonghua Book Company, Beijing (in Chinese)

Sun Z (2010) Discovery and issues of the fruit and vegetable storage pit of proto-Zhou period in the Zhouyuan site. Archaeology 10:69–75 (in Chinese)

Tanaka K, Stevens CJ, Iwasaki S et al (2016) Seed size and chloroplast DNA of modern and ancient seeds explain the establishment of Japanese cultivated melon (Cucumis melo L.) by introduction and selection. Genet Res Crop Evol 63:1,237-1,254

Wang S (2005) Some issues of the agriculture in the Han and Qin dynasties. J Northw Univ (Philos Soc Sci Ed) 35:14–22 (in Chinese)

Wang L, Yang J, Liang T, Yang J, Grassa CJ, Jiang H (2020) Seeds of melon (Cucumis melo L., Cucurbitaceae) discovered in the principle tomb (M1) of Haihun Marquis (59BC) in Nanchang, China. . Archaeol Anthropol Sci 12:156

Yang K (2008) Mausoleum system of ancient Chinese history. Shanghai People's Press, Shanghai (in Chinese)

Yang J, Xu C (2016) Nanchang Marquis of Haihun's graveyard of the western Han dynasty. Kaogu 7:45–62 (in Chinese with English abstract)

Yang X, Liu C, Zhang J, Yang W, Zhang X, Lu H (2009) Plant crop remains from the outer burial pit of the Han Yangling Mausoleum and their significance to early western Han agriculture. Chin Sci Bull 54:1,738-1,743

Yu T (1979) Taxonomy of the fruit trees in China. China Agriculture Press, Beijing (in Chinese)

Zhao Z (2010a) Flotation results of 1997 excavation season from the site of the garden of Nanyue Kingdom, Guangzhou City. In: Zhao Z (ed) Palaeoethnobtany: theories, methods and practice. Science Press, Beijing, pp 187–201 (in Chinese with English abstract)

Zhao Z (2010b) Plant remains from a Well (J264) of the garden of Nanyue Kingdom, Guangzhou City. In: Zhao Z (ed) Palaeoethnobtany: theories, methods and practice. Science Press, Beijing, pp 202–221 (in Chinese with English abstract)

Zhao Z (2010c) Plant remains from ceramic barns buried as funerary objects in Han tombs of Xi-An City. In: Zhao Z (ed) Palaeoethnobtany: theories, methods and practice. Science Press, Beijing, pp 222–238 (in Chinese with English abstract)

Zhao S, Liu Z (1985) Rainfall of Jiangxi. Jiangxi Sci 1:25–33 (in Chinese)

Zhao Z, Wang J (2016) Plant remains from the No. 1 Han Tombs of Shuangdun. Agric Archaeol 1:1–8 (in Chinese)

Zheng Y, Chen X (2006) Archaeological research on the origin of Cucumis: take the unearthed Cucumis seeds in the lower reaches of the Yangtze River as an example. J Zhejiang Prov Inst Cult Relics Archaeol 8:578–585 (in Chinese)

Zheng Y, Crawford GW, Chen X (2014) Archaeological evidence for peach (Prunus persica) cultivation and domestication in China. PLoS ONE 9:e106595

Zhou H (1995) A brief history of the agricultural development in ancient Jiangxi. Anc Mod Agric China 4:5–14 (in Chinese)
Acknowledgements
We gratefully thank G. Fiorentino and the two anonymous reviewers for their critical suggestions of the paper. We thank Timothy Conboy for his kind correction of an early version of this paper. We thank Guilin Zhang for helping with the location map. This study was supported by the Fundamental Research Funds for the Central Universities (E0E48931X2), the Natural Science Foundation of China (Grant No. 41672171), the Special Project of "Lushan Plants" (2019ZWZX03), and the National Social Science Fund of China (No. 16@ZH022).
Additional information
Publisher's Note
Springer Nature remains neutral with regard to jurisdictional claims in published maps and institutional affiliations.
Communicated by G. Fiorentino.
About this article
Cite this article
Jiang, H., Yang, J., Liang, T. et al. Palaeoethnobotanical analysis of plant remains discovered in the graveyard of the Haihun Marquis, Nanchang, China. Veget Hist Archaeobot 30, 119–135 (2021). https://doi.org/10.1007/s00334-020-00821-y
Received:

Accepted:

Published:

Issue Date:
Keywords
Guodun cemetery

Landscape

Plant utilization

Han dynasty

Archaeobotany