Abstract
European land-use indicators in North America typically include pollen from Poaceae (grasses), Ambrosia (ragweed), Rumex (dock), and/or Plantago (plantain). A potential complement to this list is Fabaceae (legumes), members of which were introduced by colonists to eastern North America. Historical records show that Trifolium (clover) was widespread from the earliest days of colonization, and several other Eurasian legumes were also introduced for livestock forage by 1840 ce. As an insect-pollinated family with taxa native to the region, Fabaceae is not usually emphasized in palynological reconstructions. However, Plantago is commonly used as an indicator despite being represented by native and insect-pollinated varieties. Likewise, it can be difficult to distinguish between native and introduced Poaceae, yet an increase in grass pollen is generally taken as a disturbance indicator. In order to assess the value of Fabaceae as an indicator of the settlement horizon, the R package neotoma was used to retrieve Fabaceae pollen data from the Neotoma Paleoecology Database to assess regional trends in abundance and for comparison to the usual suite of taxa. Results confirm the possible utility of Fabaceae as an anthropogenic marker in the study area. Two case studies with good chronological control illustrate how all five taxa can be found at the settlement horizon across the study area and over time: a 14C and 210Pb-dated pond in Connecticut anthropogenically impacted by 1700 ce, and a varved lake in Ontario impacted by 1840 ce.
Access options
Buy single article
Instant access to the full article PDF.
US$ 39.95
Tax calculation will be finalised during checkout.
Subscribe to journal
Immediate online access to all issues from 2019. Subscription will auto renew annually.
US$ 79
Tax calculation will be finalised during checkout.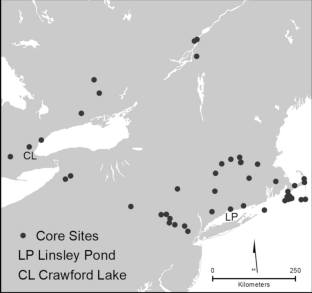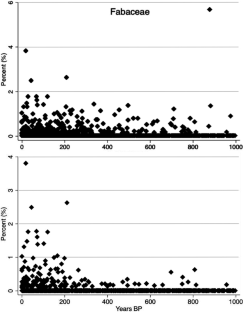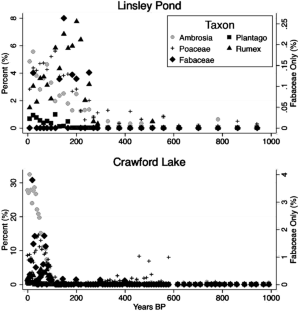 References
Angelo R, Boufford DE (2013) Atlas of the flora of New England: Fabaceae. Phytoneuron 2013–2:1–15

Beardsley G (1939) The groundnut as used by the Indians of Eastern North America. Pap Mich Acad Sci Arts Lett 25:507–525

Behre K-E (1981) The interpretation of anthropogenic indicators in pollen diagrams. Pollen Spores 23:225–245

Boyko M (1973) European impact on the vegetation around Crawford Lake in southern Ontario. Master's thesis, University of Toronto, Toronto

Brugam RB (1978a) Pollen indicators of land-use change in southern Connecticut. Quat Res 9:349–362

Brugam RB (1978b) Human disturbance and the historical development of Linsley Pond. Ecology 59:19–36

Bullock JM, Clear Hill B, Dale MP, Silvertown J (1994) An experimental sudy of the effects of sheep grazing on vegetation change in species-poor grassland and the role of seedling recruitment into gaps. J Appl Ecol 31:493–507

Carman HJ, Tugwell RG, True RH (1934) Essays upon field husbandry in New England and other papers 1748–1762 by Jared Eliot. Columbia University Press, New York

Carrier L (1923) The beginnings of agriculture in America. McGraw-Hill, New York

Dawson A, Paciorek CJ, McLachlan JS, Goring S, Williams JW, Jackson ST (2016) Quantifying pollen-vegetation relationships to reconstruct ancient forests using 19th-century forest composition and pollen data. Quat Sci Rev 137:156–175

Denton D (1670) A brief description of New-York: formerly called New-Netherlands. The Burrows Brothers Company, Cleveland

Foster DR, Hall B, Barry S, Clayden S, Parshall T (2002) Cultural, environmental and historical controls of vegetation patterns and the modern conservation setting on the island of Martha's Vineyard, USA. J Biogeogr 29:1381–1400

Gepts P, Debouck D (1991) Origin, domestication, and evolution of the common bean (Phaseolus vulgaris L.). In: van Schoonhoven A, Voysest O (eds) Common beans: research for crop improvement. CAB International, Wallingford, pp 7–54

Goring S, Williams JW, Blois JL et al (2012) Deposition times in the northeastern United States during the Holocene: establishing valid priors for Bayesian age models. Quat Sci Rev 48:54–60

Goring S, Dawson A, Simpson GL, Ram K, Graham RW, Grimm EC, Williams JW (2015) Neotoma: a programmatic interface to the Neotoma Paleoecological Database. Open Quat 1:1–17

Graf M-T, Chmura GL (2006) Development of modern analogues for natural, mowed and grazed grasslands using pollen assemblages and coprophilous fungi. Rev Palaeobot Palynol 141:139–149

Janssen CR (1972) The palaeoecology of plant communities in the Dommel Valley, North Brabant. J Ecol 60:411–437

Jones RL (1946) History of agriculture in Ontario 1613-1880. University of Toronto Press, Toronto

Kujawa ER, Goring S, Calcote R, Grimm EC (2016) The effect of anthropogenic land cover change on pollen-vegetation relationships in the American Midwest. Anthropocene 15:60–71

Livingston R (1832) American Agriculture. In: Brewster D (ed) First American edition of the new Edinburgh Encyclopaedia, vol I. John and Edward Parker, Philadelphia, pp 332–341

Mazier F, Galop D, Brun C, Buttler A (2006) Modern assemblages from grazed vegetation in the western Pyrenees, France: a numerical tool for more precise reconstruction of past cultural landscapes. Holocene 16:91–103

McAndrews JH (1976) Fossil history of man's impact on the Canadian flora: an example from southern Ontario. In: Morton JK (ed) Man's impact on the Canadian Flora. Supplement to the Canadian Botanical Association Bulletin 9. Canadian Botanical Association, Waterloo, Ont., pp 1-6

McAndrews JH (1988) Human disturbance of North American forests and grasslands: the fossil pollen record. In: Huntley J, Webb T III (eds) Vegetation History. Kluwer, Utrecht, pp 673–697

McAndrews JH, Boyko-Diakonow M (1989) Pollen analysis of varved sediment at Crawford Lake, Ontario: evidence of Indian and European farming. In: Fulton RJ (ed) Quaternary geology of Canada and Greenland. Geological Survey of Canada, Ottawa, pp 528–530

McInnis RM (1992) Perspectives on Ontario agriculture 1815-1930. Langdale Press, Gananoque, Ont

Mercuri AM, Bandini Mazzanti M, Florenzano A, Montecchi MC, Rattighieri E, Torri P (2013) Anthropogenic pollen indicators (API) from archaeological sites as local evidence of human-induced environments in the Italian Peninsula. Ann di Bot 3:143–153

Motzkin G, Foster DR (2002) Grasslands, heathlands and shrublands in Coastal New England: historical interpretations and approaches to conservation. J Biogeogr 29:1569–1590

Munsell J (ed) (1852) The annals of Albany, vol III. J Munsell, Albany, NY

Oswald WW, Foster DR (2011) A record of late-Holocene environmental change from southern New England, USA. Quat Res 76:314–318

Oswald WW, Faison EK, Foster DR, Doughty ED, Hall BR, Hansen BCS (2007) Post-glacial changes in spatial patterns of vegetation across southern New England. J Biogeogr 34:900–913

Oswald WW, Foster DR, Doughty ED, Macdonald D (2010) A record of Holocene environmental and ecological changes from wildwood Lake, Long Island, New York. J Quat Sci 25:967–974

Russell EWB, Davis RB (2001) Five centuries of changing forest vegetation in the northeastern United States. Plant Ecol 155:1–13

Russell EWB, Davis RB, Anderson RS, Rhodes TE, Anderson DS (1993) Recent centuries of vegetational change in the glaciated north-eastern United States. J Ecol 81:647–664

Russell HS (1976) A long, deep furrow: three centuries of farming in New England. University Press of New England, Hanover, NH

Russi L, Cocks PS, Roberts EJ (1992) The fate of legume seeds eaten by sheep from a Mediterranean grassland. J AppL Ecol 29:772–778

Sackville Hamilton NR, Harper JL (1989) The dynamics of Trifolium repens in a permanent pasture. I. The population dynamics of leaves and nodes per shoot axis. Proc R Soc Lond B 237:133–173

Stevens A (1996) The paleoecology of coastal sandplain grasslands on Martha's Vineyard, Massachusetts. PhD dissertation, University of Massachusetts, Amherst

Teale C (2018) The loss of wetland agriculture value in north-eastern North America, 1800-1840. Agr Hist Rev 66:43–66

USDA, NRCS (2020) The PLANTS Database (http://plants.usda.gov). National Plant Data Team, Greensboro, NC 27401-4901 USA

Van Laer AJF (ed) (1908) Van Rensselaer Bowier Manuscripts. University of the State of New York, Albany, NY

Van Laer AJF (ed) (1932) Correspondence of Jeremias van Rensselaer, 1651-1674. The University of the State of New York, Albany, NY

Zeven AC (1991) Four hundred years of cultivation of Dutch white clover landraces. Euphytica 54:93–99
Acknowledgements
Jack Williams provided valuable feedback in the initial planning stages of this project.
Additional information
Publisher's Note
Springer Nature remains neutral with regard to jurisdictional claims in published maps and institutional affiliations.
Communicated by E. C. Grimm †, F. Bittmann.
About this article
Cite this article
Teale, C., Chang, J. Fabaceae (legume) pollen as an anthropogenic indicator in eastern North America. Veget Hist Archaeobot (2021). https://doi.org/10.1007/s00334-020-00815-w
Received:

Accepted:

Published:
Keywords
Fabacaeae

Legume

Settlement horizon

Pollen

New England