Abstract
The aim of this paper is to analyse continuities and changes in plant diversity and use in the southern part of the Santa María valley in northwest Argentina, from the 1st millennium ad up to the Spanish Conquest in the 16th century. Variable degrees of association between people and plants (wild, weedy and domesticated), as well as various management practices (gathering, cultivation, tolerance, eradication, protection and encouragement) were studied to investigate the biocultural history of this region through the analysis of plant macroremains from archaeological sites. Samples were obtained from four archaeological sites located in the valley, Rincón Chico 1, Rincón Chico 15, Soria 2 and El Colorado. As a result, we identified 628 macroremains belonging to 20 taxa and determined whether they were either wild plants, weeds or crops, related to strategies of gathering and cultivation. The results suggest that there were changes through time, with a dominance of ruderal weeds in the earliest of the archaeological sites along with a diversity of association degrees, while a division was found between wild and domesticated plants, represented by maize and Prosopis (algarrobo), in the sites of the Late period. This last scenario suggests that the growing of trees and shrubs together with crops and pasture (agroforestry), or woodland management together with grazing (silvopasture), could have been part of the past land management practices in the area. Chenopodium remains indicate past complexes of wild plants, weeds and crops growing together in the cultivated plots; the newly introduced crops brought from Spain, such as wheat and barley, did not replace the local plants, mainly Prosopis (algarrobo) and Zea mays (maize), which were still grown during early colonial times. This paper offers a diachronic perspective on plant management in a particular region, considering a plant record that is still limited, but which allows us to get a first glimpse of how plant management strategies may have changed in this part of South America.
Access options
Buy single article
Instant access to the full article PDF.
USD 39.95
Price excludes VAT (USA)
Tax calculation will be finalised during checkout.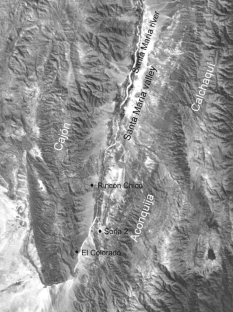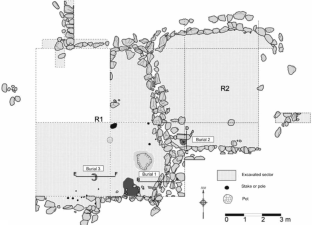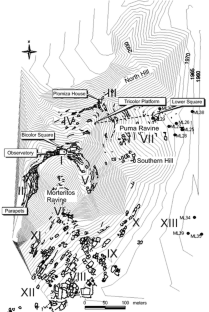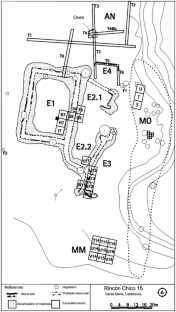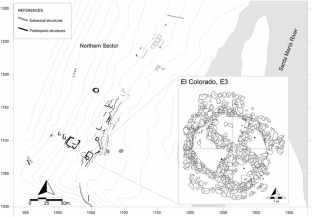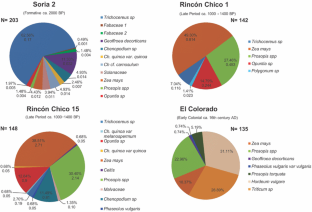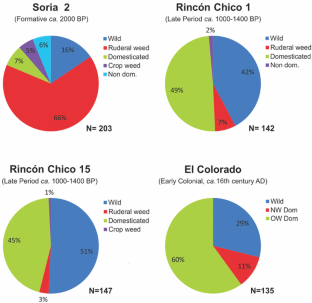 References
Álvarez Larrain A (2009) Teledetección y análisis del uso del espacio en el sudeste del Valle de Santa María (depto. de Santa María, prov. de Catamarca). Degree Dissertation, Universidad de Buenos Aires, Argentina

Beresford-Jones DG (2004) Prehispanic Prosopis human relationships on the south coast of Peru: riparian forest in the context of environmental and cultural trajectories of the Lower Ica Valley. Doctoral Dissertation, Magdalen College, University of Cambridge

Burkart A (1952) Las Leguminosas argentinas silvestres y cultivadas, 2nd edn. Acme, Buenos Aires

Cabrera AL (1976) Regiones fitogeográficas argentinas. In: Parodi LR (dir) Enciclopedia argentina de agricultura y jardinería, Tomo 2 fasc. 1. Acme, Buenos Aires

Calo CM (2010) Plantas útiles y prácticas cotidianas entre los aldeanos al sur de los Valles Calchaquíes (600 aC–900 dC). Doctoral Dissertation, Facultad de Ciencias Naturales y Museo, Universidad Nacional de La Plata, Argentina, unpublished

Capparelli A (2009) Intra-site comparison of the archaeoethnobotanical evidence of El Shincal: implicances to the Inka economy. Treballsd'Etnoarqueologia 7:113–144

Capparelli A (2015) Reflexiones preliminares en torno a la evaluación de la importancia económica de dos plantas alimenticias registradas en el sitio Inka el Shincal: algarrobo (Prosopis spp.) y maíz (Zea mays). In: Belmar C, Lema V (eds) Avances y desafíos metodológicos en arqueobotánica: miradas consensuadas y diálogos compartidos desde Sudamérica. Universidad SEK, Chile, pp 157–185

Capparelli A, Lema V, Giovannetti M, Raffino R (2005) Introduction of European crops (wheat, barley and peach) in Andean Argentina during the 16th century: archaeobotanical and ethnohistorical evidence. Veget Hist Archaeobot 14:472–484

Carreras M, Fuentes E, Martina J, Carbone L (2012) Reconocimiento de diásporas de Malveae (Malvaceae) en muestras de suelos de zonas serranas (Sierras Chicas, Córdoba, Argentina) afectadas por incendios. Rodriguésia 63:501–512

Carrizo J, Oliszewski N, Martínez J (2003) Macrorrestos vegetales del sitio arqueológico Cueva de Los Corrales (El Infiernillo, Tafi del Valle, Tucumán, Argentina). Rev Mus. Argentino Cienc Nat 5:253–260

Casas A (2001) Silvicultura y domesticación de plantas en Mesoamérica. In: Aguilar BR, Domínguez SR, Caballero Nieto J, Martínez Alfaro MA (eds) Plantas, cultura y sociedad: Estudio sobre la relación entre seres humanos y plantas en los albores del siglo XXI. Universidad Autónoma Metropolitana, Iztapalapa, México, pp 123–157

D'Altroy T, Lorandi A, Williams V, Caldegari M, Hastorf C, DeMarrais E, Hagstrum M (2000) Inka rule in the northern Calchaquí valley, Argentina. J Field Archaeol 27:1–26

De Wet JM, Harlan J (1975) Weeds and domesticates: evolution in the man-made hábitat. Econ Bot 29:99–107

Giovanetti M (2009) Articulación entre el sistema agrícola, redes de irrigación y áreas de molienda como medida del grado de ocupación Inka en El Shincal y Los Colorados (Prov. de Catamarca). Doctoral Dissertation, Facultad Ciencias Naturales y Museo, Universidad Nacional de La Plata, Argentina, unpublished

Giovannetti M, Lema V, Bartoli C, Capparelli A (2008) Starch grains characterization of Prosopis chilensis. (Mol.) Stuntz and P. flexuosa DC, and their implication in the analysis of archaeological remains in Andean South America. J Archaeol Sci 35:2,973–2,985

González L, Tarragó M (2005) Vientos del sur. El valle de Santa María (Noroeste argentino) bajo la dominación incaica. Estud Atacameños 29:67–95

Greco C (2012) Integración de datos arqueológicos, radiocarbónicos y geofísicos para la construcción de una cronología de Santa María y alrededores. Doctoral Dissertation, Facultad de Filosofía y Letras, Universidad de Buenos Aires, Argentina, unpublished

Greco C (2014) La cronología del valle de Santa María. Escalas, datos y resultados. Arqueología 20:11–37

Halloy S (2008) Crecimiento exponencial y supervivencia del cardón (Echinopsis atacamensis subsp. pasacana) en su límite altitudinal (Tucumán, Argentina). Ecol Bolivia 43:6–15

Harlan J (1992) Crops and man. American Society of Agronomy, New York

Hartmann-Shenkman A, Kislev ME, Galili E, Melamed Y, Weiss E (2015) Invading a new niche: obligatory weeds at Neolithic Atlit-Yam, Israel. Veget Hist Archaeobot 24:9–18

Herbario MCNS (2011) Flora del valle de Lerma. http://natura.unsa.edu.ar/web/index.php/herbariomcns/herbario/aportes-botanicossalta/flora-valle-de-lerma/detail. Accessed 24 Oct 2016

IBODA (2016) Flora del Conosur: Catálogo de plantas vasculares. http://www2.darwin.edu.ar/Proyectos/FloraArgentina. Accessed 24 Oct 2016

Korstanje A, Lazzari M, Basile M, Bugliani F, Lema V, Pereyra Domingorena L, Quesada M (eds) (2015) Crónicas materiales precolombinas: Arqueología de los primeros poblados del Noroeste Argentino. Sociedad Argentina de Antropología, Buenos Aires

Korstanje A, Quesada M (2010) Arqueología de la agricultura. Casos de estudio en la región andina argentina. Magna, San Miguel de Tucumán

Lantos I, Palamarczuk V, Orgaz M, Ratto N, Maier M (2017) Exploring the culinary uses of Santa María and Belén painted vessels from the Late Intermediate period in Catamarca, Argentina. J Archaeol Sci Rep. doi:10.1016/j.jasrep.2017.03.019

Lema V (2006) Huertos de altura: el manejo humano de especies vegetales en la puna argentina. Rev Antropol 12:173–186

Lema V (2009) Domesticación vegetal y grados de dependencia ser humano-planta en el desarrollo cultural prehispánico del noroeste Argentino. Doctoral Dissertation, Facultad de Ciencias Naturales y Museo, Universidad Nacional de La Plata, Argentina, unpublished

Lema V (2014) Boceto para un esquema: domesticación y agricultura temprana en el Noroeste argentino. Rev Esp Antrop Am 44:465–494

López ML, Nielsen A (2013) Macrorrestos de Chenopodium quinoa. Willd. en la plaza de Laqaya (Norte de Lípez, Potosí, Bolivia). Intersec Antropol 14:295–300

Maffi L, Dilts O (2014) Biocultural diversity toolkit, vol 1: Introduction to biocultural diversity. Terralingua, Salt Spring Island

Marchegiani M (2011) Las formaciones sociales de Santa María durante la dominación inca y la conquista española. Contacto, conflicto, persistencia y transformaciones (siglos XV–XVII d. C.). Doctoral Dissertation, Facultad de Filosofía y Letras, Universidad de Buenos Aires, Argentina, unpublished

McRostie V (2016) Algarrobales de Atacama. ¿Nativos o exóticos? ¿silvestres o domésticos? In: Actas del XIX Congreso Nacional de Arqueología Argentina. Facultad de Ciencias Naturales e Instituto Miguel Lillo de la Universidad Nacional de Tucumán, Tucumán, pp 1,539–1,544

Moreno-Calles A, Toledo V, Casas A(2013)Los sistemas agroforestales tradicionales de México: una aproximación biocultural. Bot Sci 91:375–398

Moreno-Calles A, Toledo V, Casas A(2014) La importancia biocultural de los sistemas agroforestales tradicionales de México. In: Olivé L, Lazos-Ramírez L (eds) Hacia la sociedad del conocimiento en México. Seminario de Investigación sobre Sociedad del Conocimiento y Diversidad Cultural, Chap. 1. Secretaría de Desarrollo Institucional. Universidad Nacional Autónoma de México, México, pp 35–56

Nobel P (2002) Cacti: biology and uses. University of California Press, Oakland

Palamarczuk V (2016) Investigaciones arqueológicas en El Colorado, sur de Santa María. Catamarca Argentina Revista Andes 27(2):1–28

Palamarczuk V, Spano R, Weber F, Magnifico D, López S, Manasiewicz M (2007) Soria 2: Apuntes sobre un Sitio Formativo en el Valle de Santa María (Catamarca, Argentina). Intersec Antropol 8:121–134

Petrucci N (2017) Complejidad social y diversidad biocultural en el valle de Santa María: mil quinientos años de interacciones entre comunidades humanas y poblaciones vegetales. Doctoral Dissertation, Facultad de Ciencias Naturales y Museo, Universidad Nacional de La Plata, Argentina, unpublished

Piñeiro M (1997) La producción cerámica especializada. Desarrollo tecnológico e implicancias socio-económicas a partir del estudio de la variabilidad individual en los restos materiales. MS, report to Universidad de Buenos Aires

Raffaele L (2006) Espigas de maíz carbonizado: avances paleoetnobotánicos al sur del Valle de Santa María, Pcia. de Catamarca. Degree Dissertation, Universidad de Buenos Aires, Argentina

Rapoport E, Marzocca A, Drausal B (2009) Malezas comestibles del cono sur y otras partes del planeta. Instituto Nacional de Tecnología Agropecuaria, Buenos Aires

Ratto N, Lema V, López ML (2014) Entierros y ofrendas: prácticas mortuorias, agrícolas y culinarias en los siglos XIII y XIV en Tinogasta (Catamarca Argentina). Darwiniana 2:125–143

Rodríguez-Arévalo I, Casas A, Lira R, Campos J (2006) Uso, manejo y procesos de domesticación de Pachycereus hollianus (F.A.C. Weber) Buxb. (Cactaceae), en el valle de Tehuacán-Cuicatlán, México. Rev Intercie 31:677–685

Ruiz Huidobro O (1972) Descripción geológica de la Hoja 11e, Santa María. (Boletín 134) Servicio Nacional Minero Geológico. Subsecretaria de Minería, Ministerio de Industria y minería, Buenos Aires

Spano R, Grimoldi MS, Palamarczuk V (2014) Morir temprano: Entierros de infantes en un espacio doméstico formativo de Santa María, noroeste argentino. Estudios Antropología Historia Nueva serie 2:141–173

Tarragó M (1999) Las sociedades del Sudeste andino. In: Murra JV, Rabiela TR (dir) Las sociedades originarias. Historia general de América Latina 1. Editorial Trotta España, Madrid, pp 465–480

Tarragó M (2000) Chacras y pukara. Desarrollos sociales tardíos. In: Tarragó M (dir) Nueva historia Argentina. Tomo I: Los pueblos originarios y la conquista. Sudamericana, Buenos Aires, pp 257–299

Tarragó M (2003) La arqueología de los valles calchaquíes en perspectiva histórica. Anales Nueva Época 6:13–42

Tarragó M (2007) Ámbitos domésticos y de producción artesanal en el Noroeste Argentino prehispánico. Intersec Antropol 8:87–100

Tarragó M (2011) Poblados tipo pukara en Santa María. El plano de Rincón Chico 1, Catamarca, Argentina. Estudios Sociales del. NOA Nueva Serie 11:33–61

Villagran C, Castro V (2003) Ciencia indígena de los Andes del Norte de Chile. Editorial Universitaria SA, Santiago
Funding
This work was funded by Fondo para la Investigación Científica y Tecnológica, Consejo Nacional de Investigaciones Científicas y Técnicas and Universidad Nacional de La Plata.
Additional information
Communicated by M. Tengberg.
About this article
Cite this article
Petrucci, N., Lema, V.S., Pochettino, M.L. et al. From weeds to wheat: a diachronic approach to ancient biocultural diversity in the Santa María valley, northwest Argentina. Veget Hist Archaeobot 27, 229–239 (2018). https://doi.org/10.1007/s00334-017-0647-6
Received:

Accepted:

Published:

Issue Date:

DOI: https://doi.org/10.1007/s00334-017-0647-6
Keywords
Argentinian Northwest

Weeds

Crops

Biocultural diversity