Abstract
Occasionally mentioned in written sources since the Early Middle Ages, embalming with evisceration spreads considerably and becomes quite usual practice for aristocratic elites from the late 13th century to the early 19th century. Apothecaries prepare aromatic powders including many plant organs and exudates supposed to preserve the body. Numerous encyclopaedias and treatises of medicine list these ingredients and show that the recipes are very diverse. Moreover, several studies of embalmed bodies have demonstrated the potential of archaeobotanical analyses coupling pollen and macro-remains for identifying this material. This paper aims to compile a synthesis of written and archaeological sources from France and Italy, and to assess the relevance of an interdisciplinary approach for a better understanding of this aristocratic burial practice. It demonstrates that both types of sources and approaches are strongly complementary and highlights their inherent advantages and methodological limitations. In order to understand which criteria were determinant in the composition of the embalming powders, their medicinal, odoriferous and symbolic properties are discussed. Finally, this work proposes some methodological perspectives and triggers new research avenues on the history of pharmacy in Late Medieval and modern Europe.
Access options
Buy single article
Instant access to the full article PDF.
US$ 39.95
Tax calculation will be finalised during checkout.
Subscribe to journal
Immediate online access to all issues from 2019. Subscription will auto renew annually.
US$ 79
Tax calculation will be finalised during checkout.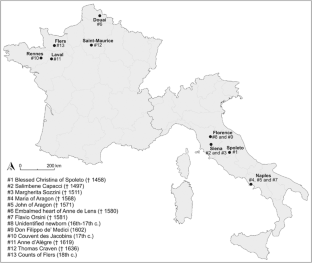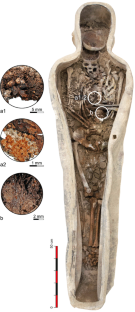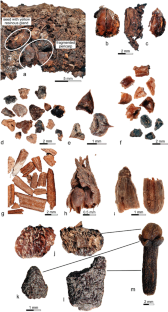 References
Ariès P (1977) L'homme devant la mort. Seuil, Paris

Bande A (2009) Le cœur du roi. Tallandier, Paris

Barbe S (1693) Le parfumeur françois qui enseigne toutes les manières de tirer les odeurs des fleurs et à faire toutes sortes de compositions de parfums. Avec le secret de purger le tabac en poudre et le parfumer de toutes sortes d'odeurs. Michel Brunet, Lyon

Barbier-Pain D, Ruas M-P, Corbineau R, Duchesne S, Telmon N, Colleter R (2016) Plants of embalming in modern times. Archaeobotanical results from the Jacobins' Convent at Rennes (Brittany, France). https://iwgp2016paris.sciencesconf.org/data/pages/Barbier_Pain_etal_posterIWGP_.pdf

Beneš J, Čulíková V, Kosňovskáa J, Frolíkb J, Matiášek J (2012) New plants at prague castle and hradčany in the Early Modern Period: a history of selected species. IANSA 3:103–114

Buckley SA, Evershed RP (2001) Organic chemistry of embalming agents in pharaonic and Graeco-Roman mummies. Nature 413:837–841

Carol A (2015) L'embaumement, une passion romantique, France XIXe siècle. Seyssel, Champ Vallon

Charlier P, Poupon J, Jeannel G-F et al (2013) The embalmed heart of Richard the Lionheart (1199 ad): a biological and anthropological analysis. Sci Rep 3(1):296

Chioffi L (1998) Mummificazione e imbalsamazione a Roma ed in altri luoghi del Mondo Romano. Università degli Studi di Roma, Dipartimento di Scienze Archeologiche Antropologiche dell'Antichità, Opuscola Epigraphica 8. Edition Quasar, Roma

Chrościcki JA, Hengerer M, Sabatier G (eds) (2012) Les funérailles princières en Europe, XVIe-XVIIIe siècle. Vol 1: Le grand théâtre de la mort. Centre de recherche du château de Versailles, Maison des sciences de l'Homme. Collection Aulica, Paris

Ciuffarella L (1998) Palynological analyses of resinous materials from the roman mummy of Grottarossa, second century ad: a new hypothesis about the site of mummification. Rev Palaeobot Palynol 103:201–208

Colleter R, Dedouit F, Duchesne S et al (2016) Procedures and frequencies of embalming and heart extractions in modern period in Brittany. Contribution to the evolution of ritual funerary in Europe. PLoS One. https://doi.org/10.1371/journal.pone.0167988

Corbineau R (2014) Pour une archéobotanique funéraire: enquêtes interdisciplinaires et analyses polliniques autour de la tombe et du corps mort (ère chrétienne, France-Italie), Université du Maine (France). http://www.theses.fr/2014LEMA3012

Corbineau R, Georges-Zimmermann P (2015) Plantes et aromates de la préparation des corps au Moyen Âge, In: Paravicini Bagliani A (ed) Parfums et odeurs au Moyen Âge. Science, usages, symbols. Micrologus' Library 67. Sismel Edizioni del Galluzzo, Firenze pp 161–180

Grégoire de Tours (edited in 1862) Libri Septem Miraculorum (bilingual edition Latin-French by HL Bordier), tome III. Renouard, Paris

Dejean (1764) Traité des odeurs, suite du traité de la distillation. Chez Nyon, Guillyn & Saugrain, Paris

Devriendt W, Venet S, Defgnée A, Garnier N, Gillet B, Hänni C, Rossetti L (2012) Découverte d'un cœur-reliquaire à Douai (Ancienne église Saint-Jacques, place Carnot): Approche pluridisciplinaire de l'embaumement à l'époque moderne. Archéologie Médiévale 42:23–42

Digby K (1689) Remedes souverains et secrets experimentez, de M. le Chevalier Digby, Chancelier de la Reine d'Angleterre. Avec plusieurs autres Secrets et parfums curieux pour la conservation de la beauté des dames. New edition. Guillaume Cavelier, Paris

Duke JA, Duke P-A, DuCellier JL (2008) Duke's handbook of medicinal plants of the Bible. CRC Press, Boca Raton

Dupont H, Lefebvre R (eds) (2016) L'église et le cimetière Saint-Germain à Flers (Orne) (XIIe-XVIIIe s.). Rapport Final d'Opération archéologique, SRA Normandie, INRAP Grand-Ouest, November 2016, Caen

Fornaciari G (1998) Italian mummies. In: Cockburn A, Cockburn E, Reyman TA (eds) Mummies, disease and ancient cultures. Cambridge University Press, Cambridge, pp 266–281

Fornaciari G, Capasso L (1996) Natural and artificial mummies in Italy (13–19th centuries). In: Spindler K, Wilfing H, Rastbichler-Zissernig E, Zur Nedden D, Nothdurfter H (eds) The man in the ice: human mummies, Springer, Wien, pp 195–203

Fornaciari A, Giuffra V, Marvelli S, Fornaciari G (2008) The blessed Christina from Spoleto: a case of 15th century artificial mummy from Umbria (central Italy). In: Peña PA, Martin CR, Rodriguez AR (eds) Mummies and science. Academia Canaria de la Historia, Santa Cruz de Tenerife, pp 521–527

Gannal J-N (1838) Histoire des embaumements et de la préparation des pièces d'anatomie normale, d'anatomie pathologique et d'histoire naturelle, suivie de procédés nouveaux. Ferra, Paris

Gaude-Ferragu M (2005) D'or et de cendres. La mort et les funérailles des princes dans le royaume de France au bas Moyen Âge, Presses Universitaires du Septentrion, Villeneuve d'Ascq

Georges P (1999) Mourir c'est pourrir un peu… Intentions et techniques contre la corruption des cadavres à la fin du Moyen Age. Micrologus 7:359–382

Georges P (2006) L'embaumement et le prélèvement du cœur au Moyen Âge: le sciage du sternum. In: Charlier P (ed) Actes du 1er colloque international de Pathographie, Loches 22nd–24th April 2005, Éditions de Boccard, Paris, pp 99–112

Georges P (2007) L'embaumement en France: le verbe et les actes. In: La poétique. Théorie et pratique, Actes du XVe Congrès international et quinquennal de l'association Guillaume Budé, Les Belles Lettres, Paris, pp 1,112–1,123

Georges P (2009) Les aromates de l'embaumement médiéval : entre efficacité et symbolisme. In: Paravicini Bagliani A (ed) Le monde végétal: médecine, botanique, symbolique. Micrologus' Library 30, Sismel Edizioni del Galluzzo, Firenze, pp 257–268

Giesey RE (1960) The royal funeral ceremony in renaissance France. Travaux d'Humanisme et Renaissance 37. Librairie Droz, Genève

Giuffra V, Naccarato AG, Caramella D, Fornaciari A, Marvelli S, Fornaciari G (2008) The rector of the hospital and his wife: two artificial mummies of the late 15th century from Siena (Central Italy). In: Peña PA, Martin CR, Rodriguez AR (eds) Mummies and science. Academia Canaria de la Historia, Santa Cruz de Tenerife, pp 529–536

Giuffra V, Fornaciari A, Marvelli S, Marchesini M, Caramella D, Fornaciari G (2011a) Embalming methods and plants in Renaissance Italy: two artificial mummies from Siena (Central Italy). J Archaeol Sci 38:1,949–1,956

Giuffra V, Fornaciari A, Marvelli S, Marchesini M, Fornaciari G, Vitiello A (2011b) The children of the Medici, Grand Dukes of Florence: embalming in Renaissance Italy (XVI–XVII century). Atti della Società Toscana di Scienze Naturali, Memorie, Serie B 118:81–88

Guibourt NJ-BG (1876) Histoire naturelle des drogues simples ou Cours d'histoire naturelle professé à l'École de pharmacie de Paris. 7th edition corrected and enriched by G Planchon, vol 3. Librairie Baillère & Fils, Paris

Hadjouis D, Corbineau R (2009) Analyses d'une momie d'un protestant anglais mort en 1636 (Saint-Maurice, Val-de-Marne). In: Bizot B, Signoli M (eds) Rencontres autour des sépultures habillées. Hautes-Alpes Editions, Gap, pp 127–135

Hadjouis D, Corbineau R, Ruas M-P, Verdin P (2011) Techniques d'embaumement sur le corps d'un noble anglais mort de la peste (Saint-Maurice, Val-de-Marne). Étude anthropologique et archéobotanique. In: Charlier P (ed) Actes du 3ème Colloque International de Pathographie, De Boccard Editions, Paris, pp 31–62

Hamm S, Bleton J, Connan J, Tchapla A (2005) A chemical investigation by headspace SPME and GC-MS of volatile and semi-volatile terpenes in various olibanum samples. Phytochemistry 66:1,499–1,514

Huchet J-B (2010) Archaeoentomological study of the insect remains found within the mummy of Namenkhet Amon, San Lazzaro Armenian Monastery, Venice Italy. Adv Egyptol 1:58–80

Jacob De Cordemoy H (1911) Les plantes à gommes et à résines. Doin & Fils, Paris

Kislev M (1991) Archaeobotany and storage archaeoentomology. In: Renfrew J (ed) New light on ancient farming. University Press, Edinburgh, pp 121–136

Langenheim JH (2003) Plant resins: chemistry, evolution, ecology, ethnobotany, Cambridge, Portland

Le Cloirec G (2016) L'étude archéologique du couvent des Jacobins de Rennes (35), du quartier antique à l'établissement religieux. Rapport Final d'Opération archéologique INRAP Grand-Ouest. SRA Bretagne, Cesson-Sévign & # 233

Lieutaghi P (1996) Le livre des bonnes herbes, 1st edn. Actes Sud, Arles

Marguerie D (1992) L'embaumement du corps découvert dans un cercueil en plomb au Vieux-Château de Laval: analyse des pollens. In: À la rencontre d'Anne d'Alègre, dame de Laval (v. 1565–1619)—Anne d'Alègre et son temps. Exploitation scientifique d'une découverte. La Mayenne: Archéologie, Histoire, supplément 2. Société d'Archéologie et d'Histoire de La Mayenne, Laval, pp 93–98

Marinozzi S, Fornaciari G (2005) Le mummie e l'arte medica nell'evo moderno. Medicina nei Secoli, Supplemento 1. Università la Sapienza, Roma

Mathe C, Culioli G, Archier P, Vieillescazes C (2004) Characterization of archaeological frankincense by gas chromatography–mass spectrometry. J Chromatogr A 1023:277–285

Mattioli P (1579) Commentaires de M. Pierre André Matthiole, médecin senois, sur les six livres de Pedacius Dioscoride. Translation from Latin into French by J des Moulins. Guili Roville, Lyon

Modugno F, Ribechini E, Colombini MP (2006) Aromatic resin characterization by gas chromatography-mass spectrometry. Raw and archaeological materials. J Chromatography A 1134:298–304

Mokrane FZ, Colleter R, Duchesne S et al (2016) Old hearts for modern investigations: CT and MR for archaeological human hearts remains. Forensic Sci Int 268:14–24

Nouvelle Bible Segond (édition d'étude 2007). Alliance Biblique Universelle, Netherlands

Norri J (2016) Dictionary of medical vocabulary in English, 1375–1550: body parts, sicknesses, instruments, and medicinal preparations. Routledge, London

Perez S (2006) La mort des rois, précédé de Les rois meurent un jour. Jérôme Million Editions, Grenoble

Poux M (2009) De la veillée au tombeau. In: Goudineau C (ed) Rites funéraires à Lugdunum. Errance Editions, Paris, pp 25–46

Ruas M-P (1992) La matière d'embaumement dans la sépulture du château de Laval: analyse des graines. In: À la rencontre d'Anne d'Alègre, dame de Laval (v. 1565–1619)—Anne d'Alègre et son temps. Exploitation scientifique d'une découverte. La Mayenne: Archéologie, Histoire, supplément 2. Société d'Archéologie et d'Histoire de La Mayenne, Laval, pp 87–92

Savary J (1726) Dictionnaire universel de commerce. Posthumous edition, vol 2. Jansons, Amsterdam

Vermeeren C, van Haaster H (2002) The embalming of the ancestors of the Dutch royal family. Veget Hist Archaeobot 11:121–126
Acknowledgements
This work is a part of a doctoral thesis carried out under the supervision of Aline Durand (University of Le Mans, France) and Stefano Campana (Università degli Studi di Siena, Italy). It has been funded by the Vinci programme (French-Italian University), the Fondation des Treilles, the ANR (Agence Nationale de la Recherche, programme EXSUDARCH), and the CNRS through the GDR 3644 BioArcheodat. We thank Bui-Thi-Mai and Michel Girard (CEPAM, UMR 7264), Romain Thomas (CRPP, UMR 7207), Djillali Hadjouis (Service départemental d'archéologie du Val-de-Marne), Patrice Georges-Zimmermann (INRAP), Prof. Paolo Emilio Tomei (Università di Pisa), and the archaeological teams in charge of the excavations in Rennes/Couvent des Jacobins (especially Gaëtan Le Cloirec, Sylvie Duchesne, Fabrice Dedouit, Éric Crubezy and Norbert Telmon) and in Flers/Place Saint-Germain (especially Raphaëlle Lefebvre, Cécile Chapelain de Seréville-Niel and Éric Broine) for their precious help during this research. We would like to thank the anonymous reviewers for their helpful and constructive comments. Finally we are grateful to the organization committee of the IWGP meeting 2016 for giving us the opportunity to present and publish this work.
Additional information
Communicated by V. Zech-Matterne.
About this article
Cite this article
Corbineau, R., Ruas, MP., Barbier-Pain, D. et al. Plants and aromatics for embalming in Late Middle Ages and modern period: a synthesis of written sources and archaeobotanical data (France, Italy). Veget Hist Archaeobot 27, 151–164 (2018). https://doi.org/10.1007/s00334-017-0620-4
Received:

Accepted:

Published:

Issue Date:
Keywords
Embalming

Archaeobotany

Burial practice

Pharmacy

France

Italy