Abstract
A systematic review of archaeological and palaeoenvironmental records of cannabis (fibres, pollen, achenes and imprints of achenes) reveals its complex history in Eurasia. A multiregional origin of human use of the plant is proposed, considering the more or less contemporaneous appearance of cannabis records in two distal parts (Europe and East Asia) of the continent. A marked increase in cannabis achene records from East Asia between ca. 5,000 and 4,000 cal bp might be associated with the establishment of a trans-Eurasian exchange/migration network through the steppe zone, influenced by the more intensive exploitation of cannabis achenes popular in Eastern Europe pastoralist communities. The role of the Hexi Corridor region as a hub for an East Asian spread of domesticated plants, animals and cultural elements originally from Southwest Asia and Europe is highlighted. More systematic, interdisciplinary and well-dated data, especially from South Russia and Central Asia, are necessary to address the unresolved issues in understanding the complex history of human cannabis utilisation.
This is a preview of subscription content, log in to check access.
Access options
Buy single article
Instant access to the full article PDF.
US$ 39.95
Price includes VAT for USA
Subscribe to journal
Immediate online access to all issues from 2019. Subscription will auto renew annually.
US$ 99
This is the net price. Taxes to be calculated in checkout.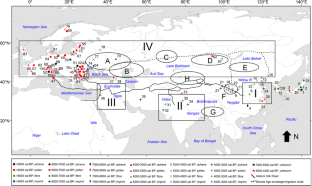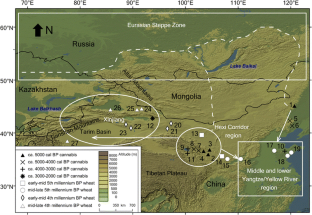 References
Allentoft ME, Sikora M, Sjögren K-G et al (2015) Population genomics of Bronze Age Eurasia. Nature 522:167–172

Amante C, Eakins BW (2009) ETOPO1 1 Arc-minute Global Relief Model: Procedures, Data Sources and Analysis: NOAA Technical Memorandum NESDIS NGDC-24. National Geophysical Data Center, National Oceanic and Atmospheric Administration, Boulder, USA

Andrič M (2007) Holocene vegetation development in Bela krajina (Slovenia) and the impact of first farmers on the landscape. Holocene 17:763–776

Angelini LG, Tavarini S, Cestone B, Beni C (2014) Variation in mineral composition in three different plant organs of five fibre hemp (Cannabis sativa L.) cultivars. Agrochimica 58:1–18

Anthony DW (2007) The Horse, the Wheel, and Language: How Bronze-Age Riders from the Eurasian Steppes Shaped the Modern World. Princeton University Press, Princeton, USA

Balter M, Gibbons A (2015) Indo-European languages tied to herders. Science 347(6224):814–815

Barber EJW (1991) Prehistoric textiles: The development of cloth in the Neolithic and Bronze Ages with special reference to the Aegean. Princeton University Press, Princeton

Bendrey R (2014) Population genetics, biogeography, and domestic horse origins and diffusions. J Biogeog 41:1,441–1,442

Bergfjord C, Holst B (2010) A procedure for identifying textile bast fibres using microscopy: flax, nettle/ramie, hemp and jute. Ultramicroscopy 110:1,192–1,197

Berthel N, Schwörer C, Tinner W (2012) Impact of Holocene climate changes on alpine and treeline vegetation at Sanetsch Pass, Bernese Alps, Switzerland. Rev Palaeobot Palynol 174:91–100

Betts A, Jia PW, Dodson J (2014) The origins of wheat in China and potential pathways for its introduction: a review. Quat Int 348:158–168

Birks HH (2001) Plant Macrofossils. In: Smol JP, Birks HJB, Last WM (eds) Tracking Environmental Change Using Lake Sediments, vol 3, Terrestrial, algal, and siliceous indicators. Kluwer, Dordrecht, pp 49–74

Blyakharchuk TA, Chernova NA (2013) Vegetation and climate in the Western Sayan Mts according to pollen data from Lugovoe Mire as a background for prehistoric cultural change in southern Middle Siberia. Quat Sci Rev 75:22–42

Bodnariuc A, Bouchette A, Dedoubat JJ, Otto T, Fontugne M, Jalut G (2002) Holocene vegetational history of the Apuseni mountains, central Romania. Quat Sci Rev 21:1,465–1,488

Boivin N, Fuller DQ, Crowther A (2012) Old World globalization and the Columbian exchange: comparison and contrast. World Archaeol 44:452–469

Booth M (2003) Cannabis: A history. St. Martin's Press, New York, USA

Borgelt LM, Franson KL, Nussbaum AM, Wang GS (2013) The pharmacologic and clinical effects of medical cannabis. Pharmacotherapy 33:195–209

Bouby L (2002) Le chanvre (Cannabis sativa L.): une plante cultivée à la fin de l'âge du Fer en France du Sud-Ouest ? C R Palevol 1:89–95

Bouckaert R, Lemey P, Dunn M et al (2012) Mapping the origins and expansion of the Indo-European language family. Science 337:957–960

Chang K-c (1986) The Archaeology of Ancient China, 4th edn. Yale University Press, New Haven, USA

Chang T-T (1976) The origin, evolution, cultivation, dissemination, and diversification of Asian and African rices. Euphytica 25:425–441

Chaussé C, Leroyer C, Girardclos O, Allenet G, Pion P, Raymond P (2008) Holocene history of the River Seine, Paris, France: bio-chronostratigraphic and geomorphological evidence from the Quai-Branly. Holocene 18:967–980

Chen X (2007) Paleoethnobotany and agriculture across the transition from the Late Neolithic to the Bronze Age in Northeastern China: A case study. Ph.D. Thesis, Shandong University

Christian D (2000) Silk Roads or Steppe Roads? The Silk Roads in world history. J World Hist 11:1–26

Clarke RC (2006) Hemp (Cannabis) cultivation and use in the Republic of Korea. J Ind Hemp 11:51–86

Clarke RC, Merlin MD (2013) Cannabis: Evolution and ethnobotany. University of California Press, Berkeley, USA

Connor SE, Thomas I, Kvavadze EV (2007) A 5600-yr history of changing vegetation, sea levels and human impacts from the Black Sea coast of Georgia. Holocene 17:25–36

Crawford GW (2006) East Asian plant domestication. In: Stark MT (ed) Archaeology of Asia. Blackwell, Oxford, pp 77–95

Crawford GW (2011) Advances in understanding early agriculture in Japan. Curr Anthropol 52(S4):S331–S345

Crawford GW, Takamiya H (1990) The origins and implications of late prehistoric plant husbandry in northern Japan. Antiquity 64(245):889–911

Cyprien A-L, Visset L, Carcaud N (2004) Evolution of vegetation landscapes during the Holocene in the central and downstream Loire basin (Western France). Veget Hist Archaeobot 13:181–196

D'Andrea AC (1995) Later Jomon subsistence in Northeastern Japan: new evidence from palaeoethnobotanical studies. Asian Perspect 34:195–227

de Meijer EPM, Bagatta M, Carboni A, Crucitti P, Moliterni VMC, Ranalli P, Mandolino G (2003) The inheritance of chemical phenotype in Cannabis sativa L. Genetics 163:335–346

Demske D, Tarasov PE, Leipe C, Kotlia BS, Joshi LM, Long T (2016) Record of vegetation, climate change, human impact, and retting of hemp in Garhwal Himalaya (India) during the past 4600 years. Holocene. doi:10.1177/0959683616650267

Dodson JR, Li X, Zhou X, Zhao K, Sun N, Atahan P (2013) Origin and spread of wheat in China. Quat Sci Rev 72:108–111

Dörfler W (1990) Die Geschichte des Hanfanbaus in Mitteleuropa aufgrund palynologischer Untersuchungen und von Großrestnachweisen. Prähist Z 65:218–244

Ecsedy I (1979) The people of the pit-grave Kurgans in Eastern Hungary. Adademia Kiado, Budapest, Hungary

Editorial Board of 'Flora of China' of Chinese Academy of Sciences (1959–2004) Flora of China. Science Press, Beijing, China

Edwards KJ, Whittington G (2000) Multiple charcoal profiles in a Scottish lake: taphonomy, fire ecology, human impact and inference. Palaeogeog Palaeoclimatol Palaeoecol 164:67–86

Fărcaş S, Tanţău I, Mîndrescu M, Hurdu B (2013) Holocene vegetation history in the Maramureş Mountains (Northern Romanian Carpathians). Quat Int 293:92–104

Fernane A, Penaud A, Gandouin E, Goslin J, Van Vliet-Lanoë B, Vidal M (2015) Climate variability and storm impacts as major drivers for human coastal marsh withdrawal over the Neolithic period (Southern Brittany, NW France). Palaeogeog Palaeoclimatol Palaeoecol 435:136–144

Feurdean A, Astalos C (2005) The impact of human activities in the Gutaiului Mountains, Romania. Stud Univ Babeş-Bolyai Geol 50:63–72

Feurdean A, Parr CL, Tanţău I, Fărcaş S, Marinova E, Perşoiu I (2013) Biodiversity variability across elevations in the Carpathians: parallel change with landscape openness and land use. Holocene 23:869–881

Filipova-Marinova M, Pavlov D, Coolen M, Giosan L (2013) First high-resolution marinopalynological stratigraphy of Late Quaternary sediments from the central part of the Bulgarian Black Sea area. Quat Int 293:170–183

Filipova-Marinova M, Pavlov D, Giosan L (2015) Multi-proxy records of Holocene palaeoenvironmental changes in the Varna Lake area, western Black Sea coast. Quat Int 401:99–108

Fleming MP, Clarke RC (1998) Physical evidence for the antiquity of Cannabis sativa L. J Int Hemp Assoc 5:80–92

Frachetti MD (2011) Migration concepts in Central Eurasian archaeology. Annu Rev Anthropol 40:195–212

Fuller DQ (2008) The spread of textile production and textile crops in India beyond the Harappan zone: an aspect of the emergence of craft specialization and systematic trade. In: Osada T, Uesugi A (eds) Occasional paper 3: Linguistics, archaeology and the human past. Indus Project, Research Institute for Humanity and Nature, Kyoto, Japan, pp 1–26

Fuller DQ (2011) Pathways to Asian civilizations: tracing the origins and spread of rice and rice cultures. Rice 4:78–92

Fuller DQ, Boivin N (2009) Crops, cattle and commensals across the Indian Ocean: current and potential archaeobiological evidence. Études Océan Indien 42–43:13–46

Gao H, Wang R, Chen Y (1979) Textiles excavated from Taixicun Site (Shang Dynasty). Cult Relics 6:44–48

Gautam AK, Kant M, Thakur Y (2013) Isolation of endophytic fungi from Cannabis sativa and study their antifungal potential. Arch Phytopathol Plant Prot 46:627–635

Geantă A, Gałka M, Tanţău I, Hutchinson SM, Mîndrescu M, Feurdean A (2014) High mountain region of the Northern Romanian Carpathians responded sensitively to Holocene climate and land use changes: a multi-proxy analysis. Holocene 24:944–956

Godwin H (1967) Pollen-analytic evidence for the cultivation of Cannabis in England. Rev Palaeobot Palynol 4:71–80

González-Ruiz M, Santos C, Jordana X et al (2012) Tracing the origin of the East-West population admixture in the Altai Region (Central Asia). PLOS One 7(11):1–11

Grimm EC, Keltner J, Cheddadi R, Hicks S, Lézine A-M, Berrio JC, Williams JW (2007) Pollen methods and studies / Databases and their application. In: Elias SA (ed) Encyclopedia of Quaternary Science. Elsevier, Amsterdam, pp 2521–2528

Gronenborn D (2003) Migration, acculturation and culture change in western temperate Eurasia, 6500–5000 cal bc. Doc Praehist 30:79–91

Haak W, Lazaridis I, Patterson N et al (2015) Massive migration from the steppe was a source for Indo-European languages in Europe. Nature 522:207–211

Haugan E, Holst B (2014) Flax look-alikes: pitfalls of ancient plant fibre identification. Archaeometry 56:951–960

Hillig KW (2005) Genetic evidence for speciation in Cannabis (Cannabaceae). Genet Resour Crop Evol 52:161–180

Hörnberg G, Bohlin E, Hellberg E et al (2005) Effects of Mesolithic hunter-gatherers on local vegetation in a non-uniform glacio-isostatic land uplift area, northern Sweden. Veget Hist Archaeobot 15:13–26

Hörnberg G, Josefsson T, Bergman I, Liedgren L, Östlund L (2015) Indications of shifting cultivation west of the Lapland border: multifaceted land use in northernmost Sweden since AD 800. Holocene 25:989–1001

Hudson M, Barnes GL (1991) Yoshinogari. a Yayoi settlement in northern Kyushu. Monum Nippon 46:211–235

Innes JB, Zong Y, Wang Z, Chen Z (2014) Climatic and palaeoecological changes during the mid- to Late Holocene transition in eastern China: high-resolution pollen and non-pollen palynomorph analysis at Pingwang, Yangtze coastal lowlands. Quat Sci Rev 99:164–175

Institute of Botany in Northwest Normal University, Gansu Provincial Museum (1984) Millets and cannabis recovered from Linjia Site (Majiayao Culture), Gansu. Archaeology 7:654–655

Jia PWM, Betts AVG (2010) A re-analysis of the Qiemu'erqieke (Shamirshak) cemeteries, Xinjiang, China. J Indoeur Stud 38:275–317

Jia X, Dong G, Li H et al (2012) The development of agriculture and its impact on cultural expansion during the late Neolithic in the Western Loess Plateau, China. Holocene 23:85–92

Jiang H-E, Li X, Zhao Y-X et al (2006) A new insight into Cannabis sativa (Cannabaceae) utilization from 2500-year-old Yanghai Tombs, Xinjiang, China. J Ethnopharmacol 108:414–422

Kühn D (1987) Textile technology: spinning and reeling. In: Needham J (ed) Science and civilization in China, vol 5. Cambridge University Press, Cambridge, pp 865–867

Kabelik J, Krejci Z, Santavy F (1960) Cannabis as a medicament. Bull Narc 12:5–23

Kaltenrieder P, Procacci G, Vannière B, Tinner W (2010) Vegetation and fire history of the Euganean Hills (Colli Euganei) as recorded by Lateglacial and Holocene sedimentary series from Lago della Costa (northeastern Italy). Holocene 20:679–695

Krenke N, Erschov I, Erschova E, Lazukin A (2013) Corded ware, Fatjanovo and Abashevo culture sites on the flood-plain of the Moskva River. Spraw Archaeol 65:413–424

Kuddus M, Ginawi IAM, Al-Hazimi A (2013) Cannabis sativa: an ancient wild edible plant of India. Emir J Food Agric 25:736–745

Kvavadze E, Sagona A, Martkoplishvili I, Chichinadze M, Jalabadze M, Koridze I (2015) The hidden side of ritual: new palynological data from Early Bronze Age Georgia, the Southern Caucasus. J Archaeol Sci Rep 2:235–245

Latalowa M (1999) Palaeoecological reconstruction of the environmental conditions and economy in early medieval Wolin: against a background of the Holocene history of the landscape. Acta Palaeobot 39:183–271

Laursen L (2015) The cultivation of weed. Nature 525:S4–S5

Lavrieux M, Jacob J, Disnar J-R, Bréheret J-G, Milbeau CL, Miras Y, Andrieu-Ponel V (2013) Sedimentary cannabinol tracks the history of hemp retting. Geology 41:751–754

Lawler A (2009) Going the distance to uncover the roots of trade in the Near East. Science 324:717

Lawson IT, Al-Omari S, Tzedakis PC, Bryant CL, Christanis K (2005) Lateglacial and Holocene vegetation history at Nisi Fen and the Boras mountains, northern Greece. Holocene 15:873–887

Leipe C, Demske D, Tarasov PE, HIMPAC Project Members (2014) A Holocene pollen record from the northwestern Himalayan lake Tso Moriri: implications for palaeoclimatic and archaeological research. Quat Int 348:93–112

Levine MA (1999) Botai and the origins of horse domestication. J Anthropol Archaeol 18:29–78

Li C, Li H, Cui Y et al (2010) Evidence that a West-East admixed population lived in the Tarim Basin as early as the early Bronze Age. BMC Biol 8:1–12

Li H-L (1974a) An archaeological and historical account of cannabis in China. Econ Bot 28:437–448

Li H-L (1974b) The origin and use of cannabis in Eastern Asia linguistic-cultural implications. Econ Bot 28:293–301

Li S (1984) The 'Boat Coffins' of the Wuyi Mountains. In: Stockwell F, Bowen T (eds) Recent Discoveries in Chinese Archeology. Foreign Language Press, Beijing, China, pp 79–80

Li Y, Li B (2011) The role of Tocharian in establishing the relationship between Chinese and Indo-European languages. Linguist Sci 10:586–592

Lightfoot E, Liu X, Jones MK (2013) Why move starchy cereals? A review of the isotopic evidence for prehistoric millet consumption across Eurasia. World Archaeol 45:574–623

Liu X, Li W (2014) Pre-history "Bronze Road" and civilization of Central Plains. J Xinjiang Norm Univ (Philos Soc Sci) 35:79–88

Long T, Qin J, Atahan P, Mooney S, Taylor D (2014) Rising waters: new geoarchaeological evidence of inundation and early agriculture from former settlement sites on the southern Yangtze Delta, China. Holocene 24:546–558

Marinova E (2003) The new pollen core Lake Durankulak-3: a contribution to the vegetation history and human impact in Northeastern Bulgaria. In: Tonkov S (ed) Aspects of palynology and palaeoecology. Pensoft Publishers, Moscow, pp 279–288

Matsui A, Kanehara M (2006) The question of prehistoric plant husbandry during the Jomon Period in Japan. World Archaeol 38:259–273

Mercuri AM, Accorsi CA, Mazzanti MB (2002) The long history of Cannabis and its cultivation by the Romans in central Italy, shown by pollen records from Lago Albano and Lago di Nemi. Veget Hist Archaeobot 11:263–276

Mercuri AM, Accorsi CA, Mazzanti MB et al (2006) Economy and environment of Bronze Age settlements - Terramaras - on the Po Plain (Northern Italy): first results from the archaeobotanical research at the Terramara di Montale. Veget Hist Archaeobot 16:43–60

Mercuri AM, Mazzanti MB, Torri P et al (2012) A marine/terrestrial integration for mid-late Holocene vegetation history and the development of the cultural landscape in the Po Valley as a result of human impact and climate change. Veget Hist Archaeobot 21:353–372

Mercuri AM, Montecchi MC, Pellacani G, Florenzano A, Rattighieri E, Cardarelli A (2015) Environment, human impact and the role of trees on the Po Plain during the Middle and Recent Bronze Age: pollen evidence from the local influence of the terramare of Baggiovara and Casinalbo. Rev Palaeobot Palynol 218:231–249

Merlin MD (2003) Archaeological evidence for the tradition of psychoactive plant use in the Old World. Econ Bot 57:295–323

Milisauskas S, Kruk J (2011) Late Neolithic/Late Copper Age 3500–2200 bc. In: Milisauskas S (ed) European prehistory: A survey, 2nd edn. Springer, New York, pp 293–325

Miotk-Szpiganowicz G (1992) The history of the vegetation of Bory Tucholskie and the role of man in the light of palynological investigations. Acta Palaeobot 32:39–122

Moore PD, Webb JA, Collinson ME (1991) Pollen analysis, 2nd edn. Blackwell, Oxford

Murphy TM, Ben-Yehuda N, Taylor RE, Southon JR (2011) Hemp in ancient rope and fabric from the Christmas Cave in Israel: talmudic background and DNA sequence identification. J Archaeol Sci 38:2,579–2,588

Niinemets E, Saarse L (2009) Holocene vegetation and land-use dynamics of south-eastern Estonia. Quat Int 207:104–116

Ning C, Gao S, Deng B et al (2015) Ancient mitochondrial genome reveals trace of prehistoric migration in the east Pamir by pastoralists. J Hum Genet 61:103–108

Nunome J (1992) The archeology of fiber. Senshoku to Seikatsusha, Kyoto, Japan

Okazaki H, Kobayashi M, Momohara A et al (2011) Early Holocene coastal environment change inferred from deposits at Okinoshima archeological site, Boso Peninsula, central Japan. Quat Int:87–94

Outram AK, Kasparov A, Stear NA, Varfolomeev V, Usmanova E, Evershed RP (2012) Patterns of pastoralism in later Bronze Age Kazakhstan: new evidence from faunal and lipid residue analyses. J Archaeol Sci 39:2,424–2,435

Park J, Kim M, Lim HS, Choi J (2013) Pollen and sediment evidence for late-Holocene human impact at the Seonam-dong archeological site, Gwangju, Korea. Rev Palaeobot Palynol 193:110–118

Pashkevich G (2003) Palaeoethnobotanical evidence of agriculture in the steppe and the forest-steppe of East Europe in the Late Neolithic and Bronze Age. In: Levine M, Renfrew C, Boyle K (eds) Prehistoric steppe adaptation and the horse. McDonald Institute for Archaeological Research, Cambridge, pp 287–297

Pashkevych G (2012) Environment and economic activities of Neolithic and Bronze age populations of the Northern Pontic area. Quat Int 261:176–182

Poska A, Saarse L (2006) New evidence of possible crop introduction to north-eastern Europe during the Stone Age - Cerealia pollen finds in connection with the Akali Neolithic settlement, East Estonia. Veget Hist Archaeobot 15:169–179

Punt W, Malotaux M (1984) Cannabaceae, Moraceae and Urticaceae. Rev Palaeobot Palynol 42:23–44

Raman A (1998) The cannabis plant: botany, cultivation and processing for use. In: Brown DT (ed) Cannabis: The genus Cannabis. Harwood, Amsterdam, pp 29–54

Rasmussen P, Anderson NJ (2005) Natural and anthropogenic forcing of aquatic macrophyte development in a shallow Danish lake during the last 7000 years. J Biogeog 32:1,993–2,005

Russo EB (2007) History of cannabis and its preparations in saga, science, and sobriquet. Chem Biodivers 4:1,614–1,648

Russo EB, Jiang H-E, Li X et al (2008) Phytochemical and genetic analyses of ancient cannabis from Central Asia. J Exp Bot 59:4,171–4,182

Ryder ML (1999) Probable Fibres from Hemp (Cannabis sativa L.) in Bronze Age Scotland. Environ Archaeol 4:93–95

Salentijn EMJ, Zhang Q, Amaducci S, Yang M, Trindade LM (2015) New developments in fiber hemp (Cannabis sativa L.) breeding. Ind Crops Prod 68:32–41

Sarianidi V (1994) Temples of Bronze Age Margiana: traditions of ritual architecture. Antiquity 68(259):388–397

Schultes RE, Klein WM, Plowman T, Lockwood TE (1974) Cannabis: an example of taxonomic neglect. In: Rubin V (ed) Cannabis and culture. De Gruyter Mouton, den Hague, pp 21–38

Sherratt A (1999) Cash-crops before cash: organic consumables and trade. In: Gosden C, Hather J (eds) The prehistory of food: Appetites for change. Routledge, London, pp 12–32

Sherratt A (2003) The horse and the wheel: the dialectics of change in the circum-Pontic region and adjacent areas, 4500–1500 bc. In: Levine M, Renfrew C, Boyle K (eds) Prehistoric steppe adaptation and the Horse. McDonald Institute for Archaeological Research, Cambridge, pp 233–252

Sherratt AG (1991) Sacred and profane substances: the ritual use of narcotics in later Neolithic Europe. In: Sherratt A (ed) Economy and society in prehistoric Europe: Changing perspectives. Princeton University Press, Princeton, pp 403–430

Shin S-C, Rhee S-N, Aikens CM (2012) Chulmun Neolithic intensification, complexity, and emerging agriculture in Korea. Asian Perspect 51:68–109

Small E (2015) Evolution and classification of Cannabis sativa (marijuana, hemp) in relation to human utilization. Bot Rev 81:189–294

Small E, Pocock T, Cavers PB (2003) The biology of Canadian weeds. 119. Cannabis sativa L. Can J Plant Sci 83:217–237

Smith C (2014) Encyclopedia of global archaeology. Springer, New York

Stähli M, Finsinger W, Tinner W, Allgöwer B (2006) Wildfire history and fire ecology of the Swiss National Park (Central Alps): new evidence from charcoal, pollen and plant macrofossils. Holocene 16:805–817

Stančikaite M, Kabailiene M, Ostrauskas T, Guobyte R (2002) Environment and man around Lakes Duba and Pelesa, SE Lithuania, during the Late Glacial and Holocene. Geol Q 46:391–409

Stančikaitė M, Daugnora L, Hjelle K, Hufthammer AK (2009) The environment of the Neolithic archaeological sites in Šventoji, Western Lithuania. Quat Int 207:117–129

Stefanova I, Ammann B (2003) Lateglacial and Holocene vegetation belts in the Pirin Mountains (southwestern Bulgaria). Holocene 13:97–107

Stevens CJ, Murphy C, Roberts R, Lucas L, Silva F, Fuller DQ (2016) Between China and South Asia: a Middle Asian corridor of crop dispersal and agricultural innovation in the Bronze Age. Holocene. doi:10.1177/0959683616650268

Sun Y (2014) Research on plant remains from Neolithic to Early Bronze Age in Upper West Liao River region. Ph.D. Thesis, Inner Mongolia Normal University

Tarasov P, Jin G, Wagner M (2006) Mid-Holocene environmental and human dynamics in northeastern China reconstructed from pollen and archaeological data. Palaeogeog Palaeoclimatol Palaeoecol 241:284–300

Tonkov S, Panovska H, Possnert G, Bozilova E (2002) The Holocene vegetation history of Northern Pirin Mountain, southwestern Bulgaria: pollen analysis and radiocarbon dating of a core from Lake Ribno Banderishko. Holocene 12:201–210

Tonkov S, Bozilova E, Marinova E, Jüngner H (2008a) History of vegetation and landscape during the last 4000 years in the area of Straldzha mire (southeastern Bulgaria). Phytol Balc 14:185–191

Tonkov S, Bozilova E, Possnert G, Velčev A (2008b) A contribution to the postglacial vegetation history of the Rila Mountains, Bulgaria: the pollen record of Lake Trilistnika. Quat Int 190:58–70

Ullah M, Khan MU, Mahmood A et al (2013) An ethnobotanical survey of indigenous medicinal plants in Wana district south Waziristan agency, Pakistan. J Ethnopharmacol 150:918–924

Van Noten F, Polosmak N (1995) The frozen tombs of the Scythians. Endeavour 19:76–82

Vavilov NI (1992) Origin and geography of cultivated plants. Cambridge University Press, Cambridge

Wang F, Qian N, Zhang Y, Yang H (1995) Pollen flora of China, 2nd edn. Science Press, Beijing

Warburton DA (2011) What might the Bronze Age world-system look like? In: Wilkinson TC, Sherratt S, Bennet J (eds) Interweaving worlds: Systemic interactions in Eurasia, 7th to 1st Millennia bc. Oxbow Books, Oxford, pp 120–134

Warf B (2014) High points: an historical geography of cannabis. Geogr Rev 4:414–438

Wehrli M, Mitchell EAD, van der Knaap WO, Ammann B, Tinner W (2010) Effects of climatic change and bog development on Holocene tufa formation in the Lorze Valley (central Switzerland). Holocene 20:325–336

Wehrli M, Tinner W, Ammann B (2007) 16,000 years of vegetation and settlement history from Egelsee (Menzingen, central Switzerland). Holocene 17:741–761

Wieckowska M, Dörfler W, Kirleis W (2012) Vegetation and settlement history of the past 9000 years as recorded by lake deposits from Großer Eutiner See (Northern Germany). Rev Palaeobot Palynol 174:79–90

Willerding U (1970) Vor- und frühgeschichtliche Kulturpflanzenfunde in Mitteleuropa. Lax, Hildesheim

Wills S (1998) Cannabis use and abuse by man: an historical perspective. In: Brown DT (ed) Cannabis: The genus Cannabis. Harwood Academic Publishers, Amsterdam, pp 1–27

Xie Y, Ward R, Fang C, Qiao B (2007) The urban system in West China: a case study along the mid-section of the ancient Silk Road - He-Xi Corridor. Cities 24:60–73

Yang C-p, Zhao Y-f, Wu X-j, (2010) Exploring the craniofacial morphology of Bronze Age-Iron Age of Shanshanyanghai populations in Xinjiang. In: Dong W (ed) Proceedings of the 12th annual meeting of the Chinese society of vertebrate paleontology. China Ocean Press, Beijing, pp 121–132

Yang M-Q, van Velzen R, Bakker FT, Sattarian A, Li D-Z, Yi T-S (2013) Molecular phylogenetics and character evolution of Cannabaceae. Taxon 62:473–485

Yang Y (2014) The analysis of charred plant seeds at Jinchankou site and Lijiaping site during Qijia Culture period in the Hehuang region, China. Master thesis, Lanzhou University

Yanushevich ZV (1989) Agricultural evolution north of the Black Sea from the Neolithic to the Iron Age. In: Harris DR, Hillman GC (eds) Foraging and farming - the evolution of plant exploitation. Unwin Hyman, London, pp 607–619

Yi H (2014) From Qijia to Erlitou: in search of Xia Culture. Acad Mon 46:134–144

Yin J (2003) A regional investigation into prehistoric cultures on the Liyang Plain, Hunan Province. Archaeology 3:56–68

Yuan J (2010) Zooarchaeological study on the domestic animals in ancient China. Quat Sci 30:298–306

Zeng Y, Zhang H, Li Z et al (2007) Evaluation of genetic diversity of rice landraces (Oryza sativa L.) in Yunnan. China. Breed Sci 57:91–99

Zhang C (2013) Archaeobotanical remains from Lajia Site, Minhe, Qinghai. Master thesis, Northwest University

Zhang S, Gao H (1999) Observations on silk and hemp textiles excavated from Qingtai Site, Xingyang. Relics Cent Plain, 10–16

Zhang X (2012) Archaeobotanical investigation into the Guanting Basin, Qinhai. Archaeol Cult Relics:26-33

Zhao Z (2011) New archaeobotanic data for the study of the origins of agriculture in China. Curr Anthropol 52(S4):295–306

Zhou K-s (1963) Appendix 3: Analysis of pollen from the Neolithic site at Banpo. In: Institute of Archaeology in Academia Sinica, Pan P'o Museum (eds) The Neolithic Village at Pan P'o, SiAn. Wenwu Press, Beijing, China, pp 270–272

Zhou X, Li X, Zhao K, Dodson J, Sun N, Yang Q (2011) Early agricultural development and environmental effects in the Neolithic Longdong basin (eastern Gansu). Chin Sci Bull 56:762–771
Acknowledgements
The research was financially supported via a postdoctoral fellowship from the Fritz Thyssen Foundation (Germany) to T. Long. We thank Ernest Small and an anonymous reviewer for their constructive comments on an earlier version of this manuscript.
Additional information
Communicated by F. Bittmann.
About this article
Cite this article
Long, T., Wagner, M., Demske, D. et al. Cannabis in Eurasia: origin of human use and Bronze Age trans-continental connections. Veget Hist Archaeobot 26, 245–258 (2017). https://doi.org/10.1007/s00334-016-0579-6
Received:

Accepted:

Published:

Issue Date:
Keywords
Hemp

Marijuana

Holocene

Indo-European cultures

Neolithic

Early agriculture