Abstract
The origins and biogeographical history of Vitis vinifera L. (domesticated grapevine) remain largely unknown. Shape and size have long been used as criteria to distinguish between wild and domesticated grape pips. Here we have analyzed variations of seed morphology in order to provide accurate criteria for the discrimination of different groups of varieties. Diversity in present-day cultivars and wild grapevines of Greek and east Mediterranean origin in relation to other Asiatic and European varieties and wild grapevines provides the basis for our analysis, which aims to allow the characterization of the ancient diversity of cultivated grapes in relation to present-day cultivars. Geometric morphometric analyses (Elliptic Fourier Transform method) have been used to characterize the seed shape and size of modern and archaeological material using 40 variables per seed. 197 archaeological grape pips from the 7th century bc sanctuary of Hera in Samos, Greece were compared with an extended reference collection of 269 modern cultivars and 83 wild populations, 10,518 seeds in total. Our study confirms the relationships between seed shape and domestication. Modern diversity is partly structured by the geographical origin of cultivars, but influence of other factors may play a significant role in clustering. The wide diversity of varieties offered at the Heraion of Samos during the Archaic Period, including cultivars growing on the island, imported grapes and wild morphotypes, is related to the history and geographical location of the island as well as to the diversity in the geographical range of pilgrims making offerings to the sanctuary.
Access options
Buy single article
Instant access to the full article PDF.
US$ 39.95
Tax calculation will be finalised during checkout.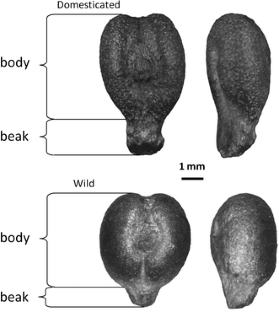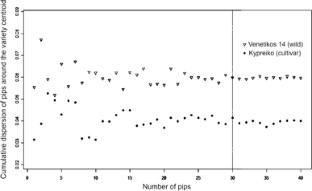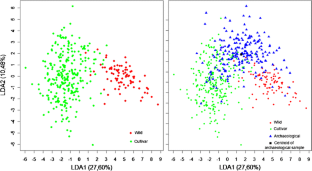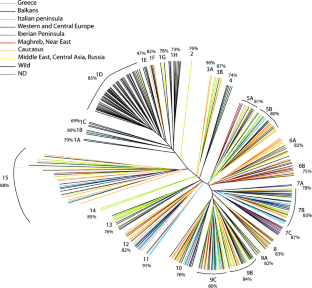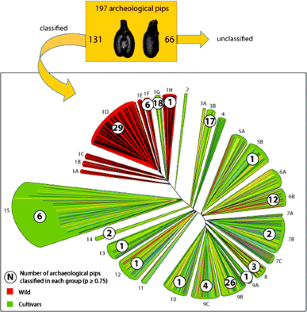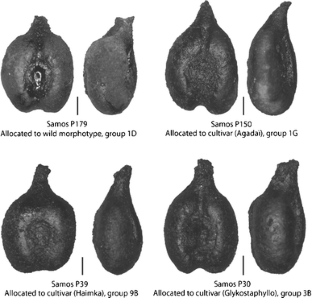 References
Aradhya MK, Dangl GS, Prins BH, Boursiquot JM, Walker MA, Meredith CP, Simon CJ (2003) Genetic structure and differentiation in cultivated grape, Vitis vinifera L. Genet Res Camb 81:179–192

Arnold C, Gillet F, Gobat JM (1998) Situation de la vigne sauvage Vitis vinifera ssp. silvestris en Europe. Vitis 37:159–170

Arroyo-García R, Ruiz-García L, Bolling L, Ocete R et al (2006) Multiple origins of cultivated grapevine (Vitis vinifera L. ssp. sativa) based on chloroplast DNA polymorphism. Mol Ecol 15:3,707–3,714

Bacilieri R, Lacombe T, Le Cunff L, Di Vecchi-Staraz M, Laucou V, Genna B, Peros JP, This P, Boursiquot JM (2013) Genetic structure in cultivated grapevines is linked to geography and human selection. BMC Plant Biol 2013:13–25

Barnard H, Dooley AN, Areshian G, Gasparyan G, Faull KF (2011) Chemical evidence for wine production around 4000 BCE in the Late Chalcolithic Near Eastern Highlands. J Arch Sci 38:977–984

Bonhomme V, Picq S, Gaucherel C, Claude J (2014) Momocs: outline Analysis using R. J Stat Software 56:1–24

Bouby L, Marinval P (2001) La vigne et les débuts de la viticulture en France : l'apport de l'archéobotanique. Gallia 58:13–28

Bouby L, Terral JF, Ivorra S, Marinval P, Pradat B, Ruas MP (2006) Vers une approche bio-archéologique de l'histoire de la vigne cultivée et de la viticulture : problématique, choix méthodologiques et premiers résultats. Archéologie du Midi Médiéval 23–24:61–74

Bouby L, Terral JF, Figueiral I, Ivorra S, Lacombe T, Pastor T, Picq S, Buffat L, Fabre L, Jung C, Marinval P, Petitot H, Tardy C (2010) La vigne sauvage (Vitis vinifera subsp. sylvestris) : une plante cultivée dans les établissements viticoles de Narbonnaise ? In: Delhon C, Théry-Parisot I, Thiébault S (eds) Des Hommes et des plantes. Exploitation du milieu et gestion des ressources végétales de la Préhistoire à nos jours. XXXe rencontres internationales l'archéologie et d'histoire d'Antibes. APDCA, Antibes, pp 129–139

Bouby L, Figueiral I, Bouchette A, Rovira N, Ivorra S, Lacombe T, Pastor T, Picq S, Marinval P, Terral JF (2013) Bioarchaeological insights into the process of domestication of grapevine (Vitis vinifera L.) during Roman time in Southern France. PLoS ONE 8:e63195. doi:10.1371/journal.pone.0063195

Brun JP (2003) Le vin et l'huile dans la Méditerranée antique. Errance, Paris

Brun JP (2004) Archéologie du vin et de l'huile. De la préhistoire à l'époque hellénistique, Errance

Di Vora A, Castelletti L (1995) Indagine preliminare sull'archaeolgia della vite (Vitis vinifera L.) in base ai caratteri diagnostici del vinacciolo. Riv Archaeol dell'Antica Prov e Dioc di Como 176:333–376

Figueiral I, Bouby L, Buffat L, Petitot H, Terral JF (2010) Archaeobotany, vine growing and wine producing in Roman Southern France: le site of Gasquinoy (Béziers, France). J Arch Sci 37:139–149

Figueiral I, Pomarèdes H, Court-Picon M, Bouby L, Tardy C, Terral JF (2014) New insights into Mediterranean Gallo-Roman farming: a closer look at archaeological wells in Southern France. Archaeol Anthropol Sci. doi:10.1007/s12520-014-0181-8

Foxhall L (1998) Cargoes of the heart's desire: the character of trade in the archaic Mediterranean world. In: Fisher N, Van Wees N (eds) Archaic Greece. New approaches and new evidence, Duckworth, London, pp 295–309

Grassi F, Labra M, Imazio S, Spada A, Sgorbati S, Scienza A, Sala F (2003) Evidence of a secondary grapevine domestication centre detected by SSR analysis. Theor Appl Genet 107:1,315–1,320

Hansen J, Renfrew JM (1978) Palaeolithic-Neolithic seed remains at Franchthi cave, Greece. Nature 271:349–352

Jacquat C, Martinoli D (1999) Vitis vinifera L.: wild or cultivated? Study of the grape pips found at Petra, Jordan, 150 bc–ad 40. Veget Hist Archaeobot 8:25–30

Kučan D (1995) Zur Ernährung und dem Gebrauch von Pflanzen im Heraion von Samos im 7. Jhd v. Chr. Jb DAI 110:1–64

Kučan D (2000) Rapport synthétique sur les recherches archéobotaniques dans le sanctuaire d'Héra de l'île de Samos. Pallas 52:99–108

Kuhl FP, Giardina CR (1982) Elliptic Fourier features of a closed contour. Comput Vision Graph 18:259–278

Lacombe T (2012) Contribution à l'étude de l'histoire évolutive de la vigne cultivée (Vitis vinifera L.) par l'analyse de la diversité génétique neutre et de gènes d'intérêt, Doctoral Thesis, Montpellier SupAgro

Lacombe T, Boursiquot JM, Laucou V, Di Vecchi-Staraz M, Peros JP, This P (2013) Large-scale parentage analysis in an extended set of grapevine cultivars (Vitis vinifera L.). Theor Appl Genet 126:401–414

Levadoux L (1956) Les populations sauvages et cultivées de Vitis vinifera L. Ann de l'Amélioration des Plantes 6:59–117

Mangafa M, Kotsakis K (1996) A new method for the identification of wild and cultivated charred grape seeds. J Arch Sci 23:409–418

Margaritis E, Jones M (2006) Beyond cereals: crop processing and Vitis vinifera L. Ethnography, experiments and charred grape remains from Hellenistic Greece. J Arch Sci 33:784–805

McGovern PE (2004) Ancient wine: the search for origins of viniculture. Princeton University Press, Princeton

McGovern PE, Glusker DL, Exner LJ, Voigt MM (1996) Neolithic resinated wine. Nature 381:480–481

Miller N (2008) Sweeter than wine? The use of the grape in early Western Asia. Antiquity 82:937–946

Myles S, Boyko AR, Owens CL, Brown CJ, Grassi F, Aradhya MK, Prins B, Reynolds A, Chia JM, Ware D, Bustamante CD, Buckler ES (2011) Genetic structure and domestication history of the grape. Proc Natl Acad Sci USA 108:3,530–3,535

Negrul AM (1946) Origin and classification of cultivated grape. In: Baranov AKY, Lazarevski MA, Palibin TV, Prosmoserdov NN (eds) The Ampelography of the USSR, vol 1. Pischepromizdat, Moscow, pp 159–216

Olmo HP (1995) The origin and domestication of the vinifera grape. In: McGovern PE, Fleming JS, Katz SH (eds) The origins and ancient history of wine (Food and nutrition in history and anthropology series 11). Gordon and Breach, Amsterdam, pp 31–43

Orrù M, Grillo O, Lovicu G, Venora G, Bacchetta G (2013) Morphological characterization of Vitis vinifera L. by image analysis and comparison with archaeological remains. Veget Hist Archaeobot 22:231–242

Picq S (2012) Diversité et évolution chez Vitis vinifera L. de traits impliqués dans le syndrome de domestication et dans la biologie de la reproduction, Doctoral thesis, Université Montpellier 2

Picq S, Santoni S, Lacombe T, Latreille M, Weber A, Ardisson M, Ivorra S, Maghradze D, Arroyo-Garcia R, This P, Terral JF, Bacilieri R (2012) A small XY chromosomal region explains sex determination in wild dioecious grapevines and the reversal to hermaphroditism in domesticated V. vinifera L. BMC Plant Biol

Renfrew JM (1966) A report on recent finds of carbonized cereal grains and seeds from Prehistoric Thessaly. Thessalika 5:21–36

Renfrew JM (1989) Carbonized grains and seeds. In: Gimbutas M, Winn S, Shimanbuku D (eds) Achilleion: a Neolithic settlement in Thessaly, Greece, 6400–5600 bc. Institute of Archaeology, UCLA, pp 307–310

Renfrew JM (1995) Palaeoethnobotanical finds of Vitis from Greece. In: McGovern PE, Fleming JS, Katz SH (eds) The origins and ancient history of wine (Food and nutrition in history and anthropology, series 11). Gordon and Breach, Amsterdam, pp 255–267

Sarpaki A (1995) Toumba Balomenou, Chaeronia: plant remains from the early and middle neolithic levels. In: Kroll H, Pasternak M (eds) Res archaeobotanicae. Oetker-Voges, Kiel, pp 281–300

Sefc KM, Lopes MS, Lefort F et al (2000) Microsatellite variability in grapevine cultivars from different European regions and evaluation of assignment testing to assess the geographic origin of cultivars. Theor Appl Genet 100:498–505

Shipley G (1987) A history of Samos. Clarendon Press, Oxford

Smith H, Jones G (1990) Experiments on the effects of charring on cultivated grape seeds. J Arch Sci 17:317–327

Stummer A (1911) Zur Urgeschichte der Rebe und des Weinbaues. Mitt Anthropol Ges Wien 61:283–296

Terral JF, Tabard E, Bouby L, Ivorra S, Pastor T, Figueiral I, Picq S, Chevance JB, Jung C, Fabre L, Tardy C, Compan M, Bacilieri R, Lacombe T, This P (2010) Evolution and history of grapevine (Vitis vinifera) under domestication: new morphometric perspectives to understand seed domestication syndrome and reveal origins of ancient European cultivars. Ann Bot 105:443–455

Terral JF, Newton C, Ivorra S, Gros-Balthazard M, Gros-Balthazard M, de Tito Morais C, Picq S, Tengberg M, Pintaud JC (2012) Insights into the complex historical biogeography of date palm agrobiodiversity (Phoenix dactylifera L.) using geometric morphometrical analysis of modern seeds from various origins and Egyptian ancient material. J Biogeogr 39:929–941

This P, Lacombe T, Thomas MR (2006) Historical origins and genetic diversity of wine grapes. Trends Genet 22:511–519

Valamoti SM, Mangafa M, Koukouli-Chrysanthaki C, Malamidou D (2007) Grape-pressings from northern Greece: the earliest wine in the Aegean? Antiquity 81:54–61

Zohary D (1995) The domestication of the grapevine Vitis vinifera L in the Near East. In: McGovern PE, Fleming JS, Katz SH (eds) The origins and ancient history of wine (Food and nutrition in history and anthropology, series 11). Gordon and Breach, Amsterdam, pp 23–30

Zohary D, Hopf M, Weiss E (2012) Domestication of plants in the Old World, 4th edn. Oxford University Press, Oxford
Acknowledgments
We would like first to acknowledge Thierry Lacombe (INRA) who has been of great help in selecting the historical cultivars to include in our reference collection. We are grateful to INRA Domaine de Vassal (Marseillan, France) which provided pips from modern wild grapevines and cultivars, and especially to Sandrine Lalet (INRA) who helped during sampling. We are grateful to Dušanka Kučan and Felix Bittmann (Niedersächsisches Institut für historische Küstenforschung, NIhK) who gave access to the archaeobotanical material. We thank the referees for useful and constructive comments.
Additional information
Communicated by F. Bittmann.
Electronic supplementary material
Below is the link to the electronic supplementary material.
About this article
Cite this article
Pagnoux, C., Bouby, L., Ivorra, S. et al. Inferring the agrobiodiversity of Vitis vinifera L. (grapevine) in ancient Greece by comparative shape analysis of archaeological and modern seeds. Veget Hist Archaeobot 24, 75–84 (2015). https://doi.org/10.1007/s00334-014-0482-y
Received:

Accepted:

Published:

Issue Date:
Keywords
Grape pip morphology

Viticulture

Archaic Period

Archaeobotany

Diversity

Geometric morphometry