Abstract
Holocene mangrove dynamics are reconstructed from pollen, sediment and radiocarbon analyses of three cores (ANR, BNR, CNR) located across a 20 km transect in the Rufiji Delta, Tanzania. At the base of the sediment sequence, dated to about 5600 cal. year b.p., the mangroves which are present suggest a low intertidal ecosystem in response to wet conditions and a higher sea level than at the present day. After around 5600 cal. year b.p. in core BNR, mangroves retreated seaward probably due to a lower sea level and drier environmental conditions. At around 4640 cal. year b.p., mangroves shifted landward suggesting a phase of sea level rise. In the late Holocene, mangroves became established at higher elevations of the Rufiji Delta, which is now a paddy field. Mangrove taxa decreased after 1170 cal. year b.p., suggesting drier conditions and less inundation frequency, possibly due to a lower sea level. Marked vegetation changes from mangroves to terrestrial vegetation occurred after around 750 cal. year b.p., possibly related to sea level regression and/or a desiccation phase recorded during the late Holocene. Paddy fields replaced mangroves in the landward part of the transect, reflecting an increase in human settlement in this area, a trend that continues to the present day. The recent decrease of mangrove species, particularly Rhizophora mucronata, could suggest less inundation by saline water and a lower sea level, although these changes may also be due to human activities during the last millennia as indicated by charcoal analysis.
This is a preview of subscription content,
to check access.
Access this article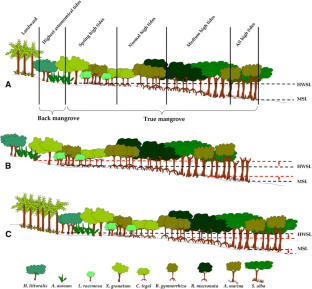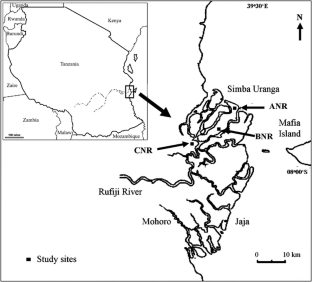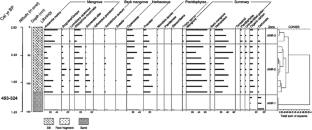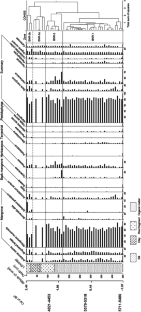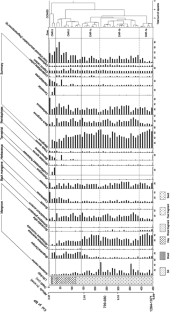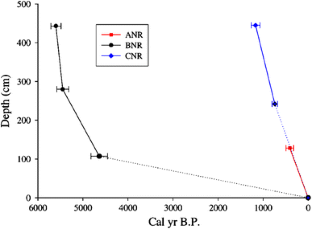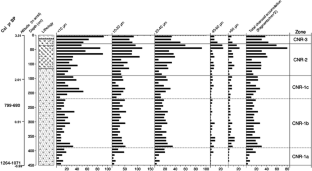 Similar content being viewed by others
References
Alexander CS (1969) Beach ridges in northeastern Tanzania. Geogr Rev 59:104–122

Alin SR, Cohen AS (2003) Lake level history of Lake Tanganyika, East Africa, for the past 2500 years based on Ostracod inferred water depth reconstruction. Palaeogeogr Palaeoclimatol Palaeoecol 199:31–49

Almond PC (1996) Loess, soil stratigraphy and the Aokautere Ash on late Pleistocene surfaces in south Westland: interpretation and correlation with the glacial stratigraphy. Quat Int 34-36:163–176

Alongi DM (2008) Mangrove forests: resilience, protection from tsunamis, and responses to global climate change. Estuar Coast Shelf Sci 76:1–13

Åse L (1981) Studies of shores and shore displacement on the southern coast of Kenya. Especially in Kilifi District. Phys Geogr 63:303–310

Barker P, Fontes JC, Gasse F, Druart JC (1994) Experimental dissolution of diatom silica in concentrated salt solutions and implications for paleoenvironmental reconstruction. Limnol Oceanogr 39:99–110

Behera SK, Luo JJ, Masson S, Yamagata T, Delecluse P, Gualdi S, Navarra A (2003) Impact of the Indian Ocean Dipole on the East African short rains: a CGCM study. CLIVAR Exch 27:43–45

Blasco F, Saenger P, Janodet E (1996) Mangroves as indicators of coastal change. Catena 27:167–178

Bonnefille R, Chalie F (2000) Pollen-inferred precipitation time-series from equatorial mountains, Africa, the last 40 kyr b.p. Glob Planet Change 26:25–50

Bronk-Ramsey C (2009) OxCal Program v4.10. Oxford Radiocarbon Accelerator Unit, Oxford

Camoin GF, Colonna M, Montaggioni LF, Casanova J, Faure G, Thomassin BA (1997) Holocene sea level changes and reef development in the southwestern Indian Ocean. Coral Reefs 16:247–259

Camoin GF, Montaggioni LF, Braithwaite CJR (2004) Late glacial to post glacial sea levels in the Western Indian Ocean. Mar Geol 206:119–146

Campo EV, Bengo MD (2004) Mangrove palynology in recent marine sediments off Cameroon. Mar Geol 208:315–330

Clark JS (1988) Particle motion and the theory of charcoal analysis: source area, transport, deposition and sampling. Quat Res 30:67–80

Cohen MCL, Behling H, Lara RJ (2005) Amazonian mangrove dynamics during the last millennium: the relative sea level and the Little Ice Age. Rev Palaeobot Palynol 136:93–108

Compton JS (2001) Holocene sea level fluctuations inferred from the evolution of depositional environments of the southern Langebaan Lagoon salt marsh, South Africa. Holocene 11:395–405

Doody K, Hamerlynck O (2003) Biodiversity of Rufiji District—a summary. (Technical report no. 44, Rufiji Environment Management Project) IUCN, Gland, Cambridge

Duvail S, Hamerlynck O (2007) The Rufiji River flood: plague or blessing? Int J Biometeorol 52:33–42

Ellison JC (1989) Pollen analysis of mangrove sediments as a sea level indicator: assessment from Tongatapu, Tonga. Palaeogeogr Palaeoclimatol Palaeoecol 74:327–341

Ellison JC (2000) How south Pacific mangroves may respond to predicted climate change and sea-level rise. In: Gillespie A, Burns W (eds) Climate change in the South Pacific: impacts and responses in Australia, New Zealand, and small island states. Kluwer, Dordrecht, pp 289–300

Ellison JC (2005) Holocene palynology and sea-level change in two estuaries in Southern Irian Jaya. Palaeogeogr Palaeoclimatol Palaeoecol 220:291–309

Ellison JC (2008) Long-term retrospection on mangrove development using sediment cores and pollen analysis: a review. Aquat Bot 89:93–104

Ellison AM, Farnsworth EJ (2001) Mangrove communities. In: Bertness MD, Gaines SD, Hay ME (eds) Marine community ecology. Sinauer Associates, Sunderland, pp 423–442

Engelhart SE, Horton BP, Roberts DH, Bryant CL, Corbett DR (2007) Mangrove pollen of Indonesia and its suitability as a sea level indicator. Mar Geol 242:65–81

Erdtmann G (1969) Handbook of palynology. Hafner, Munksgaard

Erftemeijert PLA, Hamerlynck O (2005) Die-back of the mangrove Heritiera littoralis dryand, in the Rufiji delta (Tanzania) following El Nińo Floods. J Coast Res 42:228–235

Eslami-Andargoli L, Dale P, Sipe N, Chaseling J (2009) Mangrove expansion and rainfall patterns in Moreton Bay, Southeast Queensland, Australia. Estuar Coast Shelf Sci 85:292–298

Fægri K, Iversen J (1989) In: Fægri K, Kaland PE, Krzywinski K (eds) Textbook of pollen analysis, 4th edn. Wiley, Chichester

FAO (2007) Mangroves of Africa 1980–2005. (FAO working paper 135) FAO, Rome

Finch J, Leng MJ, Marchant R (2009) Late Quaternary vegetation dynamics in a biodiversity hotspot, the Uluguru Mountains of Tanzania. Quat Res 72:111–122

Fisher PR, Dyer K, Semesi A (1994) Rufiji delta hydrodynamics research program, final report: characteristic circulation and sedimentation in the Rufiji delta, Tanzania. (Frontier-Tanzania Technical report no. 13) The Society for Environment Exploration, London

Francis J (1992) Physical processes in the Rufiji delta and their possible implications on the mangrove ecosystem. Hydrobiologia 247:173–179

Gasse F (2000) Hydrological changes in the African tropics since the Last Glacial Maximum. Quat Sci Rev 19:189–211

Gasse F, Ledee V, Massault M, Fontes JC (1989) Water-level fluctuations of Lake Tanganyika in phase with oceanic changes during the last glaciation and deglaciation. Nature 342:57–69

Gilman EL, Ellison J, Duke NC, Field C (2008) Threats to mangroves from climate change and adaptation options: a review. Aquat Bot 89:237–250

Goudie AS (1996) Climate: past and present. In: Adams WA, Goudie AS, Orme AR (eds) The physical geography of Africa. Oxford University Press, New York, pp 34–59

Grimm EC (1991) TILIA: ver 2.0.b.4 and TILIA*GRAPH: ver 2.0.b.4. Illinois State Museum, Springfield

Grindrod J (1985) The palynology of mangroves on a prograded shore, Princess Charlotte Bay, North Queensland, Australia. J Biogeogr 12:323–348

Haberyan K (1987) Fossil diatoms and the paleolimnology of Lake Rukwa, Tanzania. Freshw Biol 17:429–436

Hait AK, Behling H (2009) Holocene mangrove and coastal environmental changes in the western Ganga–Brahmaputra delta, India. Veget Hist Archaeobot 18:159–169

Hammond AP, Goh KM, Tonkin PJ, Manning MR (1991) Chemical pretreatments for improving the radiocarbon dates of peats and organic silts in a gley podzol environment: grahams Terrace, north Westland. N Z J Geol Geophys 34:191–194

Hashimi NH, Nigam R, Nair RR, Rajagopalan G (1995) Holocene sea level fluctuations on Western Indian Continental margin: an update. J Geol Soc India 46:157–162

Hassan FA (1997) Holocene palaeoclimates of Africa. Afr Archaeol Rev 14:213–230

Havnevik KJ (1993) Tanzania: the limits to development from above. Mkuki na Nyota, Dar es Salaam

Heiri O, Lotter AF, Lemcke G (2001) Loss on ignition as a method for estimating organic and carbonate content in sediments reproducibility and comparability of results. J Paleolimnol 25:101–110

Hogart PJ (1999) The biology of mangroves. Oxford University Press, New York

Horton M, Middleton J (2000) The Swahili: the social landscape of a mercantile society. Blackwell, Oxford

Horton BP, Benjamin P, Gibbard LG, Milne M, Morley RJ, Purintavaragul C, Stargardt JM (2005) Holocene sea levels and palaeoenvironments, Malay-Thai Peninsula, Southeast Asia. Holocene 15:1199–1213

Hughes CE, Binning P, Willgoose GR (1998) Characterisation of the hydrology of an estuarine wetland. J Hydrol 211:34–49

Hunt CO (1985) Recent advances in pollen extraction techniques: a brief review. In: Fieller NRJ, Gilbertson DD, Ralph NGA (eds) Palaeobiological Investigations. BAR, Oxford, pp 181–187

Hutchings P, Saenger P (1987) Ecology of mangroves. Queensland University Press, Brisbane

Isebor CE, Ajayi TO, Anyanwu A (2001) The incidence of Nypa fruticans (Wurmb) and its impact on fisheries production in the Niger delta mangrove ecosystem. Paper presented at: 16th annual conference of the Fisheries Society of Nigeria (FISON), Maiduguri, pp 4–9

Jaritz W, Ruder JB, Schlenker (1977) Das Quartär im Küstengebiet von Moçambique und seine Schwermineralführung. Geol Jahrb 26:3–93

Kershaw AP (1997) A modification of the Tröels–Smith system of sediment description and portrayal. Quat Australas 15:63–68

Kessy ET (2003) Iron Age settlement patterns and economic change on Zanzibar and Pemba Islands. In: Kusimba CM, Kusimba SB (eds) East African archaeology, foragers, potters, smiths and traders. The University of Pennsylvania Museum of Archaeology and Anthropology, Philadelphia, pp 117–131

Kiage LM, Liu K (2006) Late Quaternary paleoenvironmental changes in East Africa: a review of multiproxy evidence from palynology, lake sediments, and associated records. Prog Phys Geogr 30:633–658

Kjerfve B (1990) Manual for investigation of hydrological processes in mangrove ecosystems. UNESCO/UNDP regional project, research and its application to the management of the mangroves of Asia and the Pacific (RAS/86/120). UNESCO/UNDP, New Delhi

Kulindwa K, Sosovele H, Taratibu M, Mwamsamali M, Kabigumila J, Ndangalasi H (2000) Tanzania case study: Rufiji, Ruvu and Wami. In: Wood A, Stedman-Edwards P, Mang J (eds) Root causes of biodiversity loss. Earthscan, London

Mainoya JR, Mesaki S, Banyikwa FF (1986) The distribution and socio-economic aspects of mangrove forests in Tanzania. In: Kunstadter P, Bird ECF, Sabhasri S (eds) Man in the mangroves. United Nations University, Tokyo, pp 87–95

Marchant RA, Hooghiemstra H (2004) Rapid environmental change in Africa and South American tropics around 4000 years before present. Earth-Sci Rev 66:217–260

Marchant R, Mumbi C, Behera S, Yamagata T (2007) The Indian Ocean dipole—the unsung driver of climatic variability in East Africa. Afr J Ecol 45:4–16

Masalu DCP (2003) Challenges of coastal area management in coastal developing countries—lessons from the proposed Rufiji delta prawn farming project, Tanzania. Ocean Coast Manag 46:175–188

McCormac FG, Hogg AG, Blackwell PG, Buck CE, Higham TFG, Reimer PJ (2004) SHCal04 Southern Hemisphere calibration, 0–11.0 cal kyr b.p. Radiocarbon 46:1,087–1,092

Mehrotra RC, Tiwari RP, Mazumder I (2003) Nypa megafossils from the Tertiary sediments of northeast India. Geobios 36:83–92

Mikhailov VN, Isupova MV (2008) Hypersalinization of river estuaries in West Africa. Water Resour Regime Water Bodies 35:387–405

Muller J (1959) Palynology of recent Orinoco delta and shelf sediments. Micropaleontology 5:1–32

Muzuka ANN, Nyandwi N, Shaghude YW (2004) Preliminary investigation on the Pleistocene/Holocene Sea-level changes along the coastline of Tanzania, with reference to Unguja and Pemba Islands. Bol Geol 43:8–13

Mwalyosi RBB (1993) Management of the Rufiji—delta as a wetland. In: Kamukala GL, Crafter SA (eds) Wetland of Tanzania: Proceeding of a Seminar on Wetlands in Tanzania, Morogoro, Tanzania, 27–29 Nov 1991. Gland, IUCN, pp 115–124

Newnham RM, Vandergoes MJ, Garnett M, Lowe DJ, Prior C, Almond PJ (2007) Test of AMS 14C dating of pollen concentrates using tephrochronology. J Quat Sci 22:37–51

Nicholson SE (2001) Climatic and environmental change in Africa during the last two centuries. Clim Res 17:123–144

Nicholson SE, Flohn H (1980) African environmental and climatic changes and the general atmospheric circulation in late Pleistocene and Holocene. Clim Change 2:313–348

Nshubemuki L (1993) Forestry resources in Tanzania's wetlands: concepts and potentials. In: Kamukala GL, Crafter SA (eds) Wetlands of Tanzania: proceedings of a seminar on the wetlands of Tanzania, Morogoro, Tanzania, 27–29 Nov 1991. IUCN, Gland, pp 37–48

Ochieng CA (2002) Research masterplan for the Rufiji floodplain and delta 2003–2013. (REMP Technical Report 28) Rufiji Environment Management Project, Dar es Salaam

Overpeck J, Anderson D, Trumbore S, Prell W (1996) The southwest Indian Monsoon over the last 18,000 years. Clim Dyn 12:213–225

Punwong P (2008) Pollen deposit in Bangkok clay from Ong Kharak district Nakhon Nayok province, and their implication on paleophytogeography. Masters thesis in Botany, Graduate School, Chulalongkorn University, Bangkok

Ramsay PJ (1995) 9000 years of sea level change along the southern African coastline. Quat Int 31:71–75

Ramsay PJ, Cooper JAG (2002) Late Quaternary sea level change in South Africa. Quat Res 57:82–90

Reed JM (1998) Diatom preservation in the recent sediment record of Spanish saline lakes; implications for palaeoclimate study. J Paleolimnol 19:129–137

Richmond MD, Wilson JDK, Mgaya YD, Le Vay L (2002) An analysis of smallholder opportunities in fisheries, coastal and related enterprises in the floodplain and delta areas of the Rufiji River, Tanzania. (Rufiji Environment Management Project Technical report 25) Rufiji Environment Management Project, Dar es Salaam

Rijsdijk KF, Zinke J, De Loux PGB, Hume JP, Van der Plicht H, Hooghiemstra H, Meijer HJM, Vonhof H, Porch N, Florens V, Baider C, Van Geel B, Brinkkemper J, Vernimmen T, Janoo A (2011) Mid-Holocene (4200 kyr b.p.) mass mortalities in Mauritius (Mascarenes): Insular vertebrates resilient to climatic extremes but vulnerable to human impact. Holocene 21:1,179–1,194

Rucina SM, Muiruri VM, Downton L, Marchant R (2010) Late Holocene savanna dynamics in the Amboseli Basin, Kenya. Holocene 20:667–677

Saintilan N, Williams RJ (1999) Mangrove transgression into saltmarsh environments in southeast Australia. Glob Ecol Biogeogr 8:117–124

Saintilan N, Wilton K (2001) Changes in the distribution of mangroves and saltmarshes in Jervis Bay, Australia. Wetl Ecol Manag 9:409–420

Saji NH, Goswami BN, Vinayachandran PN, Yamagata T (1999) A dipole mode in the tropical Indian Ocean. Nature 401:360–363

Santisuk T (1983) Taxonomy and distribution of terrestrial trees and shrubs in the mangrove formations in Thailand. Nat Hist Bull Siam Soc 5:63–91

Semesi AK (1992) The mangrove resource of the Rufiji delta, Tanzania. In: Matiza T, Chabwela HN (eds) Wetlands conservation conference for southern Africa. Proceedings of the southern African development coordination conference held in Gaborono, Botswana, 3–5 June 1991. Union Internationale pour la Conservation de la Nature et de ses Ressources, Switzerland (UICN), Gland, pp 157–172

Shaghude YW, Lobora AL, Mpeta EJ, Matitu MR, Matari EE (2004) Coastal impacts of water impoundment by damming on Rufiji river, Tanzania. Presented at the START-LOICZ-IGCP-IHP-NEPAD AfriCat synthesis and Futures meeting, Mombasa, 16–19 Feb 2004

Shaghude YW, Lobora AL, Mpeta EJ, Matitu MR, Matari EE (2008) Inter-linkages between the socio-economic dynamics and climatic variability on Lower Rufiji catchment, Tanzania. In: Arthurton R, Le Tissier M, Snoussi M, Kitheka J, Shaghude Y, Kane A, Flöser G, Kremer H (eds) AfriCat: LOICZ—Global change assessment and synthesis of river catchment—coastal sea interactions and human dimensions in Africa. (LOICZ Reports & Studies No. 30) LOICZ IPO, Geesthacht, Germany

Snedaker SC (1995) Mangroves and climate change in the Florida and Caribbean region: scenarios and hypotheses. Hydrobiologia 295:43–49

Snoussi M, Kitheka K, Shaghude Y, Kane A, Arthurton R, Le Tissier M, Virji H (2007) Downstream and coastal impacts of damming and water abstraction in Africa. Environ Manag 39:587–600

Somboon JRP (1990) Palynological study of mangrove and marine sediments of the Gulf of Thailand. J Southeast Asian Earth Sci 4:85–97

Spalding M, Blasco F, Field C (1997) World mangrove atlas. The International Society for Mangrove Ecosystems, Okinawa

Taylor M, Ravilious C, Green EP (2003) Mangroves of East Africa. UNEP, World Conservation Monitoring Centre, Cambridge

TCMP (2001) Tanzania state of the coast 2001: people and the environment. (Working document 5059). Tanzania Coastal Management Partnership Science and Technical Working Group, Dar es Salaam

Thanikaimoni G (1987) Mangrove palynology. Institut Francais de Pondichery, India

Thompson LG, Mosley-Thompson E, Davis ME, Henderson KA, Brecher HH, Zagorodnov VS, Mashiotta TA, Lin P, Mikhalenko VN, Hardy DR, Beer J (2002) Kilimanjaro ice core records: evidence of Holocene climate change in tropical Africa. Science 298:589–593

Tinner W, Hu FS (2003) Size parameters, size-class distribution and area-number relationship of microscopic charcoal: relevance for fire reconstruction. Holocene 13:499–505

Toscano MA, Macintyre IG (2003) Corrected western Atlantic sea-level curve for the last 11,000 years based on calibrated C-14 dates from Acropora palmata framework and intertidal mangrove peat. Coral Reefs 22:257–270

Tossou MG, Akoègninoua A, Balloucheb A, Sowunmic MA, Akpagana K (2008) The history of the mangrove vegetation in Bénin during the Holocene: a palynological study. J Afr Earth Sci 52:167–174

Trauth MH, Deino AL, Bergner AGN, Strecker MR (2003) East African climate change and orbital forcing during the last 175 kyr b.p. Earth Planet Sci Lett 206:297–313

Tröels-Smith J (1955) Characterisation of unconsolidated sediments. Danmarks Geologiske Undersøgelse, række 4, bd. 3, no 10

Turpie JK (2000) The use and value of natural resources of the Rufiji floodplain and delta, Tanzania. (Rufiji Environment Management Project Technical report 17) Rufiji Environment Management Project, Dar es Salaam

Ukpong IE (1997) Vegetation and its relation to soil nutrient and salinity in the Calabar mangrove swamp, Nigeria. Mangroves Salt Marshes 1:211–218

Vandergoes MJ, Prior CA (2003) AMS dating of pollen concentrates—a methodological study of late Quaternary sediments from south Westland, New Zealand. Radiocarbon 45:479–491

Vedel V, Behling H, Cohen M, Lara R (2006) Holocene mangrove dynamics and sea level changes in northern Brazil, inferences from the Taperebal core in northeastern Pará State. Veget Hist Archaeobot 15:115–123

Verschuren D, Laird KR, Cumming BF (2000) Rainfall and drought in equatorial East Africa during the past 1,100 years. Nature 403:410–414

Vincens A, Williamson D, Thevenon F, Taieb M, Buchet G, Decobert M, Thouveny N (2003) Pollen-based vegetation changes in southern Tanzania during the last 4200 years: climate change and/or human impact. Palaeogeogr Palaeoclimatol Palaeoecol 198:321–334

Wang Y, Bonynge G, Nugranad J, Traber M, Ngusaru A, Tobey J, Hale L, Bowen R, Makota V (2003) Remote sensing of mangrove change along the Tanzania coast. Mar Geod 26:35–48

Watson JG (1928) Mangrove forests of the Malay Peninsula. (Malayan Forest Records 6). Forest Department, Federated Malay Peninsula, Kuala Lumpur

Woodroffe CD, Grindrod J (1991) Mangrove biogeography: the role of Quaternary environmental and sea-level change. J Biogeogr 18:479–492
Acknowledgments
This work was carried out as a part of doctoral thesis at the University of York. Appreciation is expressed to William Kindeketa and Philip Lowe for their support and assistance throughout this fieldwork. I would like to thank Jason Rubens, Haji Machano, Frank Sima and WWF-Tanzania staff for helping me to get started, for their hospitality. The Global Environment Facility (GEF)'s support for the project, via a grant to WWF-Tanzania, is greatly appreciated. I would like to thank Benson Kimeu, Survey/GIS Technician from the British Institute in Eastern Africa (BIEA) for conducting the elevation survey through the Rufiji delta. I am grateful to the reviewers guiding me to interesting and invaluable discussions. This study was funded by The Royal Thai Government Scholarship and WWF-Tanzania. Finally, my deepest thanks to my supervisors, Rob Marchant and Katherine Selby, Environment Department, University of York, UK for their supervision, guidance and encouragement all the time.
Additional information
Communicated by F. Bittmann.
Electronic supplementary material
Below is the link to the electronic supplementary material.
About this article
Cite this article
Punwong, P., Marchant, R. & Selby, K. Holocene mangrove dynamics and environmental change in the Rufiji Delta, Tanzania. Veget Hist Archaeobot 22, 381–396 (2013). https://doi.org/10.1007/s00334-012-0383-x
Received:

Accepted:

Published:

Issue Date:

DOI: https://doi.org/10.1007/s00334-012-0383-x
Keywords