Abstract
Taxonomic advancement in the genus Bolboschoenus (Cyperaceae, formerly included in the genus Scirpus) have resulted in the re-classification of the plant previously known as Bolboschoenus maritimus (synonym Scirpus maritimus) into several closely-related but distinct Bolboschoenus species This improved taxonomy is of importance for archaeobotanical investigations of ancient sites within the temperate zones, where this genus frequently occurs, because it allows more precise definitions of the ecological requirements and growing habits of each species. Moreover, it details the distinct morphological and anatomical characteristics of the fruit (nutlets) of each species. Using these new nutlet classification criteria, we re-examined charred archaeological specimens which had previously been identified as B. maritimus (or S. maritimus), from five Near Eastern late Pleistocene and early Holocene village sites: Abu Hureyra, Hallan Çemi, Demirköy, Çatalhöyük and Aswad. Because three of these sites are located in Anatolia, data on the recent occurrence of Bolboschoenus in Turkey were also investigated. All archaeobotanical specimens were found to be B. glaucus. This species was also found to be the most common Bolboschoenus in present-day Turkey, indicating that it has a long history of occurrence in this region. The environmental, ecological and economic implications of this new information suggest that it is entirely feasible that this plant provided late Pleistocene and Holocene Near Eastern people with a dependable and possibly a staple food source.
Access options
Buy single article
Instant access to the full article PDF.
US$ 39.95
Tax calculation will be finalised during checkout.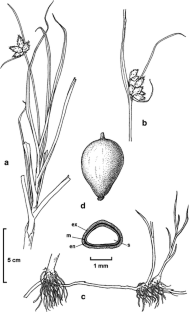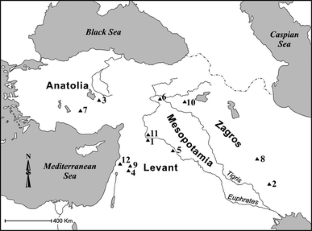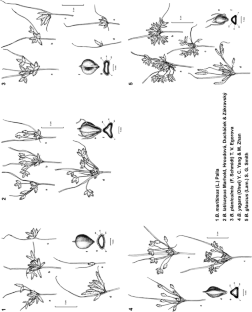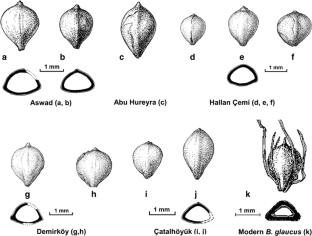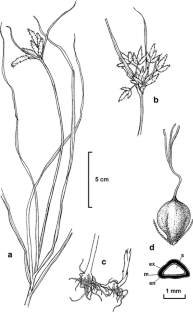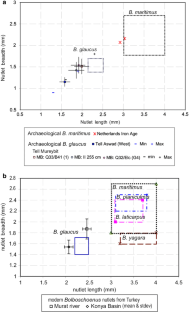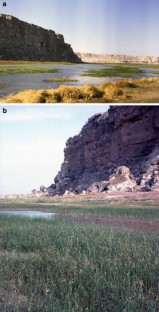 References
Amini Rad M, Hroudová Z, Marhold K (2010) The genus Bolboschoenus in Iran: taxonomy and distribution. Nordic J Bot 28:588–602

Browning J, Gordon-Gray KD (1993) Studies in Cyperaceae in Southern Africa. 21: the taxonomic significance of the achene and its embryo in Bolboschoenus. S Afr J Bot 59:311–318

Browning J, Gordon-Gray KD (2000) Patterns of fruit morphology in Bolboschoenus (Cyperaceae) and their global distribution. S Afr J Bot 66:63–71

Browning J, Gordon-Gray KD, Smith SG, van Staden J (1996) Bolboschoenus yagara (Cyperaceae) newly reported for Europe. Ann Bot Fenn 33:129–136

Browning J, Gordon-Gray KD, Smith SG, van Staden J (1997) Bolboschoenus maritimus s.l. in The Netherlands: a study of pericarp anatomy based on the work of Irene Robertus-Koster. Ann Bot Fenn 34:115–126

Browning J, Gordon-Gray KD, Smith SG, van Staden J (1998) Bolboschoenus glaucus (Cyperaceae), with emphasis upon Africa. Nordic J Bot 18:475–482

Casper SJ, Krausch HD (1980) Pteridophyta und Anthophyta. 1. Teil: Lycopodiaceae bis Orchidaceae.—Süßwasserflora von Mitteleuropa, Bd 23, Fischer, Jena

Dai L, Liang S, Zhang S, Tang Y, Koyama T, Tucker G, Simpson D, Noltie H, Strong M, Bruhl J, Wilson K, Muasya A (2010) Cyperaceae. In: Wu Z, Raven P (eds) Flora of China, Volume 23. Missouri Botanical Garden Press, St. Louis, pp 164–461

Danin A (2000) The nomenclature news of Flora Palaestina. Flora Mediterranea 10:109–172

Davis PH (ed) (1985) The Flora of Turkey and the East Aegean Islands, vol 9. Edinburgh University Press, Edinburgh

DeFilipps RA (1980) Scirpus L. In: Tutin TG, Heywood VH, Burges NA, Moore DM, Valentine DH, Walter SM, Webb DA (eds) Flora Europaea, vol 5. Cambridge University Press, Cambridge, pp 277–280

Fairbairn A, Asouti E, Near J, Martinoli D (2002) Macro-botanical evidence for plant use at Neolithic Çatalhöyük south-central Anatolia, Turkey. Veget Hist Archaeobot 11:41–54

Feinbrun-Dothan N (1981) Flora Palaestina, Part 4: Alismataceae to Orchidaceae. Israel Academy of Sciences and Humanities, Jerusalem

Fernald ML (1950) Gray's manual of botany. American Book Co., New York

Goetghebeur P, Simpson DA (1991) Critical notes on Actinoscirpus, Bolboschoenus, Isolepis, Phylloscirpus and Amphiscirpus (Cyperaceae). Kew Bull 46:169–178

Haines HA, Lye KA (1983) The sedges and grasses of East Africa. East African Natural History Society, Nairobi

Harlan JR (1972) Crops that extend the range of agricultural settlement. In: Ucko PJ, Dimbleby GW, Tringham R (eds) Man, settlement and urbanism. Duckworth, London, pp 239–243

Hillman GC (1975) The plant remains from Tell Abu Hureyra: a preliminary report. In: Moore AMT (ed) The excavation of Tell Abu Hureyra in Syria: a preliminary report. Proceedings of the Prehistoric Society 41:50–77

Hillman GC (2000) The plant food economy of Abu Hureyra 1 and 2. In: Moore AMT, Hillman GC, Legge AJ (eds) Village on the Euphrates: from foraging to farming at Abu Hureyra. Oxford University Press, Oxford, pp 327–398

Hillman GC, Colledge SM, Harris DR (1989a) Plant-food economy during the Epipalaeolithic period at Tell Abu Hureyra, Syria: dietary diversity, seasonality, and modes of exploitation. In: Harris DR, Hillman GC (eds) Foraging and farming: the evolution of plant exploitation. Unwin Hyman, London, pp 240–268

Hillman GC, Madeyska E, Hather JG (1989b) Wild plant foods and diet at Late Palaeolithic Wadi Kubbaniya (Upper Egypt): evidence from charred remains. In: Wendorf F, Schild R, Close A (eds) The prehistory of Wadi Kubbaniya, vol 2: Stratigraphy, subsistence and environment. Southern Methodist University, Dallas, pp 162–242

Hillman GC, Hedges R, Moore A, Colledge S, Pettitt P (2001) New evidence of lateglacial cereal cultivation at Abu Hureyra on the Euphrates. Holocene 11:383–393

Hroudová Z, Zákravský P (1995) Bolboschoenus maritimus (L.) Palla—tuber production and dormancy in natural habitats. In: Oborny B, Podani J (eds) Proceedings of the 4th International workshop on clonal plants, clonality in plant communities, Visegrád, Hungary, April 18–22, 1995, Budapest. Abstracta Botanica 19:89–94

Hroudová Z, Marhold K, Zákravský P, Ducháček M (2001) The genus Bolboschoenus in the Czech Republic. Zprávy Čes Bot Společ Praha 36:1–28

Hroudová Z, Zákravský P, Ducháček M, Marhold K (2007) Taxonomy distribution and ecology of Bolboschoenus in Europe. Ann Bot Fennici 44:81–102

Hroudová Z, Gregor T, Zákravský P (2009) Die Verbreitung von Bolboschoenus-Arten in Deutschland. Kochia 4:1–22

Kantrud HA (1996) The alkali (Scirpus maritimus L.) and saltmarsh (S. robustus Pursh) bulrushes: a literature review. US Dept of the Interior National Biological Service Technical Report Series, Denver

Kubiak-Martens L (1999) The plant food component of the diet at the Late Mesolithic (Ertebølle) settlement at Tybrind Vig, Denmark. Veget Hist Archaeobot 8:117–127

Kukkonen I (1996) Notes of the treatment of Cyperaceae for Flora Iranica. Ann Naturhist Mus Wien 98B:87–95

Mabey R (1996) Flora Britannica: the definitive new guide to wild flowers, plants and trees. Sinclair-Stevenson, London

Mouterde P (1966) Nouvelle flore du Liban et de la Syrie. Dar El-Machreq (Imprimerie Catholique), Beirut

Nadkarni AK (1954) Indian materia medica. Popular Book Depot, Bombay

Norlindh T (1972) Notes on the variation and taxonomy in Scirpus maritimus complex. Bot Notiser 125:397–405

Ohwi J (1944) Cyperaceae Japonicae II. Mem Coll Sci Kyoto Univ, Ser B 18:1–182

Rechinger KH (ed) (1998) Flora Iranica. Akad Druck-Verlaganstalt, Graz

Reimbold G, Eling P, Kingma A, La Heij W, Fasotti L, Landmann G, Reimer A, Lemcke G, Kempe S (1996) Dating Late Glacial abrupt climate changes in the 14,570 year long continuous varve record of Lake Van, Turkey. Palaeogeogr Palaeoclimatol Palaeoecol 122:107–118

Savard M, Nesbitt M, Jones MK (2006) The role of wild grasses in subsistence and sedentism: new evidence from the northern Fertile Crescent. World Archaeology 38:179–196

Schultze-Motel W (1980) Scirpus maritimus L. In: Hegi G (ed) Illustrierte Flora von Mitteleuropa, Band II, Teil 1–Monocotyledones 2. Berlin, Hamburg, pp 18–20

Smith SG (1995) New combinations in North American Schoenoplectus, Bolboschoenus, Isolepis and Trichophorum (Cyperaceae). Novon 5:97–102

Strong MT (1993) New combinations in Schoenoplectus (Cyperaceae). Novon 3:202–203

Strong MT (1994) Taxonomy of Scirpus, Trichophorum, and Schoenoplectus (Cyperaceae) in Virginia. Bartonia 58:29–68

Sussex Wildlife Trust (2002) Sussex Wildlife Trust nature reserves. Published online: www.wildlifetrust.org.uk/sussex/reserves.htm

Täckholm V, Drar M (1950) The Flora of Egypt, vol 2, Cyperaceae to Juncaceae. Fouad I University Press, Cairo

Tanaka T (1976) Tanaka's encyclopaedia of edible plants of the world. Keigaku Publishing, Tokyo

Tatanov IV (2004a) Infrageneric system of the genus Bolboschoenus (Aschers.) Palla (Cyperaceae) [in Russian]. Novitates System Plant Vascul 36:80–95

Tatanov IV (2004b) The comparative carpology of Bolboschoenus (Cyperaceae) in the context of the genus taxonomy [in Russian, with English summary]. Bot Zhurn 89:1,225–1,248

Tatanov IV (2007) Taxonomic survey of the genus Bolboschoenus (Aschers.) Palla (Cyperaceae) [in Russian]. Novitates System Plant Vascul 39:46–149

Thompson J (2001) SHYLOC UK Sites. Research Project published online: www.geog.ucl.ac.uk/~jthompso/shyloc_sites.htm

Townsend CC, Guest E (1985) Flora of Iraq, vol 8: Monocotyledons. Ministry of Agriculture and Agrarian Reform, Baghdad

Turner NJ (1998) Plant technology of First Peoples in British Columbia. University of British Columbia and the Royal British Columbia Museum, Vancouver

Van Zeist W (1972) Palaeobotanical results of the 1970 season at Çayönü, Turkey. Helinium 12:3–19

Van Zeist W, Bakker-Heeres JAH (1979) Some economic and ecological aspects of the plant husbandry of Tell Aswad. In: de Contenson H, Cauvin M-C, van Zeist W, Bakker-Heeres JAH, Leroi-Gourhan A (eds) Tell Aswad (Damascene). Paléorient 5:119–174

Van Zeist W, Bakker-Heeres JAH (1982) Archaeobotanical studies in the Levant 1. Neolithic sites in the Damascus basin: Aswad, Ghoraifé, Ramad. Palaeohistoria 24:165–256

Van Zeist W, Bakker-Heeres JAH (1984) Archaeobotanical studies in the Levant 3: Late Palaeolithic Mureybit. Palaeohistoria 26:171–199

Wollstonecroft M (2009) Harvesting experiments on the clonal macrophyte sea club-rush (Bolboschoenus maritimus (L.) Palla): an approach to identifying variables that may have influenced hunter-gatherer resource selection in Late Pleistocene Southwest Asia. In: Fairbairn AS, Weiss E (eds) From foragers to farmers: papers in honour of Gordon C. Hillman. Oxbow Monographs, Oxford, pp 127–139

Wollstonecroft M, Erkal A (1999) Summary of plant-processing experiments 1999. In: Hodder I, Catalhöyük Research Trust (eds) Catalhöyük 1999 Archive Report, www.catalhoyuk.com/archive_reports/1999/index.html

Wollstonecroft M, Ellis PR, Hillman GC, Fuller DQ (2008) Advancements in plant food processing in the Near Eastern Epipalaeolithic and implications for improved edibility and nutrient bioaccessibility: an experimental assessment of sea club-rush (Bolboschoenus maritimus (L) Palla). Veget Hist Archaeobot 17(1):S19–S27
Acknowledgments
Many thanks to the Çatalhöyük Project, Sue Colledge, Manon Savard and George Willcox for providing the archaeobotanical specimens, to the herbarium curators of Berlin-Dahlem, Budapest, Bratislava, Brno, Helsinki, Jena, Linz, München, Prague, Sofia, and Vienna for making their collections available and to Zprávy Čes. Bot. Společ., Praha for permitting us to reproduce the images used in Figs. 3 and 4k. Further thanks to the Institute of Botany of the Academy of Sciences of the Czech Republic (grant AV0Z 60050516) and the UCL Institute of Archaeology (IOA) for their ongoing support. MW's research is funded by a British Academy postdoctoral fellowship.
Additional information
Communicated by F. Bittmann.
Electronic supplementary material
Below is the link to the electronic supplementary material.
Supplementary material 1: Appendix Lists of examined Bolboschoenus maritimus and B. glaucus herbarium specimens and their localities in Turkey (DOC 54 kb)
About this article
Cite this article
Wollstonecroft, M.M., Hroudová, Z., Hillman, G.C. et al. Bolboschoenus glaucus (Lam.) S.G. Smith, a new species in the flora of the ancient Near East. Veget Hist Archaeobot 20, 459–470 (2011). https://doi.org/10.1007/s00334-011-0305-3
Received:

Accepted:

Published:

Issue Date:
Keywords
Bolboschoenus glaucus

Epipalaeolithic

Near East

Neolithic

Taxonomy

Nutlet characteristics