Abstract
The discovery of seeds and textiles from Gossypium (cotton) in Achaemenian levels of the mid-6th–late 4th century b.c. at Qal'at al-Bahrain, Bahrain and in early 1st millennium a.d. at Madâ'in Sâlih, Saudi Arabia, reveals the role played by the Arabian Peninsula as a textile production centre during the centuries before and after the beginning of the Christian era. Both these sites were situated on important trade routes, overseas (Qal'at al-Bahrain) and overland (Madâ'in Sâlih), and it is likely that at least part of the cotton production was intended for trade, complementing and perhaps competing with other sources of cotton textiles in the contemporary Middle East. In the arid climate of the Arabian Peninsula, cotton was probably grown in association with irrigated date palm gardens where a wide array of other crops was grown, as is shown by the analysis of charred seeds and wood from occupation levels at both sites. The present article places these particular finds in the larger context of cotton cultivation in the Middle East and India.
Access options
Buy single article
Instant access to the full article PDF.
USD 39.95
Price includes VAT (USA)
Tax calculation will be finalised during checkout.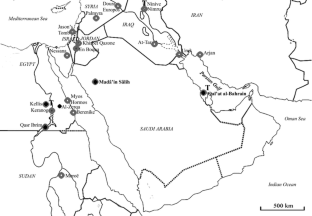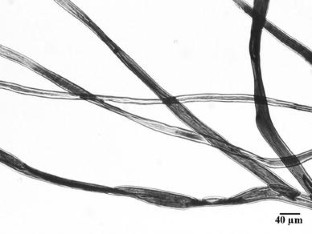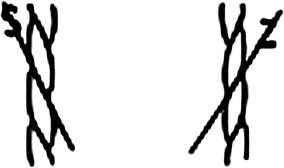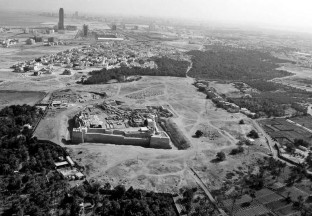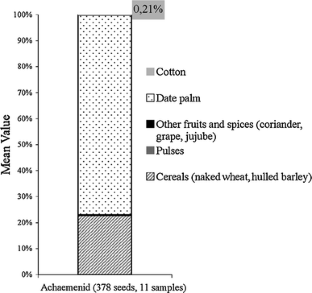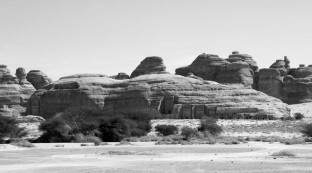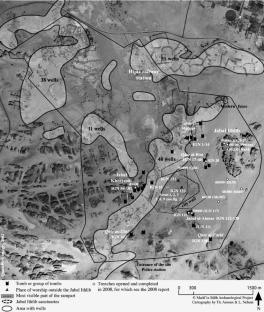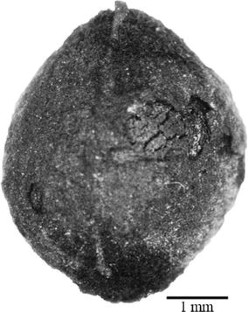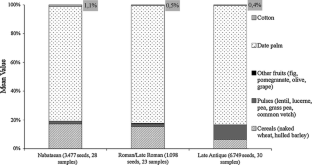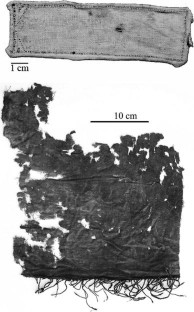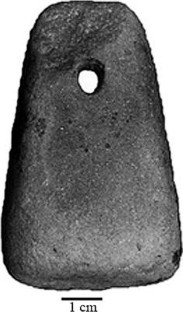 Notes
1.

The only radiocarbon date available was from a fireplace which contained cotton seeds (81–238 cal. a.d.).

2.

It is possible that the proportion of cotton will increase since the study of the textiles is still in progress

3.

All of them are made of single Z-spun threads. Fibres have been identified with a microscope either in Saudi Arabia or in France. We are very indebted to Dominique de Reyer, who made some of the analyses at the Laboratoire de Recherche des Monuments historiques, at Champs-sur-Marne.
References
Allaby R (2010) Archaeogenetics. Allaby research group. http://www2.warwick.ac.uk/fac/sci/whri/research/archaeobotany/ancient_dna/. Accessed 20 Sept 2010

Alvarez-Mon J (2005) The introduction of cotton in the Near East: a view from Elam. In: Abdi K (ed) Draya tya hacâ Pârsâ aitiy: essays on the archaeology and history of the Persian Gulf littoral. Peeters Publishers, Leuven, pp 1–18

Amigues S (1989) Recherches sur les plantes, Tome II, livres III et IV. Les Belles Lettres, Paris

Bagnall RS (1997) The Kellis agricultural account book. Oxbow Books, Oxford

Bellinger L, Pfister R (1962) Textiles. In: Colt H, Baly T, Bellinger A, Bellinger L (eds) Excavations at Nessana (Auja Hafir, Palestine). British School of Archaeology in Jerusalem, London, pp 91–105

Betts A, van der Borg K, de Jong A, McClintock C, van Strydonck M (1994) Early cotton in North Arabia. J Archaeol Sci 21:489–499

Boivin N, Fuller Q (2009) Shell middens, ships and seeds: exploring coastal subsistence, maritime trade and dispersal of domesticates in and around the ancient Arabian peninsula. J World Prehist 22:113–180

Bouchaud C (2010) Les pratiques alimentaires en Arabie antique. Étude archéobotanique de Madâ'in Sâlih. Cahiers des thèmes transversaux d'ArScAn 2007/2008: l'alimentation dans l'Orient ancien de la production à la consommation 9:247–256

Bowen G (2010) Texts and textiles: a study of the textile industry at ancient Kellis. http://arts.monash.edu.au/archaeology/excavations/dakhleh/ismant-el-kharab/ismant-texts-textiles.php. Accessed 28 June 2010

Breniquet C (2008) Essai sur le tissage en Mésopotamie : des premières communautés sédentaires au milieu du IIIe millénaire avant J.-C. De Boccard, Paris

Brubaker CL, Bourland FM, Wendel JF (1999) The origin and domestication of cotton. In: Smith CW, Cothren JT (eds) Cotton: origin, history, technology and production. Wiley, New York, pp 3–31

Casson L (trans)(1989) The Periplus Maris Erythraei. Princeton University Press, Princeton

Chanchala S (1992) The fruit and seed remains from ancient Hulaskhera, District Lucknow, UP (c. 700 b.c.–500 a.d.). Pragdhara 2:65–80

Chanchala S (1995) Some seed and fruit remains from Kausambi, District Allahabad, UP (ca. 600 b.c.–450 b.c.). Geophytology 24:169–172

Chanchala S (2002) Botanical remains. In: Tewari DP (ed) Excavations at Charda. Jarun Prakashan, Lucknow, pp 166–194

Chowdhury KA, Buth GM (1971) Cotton seeds from the Neolithic in Egyptian Nubia and the origin of Old World cotton. Biol J Linn Soc Lond 3:303–312

Clapham AJ, Rowley-Conwy PA (2007) New discoveries at Qasr Ibrim, Lower Nubia. In: Cappers R (ed) Fields of change. Proceedings of the 4th international workshop for African archaeobotany. Barkhuis & Groningen University Library, Groningen, pp 157–164

Clapham A, Rowley-Conwy PA (2009) The archaeobotany of cotton (Gossypium sp. L.) in Egypt and Nubia with special reference to Qasr Ibrim, Egyptian Nubia. In: Fairbairn A, Weiss E (eds) From foragers to farmers. Papers in honour of Gordon C. Hillman. Oxbow Books, Oxford, pp 244–253

Cooke M, Fuller DQ, Rajan K (2005) Early historic agriculture in Southern Tamil Nadu: archaeobotanical research at Mangudi, Kodumanal and Perur. In: Weisshaar J, Franke-Vogt U (eds) South Asian archaeology 2003. Linden Soft, Aachen, pp 329–334

Coombs CE, Woodhead AL, Church JS (2002) Report on the characterization of three fabric samples from Ismant el-Kharab. In: Hope C, Bowen G (eds) Dakhleh oasis project: preliminary reports on the 1994–1995 to 1998–1999 field seasons. Oxbow Books, Oxford, pp 115–119

Courbon P (2008) Les puits nabatéens de Madâ'in Sâlih (Arabie Saoudite). Arab Arch Epigraphy 19:48–70

Coussonnet P, Denoix S, Taher M (2011) Hammam et thérapeutique égyptienne, le "Traité à propos des dits sur le hammam" d'al-Qusūnī. IFAO, Le Caire

Crowfoot GM (1936) Of the warp-weighted loom. Ann Br Sch Athens 37:36–47

D'Hont O (1994) Vie quotidienne des 'Agedat: techniques et occupation de l'espace sur le Moyen Euphrate. Institut Français de Damas, Damas

Defremery C, Sanguinetti B (1990) Ibn Battûta. Voyages. II. De la Mecque aux steppes russes et à l'Inde. La Découverte, Paris

Delhopital N, Sachet I (2010) Work in the monumental tombs. In: Nehmé L, Al-Talhi D, Villeneuve F (eds) Report on the first excavation season at Madâ'in Sâlih 2008 Saudi Arabia. Saudi Commission for Tourism and Antiquities, Riyadh, pp 205–258

Eastwood G (1982) Textiles. In: Whitcomb D, Johnson J (eds) Quseir al-Qadim 1980: preliminary report. Undena Publications, Malibu, pp 285–326

Ernout A (trans) (1949) Pline l'Ancien: Histoire Naturelle, Livre XII. Les Belles Lettres, Paris

Fuller DQ (2008) The spread of textile production and textile crops in India beyond the Harappan zone: an aspect of the emergence of craft specialization and systematic trade. In: Osada T, Uesugi A (eds) Linguistics, archaeology and the human past. (Indus Project, Occasional paper 3.) Research Institute for Humanity and Nature, Kyoto, pp 1–26

Granger-Taylor H (2000) The textiles from Khirbet Qazone (Jordan). In: Cardon M, Feugère M (eds) Archéologie des textiles, des origines au Ve siècle: actes du colloque de Lattes, octobre 1999. Monique Mergoil, Montagnac, pp 149–161

Griffith FL, Crowfoot GM (1934) On the early use of cotton in the Nile valley. J Egypt Archaeol 20:5–12

Højlund F, Andersen HH (1994) Qala'at al-Bahrain vol 1, The northern city wall and the Islamic fortress. Aarhus University Press, Aarhus

Hopper NW, McDaniel FM (1999) The cotton seed. In: Smith CW, Cothren JT (eds) Cotton: origin, history, technology and production. Wiley, New York, pp 289–317

Iliff Robson E (trans) (1949) Arian: Anabasis Alexandri, book VIII (Indica). Heinemann and Harvard University Press, London and Cambridge

Joannès F, Bachelot L (2001) Dictionnaire de la civilisation mésopotamienne. Robert Laffont, Paris

Knowles PF (1967) Processing seeds for oil in towns and villages of Turkey, India and Egypt. Econ Bot 21:156–162

Legrand PE (trans) (1951) Hérodote: Histoires. Les belles lettres, Paris

Lombard P (1999) Bahrein, La civilisation des Deux Mers, de Dilmoun à Tylos. Institut du Monde Arabe and Editions SNZ, Paris and Gand

Lombard P, Tengberg M (2001) Environnement et économie végétale à Qal'at al-Bahreïn aux périodes Dilmoun et Tylos. Premiers éléments d'archéobotanique. Paleo 27:167–181

Metcalfe CR, Chalk L (1950) Anatomy of the dicotyledons: leaves, stem, and wood in relation to taxonomy, with notes on economic uses. Clarendon Press, Oxford

Mongne P (coord) (2004) Archéologie : 20 ans de recherches françaises dans le monde. Maisonneuve et Larose, Paris

Moulherat C, Tengberg M, Haquet JF, Mille B (2002) First evidence of cotton at Neolithic Mehrgarh, Pakistan: analysis of mineralized fibres from a copper bead. J Archaeol Sci 29:1,393–1,401

Nehmé L, Arnoux T, Bessac JC, Braun JP, Dentzer JM, Kermorvant A, Rigot JB, Sachet I, Tholbecq L (2006) Mission archéologique de Madâ'in Sâlih, Arabie Saoudite: Recherches menées de 2001 à 2003 dans l'ancienne Hijrâ des Nabatéens. Arab Archaeol Epigr 17:41–124

Nehmé L, Al-Talhi D, Villeneuve F (2010) Report on the first excavation season at Madâ'in Sâlih 2008 Saudi Arabia. Saudi Commission for Tourism and Antiquities, Riyadh

Nesbitt M (1993) Archaeobotanical remains. In: Hermann G, Masson V, Kurbansakhatov K (eds) The international Merv project: preliminary report on the first season. Iran 31:56–58

Nesbitt M (1994) Archaeobotanical research in the Merv Oasis. In: Hermann G, Kurbansakhatov K (eds) The international Merv project : preliminary report on the second season. Iran 32:71–73

Pfister R, Bellinger L (1945) The excavations at Dura-Europos. Final report 4, Part 2, The textiles. Yale University Press, Yale

Rahmani LY, Avigad N, Benoit P (1967) Jason's tomb. Israel Exploration Society 17:61–100

Reis D, Vian B, Bajon C (2006) Le monde des fibres. Belin, Paris

Richardson N, Dorr M (2003) The craft heritage of Oman. Motivate Publishing, Dubai

Rowley-Conwy P (1989) Nubia a.d. 0–550 and the 'Islamic' agricultural revolution: preliminary botanical evidence from Qasr Ibrim, Egyptian Nubia. Archeologie du Nil Moyen 3:131–138

Samuel D (2001) Archaeobotanical evidence and analysis. In: Berthier S (ed) Peuplement rural et aménagements hydroagricoles dans la moyenne vallee de l'Euphrate fin VIIe-XIXe siecle. Institut français d'études arabes de Damas, Damascus, pp 343–481

Sankalia HD, Deo SB, Ansari ZD, Ehrhardt S (1960) From history to prehistory at Nevasa (1954–1956). Deccan College Postgraduate and Research Institute, Poona

Saraswat KS (1997) Plant economy of Barans at ancient Sanghol (ca. 1900–1400 b.c.), Punjab. Prāgdhārā 7:97–114

Schlingloff D (1974) Cotton-manufacture in ancient India. J Econ Soc Hist Orient 17:81–90

Schmidt-Colinet A (1995) Palmyra: Kulturbegegnung im Grenzbereich. Von Zabern, Mainz

Sheffer A, Tidhar A (1991) The textiles from the 'En-Boqeq excavation in Israel. Text Hist 22:3–46

Thanheiser U (2002) Roman agriculture and gardening in Egypt as seen from Kellis. In: Hope C, Bowen G (eds) Dakhleh oasis project: preliminary reports on the 1994–1995 to 1998–1999 field Seasons. Oxbow Books, Oxford, pp 299–310

Van Ess M, Pedde F (1992) Uruk. AUWE 7:257–258

Van Zeist W, Cappers RTJ, Oudkerken MG, Palfenier-Vegter RM, de Roller GJ, Vrede F (2000) Cultivated and wild plants in late and post medieval Groningen. A study of archaeological plant remains. University of Groningen, Groningen

Watson AM (2008) Agricultural innovation in the early Islamic world. Reprint. Cambridge University Press, Cambridge

Wendel JF, Olson PD, Stewart J (1989) Genetic diversity, introgression, and independent domestication of Old World cultivated cottons. Am J Bot 76:1,795–1,806

Wild JP (1988) Textiles in archaeology. Shire Books, Aylesbury

Wild JP (1997) Cotton in Roman Egypt: some problems of origin. Al-Rafidan 18:287–298

Wild FC, Wild JP (2001) Sails from the Roman port at Berenike, Egypt. Int J Naut Archaeol 30:211–220

Wild JP, Wild F (2008) Cotton: the new wool. Qasr Ibrim study season 2008. Archaeol Text Newslett 46:23–26

Wild JP, Wild F (2009) Qasr Ibrim Study: study season 2009. Archaeol Text Newslett 49:16–18

Zohary D, Hopf M (2000) Domestication of plants in the Old World: the origin and spread of cultivated plants in West Asia, Europe, and the Nile Valley, 3rd edn. Oxford University Press, Oxford
Acknowledgments
We would like to thank the archaeological teams of Qal'at al-Bahrain (director P. Lombard) and Madâ'in Sâlih (directors D. al-Talhi, L. Nehmé and F. Villeneuve) for their support and interest in our archaeobotanical and textiles research. We are also grateful to the research unit for annual crop systems at the CIRAD (Centre de cooperation internationale en recherches agronomiques pour le développement) in Montpellier, for supplying us with wood from Gossypium arboreum and G. herbaceum as well as to Y. Pauthier at the seed collection of the National Museum of Natural History in Paris for his expertise. Furthermore, we thank N. Giret and L. Nehmé for their corrections and comments on our text.
Additional information
Communicated by M. van der Veen.
About this article
Cite this article
Bouchaud, C., Tengberg, M. & Dal Prà, P. Cotton cultivation and textile production in the Arabian Peninsula during antiquity; the evidence from Madâ'in Sâlih (Saudi Arabia) and Qal'at al-Bahrain (Bahrain). Veget Hist Archaeobot 20, 405–417 (2011). https://doi.org/10.1007/s00334-011-0296-0
Received:

Accepted:

Published:

Issue Date:
Keywords
Cotton

Gossypium

Arabian Peninsula

Textile production

Achaemenian

Nabatean and Early Islamic periods