Abstract
A palaeoecological study was conducted close to the forest limit in the northern Scandinavian mountain range. The aim was to elucidate the degree to which human impact has affected the vegetation at Hiednikvalta, a Stállo settlement site. Stállo settlements consist of round hut foundations that have a hearth in the middle and are surrounded by a low turf wall. They were probably established by Sámi people using the mountain areas for hunting and/or reindeer herding. In order to separate the effects of humans and climate on the vegetation, a reference area approach was adopted, i.e. the vegetation development at the Stállo settlement site Hiednikvalta was compared with the vegetation development in a forested reference area Avvuhatjåhkkå, at the same altitude as Hiednikvalta but with no archaeological remains of settlements. Peat stratigraphies were retrieved at the two sites and pollen analysis, loss-on-ignition (LOI), pollen accumulation rates (PAR), macrofossil analysis and Betula pollen size statistics were all examined. The results indicate that Hiednikvalta was forested with Betula trees prior to the Stállo settlement period, which occurred between the eighth and thirteenth centuries. Human activities resulted in a decrease in tree cover at the site, as found in a previous study at Adamvalta, another Stállo settlement site in the region. However, the magnitude of vegetation change, and the post-Stállo vegetation development differed between the two areas, suggesting that site-specific factors are important. The use of reference areas in palynological studies is also discussed.
Access options
Buy single article
Instant access to the full article PDF.
USD 39.95
Price includes VAT (USA)
Tax calculation will be finalised during checkout.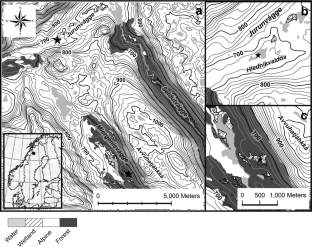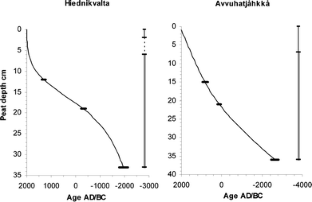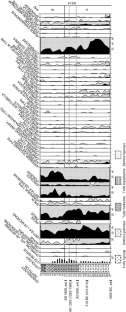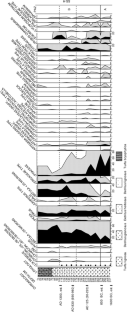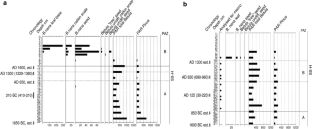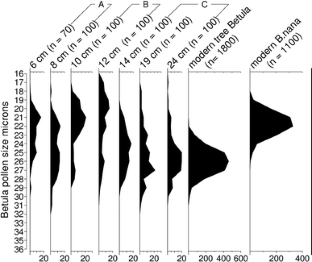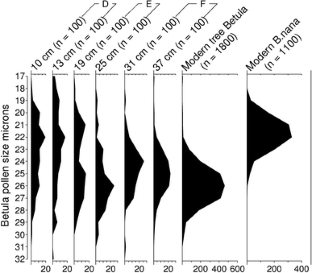 References
Alexandersson H (2001) Temperaturen och nederbörden i Sverige 1961–1990–referensnormaler (The temperature and precipitation in Sweden 1961–1990). SMHI Meteorol 99:1–71

Andersen ST (1960) Silicone oil as a mounting medium for pollen grains. Geol Surv Den 4:5–24

Aronsson K-Å (1994) Pollen evidence of Saami settlement and reindeer herding in the boreal forest of northernmost Sweden—an example of modern pollen rain studies as an aid in the interpretation of marginal human interference from fossil pollen data. Rev Palaeobot Palynol 82:37–45

Barnekow L, Sandgren P (2001) Palaeoclimate and tree-line changes during the Holocene based on pollen and plants macrofossil records from six lakes at different altitudes in northern Sweden. Rev Palaeobot Palynol 117:109–118

Bergman I, Liedgren L, Östlund L, Zackrisson O (2008) Kinship and settlements: Sami residence patterns in the Fennoscandian Alpine areas around AD 1000. Arct Anthropol 45:97–110

Behre K-E (1981) The interpretation of anthropogenic indicators in pollen diagrams. Pollen Spores 23:225–245

Bhattacarya CG (1967) A simple method of resolution of a distribution into Gaussian components. Biometrics 23:115–135

Birks HJB (1968) The identification of Betula nana pollen. New Phytol 67:309–314

Birks HJB, Birks HH (1980) Quaternary palaeoecology. Edward Arnold, Colchester

Birks HH, Birks HJB (2000) Future uses of pollen analysis must include plant macrofossils. J Biogeogr 27:31–35

Bjune AE (2005) Holocene vegetation history and tree-line changes on a north-south transect crossing major climate gradients in southern Norway—evidence from pollen and plant macrofossils in lake sediments. Rev Palaeobot Palynol 133:249–275

Bjune AE, Birks HJB, Seppä H (2004) Holocene vegetation and climate history on a continental–oceanic transect in northern Fennoscandia based on pollen and plant macrofossils. Boreas 33:211–223

Briggs JM, Spielmann KA, Schaafsmaa H, Kintigh KW, Kruse M, Morehouse K, Schollmeyer K (2006) Why ecology needs archaeologists and archaeology needs ecologists. Front Ecol Environ 4:180–188

Broström A, Sugita S, Gaillard M-J, Pilesjö P (2005) Estimating the spatial scale of pollen dispersal in the cultural landscape of southern Sweden. Holocene 15:252–262

Bunting MJ, Gaillard M-J, Sugita S, Middleton R, Broström A (2004) Vegetation structure and pollen source area. Holocene 14:651–660

Calcote R (1995) Pollen source area and pollen productivity: evidence from forest hollows. J Ecol 83:591–602

Campbell ID, McAndrews JH (1993) Forest disequilibrium caused by rapid Little Ice Age cooling. Nature 366:336–338

Carlsson BÅ, Karlsson PS, Svensson BM (1999) Alpine and subalpine vegetation. Acta Phytogeogr Suecica 84:75–89

Caseldine C (2001) Changes in Betula in the Holocene record from Iceland—a palaeoclimatic record or evidence for early Holocene hybridisation? Rev Palaeobot Palynol 117:139–152

Chentouf C, Grönvall B (1985) Skellefteälvens övre dalgång väster om Sädvaluspen. Examensarbete i skoglig vegetationsekologi. Masters thesis, Swedish University of Agricultural Sciences (SLU), Umeå. In Swedish

De Groot WJ, Thomas PA, Wein RW (1997) Betula nana L. and Betula glandulosa Michx. J Ecol 85:241–264

Djupedal W-M (1987) Aspekter ved en undersøgelse av befolkningsutviklingen i Mavas i tiden 1739–1826. Universitetet i Trondheim. In Norwegian

Eide W, Birks HH, Bigelow NH, Peglar SM, Birks HJB (2006) Holocene forest development along the Setesdal valley, southern Norway, reconstructed from macrofossil and pollen evidence. Veg Hist Archaeobot 15:65–85

Emanulesson U (1987) Human influence on vegetation in the Torneträsk area during the last three centuries. Ecol Bull 38:95–111

Eneroth O (1951) Investigation of the possibility of differentiating the pollen of different species of Betula in fossil material (in Swedish with English summary). Geologiska föreningens i Stockholm förhandlingar 73:343–405

Foster DR, Schoonmaker PK, Pickett STA (1990) Insights from palaeoecology to community ecology. Trends Ecol Evol 5:119–122

Gordon AD, Prentice IC (1977) Numerical methods in quaternary palaeoecology. IV. Separating mixtures of morphologically similar pollen taxa. Rev Palaeobot Palynol 23:359–372

Grimm EC (1991) Tilia v. 2.0.b.4. Illinois State Museum, research and collections center. Springfield, Illinois

Grimm EC (2004) Tilia graph v. 2.0.2. Illinois State Museum, research and collections center. Springfield, Illinois

Grudd H, Briffa KR, Karlén W, Bartholin TS, Jones PD, Kromer B (2002) A 7400-year tree-ring chronology in northern Swedish Lapland. Natural climate variability expressed on annual to millennial timescales. Holocene 12:657–665

Gunnarsson BE, Linderholm HW (2002) Low-frequency summer temperature variation in central Sweden since the tenth century inferred from tree-rings. Holocene 12:667–671

Hansen LI (1990) Samisk fangstsamfunn og norsk høvdingeøkonomie (Sami hunting society and Norwegian chiefdom economy). In Norwegian with English summary. Novus, Oslo

Heiri O, Lotter AF, Lemcke G (2001) Loss on ignition as a method for estimating organic and carbonate content in sediments: reproducibility and comparability of results. J Palaeolimnol 25:101–110

Hellberg E (2004) Historical variability of deciduous trees and deciduous forest in northern Sweden—effects of fire, land-use and climate. PhD thesis. Acta Universitatis Agriculturae Suecie, Silvestria 308, Swedish University of Agricultural Sciences (SLU), Umeå

Helle T (2001) Mountain birch forests and reindeer husbandry. In: Wielgolaski FE (ed) Nordic mountain birch ecosystems. The Parthenon publishing group limited, London, pp 279–289

Hicks S (1993) Pollen evidence of localized impact on the vegetation of northernmost Finland by hunter-gatherers. Veg Hist Archaeobot 2:137–144

Hicks S (2001) The use of annual arboreal pollen deposition values for delimiting tree-lines in the landscape and exploring models of pollen dispersal. Rev Palaeobot Palynol 117:1–29

Holtmeier K-F (2003) Mountain timberlines, ecology, patchiness and dynamics. Kluwer, Dordrecht

Holtmeier K-F, Broll G (2005) Sensitivity and response of northern hemisphere altitudinal and polar treelines to environmental change at landscape and local scales. Glob Ecol Biogeogr 14:395–410

Holtmeier K-F, Broll G (2006) Radiocarbon-dated peat and wood remains from the Finnish subarctic: evidence of treeline and landscape history. Holocene 16:743–751

Hofgaard A (1997) Inter-relationships between treeline position, species diversity, land use and climate change in the central Scandes mountain of Norway. Glob Ecol Biogeogr Lett 6:419–429

Hoogester M (1984) The effect of trampling on vegetation at four cottages in Torne Lappland, northern Sweden. Rep Kevo Subarctic Res Stn 19:25–34

Hultblad F (1968) Transition from nomadism to farming in the parish of Jockmock (in Swedish with English summary). Acta Lapponica XIV Almqvist & Wiksell/Gebers, Stockholm

Jackson ST (2006) Vegetation, environment and time: the origin and termination of ecosystems. J Veg Sci 17:549–557

Jacobson GL, Bradshaw RHW (1981) The selection of sites for paleovegetational studies. Quart Res 16:80–96

Jensen C, Vorren KD, Morkved B (2007) Annual pollen accumulation rate (PAR) at the boreal and alpine forest-line of north-western Norway, with special emphasis on Pinus sylvestris and Betula pubescens. Rev Palaeobot Palynol 144:337–361

Jowsey PC (1966) An improved peat sampler. New Phytol 65:245–248

Kallio P, Mäkinen Y (1978) Vascular flora of Inari Lapland. 4. Betulaceae. Rep Kevo Subarctic Res Stn 14:39–63

Karlén W (1976) Lacutrine sediments and tree-limit variations as indicators of Holocene climatic fluctuations in Lappland, northern Sweden. Geogr Ann 58A:1–34

Karlén W, Kuylenstierna J (1996) On solar forcing of Holocene climate: evidence from Scandinavia. Holocene 6:359–365

Karlsdóttir L, Thórsson ÆT, Halsdóttir M, Sigurgeirsson A, Eysteinsson T, Anamthawat-Jónsson K (2007) Differentiating pollen of Betula species from Iceland. Grana 46:78–84

Karlsson H (2008) Vegetation changes and forest-line positions in the Swedish Scandes during late Holocene—anthropogenic impact vs. climate. PhD thesis no 2008:31, Swedish University of Agricultural Sciences (SLU), Umeå

Karlsson H, Hörnberg G, Hannon G, Nordström E-M (2007) Long-term vegetation changes in the northern Scandinavian forest limit: a human impact-climate synergy? Holocene 17:37–49

Kjällgren L, Kullman L (1998) Spatial patterns and structure of the mountain birch tree limit in the southern Swedish Scandes—a regional perspective. Geogr Ann 80A:1–16

Kjellström R (1983) The Stalo problem in Lappish history (in Swedish with English summary). In: Kjelland A, Sandnes J, Østerlie I (eds) Folk og resurser I nord. Foredrag fra Trondheimsymposiet om midt- og nordskandinavisk kultur 1982. Tapir, Trondheim, pp 213–235

Korhola A, Weckström J, Holmström L, Erästö L (2000) A quantitative Holocene climatic record from diatoms in northern Fennoscandia. Quart Res 54:284–294

Kullman L (1976) Recent tree limit dynamics in W Härjedalen, Sweden (in Swedish with English summary). Svensk Bot Tidskrift 70:107–137

Kullman L (2001) 20th century climate warming and tree-limit rise in the southern Scandes of Sweden. Ambio 30:72–80

Kuneš P, Pokorný P, Šída P (2008) Detection of the impact of early Holocene hunter-gatherers on vegetation in the Czech Republic, using multivariate analysis of pollen data. Veg Hist Archaeobot 17:269–287

Kvamme M (1988) Pollen analytical studies of mountain summer farming in western Norway. In: Birks HH, Birks HJB, Kaland PE, Moe D (eds) The cultural landscape—past, present and future. Cambridge University Press, Cambridge, pp 429–443

Liedgren L, Bergman I, Hörnberg G, Zackrisson O, Hellberg E, Östlund L, DeLuca TH (2007) Radiocarbon dating of prehistoric hearths in alpine northern Sweden: problems and possibilities. J Archaeol Sci 34:1276–1288

Lindbladh M (1999) The influence of former land-use on vegetation and biodiversity in the boreo-nemoral zone of Sweden. Ecography 22:485–498

Löffler J (2000) High mountain ecosystems and landscape degradation in northern Norway. Mt Res Dev 20:356–363

Mäkelä EM (1996) Size distinctions between Betula pollen types—a review. Grana 35:248–256

Mäkelä EM (1998) The Holocene history of Betula at lake Iilompolo, Inari Lapland, northeastern Finland. Holocene 8:55–67

Mäkelä EM (1999) The Holocene history of birch in northeastern Fennoscandia—an interpretation based on fossil birch pollen measurements. Department of Geology, University of Helsinki, Helsinki

Mäkelä EM, Hyvärinen H (2000) Holocene vegetation history at Vätsäri, Inari Lapland, northeastern Finland, with special reference to Betula. Holocene 10:75–85

Manker E (1953). The nomadism of the Swedish mountain lapps: the siidas and their migratory routes in 1945. Acta Lapponica 7. Gebers, Stockholm

Moberg A, Sonechkin DM, Holmgren K, Datsenko NM, Kárlen W (2005) Highly variable Northern Hemisphere temperatures reconstructed from low-and high-resolution proxy data. Nature 433:613–617

Moore PD, Webb JA, Collinson ME (1991) Pollen analysis, 2nd edn. Blackwell Science, London

Mulk I-M (1994) Sirkas—a Sàmi hunting society in translation AD 1-1600 (in Swedish with English summary). Studia Archaeologica Universitatis Umensis 6. Umeå University, Umeå

Neuvonen S, Ruohomäki K, Bylund H, Kaitaniemi P (2001) Insect herbivores and herbivory effects on mountain birch dynamics. In: Wielgolaski FE (ed) Nordic mountain birch ecosystems. The Parthenon Publishing Group Limited, London, pp 207–222

Olofsson J (2006) Short- and long-term effects of changes in reindeer grazing pressure on tundra heath vegetation. J Ecol 94:431–440

Olofsson J, Kitti H, Rautiainen P, Stark S, Oksanen L (2001) Effects of summer grazing by reindeer on composition of vegetation, productivity and nitrogen cycling. Ecography 24:13–24

O`Neill RV, Hunsaker CT, Levine DA (1992) Monitoring challenges and innovative ideas. Ecol Indic 2:1443–1460

Osborn TJ, Briffa KR (2006) The spatial extent of the 20th-century warmth in the context of the past 1200 years. Science 311:841–844

Prentice C (1981) Quantitative birch (Betula L.) pollen separation by analysis of size frequency data. New Phytol 89:145–157

Prentice C (1985) Pollen representation, source area, and basin size: toward a unified theory of pollen analysis. Quart Res 23:76–86

Räsänen S (2001) Tracing and interpreting fine-scale human impact in northern Fennoscandia with the aid of modern pollen analogues. Veg Hist Archaeobot 10:211–218

Rune O (1965) The mountain regions of Lappland. Acta Phytogeogr Suecica 50:64–77

Ruong I (1975) Samerna (The Sami people). Aldus/Bonnier, Stockholm

Schofield JE, Edwards KJ, McMullen JA (2007) Modern pollen-vegetation relationships in subarctic southern Greenland and the interpretation of fossil pollen data from the Norse landnám. J Biogeogr 34:473–488

Segerström U, Hörnberg G, Bradshaw R (1996) The 9000-year history of vegetation development and disturbance patterns of a swamp-forest in Dalarna, northern Sweden. Holocene 6:37–48

Seppä H, Hannon GE, Bradshaw RHW (2004) Holocene history of alpine vegetation and forestline on Pyhäkero mountain, northern Finland. Arctic Antarctic Alp Res 36:607–614

Sjörs H (1956) Nordisk växtgeografi (Plant geography in the Nordic countries). Bonnier, Stockholm

Stockmarr J (1971) Tablets with spores used in absolute pollen analysis. Pollen Spores 13:615–621

Storli I (1993) Sami Viking age pastoralism—or the fur trade paradigm reconsidered. Nor Archaeol Rev 26:1–48

Storli I (1994) "Stállo"-boplasserne: Spor etter de første fjellsamer? (The Stállo settlements: traces of the first mountain Sámi?). Novus, Oslo

Stuiver M, Reimer PJ (1993) Extended 14C data base and revised Calib 3.2 14C age calibration program. Radiocarbon 35:215–230

Swetnam TW, Allen CD, Betancourt JL (1999) Applied historical ecology: using the past to manage for the future. Ecol Appl 9:1189–1206

Telford RJ, Heegard E, Birks HJB (2004) All age-depth models are wrong: but how badly? Quart Sci Rev 23:1–5

Tenow O (1996) Hazards to a mountain birch forest—Abisko in perspective. Ecol Bull 45:104–114

Thórsson ÆT, Pálsson S, Sigurgeirsson A, Anamthawat-Jónsson (2007) Morphological variation among Betuna nana (diploid), B. pubescens (tetraploid) and their triploid hybrids in Iceland. Annals of Botany 99:1183–1193

Tomlinson P (1985) An aid to identification of fossil buds, budscales and catkin bracts of British trees and shrubs. Circaea 3:45–130

Vajda A, Venäläinen A, Hänninen P, Sutinen R (2006) Effect of vegetation on snow cover at the northern timberline: a case study in Finnish Lapland. Silva Fennica 40:195–207

Vaarama A, Valanne T (1973) On the taxonomy, biology and origin of Betula tortuosa Ledeb. Rep Kevo Subarctic Res Stn 10:70–84

Väre H (2001) Mountain birch taxonomy and floristics of mountain birch woodlands. In: Wielgolaski FE (ed) Nordic mountain birch ecosystems. The Parthenon Publishing Group Limited, London, pp 35–46

von Düben G (1989) I Lappland 1868 och 1871: reseberättelse av Gustav von Düben. Acta Bothniensia occidentalis. Umeå, Västerbottens läns hembygdsförbund (in Swedish)

Wallerström T (2000) The Saami between east and west in the middle ages: an archaeological contribution to the history of reindeer breeding. Acta Borealia 17:3–40

Wielgolaski FE (2001) Vegetation sections in the northern Fennoscandian mountain birch forest. In: Wielgolaski FE (ed) Nordic mountain birch ecosystems. The Parthenon Publishing Group Limited, London, pp 23–33

Willis KJ, Birks HJB (2006) What is natural? The need for a long-term perspective in biodiversity conservation. Science 314:126
Acknowledgments
We thank Ingela Bergman, Tom DeLuca, Sheila Hicks, Torbjörn Josefsson, Lars Liedgren, Lars Östlund, Ulf Segerström, Göran Ståhl, Henrik von Stedingk and Olle Zackrisson for help, advice and interesting discussions. We also thank Henrik von Stedingk and Eeva Maria Mäkelä for providing the computer programs and Eva-Maria Nordström for help with the pollen analyses. The manuscript was improved by comments from Bent Aaby and two anonymous reviewers and the language was improved by John Blackwell. This research is the result of a joint project between SLU and the Silver Museum in Arjeplog. It was funded by the Bank of Sweden Tercentenary Foundation (K2003-0458:1).
About this article
Cite this article
Karlsson, H., Shevtsova, A. & Hörnberg, G. Vegetation development at a mountain settlement site in the Swedish Scandes during the late Holocene: palaeoecological evidence of human-induced deforestation. Veget Hist Archaeobot 18, 297–314 (2009). https://doi.org/10.1007/s00334-008-0207-1
Received:

Accepted:

Published:

Issue Date:
Keywords
Vegetation history

Stállo settlement

Human impact

Reference area approach

Betula

Pollen size statistics