Abstract
The introduction and dispersal histories of eight common condiments in North-West Europe are explored: Apium graveolens (celery), Anethum graveolens (dill), Coriandrum sativum (coriander), Brassica nigra (black mustard), Foeniculum vulgare (fennel), Satureja hortensis (summer savory), Carum carvi (caraway) and Petroselinum crispum (parsley). The presence of these condiments in archaeobotanical reports from the study area was recorded, together with information on chronological phase, type of site, social status and mode of preservation. Analysis of the data suggests the presence of very distinct patterns of dispersal that highlight the socio-cultural significance of the food plants in question.
Access options
Buy single article
Instant access to the full article PDF.
US$ 39.95
Tax calculation will be finalised during checkout.
Subscribe to journal
Immediate online access to all issues from 2019. Subscription will auto renew annually.
US$ 79
Tax calculation will be finalised during checkout.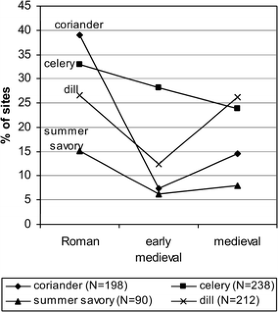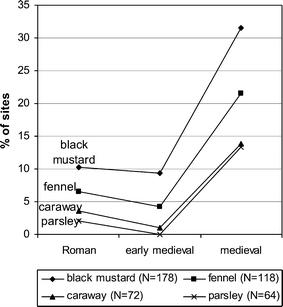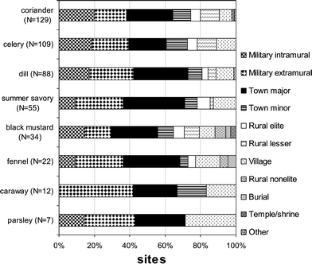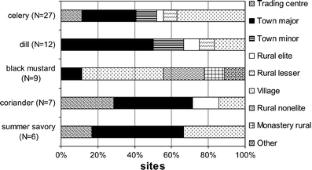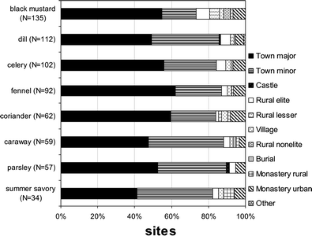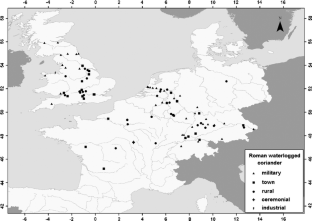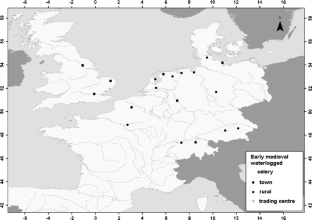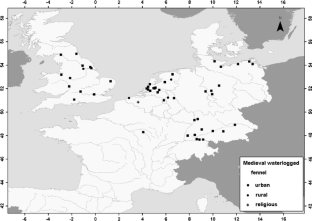 References
Bakels C, Jacomet S (2003) Access to luxury foods in Central Europe during the Roman period: the archaeobotanical evidence. World Archaeol 34:542–557

Christie N (2004) Landscapes of change in late antiquity and the early Middle Ages: themes, directions and problems. In: Christie N (ed) Landscapes of change: rural evolutions in Late Antiquity and the Early Middle Ages. Ashgate, Aldershot, pp 1–37

Cool HEM (2006) Eating and drinking in Roman Britain. Cambridge University Press, Cambridge

De Hingh A, Bakels C (1996) Palaeobotanical evidence for social difference? The example of the early medieval domain of Serris-Les Ruelles, France. Veget Hist Archaeobot 5:117–120

Dyer CC (2006) Gardens and garden produce in the Later Middle Ages. In: Woolgar CM, Serjeantson D, Waldron T (eds) Food in medieval England. Oxford University Press, Oxford, pp 27–40

Jacomet S (2007) Neolithic plant economies in the northern alpine foreland from 5500 to 3500 cal. BC. In: Colledge S, Conolly J (eds) The origins and spread of domestic plants in southwest Asia and Europe. Walnut Creek, CA, pp 221–258

Karg S (ed) (2007) Medieval food traditions in Northern Europe. Publications from the National Museum Studies in Archaeology and History 12, Copenhagen

Kiple KF, Ornelas KC (2000) A historical dictionary of the world's plant foods. In: Kiple KF, Ornelas KC (eds) The Cambridge world history of food, vol 2. Cambridge University Press, Cambridge, pp 1711–1886

Kreuz A (2004) Landwirtschaft im Umbruch? Archäobotanische Untersuchungen zu den Jahrhunderten um Christi Geburt in Hessen und Mainfranken. Ber Röm-Germ Komm 85:97–313

Küster H (2000) Spices and flavorings. In: Kiple KF, Ornelas KC (eds) The Cambridge world history of food, vol 2. Cambridge University Press, Cambridge, pp 431–437

Marinval P, Marechal D, Labadie D (2002) Arbres fruitiers et cultures jardinées gallo-romaines à Longueil-Sainte-Marie (Oise). Gallia 59:253–271

Prance G, Nesbitt M (eds) (2005) The cultural history of plants. Routledge, New York

Redon O, Sabban F, Serventi S (1998) The medieval kitchen: recipes from France and Italy. University of Chicago Press, Chicago

Ruas M-P (1992) The archaeobotanical record of cultivated and collected plants of economic importance from medieval sites in France. Rev Palaeobot Palynol 73:301–314

Smartt J, Simmonds NW (eds) (1995) Evolution of crop plantsm, 2nd edn. Harlow, Longman

Tannahill R (1973) Food in history. Eyre Methuen, London

Vaughan JG, Geissler CA (1999) The new Oxford book of food plants. Oxford University Press, Oxford

Wiethold J (2003) How to trace the 'Romanisation' of central Gaul by archaeobotanical analysis?—Some considerations on new archaeobotanical results from France Centre-Est. Actualité de la Recherche en Histoire et Archéologie agraires, Actes du colloque international AGER V, septembre 2000. Annales Littéraires, 764. Série 'Environnement, sociétés et archéologie'; 5. Presses Universitaires Franc-Comtoises, Besançon:269–282

Zohary D, Hopf M (2000) Domestication of plants in the Old World. Oxford University Press, Oxford
Acknowledgments
This research presents preliminary results from the PhD research undertaken by A. Livarda at the University of Leicester, which forms part of M. van der Veen's NERC funded project on 'Long-Distance Trade and Agricultural Development'. Further funding was given to A. Livarda by the Alexander S. Onassis Public Benefit Foundation and The A.G. Leventis Foundation, and to M. van der Veen by the British Academy. The authors are very grateful to Neil Christie for his assistance in placing the results in their historical context and to Julie-Anne Bouchard-Perron, Alison Cox, Alistair Hill and Jacob Morales for their help in data collection. The following people generously shared their data and knowledge: Natàlia Alonso, Almuth Alsleben, Laurent Bouby, Anne Bouchette, Otto Brinkkemper, Christoph Brombacher, Ramon Buxó, Gill Campbell, Wendy Carruthers, Astrid Caseldine, Mike Charles, Marina Ciaraldi, Brigitte Cooremans, Anne Davies, Frédérique Durand, John Giorgi, James Greig, Allan Hall, Tim Holden, Jacqui Huntley, Stefanie Jacomet, Simon James, Sabine Karg, Dimitris Kourkoulis, Margarethe König, Angela Kreuz, Helmut Kroll, Christine Laurent, Philippe Marinval, Veronique Matterne, David Mattingly, Lieselotte Meersschaert, Jennifer Miller, Lisa Moffett, Nevin Moledina, Angela Monckton, Alex Moseley, Peter Murphy, Reinder Neef, Ruth Pelling, Leonor Peña-Chocarro, Bénédicte Pradat, David Earle Robinson, Mark Robinson, Manfred Rösch, Marie-Pierre Ruas, Hans-Peter Stika, Vanessa Straker, Jeremy Taylor, Scott Timpany, Patricia Vandorpe, Julian Wiethold and Lydia Zapata.
Additional information
Communicated by C.C. Bakels.
About this article
Cite this article
Livarda, A., van der Veen, M. Social access and dispersal of condiments in North-West Europe from the Roman to the medieval period. Veget Hist Archaeobot 17, 201–209 (2008). https://doi.org/10.1007/s00334-008-0168-4
Received:

Accepted:

Published:

Issue Date:
Keywords
Roman

Medieval

Archaeobotany

Condiments

Spices

Herbs

North-West Europe