Abstract
The results of a palynological analysis of the organic content of earthenware pots from the Kodiani burial mound (27th–25th centuries b.c.) are reported. The character of the palynological spectrum differs significantly from that of a buried soil within the same burial mound. In the samples taken from the pots, pollen concentration is very high, pollen grains are perfectly preserved and an abundance of pollen from insect-pollinated plants is recorded. It is well known that these features are peculiar to honey palynospectra. In all three pots the pollen of Rosaceae, a family of plants that produce good honey, is dominant. However, the second, third and fourth most dominant pollen types in all three samples are different. For example, Tilia pollen is the second dominant in only one pot. In the second pot, Apiaceae and Poaceae are predominant, and in the third pot, Poaceae, both wild and cultural, is the second dominant. It is clear that the different pots contained different types of honey. The variety of honey types indicates highly developed bee-keeping in the Early Bronze Age. In the same regions of Georgia, agriculture was also highly developed. Wheat cultivation was very important. According to the palynospectra, the landscape and climate of this period were probably quite different to those of today.
Access options
Buy single article
Instant access to the full article PDF.
USD 39.95
Price excludes VAT (USA)
Tax calculation will be finalised during checkout.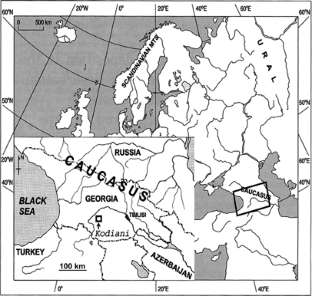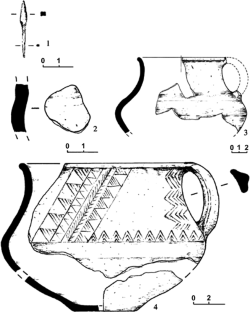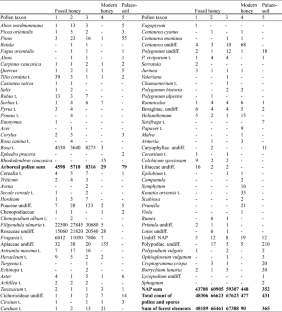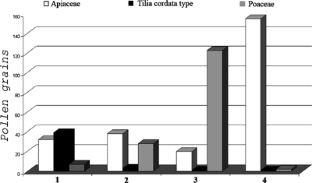 References
Apakidze AM, Burchuladze AA (1987) Radiouglerodnoe datirovanie arkheologicheskikh i paleobotanicheskikh obrazcov Gruzii [Radiokarbon dating archaeological and palaeobotanical samples from Georgia]. Mecniereba, Tbilisi

Bregadze NA (1982) Ocherki po agroetnografii Gruzii [Sketches on the agroethnography of Georgia]. Mecniereba, Tbilisi

Bregadze NA (2004) Gruzia—samostoyatel'nyj ochag zemledelya [Georgia—independent hearth of agriculture]. Samshoblo, Tbilisi

Demkin VA (2000) The use phosphate method to reconstruct the food for the dead in pots from burial mounds of a steppe zone. In: Shishlina NI (ed) A seasonal economic cycle of the population of north-west Near-Caspian region in the Bronze Age. Proceedings of the State Historical Museum, vol 120, Moskow, pp 100–107

Dickson JN (1978) Bronze Age Mead Antiquity 52:108–113

Dzhaparidze OM (1961) K istoriii gruzinskikh plemjon na rannej stadii mednobronzovoj kul'tury [On the history of Georgian tribes at the early stage of the Copper-Bronze Culture]. Izdatel'stvo Tbilisskogo Universiteta, Tbilisi

Dzhaparidze OM (1998) K etnokul'turnoj istorii gruzinskikh plemjon v tret'em tysyacheletii do nashei ery [On the history of Georgian tribes in the third millennium b.c.]. Izdatel'stvo Centra Arkheologicheskikh Issledovanij, Tbilisi

Gambashidze IO, Gogochuri GK (2004, unpubl.) Otchjot Borjomskoj arkheologicheskoj ekspeditsii za provedjonnie v 2004 godu arkheologicheskie raskopki na 179 i 193 kilometre truboprovoda Baku-Tbilisi-Jeichan [The Borjomi expedition report on archaeological excavations on the 179th and 193rd km of the Baku-Tbilisi-Jeikhan oil pipe-line carried out in 2004. Arkhiv Tsentra Arkheologicheskikh issledovanij im. O. Lortkipanidze AN Gruzii, Tbilisi

Grossgeim AA (1946) Rastitel'nye resursy Kavkaza [Plant resources of Georgia]. Uzdatel'stvo AN Azerbaidzhanskoj SSR, Baku

Inanishvili G (2003) Osnovy tekhnicheskoj ekspertizy drevnosti [Bases of technical expertise of antiquities]. Izdatel'stvo Tbilisskogo Tekhnicheskogo Universiteta, Tbilisi

Kavtaradze GL (1983) K khronologii epokhi neolita I bronzy Gruzii [On chronology of the Neolithic and Bronze Age in Georgia]. Metsniereba, Tbilisi

Kiguradze T (2000) Kolybel' kul'turnogo vinogradarstva I vinodeliya [The cradle of viticulture and wine-making]. J. Grapevine and Wine 1–2:27–29

Königsmann E (1968) Insekten. In: Urania Tierreich. Urania, Leipzig Jena Berlin, pp 381–392

Kvavadze EV (1994) Biostratigrafiya golocena gornykh regionov Zakavkas'ya [Holocene biostratigraphy of the Transcaucasian Mountains region]. In: Rovnina LV (ed) [Palynology in stratigraphy], Nauka, Moskwa, pp 148–151

Kvavadze EV, Connor SE (2005) Zelkova carpinifolia (Pallas) K. Koch in Holocene sediments of Georgia—an indicator of climatic optima. Rev Palaeobot Palynol 133:69–89

Kuftin BA (1949) Arkheologicheskaya marshrutnaya ekspeditsya 1945 goda v Jugoosetiju I Imeretiju [Archaelogical expedition in 1945 in Southoseti and Imereti]. Izdatel'stvo AN GSSR, Tbilisi

Lisitsina GN, Prischepenko LV (1977) Paleoetnobotanicheskie nachodki Kavkaza I Blizhnego Vostoka [Paleoethnobotanical finds in the Caucasus and Near East], Nauka, Moskva

Lominadze VP, Chirakadze GI (eds) (1971) Klimat I klimaticheskie resursy Gruzii [The climate and climatic resources of Georgia]. Gidrometeorologicheskoe izdatel'stvo, Leningrad

Lucas A (1958) Materiali I remeslennie proiavodstva Drevnego Egipta [Ancient Egyptian materials and industries]. Izdatel'stvo Unostrannoj literatury, Moskva

Maruashvili Ll (ed) (1971) Geomorfologiya Gruzii [Geomorphology of Georgia]. Metsniereba, Tbilisi

Mindiashvili GM (1993) Rannie kurgany Juzhnogo Kavkaza (sotsial'no-ekonomicheskij aspekt) [Early burial mounds of the southern Caucasus (social and economical aspect)]. Avtoreferat kandidatskoj dissertatsii, Tbilisi

Mindiashvili G, Murvanidze B, Ramishvili A, Chikovani G (2003) Arkheologicheskie raskopki na eksportnom truboprovode zapadnogo napravleniya 143-ego kilometra [Archaeological excavations on the export pipe-line of the west direction of 143 km. Pipe-line archaeology]. In: Licheli V (ed) Arkheologiya truboprovoda, vol II, Izdatel'stvo Tsentra Arkheolog. issledovanij. AN Gruzii, Tbilisi, pp 65–69

Rabotnov TA (ed) (1971) Travyanistye rasteniya SSSR [Herbaceous vegetation of SSSR], vo1 1–2, Misl', Moskva

Ramishvili R (2001) Istoriya gruzinskoi lozi I vina. Istoriko-arkheologicheskoe I ampelograficheskoe issledovanie. [The history of Georgian grapevine and wine. Historical, archaeological and ampelographical investigation] Izdatel'stvo im.I.Chavchavadze, Tbilisi

Robakidze A (1960) K istorii pchelovodstva [For history of bee-keeping]. Izdatel'stvo Akademii Nauk GSSR, Tbilisi

Rösch M (1999) Evaluation of honey residues from Iron Age hill-top sites in south-western Germany: implications for local and regional land and vegetation dynamics. Veget Hist Archaeobot 8:105–112

Rösch M (2002) Der Inhalt der beiden Bronzekannen. In: Das Rätsel der Kelten vom Glauberg. Glaube-Mythos-Wirklichkeit. Theiss, Stuttgart, pp 119–120

Rusishvili NS (1991) Fossilised species of wheat from the territory of Georgia. In: Hajnalova E (ed) Palaeoethnobotany and archaeology, Nitra, pp 285–294

Stanek VY (1977) Illjustrirovannaia entsiklopediya nasekomykh (Illustrated encyclopaedia of insects]. Artiya, Praga

Yanushevich ZV, Rusishvili NS (1984) Novie paleoetnobotanicheskie nakhodki na eneoliticheskom poselenii Arukhlo [New palaeoethnobotanical finds in the Eneolithic settlement]. In: Chubinishvili TN (ed) Chelovek I okruzhajuschaiya ego sreda. Metsniereba, Tbilisi, pp 21–33
Acknowledgements
The authors wish to thank the management of the British Petroleum Co. for their financial support. We also thank V.M. Japaridze, Director of the Centre for Archaeological Investigations of the Academy of Sciences of Georgia, N.A. Bregadze, Institute of History of Academy of Sciences of Georgia and Y. Gagoshidze, State Museum of Georgia for their consultations. We express our deep gratitude to M. Rösch, A. Bieniek and S. Connor for their invaluable help in our investigations and in preparation of the present manuscript.
Additional information
Communicated by F. Bittmann
About this article
Cite this article
Kvavadze, E., Gambashidze, I., Mindiashvili, G. et al. The first find in southern Georgia of fossil honey from the Bronze Age, based on palynological data. Veget Hist Archaeobot 16, 399–404 (2007). https://doi.org/10.1007/s00334-006-0067-5
Received:

Accepted:

Published:

Issue Date:

DOI: https://doi.org/10.1007/s00334-006-0067-5
Keywords
Fossil honey

Pollen analysis

Early kurgan culture

Bronze age

Biodiversity

Caucasus