Abstract
In some continental and island sites in the western Mediterranean basin, the Holocene vegetation and climate dynamics seem to show the same patterns in time and space. Nevertheless, different synchronous scenarios have been proposed from other south European, North African and Near Eastern pollen records from around the Mediterranean basin. Striking similarities and synchronisms have been found between Sicily and the Balearic Islands. These islands, although under different bioclimatic influences, show similarities in the main trends of vegetation and climate dynamics during the Post-glacial. Lago di Pergusa is the only natural inland lake in Sicily and because of its geographical location, has a good potential sensitivity to the climatic changes of the Mediterranean basin. Likewise, coastal sediments from Minorca and Majorca, the Balearic Islands, have similar peculiarities. The present-day environmental situation, now that most of the natural vegetation in these islands has disappeared, has been brought about either by a climatic trend towards increasing aridity or an increase in human activities. It seems clear that prehistoric human people alone could not have caused all the environmental changes recorded in the last millennia in both places.
Access options
Buy single article
Instant access to the full article PDF.
US$ 39.95
Tax calculation will be finalised during checkout.
Subscribe to journal
Immediate online access to all issues from 2019. Subscription will auto renew annually.
US$ 79
Tax calculation will be finalised during checkout.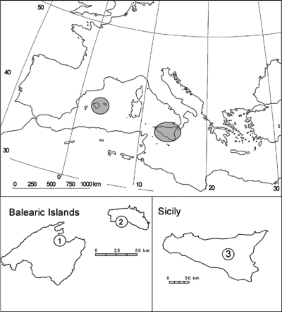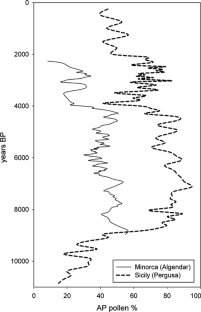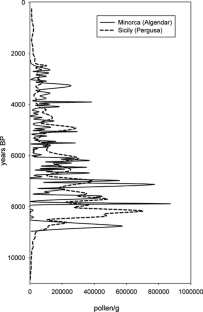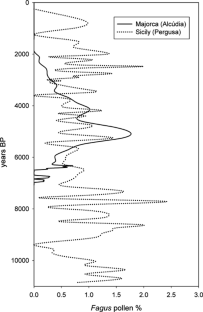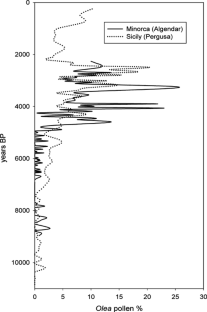 References
Bernabò Brea L (1961) La Sicilia prima dei Greci, 3rd edn. Il Saggiatore, Milano

de Bolòs O (1981) El Clima i la Vegetació post-glacial als Països Catalans [The Post-glacial climate and vegetation of Catalunya, in Catalan]. Treballs Institució Catalana Història Natural 9:83–91

Brullo S, Minissale P, Spampinato G (1995) Considerazioni fitogeografiche sulla flora della Sicilia. Ecologia Mediterranea 21:99–107

Burjachs F, Pérez-Obiol R, Roure JM, Julià R (1994) Dinámica de la vegetación durante el Holoceno en la isla de Mallorca. In: Mateu I, Dupré M, Güemes J, Burgaz ME (eds) Trabajos de palinología básica y aplicada. X Simposio de Palinología:199–210. Universitat de València, València

Catalan J, Camarero L, Pla S, Buchaca T, Rieradevall M, Bordonau J, Josep Peñuelas JG, Pérez R (2001) A climatic interpretation of 15,000 years of environmental variability in the central Pyrenees. Abstract PAGES – PEPIII: Past Climate Variability Through Europe and Africa. August 27–31, 2001. Aix-en-Provence, France

Di Pasquale G, Garfi G, Quézel P (1992) Sur la presence d'un Zelkova nouveau en Sicile sud-orientale (Ulmaceae). Biocosme Mésogéen 8/9:401–409

Follieri M, Roure JM, Giardini M, Magri D, Narcisi B, Pantaleón-Cano J, Pérez-Obiol R, Sadori L, Yll EI (2000) Desertification trends in Spain and Italy based on pollen analysis. In: Balabanis P, Peter D, Ghazi A, Tsogas M (eds) Mediterranean desertification. Research results and policy implications. Proceedings of the International Conference, 29 October to 1 November 1996, Crete, Greece, vol. 2, pp. 33–44

Giannitrapani E, Pluciennik M (1998) La seconda campagna di ricognizione (settembre 1997) del progetto Archeologia nella valle del Torcicoda. Sicilia Archeologica 96:59–69

Jalut G, Esteban Amat A, Bonnet L, Gauquelin T, Fontugne M (2000) Holocene climatic changes in the Western Mediterranean, from south-east France to south-east Spain. Palaeogeogr Palaeoclim Palaeoecol 160:255–290

Magny M, Miramont C, Sivan O (2002) Assessment of the impact of climate and anthropogenic factors on Holocene Mediterranean vegetation in Europe on the basis of palaeohydrological records. Palaeogeogr Palaeoclim Palaeoecol 186:47–59

Magri D, Sadori L (1999) Late Pleistocene and Holocene pollen stratigraphy at Lago di Vico (central Italy). Veget Hist Archaeobot 8:247–260

Mercuri AM, Accorsi CA, Bandini Mazzanti M (2004) Genesis and evolution of the cultural landscape in Italy as suggested by central Adriatic pollen diagrams (PALICLAS project). Polen 14:229–230

Micó R (2005) Cronología absoluta y periodización de la prehistoria de las Islas Baleares. British Archaeological Reports International Series 1373, Archaeopress, Oxford

Narcisi B (2002) Tephrostratigraphy of the late Quaternary lacustrine sediments of Lago di Pergusa (central Sicily). Boll Soc Geol It 121:211–219

Peinado M, Rivas-Martínez S (1987) La vegetación de España. Servicio Publicaciones Universidad de Alcalá de Henares, Alcalá de Henares

Pérez-Obiol R, Yll EI, Pantaleón-Cano J, Roure JM (2000) Evaluación de los impactos antrópicos y los cambios climáticos en el paisaje vegetal de las Islas Baleares durante los últimos 8000 años. In: Guerrero V, Gornés S (eds) Prehistoria de Baleares, pp. 73–89

Petit RJ, Aguinagalde I, de Beaulieu JL, Bittkau C, Brewer S, Cheddadi R, Ennos R, Fineschi S, Grivet D, Lascoux M, Mohanty A, Muller-Starck GM, Demesure-Musch B, Palme A, Martin JP, Rendell S, Vendramin GG (2003) Glacial refugia: hotspots but not melting pots of genetic diversity. Science 300:1563–1565

Ramrath A, Sadori L, Negendank JFW (2000) Sediments from Lago di Mezzano, central Italy: a record of Late Glacial/Holocene climatic variations and anthropogenic impact. The Holocene 10:87–95

Rivas Martínez S (1987) Memoria del mapa de series de vegetación de España. 1:400.000, ICONA, Madrid

Sadori L (2001) Holocene climatic change in central Sicily (Italy). Terra Nostra 3:181–186

Sadori L (2003) Late-Glacial and Holocene fire and vegetation history from Lago di Mezzano, central Italy. 16th INQUA Congress, Reno, Nevada, 23/30 luglio, p. 193

Sadori L, Giardini M (2004a) A new combined approach to detect Holocene environmental changes: the different roles of man and climate. 32nd International Geological Congress, 20–28 August 2004, Florence, Italy

Sadori L, Giardini M (2004b) The role of fire in the Mediterranean landscapes: an intriguing question. 3rd International Meeting of Anthracology. Charcoals from the past, Lecce June 28th–July 1st, pp. 40–41

Sadori L, Narcisi B (2001) The postglacial record of environmental history from Lago di Pergusa (Sicily). The Holocene 11:655–671

Schneider R (1985) Analyse palynologique dans l'Aspromonte en Calabre (Italie meridionale). Cahiers ligures de préhistoire et de protohistoire, Nouvelle série 2:279–288

Seppä H, Veski S (2004) The response of the vegetation to the cold event 8200 years ago in Estonia, Eastern Europe. Polen 14:210–211

Tinner W, Lotter AF (2001) Central European vegetation response to abrupt climate change at 8.2 ka. Geology 29:551–554

Tusa S (1992) La Sicilia nella preistoria, 2nd edn., Sellerio, Palermo

Yll EI, Perez-Obiol R, Pantaleon-Cano J, Roure JM (1997) Palynological evidence for climatic change and human activity during the Holocene on Minorca (Balearic Islands). Quat Res 48:339–347
About this article
Cite this article
Pérez-Obiol, R., Sadori, L. Similarities and dissimilarities, synchronisms and diachronisms in the Holocene vegetation history of the Balearic Islands and Sicily. Veget Hist Archaeobot 16, 259–265 (2007). https://doi.org/10.1007/s00334-006-0038-x
Received:

Accepted:

Published:

Issue Date:
Keywords
Palynology

Holocene

South-western

Mediterranean region

Climate change

Human impact