Abstract
Archaeobotanical investigations at Qara Qorum (Karakorum), Mongolia, reveal information about diet and land use from the 13th to the 15th century A.D. People grew Panicum miliaceum, Hordeum vulgare, Triticum aestivum and Setaria italica in nearby irrigated fields but additionally imported all other known cereals, including Oryza sativa, in small amounts as well as oil and fibre plants and pulses. The most common oil and fibre plant was Cannabis sativa. At least ten species of vegetables and spices such as Carum carvi, Coriandrum sativum, Apium graveolens, Beta vulgaris, Lycium chinense and Piper nigrum were either gathered from the wild, grown locally or imported. Apart from some wild gathered species like Pinus sibirica and Fragaria vesca, most of the fruits and nuts as for instance Vitis vinifera, Ficus carica, Ziziphus jujuba, Prunus dulcis, P. insititia, P. avium and P. persica, Cucumis melo and Juglans regia must also have been imported from quite long distances. First pollen results from lake Ugii Nuur, 50 km north of Qara Qorum indicate a much earlier beginning of agriculture than in the high and late Medieval.
This is a preview of subscription content, log in to check access.
Access options
Buy single article
Instant access to the full article PDF.
US$ 39.95
Price includes VAT for USA
Subscribe to journal
Immediate online access to all issues from 2019. Subscription will auto renew annually.
US$ 99
This is the net price. Taxes to be calculated in checkout.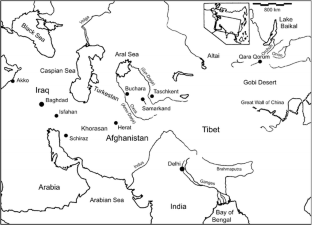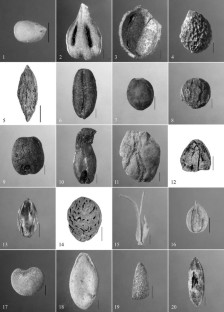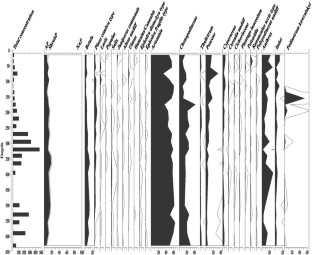 References
Arndt, B., Wiethold, J. (2001). Pflaume, Pfeffer, Paradieskorn. Archäologie in Niedersachsen, 4, 35–39

Barkmann, U.B. (2002). Qara Qorum (Karakorum)—Fragmente zur Geschichte einer vergessenen Reichshauptstadt. In: Roth, H.R., Erdenebat, U. (eds) Qara Qorum-City (Mongolia) I. Bonn Contributions to Asian Archaeology, 1, 7–20

Brent, P. (1976). The mongol empire. Weidenfeld & Nicolson, London

Erdenebat, U., Pohl, E. (2002). Karakorum 2 – Archäologie im Stadtzentrum. In: Roth, H.R., Erdenebat, U. (eds) Qara Qorum-City (Mongolia) I. Bonn Contributions to Asian Archaeology, 1, 33–46

Hellwig, M. (1990). Paläoethnobotanische Untersuchungen an mittelalterlichen und frühneuzeitlichen Pflanzenresten aus Braunschweig. Dissertationes Botanicae, 156, Cramer, Berlin

Jacomet, S., Kreuz, A. (1999). Archäobotank. Ulmer, Stuttgart

Kiyselyev, S.V., Yevtyuchova, F.A., Kyzlasov, L.J.R., Myerpyert, N.J., Lyevaschova, V.P. (1965). Dryevnyemongolskie goroda [The ancient cities of Mongolia]. Moskow

Knörzer, K. (1987). Geschichte der synanthropen Vegetation von Köln. Kölner Jahrbuch für Vor- und Frühgeschichte, 20, 271–388

Küster, H. (1989). Mittelalterliche Pflanzenreste aus Konstanz am Bodensee. Dissertationes Botanicae, 133, Cramer, Berlin, pp 201–216

Lang, G. (1994). Quartäre vegetationsgeschichte Europas. Fischer, Jena

Maier, U. (2001). Archäobotanische Untersuchungen in der neolithischen Ufersiedlung Hornstaad-Hörnle IA am Bodensee. Forschungen und Berichte zur Vor- und Frühgeschichte in Baden-Württemberg, 74, 29-384

Nesbitt, M., O'Hara, S. (2000). Irrigation agriculture in Central Asia: a long-term perspective from Turkmenistan. In: Barker, G., Gilbertson, D. (eds) The archaeology of drylands. Living at the margin. Routledge, New York, pp 103–122

Roth, H.R. (2002). Topics of Qara Qorum-City. In: Roth, H.R., Erdenebat, U. (eds) Qara Qorum-City (Mongolia) I. Bonn Contributions to Asian Archaeology, 1, 21–31

Roth, H.R., Erdenebat, U. (eds) (2003) Qara Qorum-City (Mongolia) I. Bonn Contributions to Asian Archaeology 1. Institut für vor- und frühgeschichtliche Archäologie, Bonn

Shiraishi, N. (2001). Chingisukan no Kokogaku [Archaeological studies on Chinghis Khan]. Tokyo

Sillmann, M. (2002). Botanische Großreste mittelalterlicher und frühneuzeitlicher Latrinen und Gruben aus Freiburg im Breisgau. In: Galioto, L., Löbbecke, F., Untermann, M. (eds) Das Haus "Zum roten Basler Stab" (Salzstrasse 20) in Freiburg im Breisgau. Forschungen und Berichte der Archäologie des Mittelalters in Baden-Württemberg 25, Stuttgart, pp 623–770

Walther, M. (2002). Lake bottom sediments of Ugii Nuur. Scientific Geographical Problems, 2, 41-44

Wiethold, J. (1995). Reis, Pfeffer und Paradieskorn: Pflanzenreste des 16. und 17. Jahrhunderts aus der Kloake der Patrizierfamilie von Dassel aus Lüneburg. Archäologie und Bauforschung in Lüneburg, 1, 129–166

Willerding, U. (1991). Präsenz, Erhaltung und Repräsentanz von Pflanzenresten in archäologischem Fundgut. In: Zeist, W. van, Wasylikowa, K., Behre, K.E. (eds) Progress in old world palaeoethnobotany. Balkema, Rotterdam, pp 25–51

Zander, R. (2002). Handwörterbuch der Pflanzennamen, 17th edn. Ulmer, Stuttgart

van Zeist, W. (1991). Economic aspects. In: Zeist, W. van, Wasylikowa, K., Behre, K.E. (eds) Progress in old world palaeoethnobotany. Balkema, Rotterdam, pp 109–130
Acknowledgements
We thank the excavators, especially H. Roth (the late)†, H.-J. Hüttel, E. Pohl and E. Nagel for good cooperation, and M. Walther for providing the Ugii Nuur core. S. Jacomet and G. Willcox gave useful comments to a former draft
About this article
Cite this article
Rösch, M., Fischer, E. & Märkle, T. Human diet and land use in the time of the Khans—Archaeobotanical research in the capital of the Mongolian Empire, Qara Qorum, Mongolia. Veget Hist Archaeobot 14, 485–492 (2005). https://doi.org/10.1007/s00334-005-0074-y
Received:

Accepted:

Published:

Issue Date:
Keywords
Mongolia

High and late medieval

Human diet and land use

Town