Abstract
The altitude of the Alpine tree-line has often been used as proxy for the climatic conditions in the Holocene epoch. The usual approach for establishing a record for this proxy is the analysis of pollen and macro remains. We analysed living trees and subfossil logs from the timberline ecotone in the innermost Kauner valley in the Central Eastern Alps in order to assemble a Holocene dendrochronological tree-line record. Data sets comprising age and height of living Stone Pines (Pinus cembra L.) were collected at one site. Sections of 170 subfossil Stone Pine logs from five other sites were dendrochronologically analysed and dated. Besides using dendrochronological analyses, radiocarbon dating served as a means of obtaining the age of some logs. For most of the samples we could provide dendrochronological dates (1-year dating precision, back to 5125 b.c.) or wiggle matched dates (between approx. 7100 and 5040 b.c., dating precision with 95% probability: ±7 years). In the first half of the 19th century the tree-line was located at about 2180 m a.s.l. in the innermost Kauner valley. After approximately a.d. 1860 the altitude of the upper limit of the occurrence of Pinus cembra individuals (tree-species-line) and, being closely linked, also that of the tree-line both rose. The current tree-line (trees >2 m) is located at 2245 m a.s.l. due to climatic conditions around 1980. Additionally we observed saplings up to a present (a.d. 2000) tree-species-line at approx. 2370 m a.s.l. The dendrochronologically analysed subfossil logs found at up to 2410 m a.s.l. date from within the last 9000 years (between approx. 7100 b.c. and a.d. 1700). In the space of the last 4000 years the dendrochronological tree-line record is not continuous, probably due to human impact. Tree-line positions similar to or slightly above the 1980 tree-line are established for the time periods approx. 1000 to 640 b.c. and a.d. 1 to 330 respectively. For the time period between approx. 7100 and 2100 b.c. the dendrochronologically analysed logs show nearly continuous evidence of a tree-line above the 1980s limit. Very high elevation of the tree-line, between 120 and 165 m above the 1980s level (2245 m a.s.l.) and even higher than the a.d. 2000 tree-species-line (2370 m a.s.l.), are recorded for the periods 7090–6570, 6040–5850, 5720–5620, 5500–4370 b.c., approx. 3510–3350 b.c. and 2790–2590 b.c. Additionally, a tree-line which was located at least 50 m above the 1980s limit can be shown for the periods 6700–5430, 4920–3350 and 3280–2110 b.c. The dendrochronological record from the Kauner valley, showing high and very high tree-line positions between approx. 7100 and 2100 b.c. with only two gaps (around 6490 b.c. and from 3350 to 3280 b.c.), suggests that summer temperatures as observed in the late 20th century were at the normal or the lower limit of the temperature range which can be assumed for long periods of the early and middle Holocene epoch.
Access options
Buy single article
Instant access to the full article PDF.
US$ 39.95
Tax calculation will be finalised during checkout.
Subscribe to journal
Immediate online access to all issues from 2019. Subscription will auto renew annually.
US$ 79
Tax calculation will be finalised during checkout.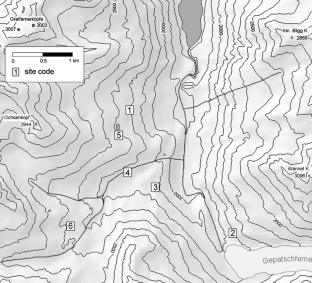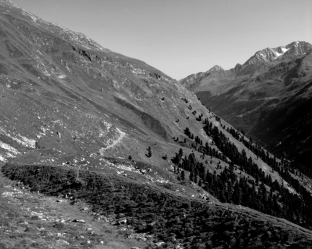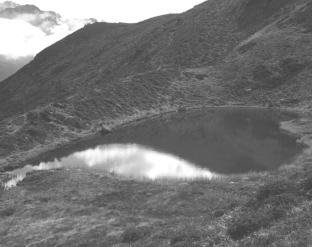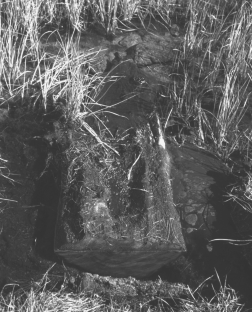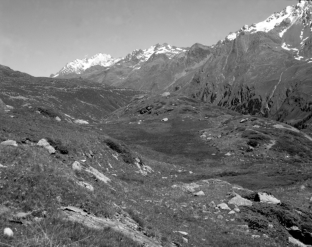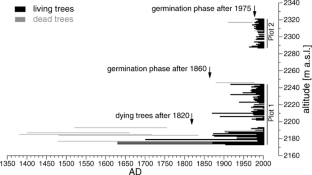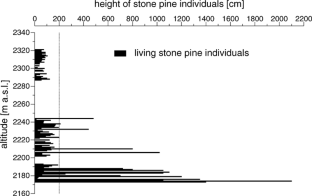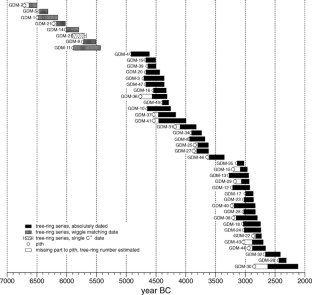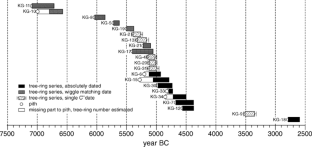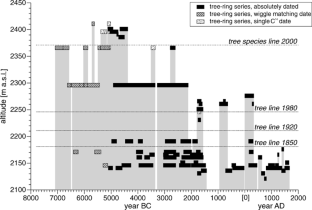 References
Böhm R, Auer I, Brunetti M, Maugeri M, Nanni T, Schöner W (2001) Regional temperature variability in the European Alps 1760-1998 from homogenized instrumental time series. Int J Climatol 21:1779–1801

Bortenschlager S (1970) Waldgrenz- und Klimaschwankungen im pollenanalytischen Bild des Gurgler Rotmooses. Mittl Ostalp-dinar Ges Vegetationskunde 11:19–26

Bortenschlager S (2000) The Iceman's environment. In: Bortenschlager S, Oeggl K (eds) The Iceman and his natural environment. Palaeobotanical Results. The Man in the Ice 4:11–24. Springer, Wien

Bortenschlager S, Kofler W, Nicolussi K, Oeggl K, Wahlmüller N (1998) The FOREST project: Sensitivity of Northern, Alpine and Mediterranean Forest limits to climate—final report of the Innsbruck-group. Institut für Hochgebirgsforschung—Jahresbericht 1997:47–65

Bronk Ramsey C (1995) Radiocarbon Calibration and Analysis of Stratigraphy: The OxCal Program. Radiocarbon 37:425–430

Burga CA, Perret R (1998) Vegetation und Klima der Schweiz seit dem jüngsten Eiszeitalter. Ott, Thun

Burga CA, Perret R, Zoller H (2001) Swiss localities of early recognized Holocene climate fluctuations—Characterization and significance. Viertelsjahresschrift der Naturforschenden Gesellschaft in Zürich 146:65–74

Carcaillet C, Thinon M (1996) Pedoanthracological contribution to study of the evolution of the upper tree-line in the Maurienne Valley (North France Alps): Methodology and preliminary data. Rev Palaeobot Palynol 91:399–416

Dahl SO, Nesje A (1996) A new approach to calculating Holocene winter precipitation by combining glacier equilibrium-line altitudes and pine-tree limits: a case study from Hardangerjøkulen, Central Southern Norway. The Holocene 6:381–398

Ellenberg H (1996) Vegetation Mitteleuropas mit den Alpen in ökologischer, dynamischer und historischer Sicht, 5th edn. Ulmer, Stuttgart

Fliri F (1996) Die Witterung von Innsbruck in der Periode 1777 bis 1828. Wetter und Leben 48:49–86

Furrer G, Holzhauser H (1984) Gletscher- und klimageschichtliche Auswertung fossiler Hölzer. Zeitschrift für Geomorphologie N.F., Suppl. Bd. 50:117–136

Hormes A, Müller BU, Schlüchter C (2001) The Alps with little ice: evidence for eight Holocene phases of reduced glacier extent in the Central Swiss Alps. The Holocene 11:255–265

Karlén W (1999) Comments on Leif Kullman's paper "Early Holocene tree growth at a high elevation site". Geografiska Annaler, Series A Physical Geography 81:459–460

Körner C (1998) Worldwide positions of Alpine tree-lines and their causes. In: Beniston M, Innes JL (eds) The impacts of climate variability on forests. Springer, Berlin, pp 221–229

Krapf V (2001) Palynologische Untersuchungen zur Klima- und Vegetationsgeschichte im Kauner- und Langtauferertal. Diplomarb Univ Innsbruck

Nicolussi K (1995) Jahrringe und Massenbilanz. Dendroklimatologische Rekonstruktion der Massenbilanzreihe des Hintereisferners bis zum Jahr 1400 mittels Pinus cembra-Reihen aus den Ötztaler Alpen, Tirol. Zeitschrift für Gletscherkunde und Glazialgeologie 30:11–52

Nicolussi K, Patzelt G (2000) Discovery of Early Holocene wood and peat on the forefield of the Pasterze Glacier, Eastern Alps, Austria. The Holocene 10:191–199

Nicolussi K, Patzelt G (2001) Untersuchungen zur holozänen Gletscherentwicklung von Pasterze und Gepatschferner (Ostalpen). Zeitschrift für Gletscherkunde und Glazialgeologie 36:1–87

Nicolussi K, Schießling P (2001) Establishing a multi-millennial Pinus cembra chronology for the Central Eastern Alps. Tree-rings and People. An International Conference on the Future of Dendrochronology. 22.-26.9.2001, Davos, Switzerland. Abstracts: 87

Nicolussi K, Lumassegger G, Patzelt G, Pindur P, Schiessling P (2004) Aufbau einer holozänen Hochlagen-Jahrring-Chronologie für die zentralen Ostalpen: Möglichkeiten und erste Ergebnisse. In: Innsbrucker Geographische Gesellschaft (Hrsg.): Innsbrucker Jahresbericht 2001/02, 16:114–136

Nicolussi K, Patzelt G, Slupetzky H, Thurner A (in press) Dendrochronologische Analysen zur Klimaentwicklung in den Ostalpen im 8. Jahrtausend vor heute. In: Gronenborn D (ed) Klimaveränderungen und Kulturwandel in neolithischen Gesellschaften Mitteleuropas, 6700–2200 cal b.c.. Monographien des RGZM, Mainz

Oeggl K, Wahlmüller N (1994) Vegetation and Climate history of a High Alpine Mesolthic Camp Site in the Eastern Alps. Prehistoria Alpina 28:71–82

Patzelt G (1987) Untersuchungen zur nacheiszeitlichen Schwemmkegel- und Talentwicklung in Tirol: 1.Teil: Das Inntal zwischen Mötz und Wattens.Veröff. d. Museums Ferdinandeum Innsbruck 67:93–123

Patzelt G (1996) Modellstudie Ötztal—Landschaftsgeschichte im Hochgebirgsraum. Mitteilungen d. Geographischen Gesellschaft Wien 138:53–70

Patzelt G, Aellen M (1990) Gletscher. In: Vischer D (ed) Schnee, Eis und Wasser der Alpen in einer wärmeren Atmosphäre. ETH-Zürich—VAW-Mitteilungen 108:49–69

Patzelt G, Bortenschlager S (1973) Die postglazialen Gletscher- und Klimaschwankungen in der Venedigergruppe (Hohe Tauern, Ostalpen). Zeitschrift für Geomorphologie N.F., Suppl.Bd. 16:25–72

Paul F, Kääb A, Maisch M, Kellenberger TW, Haeberli W (2004) Rapid disintegration of Alpine glaciers observed with satellite data. Geophys Res Lett 31:L21402 (doi:10.1029/2004GL020816)

Pott R, Hüppe J, Remy D, Bauerochse A, Katenhusen O (1995) Paläoökologische Untersuchungen zu holozänen Waldgrenzschwankungen im oberen Fimbertal (Val Fenga, Silvretta, Ostschweiz). Phytocoenologia 25:363–398

Schiechtl HM, Stern R (1975) Die Zirbe (Pinus cembra L.) in den Ostalpen, 1.Teil. Angewandte Pflanzensoziologie 22, Wien

Schlüchter C, Jörin U (2004) Alpen ohne Gletscher ? Die Alpen 6:34–47

Schweingruber FH (1988) Tree-rings: Basics and Applications of Dendrochronology. Reidel D (Kluwer), Dordrecht

Spurk M, Leuschner HH, Baillie MGL, Briffa KR, Friedrich M (2002) Depositional frequency of German subfossil oaks: climatically and non-climatically induced fluctuations in the Holocene. The Holocene 12:707–715

Staffler H, Feichter A (1999) Subfossile Holzrestfunde in Langtaufers/Vinschgau/Ötztaler Alpen. Der Schlern 73:161–166

Stuiver M, Reimer PJ, Bard E, Beck JW, Burr GS, Hughen KA, Kromer B, McCormac FG, Plicht J vd, Spurk M (1998) INTCAL98 Radiocarbon Age Calibration, 24000–0 cal b.p.. Radiocarbon 40:1041–1083

Suter J (1981) Gletschergeschichte des Ober-Engadins: Untersuchungen von Gletscherschwankungen in der Err-Julier-Gruppe. Arbeiten aus dem geogr. Institut der Univ. Zürich, Serie A - Physische Geographie 2

Tinner W, Ammann B (2001) Timberline Paleoecology in the Alps. PAGES News9/3: 9–11

Tinner W, Theurillat JP (2003) Uppermost, limit, extent, and fluctuations of the timberline and tree-line ecoline in the Swiss Central Alps during the past 11500 Years. Arc, Ant Alp Res 35:158–169

Tranquillini W (1979) Physiological ecology of the Alpine timberline. Springer, Berlin

Welten M (1952) Über die spät- und postglaziale Vegetationsgeschichte des Simmentales. Veröffentlichungen Geobotanisches Institut für Rübel Zürich 26:5–135

Wick L, Tinner W (1997) Vegetation changes and timberline fluctuations in the Central Alps as indicator of Holocene climatic oscillations. Arc Alp Res 29:445–458

Zoller H, Schindler C, Röthlisberger H (1966) Postglaziale Gletscherstände und Klimaschwankungen im Gotthardmassiv und Vorderrheingebiet. Verhandlungen Naturforschende Gesellschaft Basel 77:97–164
Acknowledgements
We would like to thank P. Schießling, P. Pindur and D. Zrost for fieldwork assistance and P. Schießling for carrying out measurements on a subset of the samples. Furthermore we are grateful to R. Böhm for making the new gridded temperature data set available to us. This research has been supported by the Austrian Science Fund (P13065-GEO, EXPICE P15828) and the European Commission (ALP-IMP EVK-CT-2002-00148). We thank the two reviewers, A. Bräuning and W. Tinner, for their helpful comments.
About this article
Cite this article
Nicolussi, K., Kaufmann, M., Patzelt, G. et al. Holocene tree-line variability in the Kauner Valley, Central Eastern Alps, indicated by dendrochronological analysis of living trees and subfossil logs. Veget Hist Archaeobot 14, 221–234 (2005). https://doi.org/10.1007/s00334-005-0013-y
Received:

Accepted:

Published:

Issue Date:
Keywords
Holocene

Alps

tree line

Pinus cembra

dendrochronology