Abstract
The history of Castanea sativa (sweet chestnut) cultivation since medieval times has been well described on the basis of the very rich documentation available. Far fewer attempts have been made to give a historical synthesis of the events that led to the cultivation of sweet chestnut in much earlier times. In this article we attempt to reconstruct this part of the European history of chestnut cultivation and its early diffusion by use of different sources of information, such as pollen studies, archaeology, history and literature. Using this multidisciplinary approach, we have tried to identify the roles of the Greek and Roman civilizations in the dissemination of chestnut cultivation on a European scale. In particular, we show that use of the chestnut for food was not the primary driving force behind the introduction of the tree into Europe by the Romans. Apart from the Insubrian Region in the north of the Italian peninsula, no other centre of chestnut cultivation existed in Europe during the Roman period. The Romans may have introduced the idea of systematically cultivating and using chestnut. In certain cases they introduced the species itself; however no evidence of systematic planting of chestnut exists. The greatest interest in the management of chestnut for fruit production most probably developed after the Roman period and can be associated with the socio-economic structures of medieval times. It was then that self-sufficient cultures based on the cultivation of chestnut as a source of subsistence were formed.
Access options
Buy single article
Instant access to the full article PDF.
USD 39.95
Price includes VAT (USA)
Tax calculation will be finalised during checkout.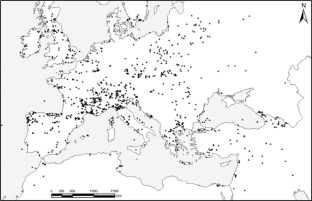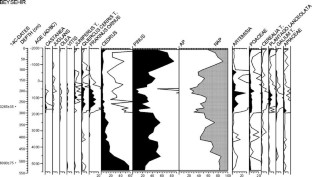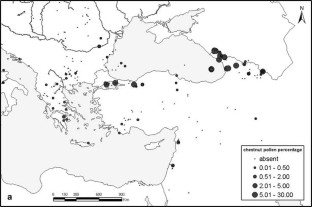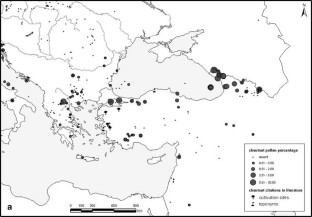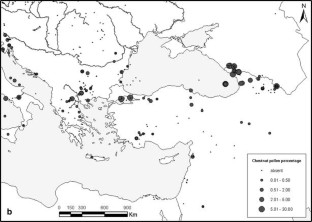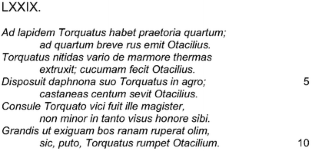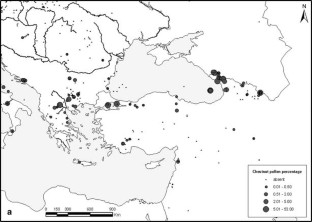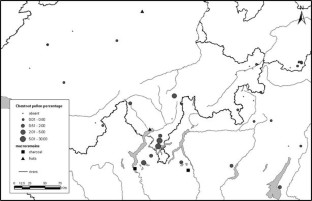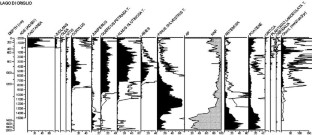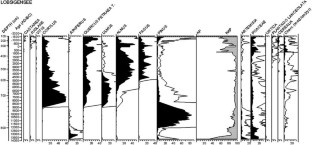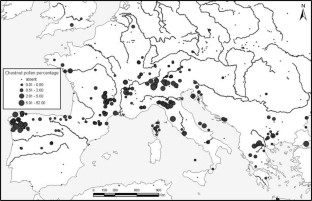 References
Aira Rodriguez, M.J., Saa, P., Lopez, P. (1992). Cambios del paisaje durante el Holoceno: Analisis de polen en Turberas (Galicia, España). Revue de Paléobiologie, 11, 243–254

Alessio, M., Allegri, L., Bella, F., Calderoni, G., Cortesi, C., Dai Pra, G., De Rita, D., Esu, D., Follieri, M., Improta, S., Magri, D., Narcisi, B., Petrone, V., Sadori, L. (1986). 14C dating, geochemical features, faunistic and pollen analysis of the uppermost 10 m core from Valle di Castiglione (Rome, Italy). Geologica Romana, 25, 287–308

Allen, J.R.M., Watts, W.A., McGee, E., Huntley, B. (2002). Holocene environmental variability—the record from Lago Grande di Monticchio, Italy. Quaternary International, 88, 69–80

Amigues, S. (1988). Theophraste: recherches sur les plantes. Les Belles Lettres, Paris

Ammann, B. (1989). Late-Quaternary palynology at Lobsigensee. Regional vegetation history and local lake development. Dissertationes Botanicae, 137, 1–157

Ammerman, A.J., Butler, J.J., Diamond, G., Menozzi, P., Pals, P.J., Sevink, J., Smit, A., Voorrips, A. (1976). Rapporto sugli scavi a Monte Leoni: un insediamento dell'età del bronzo in Val Parma. Preistoria Alpina, 12, 127–154

Behre, K.-E. (1990). Some reflections on anthropogenic indicators and the record of prehistoric occupation phases in pollen diagrams from the Near East. In: Bottema, S., Entjes-Nieborg, G., Zeist, W. van (eds) Man's role in the shaping of the eastern Mediterranean landscape. Balkema, Rotterdam, pp 219–231

Bellodi, L., Bertolani Marchetti, D., Frascaroli, G., Manicardi, A., Mondini, M. (1972). Ricerche preliminari sull'abitato preistorico di S.Michele di Valestra (Reggio Emilia). Bollettino della Società dei naturalisti e dei matematici, 102, 109–124

Bernetti, G. (1995). Selvicoltura speciale. UTET, Torino

Berrocal del Brio, M., Gallardo, J.F., Cardeñoso Herrero, J.M. (1998). El castaño. Mundi-Prensa, Madrid

Beug, H.J. (1961). Beiträge zur postglazialen Floren- und Vegetationsgeschichte in Süddalmatien: Der See "Malo Jezero" auf Mljet. Flora, 150, 600–656

Biaggio Simona, S. (2000). Leponti e Romani: l'incontro di due culture. In: Marinis, R.C. de, Biaggio Simona, S. (eds) I Leponti tra mito e realtà. A Dadò, Locarno, pp 261–283

Bottema, S., Woldring, H. (1990). Anthropogenic indicators in the pollen record of the Eastern Mediterranean. In: Bottema, S., Entjes-Nieborg, G., Zeist, W. van (eds) Man's role in the shaping of the Eastern Mediterranean Landscape. Balkema, Rotterdam, pp 231–265

Bounous, G. (1999). Among the chestnut trees in Cuneo Province. Metafore, Cuneo

Bounous, G. (2002). Il castagno. Coltura, ambiente ed utilizzazioni in Italia e nel mondo. Edagricole, Bologna

Brande, A. (1973). Untersuchungen zur postglazialen Vegetationsgeschichte im Gebiet der Neretva-Niederungen (Dalmatien, Herzegowina). Flora, 162, 1–44

Brugiapaglia, E., Beaulieu, J.L. de, Guiot, J., Reille, M. (1998). Transect de pluie pollinique et étagement de la végétation dans le massif du Taillefer (Isère, France). Géographie Physique et Quaternaire, 52, 209–218

Bruneton-Governatori, A. (1984). Le pain de bois. Ethnohistoire de la châtaigne et du châtaignier. Eché, Toulouse

Camus, A. (1929). Les châtaigners. Monographie des genres Castanea e Castanopsis. Lechevallier, Paris

Carandini, A. (1988). Gli schiavi in Italia. Gli strumenti pensanti dei Romani fra tarda repubblica e medio Impero. La Nuova Italia Scientifica, Roma

Carena, C. (1982). Opere di Publio Virgilio Marone. UTET, Torino

Castelletti, L., Brogiolo, G.P., Nobile, I., Roffia, E., Bolla, M., De Marchi, P.M., Arslan, E.A., Sfrecola. S., Somaini, A. (1988). Scavi di Monte Barro. Comune di Galbiate—Como (1986–87). Archeologia Medievale, 15, 177–250

Castelletti, L., Castiglioni, E. (1991). Resti vegetali. In: Brogiolo, G.P., Castelletti, L. (eds) Archeologia a Monte Barro I, Il grande edificio e le torri. Lecco, pp 169–203

Castelletti, L., Maspero, A. (1988). Analisi di resti vegetali macroscopici. In: Panazza, G., Broggiolo, G.P. (eds) ricerche su Brescia altomedievale. Brescia, pp 125–132

Castiglioni, E., Cottini, M., Rottoli, M. (2001). I resti archeobotanici. In: Brogiolo, G.P., Castelletti, L. (eds) Archeologia a Monte Barro I, Il grande edificio e le torri. Lecco, pp 223–249

CiMPI (2003). Circum-Mediterranean Pollen Inventory (http://www.bgc.mpg.de/bgc_prentice/projects/cimbio/maps.html)

Clerc, J. (1988). Recherches pollenanalytiques sur la paléoecologie tardiglaciaire et holocène du Bas-Dauphiné. Ph.D.Thesis, Université d'Aix-Marseille III

Comes, H.P., Kadereit, J.W. (1998). The effect of Quaternary climatic changes on plant distribution and evolution. Trends in Plant Science, 3, 432–438

Dion, R. (1977). Histoire de la vigne et du vin en France des origines au XIX siècle. Flammarion, Paris

Eastwood, W.J., Roberts, N., Lamb, H.F., Tibby, J.C. (1999). Holocene environmental change in southwest Turkey: a palaeoecological record of lake and catchment-related changes. Quaternary Science Reviews, 18, 671–695

Edelman, H. (1985). Late glacial and Holocene vegetation development of la Goutte Loiselot (Vosges, France). University of Utrecht, Utrecht

EPD (2003). European Pollen Database (http://ftp.ngdc.noaa.gov/paleo/epd/epd_main.html)

Eusterhues, K., Lechterbeck, J., Schneider, J., Wolf-Brozio, U. (2002). Late- and Post-Glacial evolution of Lake Steisslingen (I). Sedimentary history, palynological record and inorganic geochemical indicators. Palaeogeography, Palaeoclimatology, Palaeoecology, 187, 341–371

Fenaroli, L. (1945). Il castagno. Ramo editoriale degli agricoltori, Roma

Fineschi, S., Taurchini, D., Villani, F., Vendramin, G.G. (2000). Chloroplast DNA polymorphism reveals little geographical structure in Castanea sativa Mill. (Fagaceae) throughout southern European countries. Molecular Ecology, 9, 1495–1503

Forni, G. (1990). Gli albori dell'agricoltura. REDA, Roma

Frascaria, N., Santi, F., Gouyon, P.H. (1993). Genetic differentiation within and among populations of chestnut (Castanea sativa Mill.) and wild cherry (Prunus avium L.). Heredity, 70, 634–641

Gabrielli, A. (1994). La civiltà del castagno. Monti e boschi, 65, 3

Gobet, E., Tinner, W., Hubschmid, P., Jansen, I., Wehrli, M., Ammann, B., Wick, L. (2000). Influence of human impact and bedrock differences on the vegetational history of the Insubrian southern Alps. Vegetation History and Archaeobotany, 9, 175–187

Hase, F.W. von (1990). Ägäische Importe im zentralen Mittelmeergebiet in späthelladischer Zeit (SH I—SH III C). Monographie des römisch-germanisches Zentralmuseums, 15, 80–108

Hehn, V. (1911). Kulturpflanzen und Haustiere in ihrem Übergang aus Asien nach Griechenland und Italien sowie das übrige Europa. Gebrüder Borntraeger, Berlin

Hewitt, G.M. (1999). Post-glacial re-colonization of European biota. Biological Journal of the Linnean Society, 68, 87–112

Howatson, M.C. (1989). The Oxford companion to classical literature. Oxford University Press, Oxford

Huntley, B., Birks, H.J.B. (1983). An atlas of past and present pollen maps for Europe: 0–13000 years ago. Cambridge University Press, Cambridge

Jahns, S., Bogaard, C. van den (1998). New palynological and tephrostratigraphical investigations of two salt lagoons on the island of Mljet, south Dalmatia, Croatia. Vegetation History and Archaeobotany, 7, 219–234.

Jahns, S. (2002). An improved time scale for the Holocene history of vegetation and environment on the South Dalmatian Island of Mljet. Vegetation History and Archaeobotany, 11, 315–316

Jochimsen, M. (1986). Zum Problem des Pollenfluges in den Hochalpen. Dissertationes Botanicae, 90, 1–237

Jolly, M.C. (1988). À propos de l'asylvatisme des hauts versants du Cantal. Institut Francais de Pondichery, Bordeaux

Käser, H. (1932). Die Kastanienkultur und ihre Terminologie in Oberitalien und in der Südschweiz. Sauerländer & Co., Aarau

Kelly, M.G., Huntley, B. (1991). An 11000-year record of vegetation and environment from Lago di Martignano, Latium, Italy. Journal of Quaternary Science, 6, 209–224

Krebs, P., Conedera, M., Pradella, M., Torriani, D., Felber, M., Tinner, W. (2004). Quaternary refugia of the sweet chestnut (Castanea sativa Mill.): an extended palynological approach. Vegetation History and Archaeobotany, 13

Küster, H. (1991). Mitteleuropa südlich der Donau, einschliesslich Alpenraum. In: Zeist, W. van, Wasylikowa, K., Behre, K.-E. (eds) Progress in Old World Palaeoethnobotany. Balkema, Rotterdam, pp 179–188

Lang, G. (1994). Quartäre Vegetationsgeschichte Europas. Fischer, Jena

Lavialle, J.B. (1906). Le châtaignier. Vigots, Paris

Lowe, J.J., Accorsi, C.A., Bandini Mazzanti, M., Bishop, A., Kaars, S. van der, Forlani, L., Mercuri, A.M., Rivalenti, C., Torri, P., Watson, C. (1996). Pollen stratigraphy of sediment sequences from lakes Albano and Nemi (near Rome) and from the central Adriatic, spanning the interval from oxygen isotope Stage 2 to the present day. Memorie dell'Istituto Italiano di Idrobiologia, 55, 71–98

Madella, M. (1991). I macroresti vegetali. Sopraintendenza Archeologica della Lombardia, Notiziario, 1, 44–45

Marinova, E., Tchakalova, E., Stoyanova, D., Grozeva, S., Dotscheva, E. (2002). Ergebnisse archäobotanischer Untersuchungen aus dem Neolithikum und Chalcolithikum in Südwestbulgarien. Archaeologia Bulgarica, 6, 1–11

Mateus, J.E. (1992). Holocene and present-day ecosystems of the carvalhal region, southwest Portugal. Doctoral Thesis, University of Utrecht

Merz, F. (1919). Il castagno: sua importanza economica, coltivazione e trattamento. Dipartimento Federale dell'Interno, Berna

Meyer, F.G. (1980). Carbonized food plants of Pompeii, Herculaneum, and the Villa at Torre Annunziata. Economic Botany, 34, 401–437

Mourik, J. van (1985). Pollen profiles of slope deposits in the Galician Area (N.W. Spain). Doctoral Thesis, University of Amsterdam

Newton, A.C., Allnutt, T.R., Gillies, A.C.M., Lowe, A.J., Ennos, R.A. (1999). Molecular phylogeography, intraspecific variation and the conservation of tree species. Trees, 14, 140–145

Nisbet, R. (1991). Storia forestale e agricoltura a Montaldo tra età del Ferro e XVI secolo. In: Michelletto, E., Gambari, V. (eds) Montaldo di Mondoví. Un insediamento protostorico. Un castello. Roma, pp 247–251

Nisbet, R., Biagi, P. (1987). Balm' Chanto: un riparo sottoroccia dell'età del rame nelle Alpi. Museo Civico Archeologico "Giovio" - New Press, Como

Oldfield, F. (1996). The PALICLAS Project: synthesis and overview. Memorie dell'Istituto Italiano di Idrobiologia, 55, 329–357

Palaeoecological Atlas of Northern and Western Africa (2003). (http://www.uni-wuerzburg.de/geographie/fachi/pal_atlas_afrika/index_atlas.htm)

Pals, J.-P., Voorrips (1979) Seeds, fruits and charcoals from two prehistoric sites in northern Italy. Archaeo-Physica, 8, 217–235.

Peeters, A.G., Zoller, H. (1988). Long range transport of Castanea sativa pollen. Grana, 27, 203–207

Perez-Garcia, L.C., Sanchez-Palencia Ramos, F.J. (1985). Yacimientos auríferos ibéricos en la antigüedad. Investigation y ciencia, 104, 64–75

Piccioli, L. (1922). Monografia del castagno. Suoi caratteri morfologici, varietà, coltivazione, prodotti e nemici. Spinelli, Firenze

Pitte, J.R. (1986). Terres de castanide. Homme et paysage du châtaignier de l'Antiquité à nos jours. Librairie A Fayard, Paris

Provost, M. (1993). Le Val de la Loire dans l'antiquité. Gallia, 52, 1–411

Quirós Castillo, J.A. (1998). Cambios y transformaciones en el paisaje del Apenino toscano entre la Antigüedad Tardía y la Edad Media. El castaño. Archeologia Medievale, 25, 177–197

Rachewiltz, S.W. de (1992). Kastanien im südlichen Tirol. Arunda, Schlanders

Rottoli, M. (1995). Analisi dei resti vegetali. In: Senna Chiesa, G., Lavizzarini Pedrazzini, M.P. (eds). Angera Romana: scavi nell'abitato 1980–1986. Bretschneider, Roma, pp 499–506

Rottoli, M., Negri, S. (1998). Resti vegetali carbonizzati. In: Giannichedda, E. (ed) Filattiera-Sorano: l'insediamento di età romana e tardo antica scavi 1986–1995. Istituto di Storia della Cultura Materiale, pp 198–212

Rudow, A., Conedera, M. (2001). Blüte und Sortenerkennung bei der Edelkastanie (Castanea sativa Mill.) auf der Alpensüdseite der Schweiz. Botanica Helvetica, 111, 1–23

Sanchez Goñi MF (1993). De la taphonomie pollinique à la reconstitution de l'environnement. L'exemple de la région cantabrique. British Archaeological Reports, International Series 586, 1–181

Santos L., Vidal Romani J.R., Jalut G. (2000). History of vegetation during the Holocene in the Courel and Queixa Sierras, Galicia, northwest Iberian Peninsula. Journal of Quaternary Science, 15, 621–632

Sauvezon, R., Sauvezon, A., Sunt, C. (2000). Châtaignes et châtaigniers en régions méditerranéennes françaises. Édisud, Aix-en-Provence

Schneider, R. (1984). Analyse palynologique dans l'Aspromonte en Calabre (Italie Méridionale). Cahier Ligures de préhistoire et de protohistoire, 2, 279–288

Senna Chiesa, G. (1995). Angera Romana: il vicus e l'indagine di scavo. In: Senna Chiesa, G., Lavizzarini Pedrazzini, M.P. (eds). Angera Romana: scavi nell'abitato 1980–1986. Giorgio Bretschneider Editore, Roma, pp XXXI-LXI

Sereni, E. (1981). Terra nuova e buoi rossi e altri saggi per una storia dell'agricoltura europea. Einaudi, Torino

Sganzini, S. (1937). La castagna nell'alta Italia e nella Svizzera Italiana. Vox Romanica, 2, 77–103

Sirago, V.A. (1995). Storia agraria romana. I: Fase ascensionale. Liguori, Napoli

Sordelli, F. (1883). Sulle filliti quaternarie di Re, in Val Vegezzo. Rendiconti del Reale Istituto Lombardo di Scienze e Lettere, 16, 843–851

Tinner, W., Conedera, M. (1995). Indagini paleobotaniche sulla storia della vegetazione e degli incendi forestali durante l'Olocene al lago di Origlio (Ticino meridionale). Bollettino della Società Ticinese di Scienze Naturali, 83, 91–106

Tinner, W., Hubschmid, P., Wehrli, M., Ammann, B., Conedera, M. (1999). Long-term forest fire ecology and dynamics in southern Switzerland. Journal of Ecology, 87, 273–289

Tozzi, P. (1982). I laghi dell'Italia settentrionale e la nozione di continuità lacustre-fluviale presso i Romani. in: Tamborini, M., Armocida, L., Arslan, E.A. (eds). Angera e il Verbano Orientale nell'antichità. Atti della giornata di Studio. Rocca di Angera, 11 Sept. 1982, Museo Civico Angera, Angera, pp 131–137

Vedaldi Iasbez, V. (2000). I Leponti e le fonti letterarie antiche. In: Marinis, R.C. de, Biaggio Simona, S. (eds). I Leponti tra mito e realtà. A Dadò Editore, Locarno, pp 243–259

Vesco, C. (1990). L'Arte della cucina. Manuale dell'esperto cuoco della Roma imperiale. Scipioni, Roma

Villani, F., Sansotta, A., Cherubini, M., Cesaroni, D., Sbordoni, V. (1999). Genetic structure of Castanea sativa in Turkey: evidence of a hybrid zone. Journal of Evolutionary Biology, 12, 233–244

Visset, L. (1994). Vegetation changes and development of agriculture at "Kerfontaine" (Sérent, Massif Armoricain, France). Vegetation History and Archaeobotany, 3, 1–6

Watts, W.A., Allen, J.R.M., Huntley, B., Fritz, S.C. (1996). Vegetation history and climate of the last 15,000 years at laghi di Monticchio, Southern Italy. Quaternary Science Reviews, 15, 113–132

WDC (2003). World Data Center for Paleoclimatology, Boulder, Colorado, USA (http://www.ngdc.noaa.gov/paleo/pollen.html)

Yasuda, Y., Kitagawa, H., Nakagawa, T. (2000). The earliest record of major anthropogenic deforestation in the Ghab Valley, northwest Syria: a palynological study. Quaternary International, 73/74, 127–136

Zeist, W. van, Bottema, S. (1991). Late Quaternary Vegetation of the Near East. L Reichert, Wiesbaden

Zeist, W. van, Woldring, H., Stapert, D. (1975). Late quaternary vegetation and climate of Southwestern Turkey. Palaeohistoria, 17, 53–143
Acknowledgements
Our heartfelt thanks go to our colleagues W.E. Stöckli, F. Villani, R. Drescher-Schneider, W.O. van der Knaap, an anonymous reviewer and F. Bittmann for the critical reading of the manuscript, S. Ragozza for the valuable advice and the original translations of ancient Greek texts, H. Woldring and B. Ammann for allowing us to reproduce selections of their original diagrams, our colleagues C. Grütter, G. Nebel and Ch. Matter of the WSL library and all the staff of the service library NEBIS for their readiness to help and their tenacity with which they have supported us in researching the bibliography, S. Depedrini and D. Furrer for their assistance during cataloguing and recording of the consulted bibliography. Finally, we are indebted to Ch. and J. Favre and to S. Dingwall for the English revision of the manuscript.
Electronic Supplementary Material
About this article
Cite this article
Conedera, M., Krebs, P., Tinner, W. et al. The cultivation of Castanea sativa (Mill.) in Europe, from its origin to its diffusion on a continental scale. Veget Hist Archaeobot 13, 161–179 (2004). https://doi.org/10.1007/s00334-004-0038-7
Received:

Accepted:

Published:

Issue Date:
Keywords
Chestnut cultivation

Roman period

Castanea sativa

Palynology

Archaeology

Classical literature