Abstract
Objective
Patients with myocardial bridging (MB) frequently experience recurrent chest pain, even in those without coronary heart disease. This study aims to predict the risk of recurrent chest pain in patients with MB by using a novel predictive nomogram.
Methods
This retrospective study enrolled 250 patients with acute chest pain who underwent coronary computed tomography angiography (CCTA) between January and December 2018, including 111 patients with MB and 139 control patients. Least absolute shrinkage and selection operator (LASSO) and multivariable Cox regression analyses were used to screen for significant parameters that were included to develop a novel predictive nomogram model. Receiver operating characteristic curve, calibration curve, and decision curve analyses were used to evaluate the performance and clinical utility of the nomogram.
Results
A predictive nomogram was constructed in 111 patients with MB, 34 of whom (30.9%) had recurrent chest pain. The significant predictors screened out by the LASSO regression included age, sex, branch type MB, and systolic compression index. The area under the curves (AUCs) for recurrent chest pain at 12, 24, and 36 months were 0.688, 0.742, and 0.729, respectively, indicating remarkable accuracy of the nomogram. The calibration curve and decision curve analyses indicated a good agreement with the observations and utility of the nomogram.
Conclusions
This study presents a high-accuracy nomogram to predict recurrent chest pain in patients with MB. This model incorporates clinical risk factors and CT imaging features and can be conveniently used to facilitate the individualised prediction.
Key Points
• Symptomatic patients with myocardial bridging often present with recurrent chest pain.
• The potential predictors of recurrent chest pain in patients with myocardial bridging were age, sex, branch type MB, and systolic compression index.
• Nomogram based on clinical CT imaging features is valuable to predict recurrent chest pain in patients with myocardial bridging.
Access options
Buy single article
Instant access to the full article PDF.
USD 39.95
Price excludes VAT (USA)
Tax calculation will be finalised during checkout.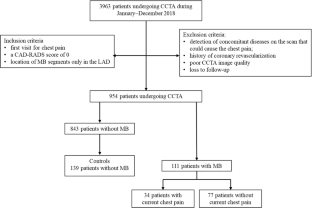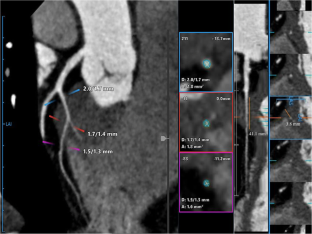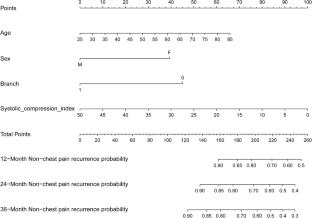 Abbreviations
ACEs:

Adverse cardiac events

ACS:

Acute coronary syndromes

AUC:

Area under the curve

CAD:

Coronary artery disease

CAD-RADS:

Coronary Artery Disease Reporting and Data System

CCA:

Conventional coronary angiography

CCTA:

Coronary computed tomography angiography

LAD:

Left anterior descending artery

LASSO:

Least absolute shrinkage and selection operator

MB:

Myocardial bridging
References
Möhlenkamp S, Hort W, Ge J, Erbel R (2002) Update on myocardial bridging. Circulation 106:2616–2622

Tarantini G, Migliore F, Cademartiri F, Fraccaro C, Iliceto S (2016) Left anterior descending artery myocardial bridging. J Am Coll Cardiol 68:2887–2899

Sternheim D, Power DA, Samtani R, Kini A, Fuster V, Sharma S (2021) Myocardial bridging: diagnosis, functional assessment, and management: JACC state-of-the-art review. J Am Coll Cardiol 78:2196–2212

Hostiuc S, Curca GC, Dermengiu D, Dermengiu S, Hostiuc M, Rusu MC (2011) Morphological changes associated with hemodynamically significant myocardial bridges in sudden cardiac death. Thorac Cardiovasc Surg 59:393–398

Ishikawa Y, Akasaka Y, Suzuki K et al (2009) Anatomic properties of myocardial bridge predisposing to myocardial infarction. Circulation 120:376–383

Zhu CS, Wang SY, Cui H, Tang B, Wang SW (2020) Associations of myocardial bridging with adverse cardiac events: a meta-analysis of published observational cohort studies involving 4,556 individuals. Ann Transl Med 8:369

Rubinshtein R, Gaspar T, Lewis BS, Prasad A, Peled N, Halon DA (2013) Long-term prognosis and outcome in patients with a chest pain syndrome and myocardial bridging: a 64-slice coronary computed tomography angiography study. Eur Heart J Cardiovasc Imaging 14:579–585

Waterbury TM, Tarantini G, Vogel B, Mehran R, Gersh BJ, Gulati R (2020) Non-atherosclerotic causes of acute coronary syndromes. Nat Rev Cardiol 17:229–241

Zhou F, Tang CX, Schoepf UJ et al (2019) Fractional flow reserve derived from CCTA may have a prognostic role in myocardial bridging. Eur Radiol 29:3017–3026

Uusitalo V, Saraste A, Pietilä M, Kajander S, Bax JJ, Knuuti J (2015) The functional effects of intramural course of coronary arteries and its relation to coronary atherosclerosis. JACC Cardiovasc Imaging 8:697–704

Aleksandric SB, Djordjevic-Dikic AD, Dobric MR et al (2021) Functional assessment of myocardial bridging with conventional and diastolic fractional flow reserve: vasodilator versus inotropic provocation. J Am Heart Assoc 10:e020597

Cury RC, Abbara S, Achenbach S et al (2016) CAD-RADSTM: Coronary Artery Disease - Reporting and Data System: an expert consensus document of the Society of Cardiovascular Computed Tomography (SCCT), the American College of Radiology (ACR) and the North American Society for Cardiovascular Imaging (NASCI). Endorsed by the American College of Cardiology. J Am Coll Radiol 13:1458–1466

Liu SH, Yang Q, Chen JH, Wang XM, Wang M, Liu C (2010) Myocardial bridging on dual-source computed tomography: degree of systolic compression of mural coronary artery correlating with length and depth of the myocardial bridge. Clin Imaging 34:83–88

Gupta R, Munoz R (2016) Evaluation and management of chest pain in the elderly. Emerg Med Clin North Am 34:523–542

Liu MB, Zhang P, Chen M et al (2012) Aging might increase myocardial ischemia / reperfusion-induced apoptosis in humans and rats. Age (Dordr) 34:621–632

Pratik P, Muhammad H, Kobina W et al (2018) Chest pain and mental stress-induced myocardial ischemia: sex differences. Am J Med 131:540–547

Wenger NK (2016) Clinical presentation of CAD and myocardial ischemia in women. J Nucl Cardiol 23:976–985

Vaccarino V, Sullivan S, Hammadah M et al (2018) Mental stress-induced-myocardial ischemia in young patients with recent myocardial infarction: sex differences and mechanisms. Circulation 137:794–805

Kim PJ, Hur G, Kim SY et al (2009) Frequency of myocardial bridges and dynamic compression of epicardial coronary arteries: a comparison between computed tomography and invasive coronary angiography. Circulation 119:1408–1416

Montone RA, Gurgoglione FL, Del Buono MG et al (2021) Interplay between myocardial bridging and coronary spasm in patients with myocardial ischemia and non-obstructive coronary arteries: pathogenic and prognostic implications. J Am Heart Assoc 10:e020535

Sara JDS, Corban MT, Prasad M et al (2020) Prevalence of myocardial bridging associated with coronary endothelial dysfunction in patients with chest pain and non-obstructive coronary artery disease. EuroIntervention 15:1262–1268

Hashikata T, Honda Y, Wang H et al (2021) Impact of diastolic vessel restriction on quality of life in symptomatic myocardial bridging patients treated with surgical unroofing: preoperative assessments with intravascular ultrasound and coronary computed tomography angiography. Circ Cardiovasc Interv 14:e011062

Lin S, Tremmel JA, Yamada R et al (2013) A novel stress echocardiography pattern for myocardial bridge with invasive structural and hemodynamic correlation. J Am Heart Assoc 2:e000097

Tarantini G, Barioli A, Nai Fovino L et al (2018) Unmasking myocardial bridge–related ischemia by intracoronary functional evaluation. Circ Cardiovasc Interv 11:e006247
Funding
The authors state that this work has not received any funding.
Ethics declarations
Guarantor
The scientific guarantor of this publication is Jun Qian.
Conflict of interest
The authors of this manuscript declare no relationships with any companies whose products or services may be related to the subject matter of the article.
Statistics and biometry
No complex statistical methods were necessary for this paper.
Informed consent
Written informed consent was waived by the Institutional Review Board.
Ethical approval
Institutional Review Board approval was obtained.
Methodology
• retrospective
• cross-sectional study / diagnostic or prognostic study / observational
• performed at one institution
Additional information
Publisher's note
Springer Nature remains neutral with regard to jurisdictional claims in published maps and institutional affiliations.
Supplementary Information
Rights and permissions
Springer Nature or its licensor (e.g. a society or other partner) holds exclusive rights to this article under a publishing agreement with the author(s) or other rightsholder(s); author self-archiving of the accepted manuscript version of this article is solely governed by the terms of such publishing agreement and applicable law.
About this article
Cite this article
Dai, S., Xiao, Z., Chen, C. et al. Nomogram to predict recurrent chest pain in patients with myocardial bridging. Eur Radiol (2022). https://doi.org/10.1007/s00330-022-09305-1
Received:

Revised:

Accepted:

Published:

DOI: https://doi.org/10.1007/s00330-022-09305-1
Keywords
Myocardial bridging

Chest pain

Computed tomography angiography

Nomograms