Abstract
Objective
To test the efficacy of self- compared to radiographer-led compression to reduce the average glandular dose without affecting image quality and compliance to follow-up mammography.
Materials and methods
Women presenting for mammography for breast cancer follow-up, symptoms, opportunistic screening, or familial risk were asked to participate and, if willing, were randomized to self-compression or radiographer-led compression. Image quality was assessed blindly by two independent radiologists and two radiographers. Pain and discomfort were measured immediately after mammography and their recall was asked when the women participated in the follow-up mammogram, 1 or 2 years later.
Results
In total, 495 women (mean age 57 years +/-14) were enrolled, 245 in the self-compression and 250 radiographer-compression arms. Image quality was similar in the two arms (radiologists' judgement p = 0.90; radiographers' judgement p = 0.32). A stronger compression force was reached in the self- than in the radiographer-arm (114.5 vs. 10.25 daN, p < .001), with a 1.7-mm reduction in thickness (p = .14), and almost no impact on dose per exam (1.90 vs. 1.93 mGy, p = .47). Moderate/severe discomfort was reported by 7.8% vs 9.6% (p = .77) and median pain score was 4.0 in both arms (p = .55). Median execution time was 1 min longer with self-compression (10.0 vs. 9.1 min, p < 0.001). No effect on subsequent mammography was detectable (p = 0.47).
Conclusion
Self-compression achieved stronger compression of the breast, with comparable image quality, but did not substantially reduce glandular dose. The proportion of women who attended follow-up mammography was also similar in the two groups.
Trial registration
clinicaltrials.gov NCT04009278
Key Points
• In mammography, appropriate compression is essential to obtain high image quality and reduce dose. Compression causes pain and discomfort.
• Self-compression has been proposed to reach better compression and possibly increase participation in mammography.
• In a randomized trial, self-compression reached stronger compression of the breast, with comparable image quality but with no glandular dose reduction or impact on participation in follow-up mammography.
Access options
Buy single article
Instant access to the full article PDF.
USD 39.95
Price excludes VAT (USA)
Tax calculation will be finalised during checkout.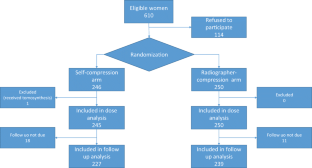 References
Eurostat (2021) Breast cancer screening statistics. Available via https://ec.europa.eu/eurostat/statistics-explained/index.php?title=Archive:Breast_cancer_screening_statistics. Accessed 3 Sep 2021

Center for Disease Control and Preventions (2019) Health, United States, 2019 – Data Finder. Available via https://www.cdc.gov/nchs/data/hus/2019/033-508.pdf. Accessed 3 Sep 2021

American College of Radiologists (2021) Appropriateness criteria. Available via https://acsearch.acr.org/list. Accessed 3 Sep 2021

Miller D, Livingstone V, Herbison GP (2008) Interventions for relieving the pain and discomfort of screening mammography. Cochrane Database Syst Rev. https://doi.org/10.1002/14651858.CD002942.pub2

Davey B (2007) Pain during mammography: Possible risk factors and ways to alleviate pain. Radiography 13(3):229–234

Nelson DJ, England A, Cheptoo M, Mercer CE (2020) A comparative study of pain experienced during successive mammography examinations in patients with a family history of breast cancer and those who have had breast cancer surgery. Radiography (Lond) 26(1):76–81

Akansel N, Gülşen M, Gültaş M (2020) Influence of discomfort tolerance of women who undergo mammography on the perceived pain intensity due to the procedure. Eur J Breast Health 17(1):68–75

Kornguth PJ, Keefe FJ, Wright KR, Delong DM (2020) mammography pain in women treated conservatively for breast cancer. J Pain 1(4):268–274

Moshina N, Sagstad S, Sebuødegård S et al (2020) Breast compression and reported pain during mammographic screening. Radiography (Lond) 26(2):133–139

Serwan E, Matthews D, Davies J, Chau M (2020) Mammographic compression practices of force- and pressure-standardisation protocol: a scoping review. J Med Radiat Sci 67(3):233–242

Whelehan P, Evans A, Wells M, Macgillivray S (2013) The effect of mammography pain on repeat participation in breast cancer screening: a systematic review. Breast 22(4):389–394

Moshina N, Sebuødegård S, Holen ÅS, Waade GG, Tsuruda K, Hofvind S (2018) The impact of compression force and pressure at prevalent screening on subsequent re-attendance in a national screening program. Prev Med 108:129–136

de Groot JE, Broeders MJ, Grimbergen CA, den Heeten GJ (2015) Pain-preventing strategies in mammography: an observational study of simultaneously recorded pain and breast mechanics throughout the entire breast compression cycle. BMC Womens Health 15(1):26

Lee J, Hardesty LA, Kunzler NM, Rosenkrantz AB (2016) Direct interactive public education by breast radiologists about screening mammography: impact on anxiety and empowerment. J Am Coll Radiol 13(11S):R89–R97

Goethem MV, Mortelmans D, Bruyninckx E et al (2003) Influence of the radiographer on the pain felt during mammography. Eur Radiol 13(10):2384–2389

Waade GG, Sanderud A, Hofvind S (2017) Compression force and radiation dose in the Norwegian Breast Cancer Screening Program. Eur J Radiol 88:41–46

Balleyguier C, Cousin M, Dunant A, Attard M, Delaloge S, Arfi-Rouche J (2018) Patient-assisted compression helps for image quality reduction dose and improves patient experience in mammography. Eur J Cancer 103:137–142

Ulus S, Kovan Ö, Arslan A, Elpen P, Arıbal E (2019) A new technical mode in mammography: self-compression improves satisfaction. Eur J Breast Health 15(4):207–212

Henrot P, Boisserie-Lacroix M, Boute V et al (2019) Self-compression technique vs standard compression in mammography: a randomized clinical trial. JAMA Intern Med 179(3):407–414

Alukic E, Bravhar P, Mekis N (2021) Does the use of self-compression in mammography affect compression force, breast thickness, and mean glandular dose? Eur J Radiol 139:109694

Kornguth PJ, Rimer BK, Conaway MR et al (1993) Impact of patient-controlled compression on the mammography experience. Radiology 186(1):99–102

Campari C, Rossi PG, Mori CA et al (2016) Impact of the introduction of digital mammography in an organized screening program on the recall and detection rate. J Digit Imaging 29(2):235–242

de Groot JE, Broeders MJ, Branderhorst W, den Heeten GJ, Grimbergen CA (2014) Mammographic compression after breast conserving therapy: controlling pressure instead of force. Med Phys 41(2):023501

Otsu N (1979) A threshold selection method from gray level histograms. IEEE Trans Syst Man Cybern 9:62–66

Spielberger CD, Sydeman SJ (1994) State-trait anxiety inventory and state-trait anger expression inventory. In: Maruish ME (ed) The use of psychological testing for treatment planning and outcome assessment. Lawrence Erlbaum Associates, Hillsdale, NJ, pp 292–321

Spielberger CD (1996) State-Trait Anxiety Inventory. Forma Y italian (ed) Organizzazioni Speciali, Firenze

Pattacini P, Nitrosi A, Giorgi Rossi P et al (2018) Digital mammography versus digital mammography plus tomosynthesis for breast cancer screening: the Reggio Emilia Tomosynthesis Randomized Trial. Radiology 288(2):375–385

Mendat CC, Mislan D, Hession-Kunz L (2017) Patient comfort from the technologist perspective: factors to consider in mammographic imaging. Int J Womens Health 9:359–364
Acknowledgements
The following are members of the Self-Compression Reggio Emilia Working Group: Radiographers: Alessandra Ronzoni, Manuela Sassi, Monica Canovi, Cristina Bianchi, Morena Bertolini, Filomena Morsillo, Luana Desio, Manuela Lopes, Rossana Colafemmina, Silvia Guidetti, Valeria Vecchi, Emanuela Zecchetti, Giulia Gentili.
We thank all the women who participated for their fundamental contribution to our study. We thank Jacqueline Costa for editing the text.
Funding
The study was conducted with the institutional research funds of the AUSL-IRCCS di Reggio Emilia. It was supported by GE Healthcare (Buc, France), which loaned one Senographe Pristina system for the duration of the study recruitment.
Ethics declarations
Guarantor
The scientific guarantor of this publication is Pierpaolo Pattacini.
Conflict of interest
PP, AN, and VI have received travel and lodging expenses and a fee for presentation of other studies on breast cancer screening and diagnosis, at several congresses and meetings from GE Healthcare; they have received speaker fees and travel grants from GE Healthcare. RV has received 500€ for payment for development of educational presentations from GE Healthcare. Other authors declare no relevant competing interest.
Statistics and biometry
Marta Ottone is a biostatistician and she has significant statistical expertise.
Informed consent
Written informed consent was obtained from all subjects (patients) in this study.
Ethical approval
The study was approved by the Reggio Emilia Ethics Committee (no. 2017/0103951 on 03/11/2017) and registered on clinicaltrials.gov NCT04009278.
Methodology
• prospective
• randomized controlled trial
• performed at one institution
Additional information
Publisher's note
Springer Nature remains neutral with regard to jurisdictional claims in published maps and institutional affiliations.
Supplementary Information
About this article
Cite this article
Iotti, V., Giorgi Rossi, P., Canovi, L. et al. Patient-centred care with self-compression mammography in clinical practice: a randomized trial compared to standard compression. Eur Radiol 33, 450–460 (2023). https://doi.org/10.1007/s00330-022-09002-z
Received:

Revised:

Accepted:

Published:

Issue Date:

DOI: https://doi.org/10.1007/s00330-022-09002-z
Keywords
Breast cancer

Mammography

Self-care

Pain

Radiation dosage