Abstract
Objective
This study aimed to assess MDCT as a diagnostic and prognostic tool in patients with suspected immune checkpoint inhibitor (ICI)-related colitis.
Materials and methods
This retrospective cohort study included patients receiving ICIs at three hospitals between 2015 and 2019 who underwent both abdominopelvic MDCT and endoscopic biopsy to workup suspected ICI-related colitis. Two radiologists independently reviewed MDCT images for signs of colitis based on pre-defined features. Diagnostic performance of MDCT was calculated and categorical variables between treatment subgroups were compared. Logistic regression was used to develop proposed MDCT criteria for diagnosis and MDCT severity score based on a combination of MDCT features of colitis to predict the patient outcomes in ICI-related colitis.
Results
A total of 118 MDCT scans from 108 patients were evaluated for suspected colitis, with 72 confirmed ICI-related colitis cases. Sensitivity, specificity, PPV, and NPV of MDCT for diagnosis of ICI-related colitis was 81% (58/72), 52 % (24/46), 73% (58/80), and 63% (24/38), respectively. Small bowel involvement was visualized in 25% of cases with ICI-related colitis (18/72). In melanoma patients presenting with diarrhea grade ≥ 2 (n = 40), MDCT had the best diagnostic performance for ICI-related colitis (specificity = 80% [8/10], PPV = 92% [23/25]). MDCT severity scores predicted intravenous steroid use (OR 10.3, p = 0.004), length of stay > 7 days (OR 9.0, p < 0.001), and endoscopic mucosal ulceration (OR 4.7, p = 0.02).
Conclusion
MDCT is a useful diagnostic and prognostic tool for evaluating patients with immune checkpoint inhibitor-related colitis. An MDCT-based severity score enables assessment of disease severity and predicts outcome.
Key Points
• MDCT is useful for the diagnosis of colitis in patients receiving immune checkpoint inhibitor (ICI) therapy, and an MDCT-based severity score allows for prognostication of patient outcomes.
• MDCT yielded moderate sensitivity (81%) for diagnosis of ICI-related colitis but limited specificity (52%). However, in symptomatic melanoma patients (grade 2–4 diarrhea) with a high pretest probability, MDCT proved useful for diagnosis with a high PPV (92%).
• For ICI-related colitis, our proposed MDCT severity score has prognostic value in predicting intravenous steroid use, prolonged length of stay during inpatient admission (> 7 days), and endoscopic mucosal ulceration.
Access options
Buy single article
Instant access to the full article PDF.
USD 39.95
Price excludes VAT (USA)
Tax calculation will be finalised during checkout.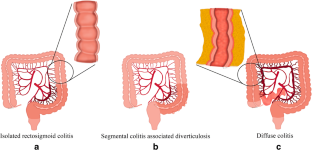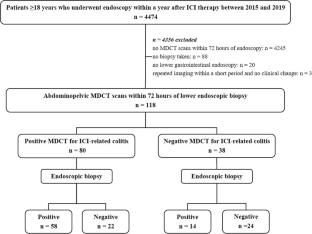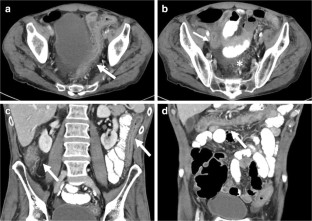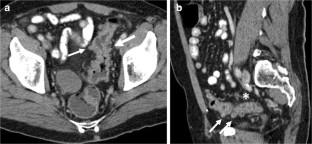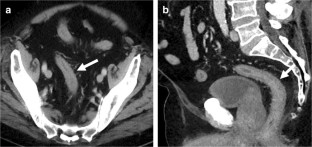 Abbreviations
anti-CTLA-4:

Anti-cytotoxic T-lymphocyte antigen-4

anti-PD-1:

Anti-programmed cell death protein 1

anti-PD-L1:

Anti-programed cell death ligand 1

ASCO:

American Society of Clinical Oncology

CTCAE:

Common Terminology Criteria for Adverse Events

CTLA-4 :

Cytotoxic T-lymphocyte antigen-4

FDA:

United States Food and Drug Administration

HIPAA:

Health Insurance Portability and Account Act

ICI:

Immune checkpoint inhibitor

irAEs:

Immune-related adverse events

MDCT:

Multi-detector computed tomography

NPV:

Negative predictive value

PPV:

Positive predictive value

SCAD:

Segmental colitis associated with diverticulosis
References
Vaddepally RK, Kharel P, Pandey R, Garje R, Chandra AB (2020) Review of indications of FDA-approved immune checkpoint inhibitors per NCCN guidelines with the level of evidence. Cancers (Basel):12. https://doi.org/10.3390/cancers12030738

Zubiri L, Allen IM, Taylor MS et al (2020) Immune-related adverse events in the setting of PD-1/L1 inhibitor combination therapy. Oncologist 25:e398–e404

Ott PA, Hodi FS, Robert C (2013) CTLA-4 and PD-1/PD-L1 blockade: new immunotherapeutic modalities with durable clinical benefit in melanoma patients. Clin Cancer Res 19:5300–5309

Postow MA, Sidlow R, Hellmann MD (2018) Immune-related adverse events associated with immune checkpoint blockade. N Engl J Med 378:158–168

Kwak JJ, Tirumani SH, Van den Abbeele AD, Koo PJ, Jacene HA (2015) Cancer immunotherapy: imaging assessment of novel treatment response patterns and immune-related adverse events. Radiographics 35:424–437

Nishino M, Hatabu H, Hodi FS (2019) Imaging of cancer immunotherapy: current approaches and future directions. Radiology 290:9–22

Hodi FS, O'Day SJ, McDermott DF et al (2010) Improved survival with ipilimumab in patients with metastatic melanoma. N Engl J Med 363:711–723

Nishijima TF, Muss HB, Shachar SS, Moschos SJ (2016) Comparison of efficacy of immune checkpoint inhibitors (ICIs) between younger and older patients: a systematic review and meta-analysis. Cancer Treat Rev 45:30–37

Khalil DN, Smith EL, Brentjens RJ, Wolchok JD (2016) The future of cancer treatment: immunomodulation, CARs and combination immunotherapy. Nat Rev Clin Oncol 13:273–290

Wang GX, Kurra V, Gainor JF et al (2017) Immune checkpoint inhibitor cancer therapy: spectrum of imaging findings. Radiographics 37:2132–2144

Pauken KE, Dougan M, Rose NR, Lichtman AH, Sharpe AH (2019) Adverse events following cancer immunotherapy: obstacles and opportunities. Trends Immunol 40:511–523

Dougan M (2017) Checkpoint blockade toxicity and immune homeostasis in the gastrointestinal tract. Front Immunol 8:1547. https://doi.org/10.3389/fimmu.2017.01547

Dougan M (2020) Gastrointestinal and hepatic complications of immunotherapy: current management and future perspectives. Curr Gastroenterol Rep 22:15. https://doi.org/10.1007/s11894-020-0752-z

Nishida T, Iijima H, Adachi S (2019) Immune checkpoint inhibitor-induced diarrhea/colitis: Endoscopic and pathologic findings. World J Gastrointest Pathophysiol 10:17–28

Wang DY, Salem JE, Cohen JV et al (2018) Fatal toxic effects associated with immune checkpoint inhibitors: a systematic review and meta-analysis. JAMA Oncol 4:1721–1728

Wang Y, Abu-Sbeih H, Mao E et al (2018) Endoscopic and histologic features of immune checkpoint inhibitor-related colitis. Inflamm Bowel Dis 24:1695–1705

Garcia-Neuer M, Marmarelis ME, Jangi SR et al (2017) Diagnostic comparison of CT scans and colonoscopy for immune-related colitis in ipilimumab-treated advanced melanoma patients. Cancer Immunol Res 5:286–291

Kim KW, Ramaiya NH, Krajewski KM et al (2013) Ipilimumab-associated colitis: CT findings. AJR Am J Roentgenol 200:W468–W474

Barina AR, Bashir MR, Howard BA, Hanks BA, Salama AK, Jaffe TA (2016) Isolated recto-sigmoid colitis: a new imaging pattern of ipilimumab-associated colitis. Abdom Radiol (NY) 41:207–214

Mooradian MJ, Wang DY, Coromilas A et al (2020) Mucosal inflammation predicts response to systemic steroids in immune checkpoint inhibitor colitis. J Immunother Cancer 8. https://doi.org/10.1136/jitc-2019-000451

Lubner MG, Menias CO, Agrons M et al (2017) Imaging of abdominal and pelvic manifestations of graft-versus-host disease after hematopoietic stem cell transplant. AJR Am J Roentgenol 209:33–45

Mahgerefteh SY, Sosna J, Bogot N, Shapira MY, Pappo O, Bloom AI (2011) Radiologic imaging and intervention for gastrointestinal and hepatic complications of hematopoietic stem cell transplantation. Radiology 258:660–671

Thoeni RF, Cello JP (2006) CT imaging of colitis. Radiology 240:623–638

Philpotts LE, Heiken JP, Westcott MA, Gore RM (1994) Colitis: use of CT findings in differential diagnosis. Radiology 190:445–449

Balthazar EJ, Yen BC, Gordon RB (1999) Ischemic colitis: CT evaluation of 54 cases. Radiology 211:381–388

Cruz C, Abujudeh HH, Nazarian RM, Thrall JH (2015) Ischemic colitis: spectrum of CT findings, sites of involvement and severity. Emerg Radiol 22:357–365

Patel B, Mottola J, Sahni VA et al (2012) MDCT assessment of ulcerative colitis: radiologic analysis with clinical, endoscopic, and pathologic correlation. Abdom Imaging 37:61–69

Goldberg HI, Gore RM, Margulis AR, Moss AA, Baker EL (1983) Computed tomography in the evaluation of Crohn disease. AJR Am J Roentgenol 140:277–282

Gore RM, Balthazar EJ, Ghahremani GG, Miller FH (1996) CT features of ulcerative colitis and Crohn's disease. AJR Am J Roentgenol 167:3–15

Tirumani SH, Ramaiya NH, Keraliya A et al (2015) Radiographic profiling of immune-related adverse events in advanced melanoma patients treated with ipilimumab. Cancer Immunol Res 3:1185–1192

Shieh AC, Guler E, Pfau D et al (2019) Imaging and clinical manifestations of immune checkpoint inhibitor-related colitis in cancer patients treated with monotherapy or combination therapy. Abdom Radiol (NY). https://doi.org/10.1007/s00261-019-02334-3

Geukes Foppen MH, Rozeman EA, van Wilpe S et al (2018) Immune checkpoint inhibition-related colitis: symptoms, endoscopic features, histology and response to management. ESMO Open 3:e000278. https://doi.org/10.1136/esmoopen-2017-000278

Zhang ML, Neyaz A, Patil D, Chen J, Dougan M, Deshpande V (2020) Immune-related adverse events in the gastrointestinal tract: diagnostic utility of upper gastrointestinal biopsies. Histopathology 76:233–243

Brahmer JR, Lacchetti C, Schneider BJ et al (2018) Management of immune-related adverse events in patients treated with immune checkpoint inhibitor therapy: American Society of Clinical Oncology Clinical Practice Guideline. J Clin Oncol 36:1714–1768

Abu-Sbeih H, Ali FS, Luo W, Qiao W, Raju GS, Wang Y (2018) Importance of endoscopic and histological evaluation in the management of immune checkpoint inhibitor-induced colitis. J Immunother Cancer 6:95. https://doi.org/10.1186/s40425-018-0411-1
Acknowledgements
The authors would like to thank Susanne Loomis for medical illustration.
Funding
The authors state that this work has not received any funding.
Ethics declarations
Guarantor
The scientific guarantor of this publication is Avinash Kambadakone.
Conflict of interest
The authors of this manuscript declare relationships with the following companies:
MJM is a consultant and received honoraria from AstraZeneca, Nektar Pharmaceutics, and Immunai. MD is a consultant for Tillotts Pharma, Partner Therapeutics, and Genentech-Roche, receives research funding from Novartis, and is on the Scientific Advisory Board for Neoleukin. AK receives a research grant from GE Healthcare, Philips, and PanCAN. All other authors declare no competing interests.
Statistics and biometry
No complex statistical methods were necessary for this paper.
Informed consent
Written informed consent was waived by the Institutional Review Board.
Ethical approval
Institutional Review Board approval was obtained.
Study subjects or cohorts overlap
The study subjects or cohorts were a subgroup of patients from the prior published paper and have been previously reported in Journal for Immunotherapy of Cancer.
Durbin SM, Mooradian MJ, Fintelmann FJ, et al Diagnostic utility of CT for suspected immune checkpoint inhibitor enterocolitis. J Immunother Cancer. 2020;8:e001329.
Methodology
• Retrospective
• Diagnostic or prognostic study
• Performed at one institution
Additional information
Publisher's note
Springer Nature remains neutral with regard to jurisdictional claims in published maps and institutional affiliations.
Supplementary information
About this article
Cite this article
Pisuchpen, N., Durbin, S.M., Mooradian, M.J. et al. Multi-detector computed tomography (MDCT)–based severity score as a prognostic tool in patients with suspected immune checkpoint inhibitor therapy associated colitis. Eur Radiol 31, 8868–8878 (2021). https://doi.org/10.1007/s00330-021-07925-7
Received:

Revised:

Accepted:

Published:

Issue Date:

DOI: https://doi.org/10.1007/s00330-021-07925-7
Keywords