Abstract
Objectives
To evaluate the diagnostic accuracy of breast MRI in identifying lesions requiring excision for patients with suspicious nipple discharge but normal mammograms and ultrasounds.
Methods
Between September 2013 and May 2019, 106 female participants (mean age 57.9 years) were consecutively included in this prospective multicenter study; 102 were retained for analysis. MRI was considered negative in the absence of suspicious enhancement and positive in cases of ipsilateral abnormal enhancement (BI-RADS 3 to 5). Final diagnoses were based on histological findings of surgical or percutaneous biopsies or at 1-year follow-up. We considered all lesions requiring excision found on pathology (papilloma, atypia, nipple adenomatosis, or cancer) as positive results. We considered spontaneous resolution of the discharge at 1 year as a negative result.
Results
MRI showed ipsilateral abnormal enhancement in 54 patients (53%) revealing 46 lesions requiring excision (31 benign papillomas, 5 papillomas with atypia, 2 nipple adenomatosis, and 8 cancers) and 8 benign lesions not requiring excision. No suspicious enhancement was found in the remaining 48 participants (47%). Forty-two were followed up at 1 year with spontaneous resolution of the discharge and six underwent surgery (revealing 2 benign papillomas). MRI diagnostic accuracy for the detection of a lesion requiring excision was as follows: sensitivity 96%, specificity 85%, positive predictive value 85%, and negative predictive value 96%.
Conclusion
In patients with suspicious nipple discharge and normal mammogram and ultrasound, MRI demonstrates excellent performance to identify lesions for which excision is required. Normal MRI indicates it is safe to propose follow-up only management, thus avoiding unnecessary duct excision.
Trial registration
ClinicalTrials.gov NCT02819362
Key Points
• Breast MRI can be useful for the management of patients with suspicious nipple discharge and negative mammogram and ultrasound.
• MRI detected a lesion requiring excision in 46 participants (45%) with unexplained discharge.
• If breast MRI is negative, follow-up is a safe alternative for these patients.
Access options
Buy single article
Instant access to the full article PDF.
US$ 39.95
Tax calculation will be finalised during checkout.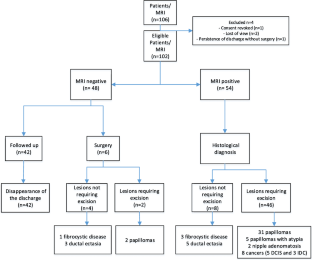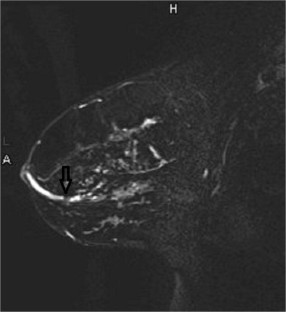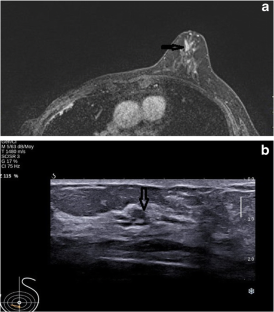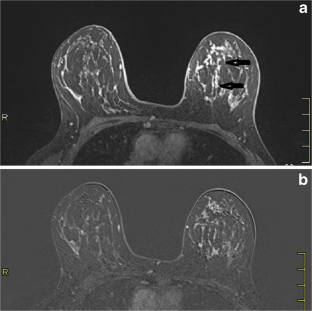 Abbreviations
ACR:

American College of Radiology

DCIS:

Ductal carcinoma in situ

IDC:

Invasive ductal carcinoma

NME:

Non-mass enhancement

NPV:

Negative predictive value

PPV:

Positive predictive value
References
1.

Seow J-H, Metcalf C, Wylie E (2011) Nipple discharge in a screening programme: imaging findings with pathological correlation. J Med Imaging Radiat Oncol 55:577–586

2.

Li GZ, Wong SM, Lester S, Nakhlis F (2018) Evaluating the risk of underlying malignancy in patients with pathologic nipple discharge. Breast J 24:624–627

3.

Adepoju LJ, Chun J, El-Tamer M, Ditkoff B-A, Schnabel F, Joseph K-A (2005) The value of clinical characteristics and breast-imaging studies in predicting a histopathologic diagnosis of cancer or high-risk lesion in patients with spontaneous nipple discharge. Am J Surg 190:644–646

4.

Lorenzon M, Zuiani C, Linda A, Londero V, Girometti R, Bazzocchi M (2011) Magnetic resonance imaging in patients with nipple discharge: should we recommend it? Eur Radiol 21:899–907

5.

Lee SJ, Trikha S, Moy L et al (2017) ACR Appropriateness criteria evaluation of nipple discharge. J Am Coll Radiol 14:138–153

6.

Ballesio L, Maggi C, Savalli S et al (2008) Role of breast magnetic resonance imaging in patients with unilateral nipple discharge: preliminary study. Radiol Med 113:249–264

7.

Morrogh M, Park A, Elkin EB, King TA (2010) Lessons learned from 416 cases of nipple discharge of the breast. Am J Surg 200:73–80

8.

Cardenosa G, Eklund GW (1991) Benign papillary neoplasms of the breast: mammographic findings. Radiology 181:751–755

9.

Vargas HI, Vargas MP, Eldrageely K, Gonzalez KD, Khalkhali I (2006) Outcomes of clinical and surgical assessment of women with pathological nipple discharge. Am Surg 72:124–128

10.

Orel SG, Dougherty CS, Reynolds C, Czerniecki BJ, Siegelman ES, Schnall MD (2000) MR imaging in patients with nipple discharge: initial experience. Radiology 216:248–255

11.

Patel B, Falcon S, Drukteinis J (2015) Management of nipple discharge and the associated imaging findings. Am J Med 128:353–360

12.

Berger N, Luparia A, Di Leo G et al (2017) Diagnostic performance of MRI versus galactography in women with pathologic nipple discharge: a systematic review and meta-analysis. AJR Am J Roentgenol 209:465–471

13.

Sardanelli F, Boetes C, Borisch B et al (2010) Magnetic resonance imaging of the breast : Recommendations from the EUSOMA working group. Eur J Cancer 46:1296–1316

14.

Ashfaq A, Senior D, Pockaj BA et al (2014) Validation study of a modern treatment algorithm for nipple discharge. Am J Surg 208:222–227

15.

Lavoué V, Fritel X, Antoine M et al (2016) Clinical practice guidelines from the French College of Gynecologists and Obstetricians (CNGOF). Eur J Obstet Gynecol Reprod Biol 200:16–23

16.

Sanders LM, Daigle M (2016) The rightful role of MRI after negative conventional imaging in the management of bloody nipple discharge. Breast J 22:209–212

17.

Patel BK, Ferraro C, Kosiorek HE et al (2018) Nipple discharge: imaging variability among U.S. Radiologists. AJR Am J Roentgenol 211:920–925

18.

Yoon JH, Yoon H, Kim E-K, Moon HJ, Park YV, Kim MJ (2017) Ultrasonographic evaluation of women with pathologic nipple discharge. Ultrasonography 36:310–320

19.

Del Riego J, Pitarch M, Codina C et al (2020) Multimodality approach to the nipple-retroareolar complex : a pictorial review and diagnostic algorithm. Insights Imaging. https://doi.org/10.1186/s13244-020-00896-1

20.

D'Orsi CJ, Sickles EA, Mendelson EB et al (2013) ACR BI-RADS atlas, breast imaging reporting and data system. American College of Radiology, Reston, pp 56–71

21.

Gray RJ, Pockaj BA, Karstaedt PJ (2007) Navigating murky waters: a modern treatment algorithm for nipple discharge. Am J Surg 194:850–855

22.

Lippa N, Hurtevent-Labrot G, Ferron S, Boisserie-Lacroix M (2015) Nipple discharge: the role of imaging. Diagn Interv Imaging 96:1017–1032

23.

Rageth CJ, O'Flynn EA, Pinker K et al (2019) Second International Consensus Conference on lesions of uncertain malignant potential in the breast 5B3 lesions). Breast Cancer Res Treat 174:279–296

24.

Bahl M, Gadd MA, Lehman CD (2017) Diagnostic utility of MRI after negative or inconclusive mammography for the evaluation of pathologic nipple discharge. AJR Am J Roentgenol 209:1–6

25.

Zacharioudakis K, Kontoulis T, Velle JX et al (2019) Can we see what is invisible? The role of MRI in the evaluation and management of patients with pathological discharge. Breast Cancer Res Treat 178:115–120

26.

Van Gelder L, Bisschops RH, Menke-Pluymers MB, Westenend PJ, Plaisier PW (2015) Magnetic resonance imaging in patients with unilateral bloody nipple discharge; useful when conventional diagnostics are negative? Word J Surg 39:184–186

27.

Panzironi G, Pediconi F, Sardanelli F (2018) Nipple discharge: the state of the art. BJR Open. https://doi.org/10.1259/bjro.20180016

28.

Sauter ER, Schlatter L, Liniger J, Hewett JE (2004) The association of bloody nipple discharge with breast pathology. Surgery 136:780–785

29.

Montroni I, Santini D, Zucchini G et al (2010) Nipple discharge: is its significance as a risk factor for breast cancer fully understood? Observational study including 915 consecutive patients who underwent selective duct excision. Breast Cancer Res Treat 123:895–900

30.

Chen L, Zhou W-B, Zhao Y et al (2012) Bloody nipple discharge is a predictor of breast cancer risk: a meta-analysis. Breast Cancer Res Treat 132:9–14

31.

Son EJ, Kim EK, Kim JA, Kwak JY, Jeong J (2009) Diagnostic value of 3D fast low-angle shot dynamic MRI of breast papillomas. Yonsei Med J 50:838–844

32.

Wang LJ, Wu P, Li XX, Luo R, Wang DB, Guan WB (2018) Magnetic resonance imaging features for differentiating breast papilloma with high-risk or malignant lesions from benign papilloma : a retrospective study on 158 patients. Word J Surg Oncol 16:234–242

33.

Francis A, England D, Rowland D, Bradley S (2002) Breast papilloma: mammogram, ultrasound and MRI appearances. Breast 11:394–397

34.

Lubina M, Baker JA, Grenup RA et al (2015) 3.0 Tesla breast resonance imaging in patients with nipple discharge when mammography and ultrasound fail. Eur Radiol 25:1285–1293

35.

Mangarano L, D'Ambrosio I, Gigli S et al (2015) Breast MRI in patients with unilateral bloody and serous-bloody nipple discharge: a comparison with galactography. Biomed Res Int. https://doi.org/10.1155/2015/806368

36.

Nakahara H, Namba K, Watanabe R et al (2003) A comparison of MR imaging, galactography and ultrasonography in patients with nipple discharge. Breast Cancer 10:320–329

37.

Wenkel E, Janka R, Uder M et al (2011) Does direct galactography have the potential to become an alternative diagnostic tool in patients with pathological nipple discharge? Clin Imaging 35:85–93

38.

Hirose M, Otsuki N, Hayano D et al (2006) Multi-volume fusion imaging of MR ductography and MR mammography for patients with nipple discharge. Magn Reson Med Sci 5:105–112

39.

Nicholson BT, Harvey JA, Patrie JT, Mugler JP (2015) 3D-MR ductography and contrast-enhanced MR mammography in patients with suspicious nipple discharge; a feasibility study. Breast J 21:352–362
Acknowledgements
The authors thank Pippa McKelvie-Sebileau for medical editing in English.
Funding
This study has received funding from the French Society of Women's Imaging (SIFEM).
The Funder has no role in the design and conduct of the study: collection, management, analysis, and interpretation of the data; preparation, review, or approval of the manuscript and decision to submit the manuscript for publication.
Ethics declarations
Guarantor
The scientific guarantor of this publication is Dr M Boisserie-Lacroix
Conflict of interest
The authors of this manuscript declare no relationships with any companies whose products or services may be related to the subject matter of the article.
Statistics and biometry
Professor Simone Mathoulin-Pélissier and Doctor Stéphanie Hoppe (Clinical and Epidemiological Research Unit) kindly provided statistical advice for this manuscript.
One of the authors has significant statistical expertise (Véronique Brouste).
No complex statistical methods were necessary for this paper.
Informed consent
Written informed consent was obtained from all subjects (patients) in this study.
Written informed consent was waived by the Institutional Review Board.
Ethical approval
Approved as National Clinical Trial.
Institutional Review Board approval was obtained.
Methodology
• prospective
• diagnostic/observational
• multicenter study
Additional information
Publisher's note
Springer Nature remains neutral with regard to jurisdictional claims in published maps and institutional affiliations.
Dr. Stéphanie Hoppe is deceased.
Supplementary information
About this article
Cite this article
Boisserie-Lacroix, M., Doutriaux-Dumoulin, I., Chopier, J. et al. Diagnostic accuracy of breast MRI for patients with suspicious nipple discharge and negative mammography and ultrasound: a prospective study. Eur Radiol 31, 7783–7791 (2021). https://doi.org/10.1007/s00330-021-07790-4
Received:

Revised:

Accepted:

Published:

Issue Date:
Keywords
Nipple discharge

Magnetic resonance imaging

Breast neoplasms

Papilloma