Abstract
Objectives
To assess the feasibility and reliability of the use of artificial intelligence post-processing to calculate the RV:LV diameter ratio on computed tomography pulmonary angiography (CTPA) and to investigate its prognostic value in patients with acute PE.
Methods
Single-centre, retrospective study of 101 consecutive patients with CTPA-proven acute PE. RV and LV volumes were segmented on 1-mm contrast-enhanced axial slices and maximal ventricular diameters were derived for RV:LV ratio using automated post-processing software (IMBIO LLC, USA) and compared to manual analysis in two observers, via intraclass coefficient correlation analysis. Each CTPA report was analysed for mention of the RV:LV ratio and compared to the automated RV:LV ratio. Thirty-day all-cause mortality post-CTPA was recorded.
Results
Automated RV:LV analysis was feasible in 87% (n = 88). RV:LV ratios ranged from 0.67 to 2.43, with 64% (n = 65) > 1.0. There was very strong agreement between manual and automated RV:LV ratios (ICC = 0.83, 0.77–0.88). The use of automated analysis led to a change in risk stratification in 45% of patients (n = 40). The AUC of the automated measurement for the prediction of all-cause 30-day mortality was 0.77 (95% CI: 0.62–0.99).
Conclusion
The RV:LV ratio on CTPA can be reliably measured automatically in the majority of real-world cases of acute PE, with perfect reproducibility. The routine use of this automated analysis in clinical practice would add important prognostic information in patients with acute PE.
Key Points
• Automated calculation of the right ventricle to left ventricle ratio was feasible in the majority of patients and demonstrated perfect intraobserver variability.
• Automated analysis would have added important prognostic information and altered risk stratification in the majority of patients.
• The optimal cut-off value for the automated right ventricle to left ventricle ratio was 1.18, with a sensitivity of 100% and specificity of 54% for the prediction of 30-day mortality.
Access options
Buy single article
Instant access to the full article PDF.
US$ 39.95
Tax calculation will be finalised during checkout.
Subscribe to journal
Immediate online access to all issues from 2019. Subscription will auto renew annually.
US$ 119
Tax calculation will be finalised during checkout.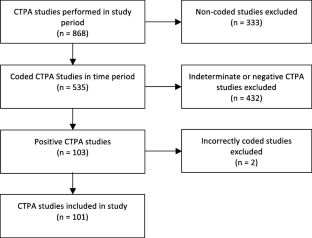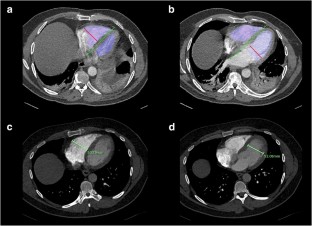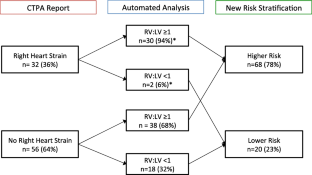 Abbreviations
CTPA:

Computed tomography pulmonary angiography

HU:

Hounsfield unit

ICC:

Intraclass coefficient correlation

IQR:

Interquartile range

LV:

Left ventricle

PE:

Pulmonary embolism

RV:

Right ventricle

RV:LV:

Right ventricle to left ventricle
References
1.

Raskob GE, Angchaisuksiri P, Blanco AN et al (2014) Thrombosis: a major contributor to global disease burden. Arterioscler Thromb Vasc Biol 34:2363–2371

2.

Kempny A, McCabe C, Dimopoulos K et al (2019) Incidence, mortality and bleeding rates associated with pulmonary embolism in England between 1997 and 2015. Int J Cardiol 277:229–234

3.

Meinel FG, Nance JW, Schoepf UJ et al (2015) Predictive value of computed tomography in acute pulmonary embolism: systematic review and meta-analysis. Am J Med 128:747–59.e2

4.

NCEPOD (2019) The National Confidential Enquiry into Patient Outcome and Death. Know the Score. London

5.

Konstantinides SV, Meyer G, Becattini C et al (2019) 2019 ESC Guidelines for the diagnosis and management of acute pulmonary embolism developed in collaboration with the European Respiratory Society (ERS). Eur Heart J. https://doi.org/10.1093/eurheartj/ehz405

6.

Jiménez D, Aujesky D, Moores L et al (2010) Simplification of the pulmonary embolism severity index for prognostication in patients with acute symptomatic pulmonary embolism. Arch Intern Med 170:1383–1389

7.

NHS Health Research Authority (2020) Decision tools - is my study research? http://www.hra-decisiontools.org.uk/research/. Accessed 27 May 2020

8.

Reid JH, Murchison JT (1998) Acute right ventricular dilatation: a new helical CT sign of massive pulmonary embolism. Clin Radiol 53:694–698

9.

Qanadli SD, El Hajjam M, Vieillard-Baron A et al (2001) New CT index to quantify arterial obstruction in pulmonary embolism: comparison with angiographic index and echocardiography. AJR Am J Roentgenol 176:1415–1420

10.

Cohen J (1960) A Coefficient of Agreement for Nominal Scales. Educ Psychol Meas 20:37–46

11.

Agresti A, Coull BA (1998) Approximate is better than "exact" for interval estimation of binomial proportions. Am Stat 52:119–126

12.

DeLong ER, DeLong DM, Clarke-Pearson DL (1988) Comparing the areas under two or more correlated receiver operating characteristic curves: a nonparametric approach. Biometrics 44:837–845

13.

Araoz PA, Gotway MB, Trowbridge RL et al (2003) Helical CT pulmonary angiography predictors of in-hospital morbidity and mortality in patients with acute pulmonary embolism. J Thorac Imaging 18:207–216

14.

Ende-Verhaar YM, Kroft LJM, Mos ICM, Huisman MV, Klok FA (2017) Accuracy and reproducibility of CT right-to-left ventricular diameter measurement in patients with acute pulmonary embolism. PLoS One 12:e0188862

15.

R Core Team (2017) R: A language and environment for statistical computing. R Foundation for Statistical Computing, Vienna

16.

Gamer M, Lemon J, Fellows I, Singh P (2019) irr: Various Coefficients of Interrater Reliability and Agreement. R package version 0.84.1

17.

Robin X, Turck N, Hainard A et al (2011) pROC: an open-source package for R and S+ to analyze and compare ROC curves. BMC Bioinformatics 12:77

18.

Wickham H (2016) ggplot2: elegant graphics for data analysis. Springer-Verlag, New York

19.

Ghaye B, Ghuysen A, Bruyere P-J, D'Orio V, Dondelinger RF (2006) Can CT pulmonary angiography allow assessment of severity and prognosis in patients presenting with pulmonary embolism? What the radiologist needs to know. Radiographics 26:23–39

20.

Bazeed MF, Saad A, Sultan A, Ghanem MA, Khalil DM (2010) Prediction of pulmonary embolism outcome and severity by computed tomography. Acta Radiol 51:271–276

21.

Becattini C, Agnelli G, Vedovati MC et al (2011) Multidetector computed tomography for acute pulmonary embolism: diagnosis and risk stratification in a single test. Eur Heart J 32:1657–1663

22.

Côté B, Jiménez D, Planquette B et al (2017) Prognostic value of right ventricular dilatation in patients with low-risk pulmonary embolism. Eur Respir J. https://doi.org/10.1183/13993003.01611-2017

23.

Kumamaru KK, George E, Aghayev A et al (2016) Implementation and performance of automated software for computing right-to-left ventricular diameter ratio from computed tomography pulmonary angiography images. J Comput Assist Tomogr 40:387–392

24.

González G, Jiménez-Carretero D, Rodríguez-López S et al (2015) Automated axial right ventricle to left ventricle diameter ratio computation in computed tomography pulmonary angiography. PLoS One 10:e0127797

25.

Alabed S, Shahin Y, Garg P et al (2020) Cardiac-MRI predicts clinical worsening and mortality in pulmonary arterial hypertension: a systematic review and meta-analysis. JACC Cardiovasc Imaging. https://doi.org/10.1016/j.jcmg.2020.08.013
Funding
The authors state that this work has not received any funding.
Ethics declarations
Guarantor
The scientific guarantor of this publication is Jonathan CL Rodrigues.
Conflict of interest
The authors of this manuscript declare no relationships with any companies whose products or services may be related to the subject matter of the article.
Statistics and biometry
No complex statistical methods were necessary for this paper.
Informed consent
Written informed consent was waived by the Institutional Audit Committee.
Ethical approval
Institutional Review Board approval was not required because approval was obtained from our Institutional Audit Committee.
Methodology
• Retrospective
• Observational
• Performed at one institution
Additional information
Publisher's note
Springer Nature remains neutral with regard to jurisdictional claims in published maps and institutional affiliations.
Supplementary information
Bland-Altman plots showing agreement analysis for intra-observer measurements for rater 1, rater 2 and automated software and for inter-observer measurements between rater 1 / rater 2, automated software / rater 1 and automated software / rater 2. (PDF 344 kb)
About this article
Cite this article
Foley, R.W., Glenn-Cox, S., Rossdale, J. et al. Automated calculation of the right ventricle to left ventricle ratio on CT for the risk stratification of patients with acute pulmonary embolism. Eur Radiol (2021). https://doi.org/10.1007/s00330-020-07605-y
Received:

Revised:

Accepted:

Published:
Keywords
Artificial intelligence

Pulmonary embolism

Computed tomography pulmonary angiography

Prognosis

Right ventricle to left ventricle ratio