Abstract
Objectives
To compare lesion features extracted from 18F-FDG PET/CT images acquired on analog and digital scanners, on consecutive imaging data from the same subjects.
Methods
Whole-body 18F-FDG PET/CT images from 55 oncological patients were acquired twice after a single 18F-FDG injection, with a digital and an analog PET/CT scanner, alternately. Twenty-nine subjects were examined first on the digital, and 26 first on the analog equipment. Image reconstruction was performed using manufacturer standard clinical protocols and protocols that fulfilled EARL1 specifications. Twenty-five features based on lesion standardized uptake value (SUV) and geometry were assessed. To compare these features, intraclass correlation coefficient (ICC), relative difference (RD), absolute value of RD (|RD|), and repeatability coefficient (RC) were used.
Results
In total, 323 18F-FDG avid lesions were identified. High agreement (ICC > 0.75) was obtained for most of the lesion features pulled out from both scanners' imaging data, especially when reconstruction protocols fulfilled EARL1 specifications. For EARL1 reconstruction images, the features frequently used in clinics, SUVmax, SUVpeak, SUVmean, metabolic tumor volume, and total lesion glycolysis, reached an ICC of 0.92, 0.95, 0.87, 0.98, and 0.98, and a median RD (digital-analog) of 3%, 5%, 4%, − 3% and 1%, respectively. Using standard reconstruction protocols, the ICC were 0.84, 0.93, 0.80, 0.98, and 0.98, and the RD were 20%, 11%, 13%, − 7%, and 7%, respectively.
Conclusion
Under controlled acquisition and reconstruction parameters, most of the features studied can be used for research and clinical work. This is especially important for multicenter studies and patient follow-ups.
Key Points
• Using manufacturer standard clinical reconstruction protocols, lesions SUV was significantly higher when using the digital scanner, especially the SUVmax that was approximately 20% higher.
• High agreement was obtained for the majority of the lesion features when using reconstruction protocols that fulfilled EARL1 specifications.
• Longitudinal patient studies can be performed interchangeably between digital and analog scanners when both fulfill EARL1 specifications.
Access options
Buy single article
Instant access to the full article PDF.
USD 39.95
Price excludes VAT (USA)
Tax calculation will be finalised during checkout.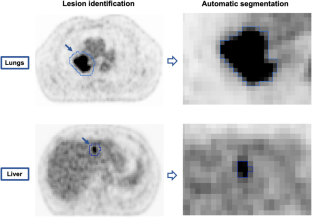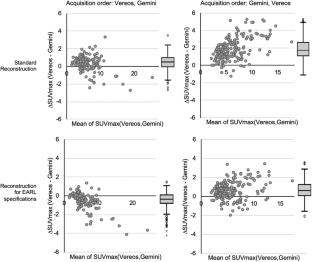 Abbreviations
|RD|:

Absolute value of RD

FWHM:

Full width at half maximum

ICC:

Intraclass correlation coefficient

MTV:

Metabolic tumor volume

RC:

Repeatability coefficient

RD:

Relative difference

ROI:

Region of interest

SUV:

Standardized uptake value

TLG:

Total lesion glycolysis
References
Boellaard R, Delgado-Bolton R, Oyen WJG et al (2015) FDG PET/CT: EANM procedure guidelines for tumour imaging: version 2.0. Eur J Nucl Med Mol Imaging 42:328–354

Wahl RL, Jacene H, Kasamon Y, Lodge MA (2009) From RECIST to PERCIST: evolving considerations for PET response criteria in solid tumors. J Nucl Med 50:122–150

Kidd EA, Siegel BA, Dehdashti F, Grigsby PW (2007) The standardized uptake value for F-18 fluorodeoxyglucose is a sensitive predictive biomarker for cervical cancer treatment response and survival. Cancer 110:1738–1744

Nakaigawa N, Kondo K, Tateishi U et al (2016) FDG PET/CT as a prognostic biomarker in the era of molecular-targeting therapies: max SUVmax predicts survival of patients with advanced renal cell carcinoma. BMC Cancer 16:67

Imsande HM, Davison JM, Truong MT et al (2011) Use of 18F-FDG PET/CT as a predictive biomarker of outcome in patients with head-and-neck non – squamous cell carcinoma. AJR Am J Roentgenol 197:976–980

Woff E, Hendlisz A, Ameye L et al (2019) Validation of metabolically active tumor volume and total lesion glycolysis as 18F-FDG PET/CT–derived prognostic biomarkers in chemorefractory metastatic colorectal cancer. J Nucl Med 60:178–184

Kitao T, Hirata K, Shima K et al (2016) Reproducibility and uptake time dependency of volume-based parameters on FDG-PET for lung cancer. BMC Cancer 16:576

Aerts HJWL, Velazquez ER, Leijenaar RTH et al (2014) Decoding tumour phenotype by noninvasive imaging using a quantitative radiomics approach. Nat Commun 5:4006

Zwanenburg A (2019) Radiomics in nuclear medicine: robustness, reproducibility, standardization, and how to avoid data analysis traps and replication crisis. Eur J Nucl Med Mol Imaging 46:2638–2655

Dege C, Prescher G, Frach T, et al (2009) The digital silicon photomultiplier - a novel sensor for the detection of scintillation light. In: 2009 IEEE Nuclear Science Symposium Conference Record. pp 2383–2386

Degenhardt C, Rodrigues P, Trindade A, et al (2012) Performance evaluation of a prototype positron emission tomography scanner using digital photon counters (DPC). In: 2012 IEEE Nuclear Science Symposium and Medical Imaging Conference Record. pp 2820–2824

Boellaard R, Doherty MJO, Weber WA et al (2010) FDG PET and PET/CT: EANM procedure guidelines for tumour PET imaging: version 1.0. Eur J Nucl Med Mol Imaging 37:181–200

Koopman D, Groot Koerkamp M, Jager PL et al (2017) Digital PET compliance to EARL accreditation specifications. EJNMMI Phys 4:9

Koopman D, Jager PL, Slump CH, Knollema S, van Dalen JA (2019) SUV variability in EARL-accredited conventional and digital PET. EJNMMI Res 9:106

Philips Medical System (2017) Technical reference guide - Vereos PET/CT. Cleveland

Fedorov A, Beichel R, Kalpathy-Cramer J et al (2012) 3D Slicer as an image computing platform for the quantitative imaging network. Magn Reson Imaging 30:1323–1341. https://doi.org/10.1016/j.mri.2012.05.001

Constantino C, Oliveira F, Silva M, et al (2019) Segmentação automática de lesões ávidas para FDG em PET/CT baseada numa técnica de clustering bayesiana. In: XVII Congresso Nacional de Medicina Nuclear. p 7

Lodge MA (2017) Repeatability of SUV in oncologic 18F-FDG PET. J Nucl Med 58:523–532

Fuentes-Ocampo F, López-Mora DA, Flotats A et al (2019) Digital vs. analog PET/CT: intra-subject comparison of the SUVmax in target lesions and reference regions. Eur J Nucl Med Mol Imaging 46:1745–1750

Kaalep A, Sera T, Rijnsdorp S et al (2018) Feasibility of state of the art PET/CT systems performance harmonisation. Eur J Nucl Med Mol Imaging 45:1344–1361

López-Mora DA, Flotats A, Fuentes-Ocampo F et al (2019) Comparison of image quality and lesion detection between digital and analog PET/CT. Eur J Nucl Med Mol Imaging 46:1383–1390
Acknowledgments
We are grateful to the patients who took part in the study. We would also like to thank Dr John Lee from the Communications Department at Champalimaud Centre for the Unknown, for his help in the English editing, and all staff from the Nuclear Medicine-Radiopharmacology department at Champalimaud Foundation.
Funding
The authors state that this work has not received any funding.
Ethics declarations
Guarantor
The scientific guarantor of this publication is Durval C. Costa, MD, MSc, PhD, FRCR, head of Nuclear Medicine-Radiopharmacology department at Champalimaud Foundation, Lisbon, Portugal.
Conflict of interest
The authors of this manuscript declare no relationships with any companies, whose products or services may be related to the subject matter of the article.
Statistics and biometry
One of the authors has significant statistical expertise (Francisco P. M. Oliveira is an experienced statistician; he has a degree in Mathematics, a MSc in Computational Methods, and a PhD in Biomedical Engineering). No complex statistical methods were necessary for this paper.
Informed consent
Written informed consent was obtained from all subjects (patients) in this study.
Ethical approval
Institutional Review Board approval was obtained.
Methodology
• prospective
• cross-sectional and observational study
• performed at one institution
Additional information
Publisher's note
Springer Nature remains neutral with regard to jurisdictional claims in published maps and institutional affiliations.
About this article
Cite this article
Constantino, C.S., Oliveira, F.P.M., Silva, M. et al. Are lesion features reproducible between 18F-FDG PET/CT images when acquired on analog or digital PET/CT scanners?. Eur Radiol 31, 3071–3079 (2021). https://doi.org/10.1007/s00330-020-07390-8
Received:

Revised:

Accepted:

Published:

Issue Date:

DOI: https://doi.org/10.1007/s00330-020-07390-8
Keywords
18F-FDG PET/CT

Computer-assisted image analysis

Image reconstruction

Diagnostic imaging

Reproducibility of results