Abstract
Purpose
To investigate the accuracy of ultrasound in characterising the type of mass and likelihood of malignancy in deep soft tissue masses.
Methods
Five hundred seventy-nine deep soft tissue masses were prospectively studied by ultrasound. Masses (n = 137) with prior MRI or CT were not included. Following ultrasound examination, the likely nature of the mass as well as the confidence of the reporting radiologist ('fully confident' versus 'not fully confident') about the ultrasound diagnosis was recorded. Clinical and ultrasound diagnoses were compared with the histological diagnosis which was available in 134 (23%) of the 579 masses.
Results
Compared with histology, clinical and ultrasound accuracy for characterising the type of mass were 47% and 88% respectively when all differential diagnoses were considered. The radiologist was fully confident regarding the type of 436 (75%) of 579 masses and, in this setting, for those cases that could be compared with histology, diagnostic accuracy was 96%. For the remaining masses, where the radiologist was not fully confident, accuracy compared with histology was 58% for the first differential diagnosis and 80% for all differential diagnoses. For identifying malignancy, sensitivity, specificity, and positive and negative predictive value of ultrasound were 97%, 58%, 67%, and 99% respectively. Ultrasound alone was considered sufficient for diagnostic workup in over half of all deep soft tissue masses.
Conclusion
Ultrasound is useful at characterising and recognising malignancy in deep soft tissue masses. Provided local practice patterns are favourable, ultrasound may be considered a first-line investigation in the diagnostic workup of deep soft tissue masses.
Key Points
• In three-quarters of cases, one can be fully confident about characterising the nature of deep soft tissue masses on ultrasound and, for those fully confident cases that could be compared with histology, the diagnostic accuracy of ultrasound was 96%.
• Ultrasound can correctly recognise nearly all malignant deep soft tissue masses but some benign masses will also be considered possibly malignant.
• Ultrasound alone was considered sufficient for imaging workup in over half of deep soft tissue masses.
This is a preview of subscription content, log in to check access.
Access options
Buy single article
Instant access to the full article PDF.
US$ 39.95
Tax calculation will be finalised during checkout.
Subscribe to journal
Immediate online access to all issues from 2019. Subscription will auto renew annually.
US$ 199
Tax calculation will be finalised during checkout.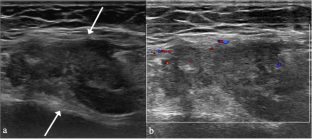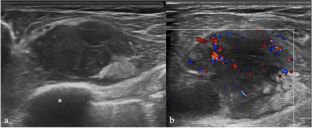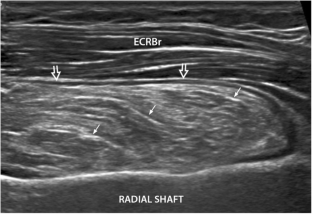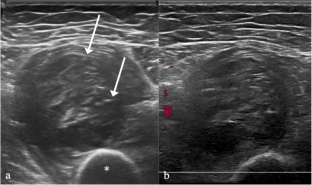 Abbreviations
ACR:

American College of Radiology

ESSR:

European Society of Musculoskeletal Radiology

GCTTS:

Giant cell tumour of tendon sheath

NPV:

Negative predictive value

PPV:

Positive predictive value
References
1.

Kransdorf MJ, Murphey MD (2016) Imaging of soft-tissue musculoskeletal masses: fundamental concepts. Radiographics. 36(6):1931–1948

2.

Wu JS, Hochman MG (2009) Soft-tissue tumors and tumorlike lesions: a systematic imaging approach. Radiology 253(2):297–316

3.

Hung EH, Griffith JF, Ng AW, Lee RK, Lau DT, Leung JC (2014) Ultrasound of musculoskeletal soft-tissue masses superficial to the investing fascia. AJR Am J Roentgenol 202(6):W532–W540

4.

Ahlawat S, Corl FM, LaPorte DM, Fishman EK, Fayad LM (2017) MDCT of hand and wrist infections: emphasis on compartmental anatomy. Clin Radiol 72(4):338.e1–338.e9

5.

Saifuddin A, Siddiqui S, Pressney I, Khoo M (2020) The incidence and diagnostic relevance of chemical shift artefact in the magnetic resonance imaging characterisation of superficial soft tissue masses. Br J Radiol 93(1108):20190828

6.

Lakkaraju A, Sinha R, Garikipati R, Edward S, Robinson P (2009) Ultrasound for initial evaluation and triage of clinically suspicious soft-tissue masses. Clin Radiol 64(6):615–621

7.

Beaman FD, Kransdorf MJ, Andrews TR, Murphey MD, Arcara LK, Keeling JH (2007) Superficial soft-tissue masses: analysis, diagnosis, and differential considerations. Radiographics 27(2):509–523

8.

Balach T, Stacy GS, Haydon RC (2011) The clinical evaluation of soft tissue tumors. Radiol Clin North Am 49(6):1185–1196

9.

Noebauer-Huhmann IM, Weber MA, Lalam RK et al (2015) Soft tissue tumors in adults: ESSR-approved guidelines for diagnostic imaging. Semin Musculoskelet Radiol 19(5):475–482

10.

Kransdorf MJ, Murphey MD, Wessell DE et al (2018) ACR appropriateness criteria(®) soft-tissue masses. J Am Coll Radiol 15(5S):S189–S197

11.

Hung EH, Griffith JF (2014) Pitfalls in ultrasonography of soft tissue masses. Semin Musculoskelet Radiol 18(1):79–85

12.

Taljanovic MS, Gimber LH, Klauser AS, Porrino JA, Chadaz TS (2017) Ultrasound in the evaluation of musculoskeletal soft-tissue masses. Semin Roentgenol 52(4):241–254

13.

Carra BJ, Bui-Mansfield LT, O'Brien SD, Chen DC (2014) Sonography of musculoskeletal soft-tissue masses: techniques, pearls, and pitfalls. AJR Am J Roentgenol 202(6):1281–1290

14.

Belli P, Costantini M, Mirk P, Maresca G, Priolo F, Marano P (2000) Role of color Doppler sonography in the assessment of musculoskeletal soft tissue masses. J Ultrasound Med 19(12):823–830

15.

Bodner G, Schocke MF, Rachbauer F et al (2002) Differentiation of malignant and benign musculoskeletal tumors: combined color and power Doppler US and spectral wave analysis. Radiology 223(2):410–416

16.

Griffith JF, Chan DP, Kumta SM, Chow LT, Ahuja AT (2004) Does Doppler analysis of musculoskeletal soft-tissue tumours help predict tumour malignancy? Clin Radiol 59(4):369–375

17.

Widmann G, Riedl A, Schoepf D, Glodny B, Peer S, Gruber H (2009) State-of-the-art HR-US imaging findings of the most frequent musculoskeletal soft-tissue tumors. Skeletal Radiol 38(7):637–649

18.

Loizides A, Peer S, Plaikner M, Djurdjevic T, Gruber H (2012) Perfusion pattern of musculoskeletal masses using contrast-enhanced ultrasound: a helpful tool for characterisation? Eur Radiol 22(8):1803–1811

19.

Nagano S, Yahiro Y, Yokouchi M et al (2015) Doppler ultrasound for diagnosis of soft tissue sarcoma: efficacy of ultrasound-based screening score. Radiol Oncol 49(2):135–140

20.

Gruber L, Loizides A, Ostermann L, Glodny B, Plaikner M, Gruber H (2016) Does size reliably predict malignancy in soft tissue tumours? Eur Radiol 26(12):4640–4648

21.

Morii T, Kishino T, Shimamori N, Motohashi M, Ohnishi H, Honya K et al (2018) Differential diagnosis between benign and malignant soft tissue tumors utilizing ultrasound parameters. J Med Ultrason 45(1):113–119

22.

Tavare AN, Alfuraih AM, Hensor EMA, Astrinakis E, Gupta H, Robinson P (2019) Shear-wave elastography of benign versus malignant musculoskeletal soft-tissue masses: comparison with conventional US and MRI. Radiology 290(2):410–417

23.

Charnock M, Kotnis N, Fernando M, Wilkinson V (2018) An assessment of ultrasound screening for soft tissue lumps referred from primary care. Clin Radiol 73(12):1025–1032

24.

Wu S, Tu R, Liu G, Shi Y (2013) Role of ultrasound in the diagnosis of common soft tissue lesions of the limbs. Ultrasound Q 29(1):67–71

25.

Slaisova R, Benda K, Jarkovsky J, Petrasova H, Szturz P, Valek V (2013) Contrast-enhanced ultrasonography compared to gray-scale and power doppler in the diagnosis of peripheral lymphadenopathy. Eur J Radiol 82(4):693–698

26.

Lee RK, Griffith JF, Ng WH (2015) High accuracy of ultrasound in diagnosing the presence and type of groin hernia. J Clin Ultrasound 43(9):538–547

27.

Wagner JM, Rebik K, Spicer PJ (2019) Ultrasound of soft tissue masses and fluid collections. Radiol Clin North Am 57(3):657–669

28.

Fletcher CD (2014) The evolving classification of soft tissue tumours - an update based on the new 2013 WHO classification. Histopathology 64(1):2–11

29.

Hung EHY, Griffith JF, Yip SWY et al (2020) Accuracy of ultrasound in the characterization of superficial soft tissue masses: a prospective study. Skeletal Radiol 49(6):883–892

30.

Wortsman X, Wortsman J (2015) Ultrasound accuracy in the diagnosis of skin and soft-tissue lesions. AJR Am J Roentgenol 204(2):W220

31.

Wagner JM, Lee KS, Rosas H, Kliewer MA (2013) Accuracy of sonographic diagnosis of superficial masses. J Ultrasound Med 32(8):1443–1450

32.

Sprague BL, Arao RF, Miglioretti DL et al (2017) National performance benchmarks for modern diagnostic digital mammography: update from the breast cancer surveillance consortium. Radiology 283(1):59–69

33.

Gielen JL, De Schepper AM, Vanhoenacker F et al (2004) Accuracy of MRI in characterization of soft tissue tumors and tumor-like lesions. A prospective study in 548 patients. Eur Radiol 14(12):2320–2330

34.

Del Grande F, Ahlawat S, Subhangwong T, Fayad LM (2017) Characterization of indeterminate soft tissue masses referred for biopsy: what is the added value of contrast imaging at 3.0 tesla? J Magn Reson Imaging 45(2):390–400

35.

Subhawong TK, Wang X, Durand DJ et al (2012) Proton MR spectroscopy in metabolic assessment of musculoskeletal lesions. AJR Am J Roentgenol 198(1):162–172

36.

Lee SY, Jee WH, Jung JY et al (2016) Differentiation of malignant from benign soft tissue tumours: use of additive qualitative and quantitative diffusion weighted MR imaging to standard MR imaging at 3.0 T. Eur Radiol 26(3):743–754

37.

Bancroft LW, Pettis C, Wasyliw C (2013) Imaging of benign soft tissue tumors. Semin Musculoskelet Radiol 17(2):156–167
Funding
The authors state that this work has not received any funding.
Ethics declarations
Guarantor
The scientific guarantor of this publication is Prof. James Francis Griffith.
Conflict of interest
The authors of this manuscript declare no relationships with any companies whose products or services may be related to the subject matter of the article.
Statistics and biometry
Jason Leung from The Chinese University of Hong Kong kindly provided statistical advice for this manuscript.
Jason Leung is one of the authors who has significant statistical expertise.
Informed consent
Written informed consent was not required for this study because patients underwent a clinically indicated ultrasound examination with no additional imaging, procedure, or change in clinical management.
Ethical approval
Institutional Review Board approval was obtained.
Methodology
• prospective
• cohort study
• performed at one institution
Additional information
Publisher's note
Springer Nature remains neutral with regard to jurisdictional claims in published maps and institutional affiliations.
About this article
Cite this article
Griffith, J.F., Yip, S.W.Y., Hung, E.H.Y. et al. Accuracy of ultrasound in the characterisation of deep soft tissue masses: a prospective study. Eur Radiol 30, 5894–5903 (2020). https://doi.org/10.1007/s00330-020-07002-5
Received:

Revised:

Accepted:

Published:

Issue Date:
Keywords
Soft tissue neoplasms

Tumour burden

Ultrasound imaging

Malignancy

Data accuracy