Abstract
Objectives
Results after trans-arterial radioembolisation (TARE) for intrahepatic cholangiocarcinoma (iCC) depend on the architecture of the tumour. This latter can be quantified through computed tomography (CT) texture analysis. The aims of the present study were to analyse relationships between CT textural features prior to TARE and objective response (OR), progression-free survival (PFS), and overall survival (OS).
Methods
Texture analysis was retrospectively applied to 55 pre-TARE CT scans of iCCs, focusing attention on the histogram-based features and the grey-level co-occurrence matrix (GLCM). Texture features were harmonised using the ComBat procedure. Objective response was assessed using the Response Evaluation Criteria In Solid Tumours 1.1. The least absolute shrinkage and selection operator (LASSO) method was applied to select the most useful textural features related to OR.
Results
Of the 55 patients, 53 had post-TARE imaging available, showing OR in 56.6% of cases. Texture analysis showed that iCCs showing OR after TARE had a higher uptake of iodine contrast in the arterial phase (higher mean histogram values, p < 0.001) and more homogeneous distribution (lower kurtosis, p = 0.043; GLCM contrast, p = 0.004; GLCM dissimilarity, p = 0.005, and higher GLCM homogeneity, p = 0.005; and GLCM correlation p = 0.030) at the pre-TARE CT scan. A favourable radiomic signature was calculated and observed in 15 of the 55 patients. The median PFS of these 15 patients was 12.1 months and that of the remaining 40 patients was 5.1 months (p = 0.008).
Conclusions
Texture analysis of pre-TARE CT scans can quantify vascularisation and homogeneity of iCC architecture, providing clinical information useful in identifying ideal TARE candidates.
Key Points
• Hypervascular tumours with a more homogeneous uptake of iodine contrast in the arterial phase were those most likely to be effectively treated by TARE.
• The arterial phase was observed to be the best acquisition phase for providing information regarding the "sensitivity" of the tumour to TARE.
• Patients with favourable radiomic signature showed a median progression-free survival of 12.1 months versus 5.1 months of patients with an unfavourable signature (p = 0.008).
Access options
Buy single article
Instant access to the full article PDF.
USD 39.95
Price includes VAT (USA)
Tax calculation will be finalised during checkout.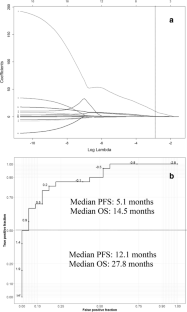 Abbreviations
AUC:

Area under the curve

CI:

Confidence interval

CR:

Complete response

CT:

Computed tomography

DFS:

Disease-free survival

ECOG:

Eastern Cooperation Oncology Group

GLCM:

Grey-level co-occurrence matrix

Gy:

Grey

HU:

Hounsfield units

iCC:

Intrahepatic cholangiocarcinoma

IQR:

Interquartile range

LASSO:

Least absolute shrinkage and selection operator

MRI:

Magnetic resonance imaging

OR:

Objective response

OS:

Overall survival

PFS:

Progression-free survival

PR:

Partial response

RECIST:

Response Evaluation Criteria In Solid Tumours

ROI:

Region of interest

TA:

Texture analysis

TARE:

Trans-arterial radioembolisation

VEGF:

Vascular endothelial growth factor

VOI:

Volume of interest
References
1.

Zhang H, Yang T, Wu M, Shen F (2016) Intrahepatic cholangiocarcinoma: epidemiology, risk factors, diagnosis and surgical management. Cancer Lett 379:198–205

2.

Spolverato G, Vitale A, Cucchetti A et al (2015) Can hepatic resection provide a long-term cure for patients with intrahepatic cholangiocarcinoma? Cancer. 121:3998–4006

3.

Valle JW, Furuse J, Jitlal M et al (2014) Cisplatin and gemcitabine for advanced biliary tract cancer: a meta-analysis of two randomised trials. Ann Oncol 25:391–398

4.

Valle J, Wasan H, Palmer DH et al (2010) Cisplatin plus gemcitabine versus gemcitabine for biliary tract cancer. N Engl J Med 362:1273–1281

5.

Bourien H, Palard X, Rolland Y et al (2019) Yttrium-90 glass microspheres radioembolization (RE) for biliary tract cancer: a large single-center experience. Eur J Nucl Med Mol Imaging 46:669–676

6.

Al-Adra DP, Gill RS, Axford SJ, Shi X, Kneteman N, Liau SS (2015) Treatment of unresectable intrahepatic cholangiocarcinoma with yttrium-90 radioembolization: a systematic review and pooled analysis. Eur J Surg Oncol 41:120–127

7.

Cucchetti A, Cappelli A, Mosconi C et al (2017) Improving patient selection for selective internal radiation therapy of intrahepatic cholangiocarcinoma: a meta regression study. Liver Int 37:1056–1064

8.

Lubner MG, Smith AD, Sandrasegaran K et al (2017) CT texture analysis: definitions, applications, biologic correlates, and challenges. Radiographics. 37:1483–1503

9.

Brenet Defour L, Mulé S, Tenenhaus A et al (2019) Hepatocellular carcinoma: CT texture analysis as a predictor of survival after surgical resection. Eur Radiol 29:1231–1239

10.

Mulé S, Thiefin G, Costentin C et al (2018) Advanced hepatocellular carcinoma: pretreatment contrast-enhanced CT texture parameters as predictive biomarkers of survival in patients treated with sorafenib. Radiology. 288:445–455

11.

Kloth C, Thaiss WM, Kärgel R et al (2017) Evaluation of texture analysis parameter for response prediction in patients with hepatocellular carcinoma undergoing drug-eluting bead transarterial chemoembolization (DEB-TACE) using biphasic contrast-enhanced CT image data: correlation with liver perfusion CT. Acad Radiol 24:1352–1363

12.

Sadot E, Simpson AL, Do RK et al (2015) Cholangiocarcinoma: correlation between molecular profiling and imaging phenotypes. PLoS One 10(7):e0132953

13.

Kim SA, Lee JM, Lee KB et al (2011) Intrahepatic mass-forming cholangiocarcinomas: enhancement patterns at multiphasic CT, with special emphasis on arterial enhancement pattern-correlation with clinicopathologic findings. Radiology 260:148–157

14.

Fujita N, Asayama Y, Nishie A et al (2017) Mass-forming intrahepatic cholangiocarcinoma: enhancement patterns in the arterial phase of dynamic hepatic CT—correlation with clinicopathological findings. Eur Radiol 27:498–506

15.

Mosconi C, Gramenzi A, Ascanio S et al (2016) Yttrium-90 radioembolization for unresectable/recurrent intrahepatic cholangiocarcinoma: a survival, efficacy and safety study. Br J Cancer 115:297–302

16.

Gramenzi A, Golfieri R, Mosconi C et al (2015) Yttrium-90 radioembolization vs sorafenib for intermediate-locally advanced hepatocellular carcinoma: a cohort study with propensity score analysis. Liver Int 35:1036–1047

17.

Nioche C, Orlhac F, Boughdad S et al (2018) LIFEx: a freeware for radiomic feature calculation in multimodality imaging to accelerate advances in the characterization of tumour heterogeneity. Cancer Res 78:4786–4789

18.

Yip SS, Aerts HJ (2016) Applications and limitations of radiomics. Phys Med Biol 61:R150–R166

19.

Orlhac F, Boughdad S, Philippe C et al (2018) A postreconstruction harmonization method for multicenter radiomic studies in PET. J Nucl Med 59:1321–1328

20.

Orlhac F, Frouin F, Nioche C et al (2019) Validation of a method to compensate multicenter effects affecting CT radiomics. Radiology. 291:53–59

21.

Eisenhauer EA, Therasse P, Bogaerts J et al (2009) New response evaluation criteria in solid tumours: revised RECIST guideline (version1.1). Eur J Cancer 45:228–247

22.

Tibshirani R (1996) Regression shrinkage and selection via the Lasso. J R Stat Soc Series B Stat Methodol 58(1):267–288

23.

Ibrahim SM, Mulcahy MF, Lewandowski RJ et al (2008) Treatment of unresectable cholangiocarcinoma using yttrium-90 microspheres: results from a pilot study. Cancer 113:2119–2128

24.

Rafi S, Piduru SM, El-Rayes B et al (2013) Yttrium-90 radioembolization for unresectable standard-chemorefractory intrahepatic cholangiocarcinoma: survival, efficacy, and safety study. Cardiovasc Intervent Radiol 36:440–448

25.

Mouli S, Memon K, Baker T et al (2013) Yttrium-90 radioembolization for intrahepatic cholangiocarcinoma: safety, response, and survival analysis. J Vasc Interv Radiol 24:1227–1234

26.

Saxena A, Bester L, Chua TC et al (2010) Yttrium-90 radiotherapy for unresectable intrahepatic cholangiocarcinoma: a preliminary assessment of this novel treatment option. Ann Surg Oncol 17:484–491

27.

Hoffmann RT, Paprottka PM, Schön A et al (2012) Transarterial hepatic yttrium-90 radioembolization in patients with unresectable intrahepatic cholangiocarcinoma: factors associated with prolonged survival. Cardiovasc Intervent Radiol 35:105–116

28.

Beuzit L, Edeline J, Brun V et al (2016) Comparison of Choi criteria and Response Evaluation Criteria in Solid Tumours (RECIST) for intrahepatic cholangiocarcinoma treated with glass-microspheres Yttrium-90 selective internal radiation therapy (SIRT). Eur J Radiol 85:1445–1452

29.

Vaupel P (2004) The role of hypoxia-induced factors in tumor progression. Oncologist. 9(Suppl 5):10–17

30.

Camacho JC, Kokabi N, Xing M, Prajapati HJ, El-Rayes B, Kim HS (2014) Modified Response Evaluation Criteria in Solid Tumours and European Association for the Study of the Liver criteria using delayed-phase imaging at an early time point predict survival in patients with unresectable intrahepatic cholangiocarcinoma following yttrium-90 radioembolization. J Vasc Interv Radiol 25:256–265
Acknowledgements
The authors thank Fanny Orlhac of the Imagerie Moléculaire In Vivo, CEA-SHFJ, INSERM, CNRS, Université Paris-Sud, Université Paris-Saclay, Orsay, France, for her help in the ComBat procedure.
Funding
The authors state that this work has not received any funding.
Ethics declarations
Guarantor
The scientific guarantor of this publication is Prof. Rita Golfieri.
Conflict of interest
The authors of this manuscript declare no relationships with any companies whose products or services may be related to the subject matter of the article.
Statistics and biometry
One of the authors has significant statistical expertise. Prof. Alessandro Cucchetti kindly provided statistical advice for this manuscript.
Informed consent
Written informed consent was obtained from all subjects (patients) in this study.
Ethical approval
The present study fulfils the Regulation (EU) 2016/679 of the European Parliament and of the Council of 27 April 2016 on the protection of natural persons with regard to the processing of personal data (GDP regulation).
1).

All the data subject in the present study has given consent to the processing of his or her personal data for one or more specific purposes (art 6.1.a).

2).

Personal data were processed lawfully, fairly and in a transparent manner in relation to the data subject (art. 5. 1.a).

3).

Data were collected for specified, explicit, and legitimate purposes in the public interest, scientific, or historical research (art. 5.1.b, art. 9.2.j, and art.89).

4).

Additional purposes or statistical purposes were not incompatible with the initial purposes (art.89).

5).

No "biometric data" resulting from specific technical processing relating to the physical, physiological, or behavioural characteristics of a natural person, which allow or confirm the unique identification of that natural person, such as facial images or dactyloscopic data, were collected (art 4.14).
Methodology
• Retrospective
• Observational
• Multicentre study
Additional information
Publisher's note
Springer Nature remains neutral with regard to jurisdictional claims in published maps and institutional affiliations.
About this article
Cite this article
Mosconi, C., Cucchetti, A., Bruno, A. et al. Radiomics of cholangiocarcinoma on pretreatment CT can identify patients who would best respond to radioembolisation. Eur Radiol 30, 4534–4544 (2020). https://doi.org/10.1007/s00330-020-06795-9
Received:

Revised:

Accepted:

Published:

Issue Date:
Keywords
Cholangiocarcinoma

Survival

Radiology

Cancer