Abstract
Objectives
The clinical utility of electronically derived ASPECTS (e-ASPECTS) to quantify signs of acute ischemic infarction could be demonstrated in multiple studies. Here, we aim to clinically validate the impact of CT slice thickness (ST) on the performance of e-ASPECTS software.
Methods
A consecutive series of n = 258 patients (06/2016 and 01/2019) with middle cerebral artery occlusion and subsequent treatment with mechanical thrombectomy was analyzed. The e-ASPECTS score and acute infarct volumes were calculated from baseline non-contrast CT with a software using 1-mm slice thickness (ST) (defined as ground truth) and axial reconstructions with 2–10-mm ST and correlated with baseline stroke severity (NIHSS) as well as clinical outcome (mRS) using logistic regressions.
Results
In comparison with the ground truth, significant differences were seen in e-ASPECTS scores with ST > 6 mm (p ≤ 0.031) and infarct volumes with ST > 4 mm (p ≤ 0.001). There was a significant correlation of lower e-ASPECTS and higher acute infarct volumes with increasing baseline NIHSS values for all ST (p ≤ 0.001, respectively), with values derived from 1 mm yielding the highest correlation for both parameters (rho, − 0.38 and 0.31, respectively). Similarly, lower e-ASPECTS and higher acute infarct volumes from all ST were significantly associated with poor outcome after 90 days (p ≤ 0.05, respectively) with values derived from 1-mm ST yielding the highest effects for both parameters (OR, 0.69 [95% CI 0.50–0.88] and 1.27 [95% CI 1.10–1.50], respectively).
Conclusions
The e-ASPECTS software generates robust values for e-ASPECTS and acute infarct volumes when using ST ≤ 4 mm with ST = 1 mm yielding the best performance for predicting baseline stroke severity and clinical outcome after 90 days.
Key Points
• Clinical utility of automatically derived ASPECTS from computed tomography scans was shown in patients with acute ischemic stroke and treatment with mechanical thrombectomy.
• Thin slices (= 1 mm) had the highest clinical utility in comparison with thicker slices (2–10 mm) by having the strongest correlation with baseline stroke severity and independent effects on clinical outcome after 90 days.
• Automatically calculated acute infarct volumes possess clinical utility beyond ASPECTS and should be considered in future studies.
Access options
Buy single article
Instant access to the full article PDF.
US$ 39.95
Tax calculation will be finalised during checkout.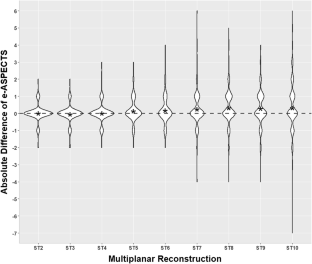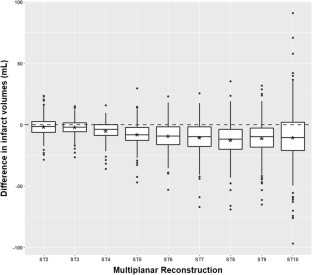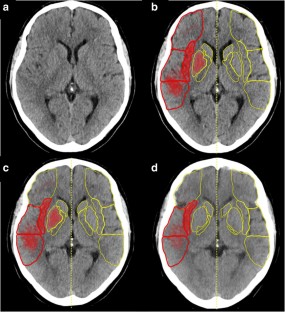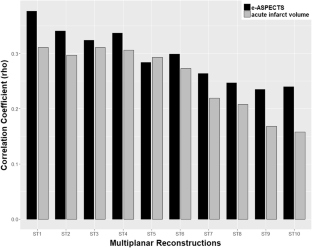 Abbreviations
AIS:

Acute ischemic stroke

ASPECTS:

Alberta Stroke Program Early CT Score

CI:

Confidence interval

e-ASPECTS:

Electronically derived Alberta Stroke Program Early CT Scores

ICH:

Intracranial hemorrhage

IQR:

Interquartile range

MPR:

Multiplanar reconstructions

mRS:

Modified Rankin scale

MT:

Mechanical thrombectomy

mTICI:

Modified thrombolysis in cerebral infarction

NCCT:

Non-contrast-enhanced computerized tomography

NIHSS:

National Institutes of Health Stroke Scale

OR:

Odds ratio

ST:

Slice thickness
Funding
Dr. Kickingereder, MBA, was supported by the Else Kröner-Fresenius Foundation (Else Kröner Memorial Scholarship).
Ethics declarations
Guarantor
The scientific guarantors of this publication are Dr. Philipp Kickingereder, MBA and Dr. Ulf Neuberger.
Conflict of interest
Dr. Nagel received grants, personal fees, and other from Brainomix; personal fees and other from Bayer, personal fees and other from Bohringer Ingelheim; personal fees and other from Medtronic; and personal fees from Pfizer outside of submitted work. Dr. Pfaff has received payment for lectures from the University of Hamburg-Eppendorf and Asklepios Arzteakademie; travel and meeting expenses from Stryker and MicroVention Deutschland. Dr. Bendszus has received grants and personal fees from Novartis, Guerbet, and Codman; personal fees from Vascular Dynamics, Roche, Teva, Springer, and Bayer Vital; grants from Siemens and Hopp Foundation. DFG. Dr. Mohlenbruch has received personal fees from Codman, MicroVention, Phenox, and Stryker. Dr. Herweh received personal fees form Brainomix.
The other authors of this manuscript declare no relationships with any companies, whose products or services may be related to the subject matter of the article.
Statistics and biometry
One of the authors has significant statistical expertise.
Informed consent
Written informed consent was waived by the Institutional Review Board.
Ethical approval
Institutional Review Board approval was obtained at the local ethics committee of the medical faculty of the University of Heidelberg.
Methodology
• Retrospective
• Diagnostic or prognostic study
• Performed at one institution
Additional information
Publisher's note
Springer Nature remains neutral with regard to jurisdictional claims in published maps and institutional affiliations.
About this article
Cite this article
Neuberger, U., Nagel, S., Pfaff, J. et al. Impact of slice thickness on clinical utility of automated Alberta Stroke Program Early Computed Tomography Scores. Eur Radiol 30, 3137–3145 (2020). https://doi.org/10.1007/s00330-019-06616-8
Received:

Revised:

Accepted:

Published:

Issue Date:
Keywords
Stroke

Brain ischemia

Thrombectomy

Image interpretation, computer-assisted

Tomography, X-ray computed