Abstract
Background
Patients with severe symptomatic tricuspid regurgitation (TR) are often deemed ineligible for surgical valve repair due to comorbidities. In this setting, transcatheter tricuspid valve replacement (TTVR) is undergoing development, but delivery technique and prosthesis design have yet to be optimized. We sought to assess the challenges of TTVR and the determinants of venous route using computed tomography (CT) analysis.
Methods and results
A total of 195 end-diastolic cardiac CT performed prior to surgical correction of a severe TR (n = 38), transcatheter aortic valve replacement (n = 89), or left atrial appendage closure (n = 68) were analyzed. Patients with TR (n = 68; 19 primary and 49 secondary) were compared with patients without (n = 127). Continuous variables with normal and non-normal distributions were compared using Student t test or Mann–Whitney test respectively. The angle from the tricuspid annulus (TA) to the inferior vena cava was tighter (mean = 101 ± 18°) with a broader range of value (44° to 164°) than to the superior vena cava (mean = 143 ± 9°). Patients with TR had rounder TA (eccentricity index of 0.88 ± 0.08, p < 0.001), with a larger area (p < 0.0001), and septolateral (45.3 ± 8.0 mm, p < 0.0001) and anteroposterior (44.4 ± 7.4 mm, p < 0.0001) diameters than patients without. The distances from the TA to the coronary sinus, the right ventricular outflow tract, and the moderator band were respectively 11.4 ± 3.8 mm, 17.2 ± 3.4 mm, and 31.0 ± 6.7 mm, without differences between groups.
Conclusion
The transjugular access for TTVR is straighter and more reproducible than the transfemoral access. Prosthesis development may be challenged by the close position of the coronary sinus, the presence of a moderator band, and the large TA size of patients with severe TR.
Key Points
• The tricuspid annulus is larger in patients with severe tricuspid regurgitation, confirming existing data.
• The coronary sinus ostium is close to the tricuspid annulus, requiring a prosthesis with a short atrial length.
• The transjugular venous route may be the preferred access to the tricuspid annulus, straighter with less inter-individual variations than the transfemoral route.
Access options
Buy single article
Instant access to the full article PDF.
US$ 39.95
Tax calculation will be finalised during checkout.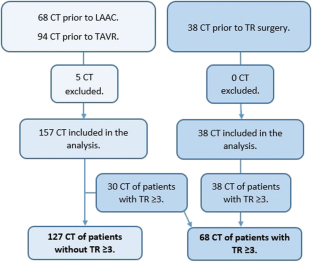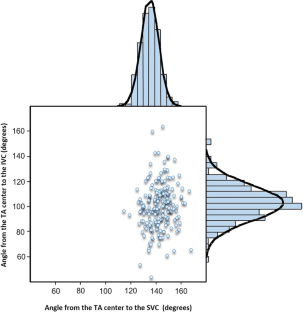 Abbreviations
CT:

Computed tomography

IVC:

Inferior vena cava

LAAC:

Left atrial appendage closure

RA:

Right atrium

RCA:

Right coronary artery

RV:

Right ventricle

RVOT:

Right ventricular outflow tract

SVC:

Superior vena cava

TA:

Tricuspid annulus

TAVR:

Transcatheter aortic valve replacement

TR:

Tricuspid regurgitation

TV:

Tricuspid valve
References
1.

Nath J, Foster E, Heidenreich P (2004) Impact of tricuspid regurgitation on long-term survival. J Am Coll Cardiol 43:405–409

2.

Sagie A, Schwammenthal E, Padial LR, Vazquez de Prada JA, Weyman AE, Levine RA (1994) Determinants of functional tricuspid regurgitation in incomplete tricuspid valve closure: Doppler color flow study of 109 patients. J Am Coll Cardiol 24:446–453

3.

De Meester P, Van De Bruaene A, Herijgers P, Voigt J-U, Budts W (2012) Tricuspid valve regurgitation: prevalence and relationship with different types of heart disease. Acta Cardiol 67:549–556

4.

Singh JP, Evans JC, Levy D et al (1999) Prevalence and clinical determinants of mitral, tricuspid, and aortic regurgitation (the Framingham Heart Study). Am J Cardiol 83:897–902

5.

Topilsky Y, Nkomo V, Vatury O et al (2014) Clinical outcome of isolated tricuspid regurgitation. JACC Cardiovasc Imaging 7:1185–1194

6.

Vassileva C, Shabosky J, Boley T, Markwell S, Hazelrigg S (2012) Tricuspid valve surgery: the past 10 years from the Nationwide Inpatient Sample (NIS) database. J Thorac Cardiovasc Surg 143:1043–1049

7.

Kim JB, Jung S-H, Choo SJ, Chung CH, Lee JW (2013) Clinical and echocardiographic outcomes after surgery for severe isolated tricuspid regurgitation. J Thorac Cardiovasc Surg 146:278–284

8.

Kim Y-J, Kwon D-A, Kim H-K et al (2009) Determinants of surgical outcome in patients with isolated tricuspid regurgitation. Circulation 120:1672–1678

9.

Rodés-Cabau J, Hahn R, Latib A et al (2016) Transcatheter therapies for treating tricuspid regurgitation. J Am Coll Cardiol 67:1829–1845

10.

Baumgartner H, Falk V, Bax JJ et al (2017) 2017 ESC/EACTS guidelines for the management of valvular heart disease. Eur Heart J 38:2739–2791

11.

Loyalka P, Nascimbene A, Metz B, Gregoric ID, Raman AS, Kar B (2017) Transcatheter tricuspid valve-in-valve replacement with an Edwards Sapien 3 valve. Tex Heart Inst J 44:209–213

12.

Mick SL, Kapadia S, Tuzcu M, Svensson LG (2014) Transcatheter valve-in-valve tricuspid valve replacement via internal jugular and femoral approaches. J Thorac Cardiovasc Surg 147:e64–e65

13.

van Rosendael PJ, Joyce E, Katsanos S et al (2015) Tricuspid valve remodelling in functional tricuspid regurgitation: multidetector row computed tomography insights. Eur Heart J Cardiovasc Imaging 17:96–105

14.

Wong DTL, Bertaso AG, Liew GY et al (2013) Relationship of aortic annular eccentricity and paravalvular regurgitation post transcatheter aortic valve implantation with CoreValve. J Invasive Cardiol 25:190–195

15.

Theriault-Lauzier P, Mylotte D, Dorfmeister M et al (2016) Quantitative multi-slice computed tomography assessment of the mitral valvular complex for transcatheter mitral valve interventions part 1: systematic measurement methodology and inter-observer variability. EuroIntervention 12:e1011–e1020

16.

Verheye S, Jolicœur EM, Behan MW et al (2015) Efficacy of a device to narrow the coronary sinus in refractory angina. N Engl J Med 372:519–527

17.

van Rosendael PJ, Kamperidis V, Kong WKF et al (2017) Computed tomography for planning transcatheter tricuspid valve therapy. Eur Heart J 38:665–674

18.

Celebi O, Agacdiken A, Sahin T et al (2005) Right heart functions in patients with paroxysmal and permanent atrial fibrillation. Eur J Echocardiogr 6(suppl. 1):S24

19.

Saremi F, Hassani C, Millan-Nunez V, Sánchez-Quintana D (2015) Imaging evaluation of tricuspid valve: analysis of morphology and function with CT and MRI. AJR Am J Roentgenol 204:W531–W542
Funding
The authors state that this work has not received any funding.
Ethics declarations
Guarantor
The scientific guarantor of this publication is Romain Gallet.
Conflict of interest
The authors of this manuscript declare no relationships with any companies, whose products or services may be related to the subject matter of the article.
Statistics and biometry
No complex statistical methods were necessary for this paper.
Informed consent
Written informed consent was not required for this study because this was a retrospective study.
Ethical approval
Institutional Review Board approval was obtained.
Methodology
• retrospective
• case-control study
• performed at one institution
Additional information
Publisher's note
Springer Nature remains neutral with regard to jurisdictional claims in published maps and institutional affiliations.
Electronic supplementary material
About this article
Cite this article
Chiaroni, PM., Ternacle, J., Deux, JF. et al. Computed tomography for transcatheter tricuspid valve development. Eur Radiol 30, 682–690 (2020). https://doi.org/10.1007/s00330-019-06410-6
Received:

Revised:

Accepted:

Published:

Issue Date:
Keywords
Tricuspid regurgitation

Tomography, X-ray computed

Heart valve prosthesis implantation

Radiology, interventional