Abstract
Objective
Evaluation of MRI-derived cerebral 23Na concentrations in patients with migraine in comparison with healthy controls.
Materials and methods
In this case-control study, 24 female migraine patients (mean age, 34 ± 11 years) were enrolled after evaluation of standardized questionnaires. Half (n = 12) of the cohort suffered from migraine, the other half was impaired by both migraine and tension-type headaches (TTH). The combined patient cohort was matched to 12 healthy female controls (mean age, 34 ± 11 years). All participants underwent a cerebral 23Na-magnetic resonance imaging examination at 3.0 T, which included a T1w MP-RAGE sequence and a 3D density-adapted, radial gradient echo sequence for 23Na imaging. Circular regions of interests were placed in predetermined anatomic regions: cerebrospinal fluid (CSF), gray and white matter, brain stem, and cerebellum. External 23Na reference phantoms were used to calculate the total 23Na tissue concentrations. Pearson's correlation, Kendall Tau, and Wilcoxon rank sum test were used for statistical analysis.
Results
23Na concentrations of all patients in the CSF were significantly higher than in healthy controls (p < 0.001). The CSF of both the migraine and mixed migraine/TTH group showed significantly increased sodium concentrations compared to the control group (p = 0.007 and p < 0.001). Within the patient cohort, a positive correlation between pain level and TSC in the CSF (r = 0.62) could be observed.
Conclusion
MRI-derived cerebral 23Na concentrations in the CSF of migraine patients were found to be statistically significantly higher than in healthy controls.
Key Points
• Cerebral sodium MRI supports the theory of ionic imbalances and may aid in the challenging pathophysiologic understanding of migraine.
• Case-control study shows significantly higher sodium concentrations in cerebrospinal fluid of migraineurs.
• Cerebral sodium MRI may become a non-invasive imaging tool for drugs to modulate sodium, and hence migraine, on a molecular level, and influence patient management.
Access options
Buy single article
Instant access to the full article PDF.
US$ 39.95
Tax calculation will be finalised during checkout.
Subscribe to journal
Immediate online access to all issues from 2019. Subscription will auto renew annually.
US$ 119
Tax calculation will be finalised during checkout.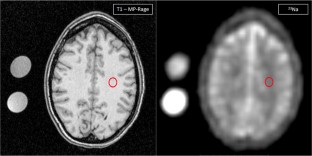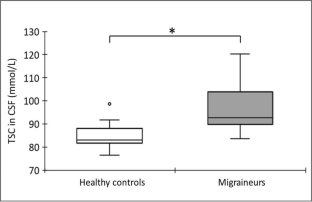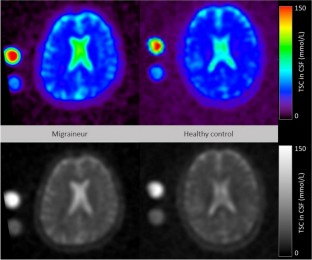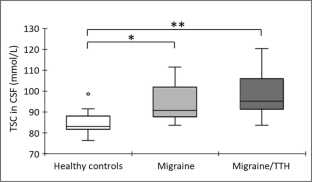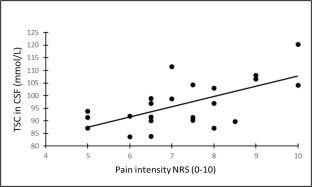 Abbreviations
CSF:

Cerebrospinal fluid

DWI:

Diffusion-weighted imaging

FLAIR:

Fluid-attenuated inversion recovery

GM:

Gray matter

MP-RAGE:

Magnetization-prepared rapid acquisition gradient echo

MRI:

Magnetic resonance imaging

SD:

Standard deviation

TSC:

Total sodium concentration

TTH:

Tension-type headaches

WM:

White matter
References
1.

Charles A (2010) Does cortical spreading depression initiate a migraine attack? Maybe not. Headache 50(4):731–733

2.

Zhang X, Levy D, Noseda R, Kainz V, Jakubowski M, Burstein R (2010) Activation of meningeal nociceptors by cortical spreading depression: implications for migraine with aura. J Neurosci 30(26):8807–8814

3.

Buzzi MG, Moskowitz MA (1992) The trigemino-vascular system and migraine. Pathol Biol (Paris) 40(4):313–317

4.

Sun YG, Pita-Almenar JD, Wu CS et al (2013) Biphasic cholinergic synaptic transmission controls action potential activity in thalamic reticular nucleus neurons. J Neurosci 33(5):2048–2059

5.

Harrington MG, Chekmenev EY, Schepkin V, Fonteh AN, Arakaki X (2011) Sodium MRI in a rat migraine model and a NEURON simulation study support a role for sodium in migraine. Cephalalgia 31(12):1254–1265

6.

Harrington MG, Fonteh AN, Cowan RP et al (2006) Cerebrospinal fluid sodium increases in migraine. Headache 46(7):1128–1135

7.

Fernández-de-las-Peñas C, Madeleine P, Caminero AB, Cuadrado ML, Arendt-Nielsen L, Pareja JA (2010) Generalized neck-shoulder hyperalgesia in chronic tension-type headache and unilateral migraine assessed by pressure pain sensitivity topographical maps of the trapezius muscle. Cephalalgia 30(1):77–86

8.

Bendtsen L (2000) Central sensitization in tension-type headache--possible pathophysiological mechanisms. Cephalalgia 20(5):486–508

9.

Jensen R (1999) Pathophysiological mechanisms of tension-type headache: a review of epidemiological and experimental studies. Cephalalgia 19(6):602–621

10.

Wetterling F, Chatzikonstantinou E, Tritschler L (2016) Investigating potentially salvageable penumbra tissue in an in vivo model of transient ischemic stroke using sodium, diffusion, and perfusion magnetic resonance imaging. BMC Neurosci 17(1):82

11.

Zaaraoui W, Konstandin S, Audoin B (2012) Distribution of brain sodium accumulation correlates with disability in multiple sclerosis: a cross-sectional 23Na MR imaging study. Radiology 264(3):859–867

12.

Petracca M, Fleysher L, Oesingmann N, Inglese M (2016) Sodium MRI of multiple sclerosis. NMR Biomed 29(2):153–161

13.

Ouwerkerk R, Bleich KB, Gillen JS, Pomper MG, Bottomley PA (2003) Tissue sodium concentration in human brain tumors as measured with 23Na MR imaging. Radiology 227(2):529–537

14.

Göbel H (2001) Classification of headaches. Cephalalgia 21(7):770–773

15.

Konstandin S, Nagel AM (2014) Measurement techniques for magnetic resonance imaging of fast relaxing nuclei. MAGMA 27(1):5–19

16.

Haneder S, Konstandin S, Morelli JN (2011) Quantitative and qualitative (23)Na MR imaging of the human kidneys at 3 T: before and after a water load. Radiology 260(3):857–865

17.

Pogoda JM, Gross NB, Arakaki X (2016) Severe headache or migraine history is inversely correlated with dietary sodium intake: NHANES 1999-2004. Headache 56(4):688–698

18.

Harrington MG, Salomon RM, Pogoda JM (2010) Cerebrospinal fluid sodium rhythms. Cerebrospinal Fluid Res 7:3

19.

Hodgkin AL, Katz B (1949) The effect of sodium ions on the electrical activity of giant axon of the squid. J Physiol 108(1):37–77

20.

Arakaki X, Foster H, Su L (2011) Extracellular sodium modulates the excitability of cultured hippocampal pyramidal cells. Brain Res 1401:85–94

21.

Zakharov A, Vitale C, Kilinc E (2015) Hunting for origins of migraine pain: cluster analysis of spontaneous and capsaicin-induced firing in meningeal trigeminal nerve fibers. Front Cell Neurosci 9:287

22.

Madelin G, Regatte RR (2013) Biomedical applications of sodium MRI in vivo. J Magn Reson Imaging 38(3):511–529

23.

Thulborn K, Lui E, Guntin J (2016) Quantitative sodium MRI of the human brain at 9.4 T provides assessment of tissue sodium concentration and cell volume fraction during normal aging. NMR Biomed 29(2):137–143

24.

Mirkes CC, Hoffmann J, Shajan G, Pohmann R, Scheffler K (2015) High-resolution quantitative sodium imaging at 9.4 Tesla. Magn Reson Med 73(1):342–351

25.

Abad N, Rosenberg JT, Hike DC, Harrington MG, Grant SC (2018) Dynamic sodium imaging at ultra-high field reveals progression in a preclinical migraine model. Pain 159(10):2058–2065
Acknowledgments
IRB approval: Medical Ethics Committee II Mannheim, Germany; reference number: 2013 566N – MA.
Funding
The authors state that this work has not received any funding.
Ethics declarations
Guarantor
The scientific guarantor of this publication is Melissa Meyer, MD.
Conflict of interest
The authors of this manuscript declare no relationships with any companies, whose products or services may be related to the subject matter of the article.
Statistics and biometry
One of the authors has significant statistical expertise.
Lothar R. Pilz, co-author.
Medical Faculty Mannheim, Heidelberg University, Mannheim, Germany.
Informed consent
Written informed consent was obtained from all subjects (patients) in this study.
Ethical approval
Institutional Review Board approval was obtained.
Methodology
• prospective
• case-control study
• performed at one institution
Additional information
Publisher's note
Springer Nature remains neutral with regard to jurisdictional claims in published maps and institutional affiliations.
About this article
Cite this article
Meyer, M.M., Schmidt, A., Benrath, J. et al. Cerebral sodium (23Na) magnetic resonance imaging in patients with migraine — a case-control study. Eur Radiol 29, 7055–7062 (2019). https://doi.org/10.1007/s00330-019-06299-1
Received:

Revised:

Accepted:

Published:

Issue Date:
Keywords
Sodium

Magnetic resonance imaging

Migraine

Cerebrospinal fluid