Abstract
Purpose
To assess the diagnostic potential of real-time MRI for assessment of hiatal hernias in patients with GERD-like symptoms compared to endoscopy.
Material and methods
One hundred eight patients with GERD-like symptoms were included in this observational cohort study between 2015 and 2017. Real-time MRI was performed at 3.0 Tesla with temporal resolution of 40 ms, dynamically visualizing the esophageal transport of a pineapple juice bolus, its passage through the gastroesophageal junction, and functional responses during Valsalva maneuver. Hernia detection on MRI and endoscopy was calculated using contingency tables with diagnosis of hernia on either modality as reference.
Results
Of 108 patients, 107 underwent successful MRI without adverse events; 1 examination was aborted to inability to swallow pineapple juice in supine position. No perforation or acute bleeding occurred during endoscopy. Median examination time was 15 min. Eighty-five patients (79.4%) were diagnosed with hiatal hernia on either real-time MRI or endoscopy. Forty-six hernias were visible on both modalities. Seventeen hernias were evident exclusively on MRI, and 22 exclusively on endoscopy. Sixteen of the 63 MRI-detected hernias (25.4%) were detectable only during Valsalva maneuver, which were smaller compared to hernias at rest (median − 13.5 vs − 33.0 mm, p < 0.001). Diagnostic accuracy for hernia detection was comparable for MRI and endoscopy (sensitivity 74% vs 80%, p = 0.4223; specificity 100% vs 100%, p > 0.99).
Conclusion
Real-time MRI is a fast and safe modality for assessment of the gastroesophageal junction, without radiation exposure or administration of gadolinium-based contrast media. Although MRI and endoscopy yield comparable diagnostic accuracy, dynamic MRI sequences are able to visualize hiatal hernias that were occult on static MRI sequences or endoscopy in a relevant number of cases.
Key Points
• Real-time MRI is a safe and fast imaging modality for examination of the gastroesophageal junction, combining anatomical and functional information for enhanced detection of hiatal hernias.
• Real-time MRI and endoscopy yield comparably high diagnostic accuracy: real-time MRI visualizes hiatal hernias that were occult on endoscopy in a relevant number of patients; however, several hiatal hernias detected on endoscopy were occult on real-time MRI.
• There is clinical potential of real-time MR imaging in patients with GERD-like symptoms and equivocal findings on endoscopy or pH-metry, for anatomical visualization in patients planned for surgical intervention, or those with suspected fundoplication failures.
This is a preview of subscription content, log in to check access.
Access options
Buy single article
Instant access to the full article PDF.
US$ 39.95
Price includes VAT for USA
Subscribe to journal
Immediate online access to all issues from 2019. Subscription will auto renew annually.
US$ 199
This is the net price. Taxes to be calculated in checkout.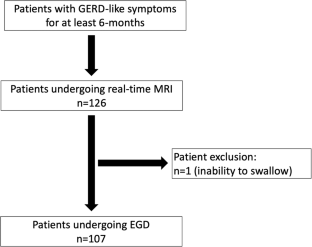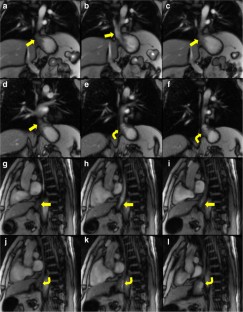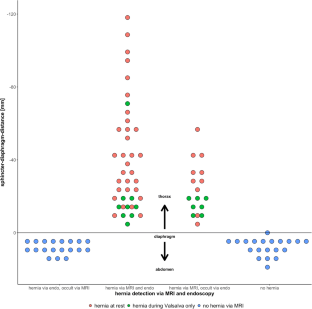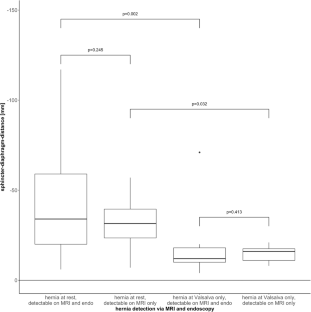 Abbreviations
EGD:

Esophagogastroduodenoscopy

GERD:

Gastroesophageal reflux disease

LES:

Lower esophageal sphincter

PPI:

Proton pump inhibitor
References
1.

Kahrilas PJ, Kim HC, Pandolfino JE (2008) Approaches to the diagnosis and grading of hiatal hernia. Best Pract Res Clin Gastroenterol 22:601–616

2.

Roman S, Kahrilas PJ (2014) The diagnosis and management of hiatus hernia. BMJ 349:g6154

3.

Kohn GP, Price RR, DeMeester SR et al (2013) Guidelines for the management of hiatal hernia. Surg Endosc 27:4409–4428

4.

Kahrilas PJ, Shi G, Manka M, Joehl RJ (2000) Increased frequency of transient lower esophageal sphincter relaxation induced by gastric distention in reflux patients with hiatal hernia. Gastroenterology 118:688–695

5.

Kaul BK, DeMeester TR, Oka M et al (1990) The cause of dysphagia in uncomplicated sliding hiatal hernia and its relief by hiatal herniorrhaphy. A roentgenographic, manometric, and clinical study. Ann Surg 211:406–410

6.

Khajanchee YS, Cassera MA, Swanström LL, Dunst CM (2013) Diagnosis of type-I hiatal hernia: a comparison of high-resolution manometry and endoscopy. Dis Esophagus 26:1–6

7.

Sloan S, Kahrilas PJ (1991) Impairment of esophageal emptying with hiatal hernia. Gastroenterology 100:596–605

8.

Berstad A, Weberg R, Frøyshov Larsen I, Hoel B, Hauer-Jensen M (1986) Relationship of hiatus hernia to reflux oesophagitis. A prospective study of coincidence, using endoscopy. Scand J Gastroenterol 21:55–58

9.

Hyun JJ, Bak YT (2011) Clinical significance of hiatal hernia. Gut Liver 5:267–277

10.

Ott DJ, Gelfand DW, Wu WC, Castell DO (1984) Esophagogastric region and its rings. AJR Am J Roentgenol 142:281–287

11.

Petersen H, Johannessen T, Sandvik AK et al (1991) Relationship between endoscopic hiatus hernia and gastroesophageal reflux symptoms. Scand J Gastroenterol 26:921–926

12.

Ronkainen J, Aro P, Storskrubb T et al (2005) High prevalence of gastroesophageal reflux symptoms and esophagitis with or without symptoms in the general adult Swedish population: a Kalixanda study report. Scand J Gastroenterol 40:275–285

13.

Wright RA, Hurwitz AL (1979) Relationship of hiatal hernia to endoscopically proved reflux esophagitis. Dig Dis Sci 24:311–313

14.

Zagari RM, Fuccio L, Wallander MA et al (2008) Gastro-oesophageal reflux symptoms, oesophagitis and Barrett's oesophagus in the general population: the Loiano-Monghidoro study. Gut 57:1354–1359

15.

Gyawali CP, Kahrilas PJ, Savarino E et al (2018) Modern diagnosis of GERD: the Lyon Consensus. Gut 67:1351–1362

16.

Linke GR, Borovicka J, Schneider P et al (2008) Is a barium swallow complementary to endoscopy essential in the preoperative assessment of laparoscopic antireflux and hiatal hernia surgery? Surg Endosc 22:96–100

17.

Olthoff A, Zhang S, Schweizer R, Frahm J (2014) On the physiology of normal swallowing as revealed by magnetic resonance imaging in real time. Gastroenterol Res Pract 2014:493174

18.

Zhang S, Joseph AA, Voit D et al (2014) Real-time magnetic resonance imaging of cardiac function and flow-recent progress. Quant Imaging Med Surg 4:313–329

19.

Olthoff A, Joseph AA, Weidenmüller M, Riley B, Frahm J (2016) Real-time MRI of swallowing: intraoral pressure reduction supports larynx elevation. NMR Biomed 29:1618–1623

20.

Zhang S, Joseph AA, Gross L, Ghadimi M, Frahm J, Beham AW (2015) Diagnosis of gastroesophageal reflux disease using real-time magnetic resonance imaging. Sci Rep 5:12112

21.

Seif Amir Hosseini A, Beham A, Uhlig J et al (2018) Intra- and interobserver variability in the diagnosis of GERD by real-time MRI. Eur J Radiol 104:14–19

22.

Seif Amir Hosseini A, Uhlig J, Streit U et al (2019) Real-time MRI for the dynamic assessment of fundoplication failure in patients with gastroesophageal reflux disease. Eur Radiol. https://doi.org/10.1007/s00330-019-06025-x

23.

Uecker M, Zhang S, Voit D, Karaus A, Merboldt KD, Frahm J (2010) Real-time MRI at a resolution of 20 ms. NMR Biomed 23:986–994

24.

Frahm J, Schätz S, Untenberger M et al (2014) On the temporal fidelity of nonlinear inverse reconstructions for real-time MRI – the motion challenge. Open Med Imaging J. https://doi.org/10.2174/1874347101408010001:1-7

25.

Kim C, Ouyang W, Dass C, Zhao H, Criner GJ (2016) Hiatal hernia on chest high-resolution computed tomography and exacerbation rates in COPD individuals. Chronic Obstr Pulm Dis 3:570–579

26.

Tossier C, Dupin C, Plantier L et al (2016) Hiatal hernia on thoracic computed tomography in pulmonary fibrosis. Eur Respir J 48:833–842

27.

Eren S, Ciriş F (2005) Diaphragmatic hernia: diagnostic approaches with review of the literature. Eur J Radiol 54:448–459

28.

Manabe T, Kawamitsu H, Higashino T, Shirasaka D, Aoyama N, Sugimura K (2009) Observation of gastro-esophageal reflux by MRI: a feasibility study. Abdom Imaging 34:419–423

29.

Kulinna-Cosentini C, Schima W, Ba-Ssalamah A, Cosentini EP (2014) MRI patterns of Nissen fundoplication: normal appearance and mechanisms of failure. Eur Radiol 24:2137–2145
Funding
The authors state that this work has not received any funding.
Ethics declarations
Guarantor
The scientific guarantor of this publication is Ali Seif Amir Hosseini.
Conflict of interest
Jens Frahm and Martin Uecker are co-inventors of a patent covering the real-time MRI technique used in this study.
Statistics and biometry
No complex statistical methods were necessary for this paper.
Informed consent
Written informed consent was obtained from all subjects (patients) in this study.
Ethical approval
Institutional Review Board approval was obtained.
Methodology
• descriptive diagnostic study
• performed at one institution
Additional information
Publisher's note
Springer Nature remains neutral with regard to jurisdictional claims in published maps and institutional affiliations.
Electronic supplementary material
Real-time MRI (40 ms resolution) of the lower esophageal sphincter (LES) during bolus passage (pineapple juice). Case 1 shows a subject with hiatal hernia on real-time MRI while occult on endoscopy. Video reveals regular bolus arrival in the distal esophagus and bolus transit through LES. Subsequently regular clearance of the distal esophagus. After performing Valsalva hiatal herniation can be observed on coronal oblique and sagittal planes. (MP4 32,267 kb)
Real-time MRI (40 ms resolution) of the LES during bolus passage (pineapple juice). Case 2 shows a subject with hiatal hernia on endoscopy while occult on real-time MRI. Video reveals regular bolus arrival in the distal esophagus and bolus transit through LES. During Valsalva maneuver no morphological criteria for a hernia (cephalad migration of the gastric fundus) can be observed. (MP4 23,980 kb)
Real-time MRI (40 ms resolution) of the gastroesophageal junction during bolus passage (pineapple juice), showing passage in coronal and sagittal planes. Case 3 shows a subject with hiatal hernia on both modalities, real-time MRI and endoscopy. Video reveals regular esophageal bolus transit and normal propulsive peristalsis of the distal esophagus. During Valsalva hiatal herniation of the gastric fundus can be observed on sagittal oblique planes. (MP4 41,826 kb)
Real-time MRI (40 ms resolution) of the lower esophageal sphincter (LES) during bolus passage (pineapple juice). Case 1 shows a subject with hiatal hernia on real-time MRI while occult on endoscopy. Video reveals regular bolus arrival in the distal esophagus and bolus transit through LES. Subsequently regular clearance of the distal esophagus. After performing Valsalva hiatal herniation can be observed on coronal oblique and sagittal planes. (MP4 32,267 kb)
Real-time MRI (40 ms resolution) of the LES during bolus passage (pineapple juice). Case 2 shows a subject with hiatal hernia on endoscopy while occult on real-time MRI. Video reveals regular bolus arrival in the distal esophagus and bolus transit through LES. During Valsalva maneuver no morphological criteria for a hernia (cephalad migration of the gastric fundus) can be observed. (MP4 23,980 kb)
Real-time MRI (40 ms resolution) of the gastroesophageal junction during bolus passage (pineapple juice), showing passage in coronal and sagittal planes. Case 3 shows a subject with hiatal hernia on both modalities, real-time MRI and endoscopy. Video reveals regular esophageal bolus transit and normal propulsive peristalsis of the distal esophagus. During Valsalva hiatal herniation of the gastric fundus can be observed on sagittal oblique planes. (MP4 41,826 kb)
About this article
Cite this article
Seif Amir Hosseini, A., Uhlig, J., Streit, U. et al. Hiatal hernias in patients with GERD-like symptoms: evaluation of dynamic real-time MRI vs endoscopy. Eur Radiol 29, 6653–6661 (2019). https://doi.org/10.1007/s00330-019-06284-8
Received:

Revised:

Accepted:

Published:

Issue Date:
Keywords
Hiatal hernia

Gastroesophageal reflux disease

Magnetic resonance imaging

Endoscopy

EDG