Abstract
Objective
To compare the effect of contrast medium iodine concentration on contrast enhancement, heart rate, and injection pressure when injected at a constant iodine delivery rate in coronary CT angiography (CTA).
Methods
One thousand twenty-four patients scheduled for coronary CTA were prospectively randomized to receive one of four contrast media: iopromide 300 mg I/ml, iohexol 350 mg I/ml, iopromide 370 mg I/ml, or iomeprol 400 mg I/ml. Contrast media were delivered at an equivalent iodine delivery rate of 2.0 g I/s. Intracoronary attenuation was measured and compared (per vessel and per segment). Heart rate before and after contrast media injection was documented. Injection pressure was recorded (n = 403) during contrast medium injection and compared between groups.
Results
Intracoronary attenuation values were similar for the different contrast groups. The mean attenuation over all segments ranged between 384 HU for 350 mg I/ml and 395 HU for 400 mg I/ml (p = 0.079). Dose-length product (p = 0.8424), signal-to-noise ratio (all p > 0.05), time to peak (p = 0.324), and changes in heart rate (p = 0.974) were comparable between groups. The peak pressures differed: 197.4 psi for 300 mg I/ml (viscosity 4.6 mPa s), 229.8 psi for 350 mg I/ml (10.4 mPa s), 216.1 psi for 370 mg I/ml (9.5 mPa s), and 243.7 psi for 400 mg I/ml (12.6 mPa s) (p < 0.0001).
Conclusion
Intravascular attenuation and changes in heart rate are independent of iodine concentration when contrast media are injected at the same iodine delivery rate. Differences in injection pressures are associated with the viscosity of the contrast media.
Key Points
• The contrast enhancement in coronary CT angiography is independent of the iodine concentration when contrast media are injected at body temperature (37 °C) with the same iodine delivery rate.
• Iodine concentration does not influence the change in heart rate when contrast media are injected at identical iodine delivery rates.
• For a fixed iodine delivery rate and contrast temperature, the viscosity of the contrast medium affects the injection pressure.
Access options
Buy single article
Instant access to the full article PDF.
USD 39.95
Price includes VAT (USA)
Tax calculation will be finalised during checkout.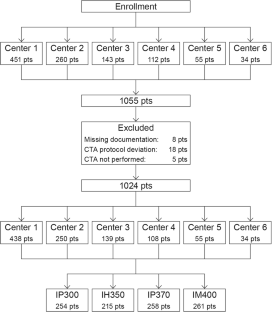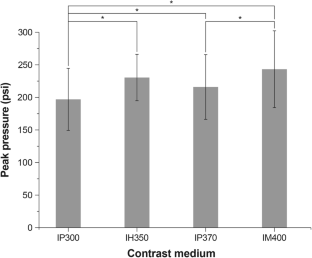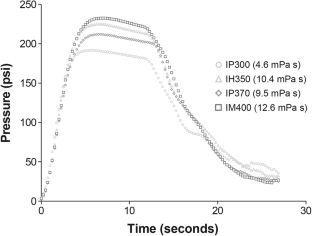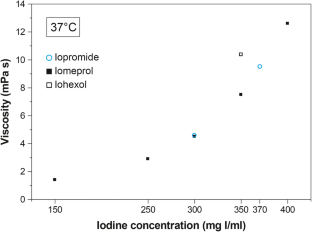 Abbreviations
AE:

Adverse events

AHA:

American Heart Association

ANOVA:

Analysis of variance

BPM:

Beats per minute

CTA:

Computed tomography angiography

CX:

Circumflex artery

DLP:

Dose-length product

ECG:

Electrocardiogram

HU:

Hounsfield units

IDR:

Iodine delivery rate

IQR:

Interquartile range

LAD:

Left anterior descending artery

LMCA:

Left main coronary artery

MDRD:

Modification of Diet in Renal Disease

RCA:

Right coronary artery

ROI:

Region of interest

SD:

Standard deviation

SNR:

Signal-to-noise ratio
References
1.

Thomas DM, Divakaran S, Villines TC et al (2015) Management of coronary artery calcium and coronary CTA findings. Curr Cardiovasc Imaging Rep 8:18

2.

Mihl C, Kok M, Wildberger JE et al (2015) Coronary CT angiography using low concentrated contrast media injected with high flow rates: feasible in clinical practice. Eur J Radiol 84:2155–2160

3.

Park EA, Lee W, Park SJ, Kim YK, Hwang HY (2016) Influence of coronary artery diameter on intracoronary transluminal attenuation gradient during CT angiography. JACC Cardiovasc Imaging 9:1074–1083

4.

Kok M, Mihl C, Seehofnerova A et al (2015) Automated tube voltage selection for radiation dose reduction in CT angiography using different contrast media concentrations and a constant iodine delivery rate. AJR Am J Roentgenol 205:1332–1338

5.

Mihl C, Maas M, Turek J et al (2017) Contrast media administration in coronary computed tomography angiography - a systematic review. Rofo 189:312–325

6.

Bae KT (2010) Intravenous contrast medium administration and scan timing at CT: considerations and approaches. Radiology 256:32–61

7.

Austen WG, Edwards JE, Frye RL et al (1975) A reporting system on patients evaluated for coronary artery disease. Report of the Ad Hoc Committee for Grading of Coronary Artery Disease, Council on Cardiovascular Surgery, American Heart Association. Circulation 51:5–40

8.

Husmann L, Alkadhi H, Boehm T et al (2006) Influence of cardiac hemodynamic parameters on coronary artery opacification with 64-slice computed tomography. Eur Radiol 16:1111–1116

9.

Cademartiri F, Mollet NR, Lemos PA et al (2006) Higher intracoronary attenuation improves diagnostic accuracy in MDCT coronary angiography. AJR Am J Roentgenol 187:W430–W433

10.

Cademartiri F, de Monye C, Pugliese F et al (2006) High iodine concentration contrast material for noninvasive multislice computed tomography coronary angiography: iopromide 370 versus iomeprol 400. Invest Radiol 41:349–353

11.

Bayer plc (2017) Summary of product characteristics Ultravist 300. Bayer plc, Reading, United Kingdom. Available via http://www.mhra.gov.uk/home/groups/spcpil/documents/spcpil/con1529039209505.pdf. Accessed September 12 2018

12.

GE Healthcare Inc. (2018) Prescribing information Omnipaque. GE Healthcare Inc. Available via https://www.accessdata.fda.gov/drugsatfda_docs/label/2018/018956s101lbl.pdf. Accessed September 12 2018

13.

Bracco Imaging Deutschland GmbH (2018) Fachinformation [prescribing information] Iomeron. Bracco Imaging Deutschland GmbH, Koblenz, Germany. Available via https://imaging.bracco.com/sites/braccoimaging.com/files/technica_sheet_pdf/de-de-2018-04-24-spc-Imeron.pdf. Accessed August 22 2018

14.

Becker CR, Vanzulli A, Fink C et al (2011) Multicenter comparison of high concentration contrast agent iomeprol-400 with iso-osmolar iodixanol-320: contrast enhancement and heart rate variation in coronary dual-source computed tomographic angiography. Invest Radiol 46:457–464

15.

Mihl C, Wildberger JE, Jurencak T et al (2013) Intravascular enhancement with identical iodine delivery rate using different iodine contrast media in a circulation phantom. Invest Radiol 48:813–818

16.

Kok M, Mihl C, Hendriks BM et al (2016) Patient comfort during contrast media injection in coronary computed tomographic angiography using varying contrast media concentrations and flow rates: results from the EICAR trial. Invest Radiol 51:810–815

17.

Lubbers MM, Kock M, Niezen A et al (2018) Iodixanol versus Iopromide at coronary CT angiography: lumen opacification and effect on heart rhythm-the randomized IsoCOR trial. Radiology 286:71–80

18.

Zhang J, Fletcher JG, Harmsen WS et al (2008) Analysis of heart rate and heart rate variation during cardiac CT examinations. Acad Radiol 15:40–48

19.

Chartrand-Lefebvre C, White CS, Bhalla S et al (2011) Comparison of the effect of low- and iso-osmolar contrast agents on heart rate during chest CT angiography: results of a prospective randomized multicenter study. Radiology 258:930–937

20.

Svensson A, Ripsweden J, Ruck A, Aspelin P, Cederlund K, Brismar BT (2010) Heart rate variability and heat sensation during CT coronary angiography: low-osmolar versus iso-osmolar contrast media. Acta Radiol 51:722–726

21.

Davenport MS, Wang CL, Bashir MR, Neville AM, Paulson EK (2012) Rate of contrast material extravasations and allergic-like reactions: effect of extrinsic warming of low-osmolality iodinated CT contrast material to 37 degrees C. Radiology 262:475–484

22.

Rutten A, Meijs MF, de Vos AM, Seidensticker PR, Prokop M (2010) Biphasic contrast medium injection in cardiac CT: moderate versus high concentration contrast material at identical iodine flux and iodine dose. Eur Radiol 20:1917–1925

23.

Jost G, Pietsch H, Sommer J et al (2009) Retention of iodine and expression of biomarkers for renal damage in the kidney after application of iodinated contrast media in rats. Invest Radiol 44:114–123

24.

Kok M, Mihl C, Mingels AA et al (2014) Influence of contrast media viscosity and temperature on injection pressure in computed tomographic angiography: a phantom study. Invest Radiol 49:217–223

25.

Matsumoto Y, Higaki T, Masuda T et al (2018) Minimizing individual variations in arterial enhancement on coronary CT angiographs using "contrast enhancement optimizer": a prospective randomized single-center study. Eur Radiol. https://doi.org/10.1007/s00330-018-5823-2
Acknowledgements
Dr. Alexander Boreham (co.medical, Berlin, Germany) is acknowledged for medical writing.
Funding
This study has received unrestricted funding from Bayer (Germany).
Ethics declarations
Guarantor
The scientific guarantor of this publication is Koen Nieman.
Conflict of interest
Koen Nieman declared institutional research support from Siemens Healthineers, GE Healthcare, Bayer Healthcare, and Heartflow Inc.
Joachim E. Wildberger declared institutional research grants from AGFA Healthcare, Bayer Healthcare, GE Healthcare, Philips Healthcare, Siemens Healthcare, and Optimed as well as personal disclosures (Speaker's bureau) from Bayer and Siemens.
Marco Das declared institutional research grants at the time of the study from Bayer Healthcare, Philips Healthcare, and Siemens Healthcare as well as personal disclosures (Speaker's bureau) from Bayer and Siemens and Cook Medical.
Andrea Laghi declared personal disclosure (Speaker's bureau) from Bayer, Bracco, GE Healthcare, Merck, and Bristol-Myers Squibb.
The other authors of this manuscript declare no relationships with any companies, whose products or services may be related to the subject matter of the article.
Statistics and biometry
One of the authors has significant statistical expertise.
Informed consent
Written informed consent was obtained from all subjects (patients) in this study.
Ethical approval
Institutional Review Board approval was obtained.
Methodology
• prospective.
• randomized controlled trial.
• multicenter study.
Additional information
Publisher's note
Springer Nature remains neutral with regard to jurisdictional claims in published maps and institutional affiliations.
About this article
Cite this article
Rengo, M., Dharampal, A., Lubbers, M. et al. Impact of iodine concentration and iodine delivery rate on contrast enhancement in coronary CT angiography: a randomized multicenter trial (CT-CON). Eur Radiol 29, 6109–6118 (2019). https://doi.org/10.1007/s00330-019-06196-7
Received:

Revised:

Accepted:

Published:

Issue Date:
Keywords
Contrast media

Computed tomography angiography

Coronary disease

Randomized controlled trial