Abstract
Objectives
To determine the current situation and future directions of clinical trials and data sharing in radiology.
Methods
This survey was conducted between July and September 2018 among European heads of imaging departments and speakers at the Clinical Trials in Radiology sessions at ECR 2015–2018. The survey was approved by the ESR research committee, was administered online, and chi-square tests were used.
Results
The overall response rate was 29% (132/460). Responses were received from institutions in 29 countries. These institutions reported having conducted 429 trials, leading to 332 publications, of which 43% were first and 44% were last authorships by those institutions. For future trials, 98% of respondents (93/95) said they would be interested in sharing data, although only 34% had shared data already (23/68, p < 0.001). The major barriers to data sharing were data protection (78%, 74/95), ethical issues (49%, 47/95), and the lack of a data sharing platform (49%, 47/95). Of the respondents, 89% believed a platform would facilitate data sharing (85/95 vs. 10/95 did not, p < 0.001) and should offer easy data uploading (74%, 70/95), data safety (66%, 63/95), easy communication between providers and re-users (62%, 59/95), and data access policies (56%, 53/95).
Conclusion
A considerable number of imaging trials are being performed and published by radiologists in Europe whilst data sharing is hardly taking place, despite great interest. This is most likely due to data protection and ethical issues, as well as the absence of a data sharing platform.
Key Points
• Radiologists have performed a considerable number of more than 400 imaging trials in the last 5 years.
• Although only 34% of institutions had shared trial data already, 98% are interested in doing so.
• Major data sharing barriers are ethics, data protection, and the absence of a sharing platform.
This is a preview of subscription content, log in to check access.
Access options
Buy single article
Instant access to the full article PDF.
US$ 39.95
Price includes VAT for USA
Subscribe to journal
Immediate online access to all issues from 2019. Subscription will auto renew annually.
US$ 199
This is the net price. Taxes to be calculated in checkout.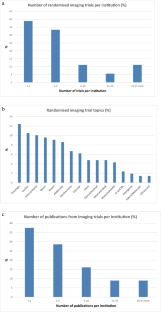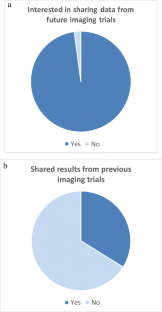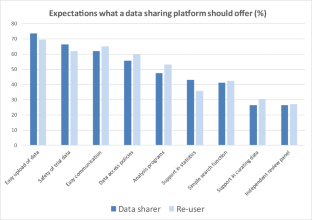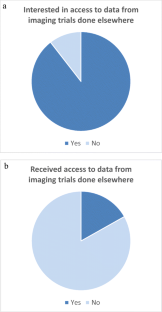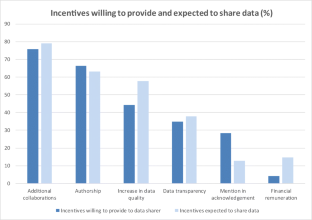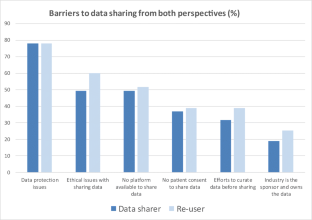 Abbreviations
ECR:

European Congress of Radiology

EIBIR:

European Institute for Biomedical Imaging Research

ESR:

European Society of Radiology

GDPR:

General Data Protection Regulation
References
1.

Sardanelli F, Hunink MG, Gilbert FJ, Di Leo G, Krestin GP (2010) Evidence-based radiology: why and how? Eur Radiol 20:1–15

2.

Kruskal JB, Larson DB (2018) Strategies for radiology to thrive in the value era. Radiology 289:3–7

3.

Taichman DB, Sahni P, Pinborg A et al (2017) Data sharing statements for clinical trials. BMJ 357:j2372

4.

Sardanelli F, Ali M, Hunink MG, Houssami N, Sconfienza LM, Di Leo G (2018) To share or not to share? Expected pros and cons of data sharing in radiological research. Eur Radiol 28:2328–2335

5.

Naudet F, Sakarovitch C, Janiaud P et al (2018) Data sharing and reanalysis of randomized controlled trials in leading biomedical journals with a full data sharing policy: survey of studies published in the BMJ and PLOS medicine. BMJ 360:k400

6.

EOSC (2018) European Open Science Cloud Pilot Project. Available via https://eoscpilot.eu/node. Accessed Nov 14 2018

7.

Tricoci P, Allen JM, Kramer JM, Califf RM, Smith SC Jr (2009) Scientific evidence underlying the ACC/AHA clinical practice guidelines. JAMA 301:831–841

8.

Baker M (2016) 1,500 scientists lift the lid on reproducibility. Nature 533:452–454

9.

Attyé A (2018) Data sharing improves scientific publication: example of the "hydrops initiative". Eur Radiol. https://doi.org/10.1007/s00330-018-5759-6

10.

European Society of Radiology (ESR) (2015). ESR position paper on imaging biobanks. Insights Imaging 6:403–410

11.

Haug CJ (2018) Turning the tables - the new European General Data Protection Regulation. N Engl J Med. https://doi.org/10.1056/NEJMp1806637

12.

European Society of Radiology (ESR) (2017). The new EU General Data Protection Regulation: what the radiologist should know. Insights Imaging 8:295–299

13.

Hricak H (2018) 2016 new horizons lecture: beyond imaging-radiology of tomorrow. Radiology 286:764–775

14.

Pesapane F, Codari M, Sardanelli F (2018) Artificial intelligence in medical imaging: threat or opportunity? Radiologists again at the forefront of innovation in medicine. Eur Radiol Exp 2:35

15.

Warren E (2016) Strengthening research through data sharing. N Engl J Med 375:401–403

16.

Bierer BE, Li R, Barnes M, Sim I (2016) A global, neutral platform for sharing trial data. N Engl J Med 374:2411–2413

17.

Mello MM, Lieou V, Goodman SN (2018) Clinical trial participants' views of the risks and benefits of data sharing. N Engl J Med 378:2202–2211

18.

Haug CJ (2017) Whose data are they anyway? Can a patient perspective advance the data-sharing debate? N Engl J Med 376:2203–2205

19.

Wilkinson MD, Dumontier M, Aalbersberg IJ et al (2016) The FAIR guiding principles for scientific data management and stewardship. Sci Data 3:160018

20.

Ohmann C, Banzi R, Canham S et al (2017) Sharing and reuse of individual participant data from clinical trials: principles and recommendations. BMJ Open 7:e018647

21.

Nasser M, Clarke M, Chalmers I et al (2017) What are funders doing to minimise waste in research? Lancet 389:1006–1007

22.

Leung KY, van der Lijn F, Vrooman HA, Sturkenboom MC, Niessen WJ (2015) IT infrastructure to support the secondary use of routinely acquired clinical imaging data for research. Neuroinformatics 13:65–81

23.

Matlock M, Schimke N, Kong L, Macke S, Hale J (2012) Systematic redaction for neuroimage data. Int J Comput Models Algorithms Med 3(2). https://doi.org/10.4018/jcmam.2012040104
Acknowledgements
The abstract for this paper was accepted for the Clinical Trials in Radiology (CTiR) session of the European Congress of Radiology in Vienna 2019.
Funding
The study received no funding.
Ethics declarations
Guarantor
The scientific guarantor of this publication is Prof. Dr. Marc Dewey.
Conflict of interest
The authors of this manuscript declare no relevant relationships with companies and no conflicts of interest.
Statistics and biometry
No complex statistical methods were necessary for this paper.
Informed consent
Not required for this anonymised survey.
Ethical approval
Not required for this anonymised survey.
Methodology
• Prospective
Additional information
Publisher's note
Springer Nature remains neutral with regard to jurisdictional claims in published maps and institutional affiliations.
About this article
Cite this article
Bosserdt, M., Hamm, B. & Dewey, M. Clinical trials in radiology and data sharing: results from a survey of the European Society of Radiology (ESR) research committee. Eur Radiol 29, 4794–4802 (2019). https://doi.org/10.1007/s00330-019-06105-y
Received:

Revised:

Accepted:

Published:

Issue Date:
Keywords
Randomized controlled trial

Clinical trial

Diagnostic imaging

Information dissemination

Surveys and questionnaires