Abstract
Objectives
Predicting post-hepatectomy liver failure (PHLF) after extended right hepatectomy following portal vein embolization (PVE) from serial gadoxetic acid-enhanced magnetic resonance imaging (MRI).
Methods
Thirty-six patients who underwent hepatectomy following PVE were evaluated prospectively with gadoxetic acid-enhanced MRI examinations at predefined intervals during the course of their treatment, i.e., before and 14 days and 28 days after PVE as well as 10 days after hepatectomy. Relative enhancement (RE) and volume of the left and right liver lobes were determined. The study population was divided into two groups with respect to signs of PHLF. Differences between the two groups were assessed using the Mann-Whitney U test, and predictive parameters for group membership were investigated using ROC and logistic regression analysis.
Results
RE of the left lobe prior to PVE versus 14 days after PVE was significantly lower in patients with PHLF than in those without PHLF (Mann-Whitney U test p < 0.001) and proved to be the best predictor of PHLF in ROC analysis with an AUC of 0.854 (p < 0.001) and a cutoff value of − 0.044 with 75.0% sensitivity and 92.6% specificity. Consistent with this result, logistic linear regression analysis adjusted for age identified the same parameter to be a significant predictor of PHLF (p = 0.040).
Conclusions
Gadoxetic acid-enhanced MRI performed as an imaging-based liver function test before and after PVE can help to predict PHLF. The risk of PHLF can be predicted as early as 14 days after PVE.
Key Points
• To predict the likelihood of post-hepatectomy liver failure, it is important to estimate not only future liver remnant volume prior to extended liver resection but also future liver remnant function.
• Future liver remnant function can be predicted by performing gadoxetic acid-enhanced MRI as an imaging-based liver function test before and after portal vein embolization.
• A reduction of relative enhancement of the liver in gadoxetic acid-enhanced MRI after portal vein embolization of 0.044 predicts post-hepatectomy liver failure with 75.0% sensitivity and 92.6% specificity.
This is a preview of subscription content, log in to check access.
Access options
Buy single article
Instant access to the full article PDF.
US$ 39.95
Tax calculation will be finalised during checkout.
Subscribe to journal
Immediate online access to all issues from 2019. Subscription will auto renew annually.
US$ 199
Tax calculation will be finalised during checkout.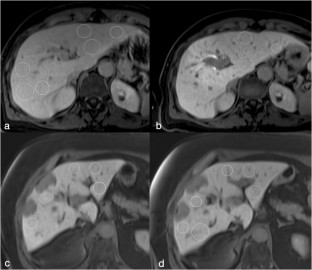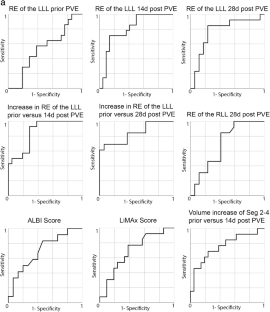 Abbreviations
ALBI:

Albumin-bilirubin

FLR-F:

Future liver remnant function

FLR-V:

Future liver remnant volume

KGR:

Kinetic growth rate

LiMAx:

13C-Methacetin breath test

LLL:

Left liver lobe

PHLF:

Post-hepatectomy liver failure

PVE:

Portal vein embolization

RE:

Relative enhancement

RLL:

Right liver lobe
References
1.

Mullen JT, Ribero D, Reddy SK et al (2007) Hepatic insufficiency and mortality in 1,059 noncirrhotic patients undergoing major hepatectomy. J Am Coll Surg 204:854–862 discussion 862-854

2.

Rahbari NN, Garden OJ, Padbury R et al (2011) Posthepatectomy liver failure: a definition and grading by the International Study Group of Liver Surgery (ISGLS). Surgery 149:713–724

3.

Ribeiro HS, Costa WL Jr, Diniz AL et al (2013) Extended preoperative chemotherapy, extent of liver resection and blood transfusion are predictive factors of liver failure following resection of colorectal liver metastasis. Eur J Surg Oncol 39:380–385

4.

van den Broek MA, Olde Damink SW, Dejong CH et al (2008) Liver failure after partial hepatic resection: definition, pathophysiology, risk factors and treatment. Liver Int 28:767–780

5.

Rahnemai-Azar AA, Cloyd JM, Weber SM et al (2018) Update on liver failure following hepatic resection: strategies for prediction and avoidance of post-operative liver insufficiency. J Clin Transl Hepatol 6:97–104

6.

Khan AS, Garcia-Aroz S, Ansari MA et al (2018) Assessment and optimization of liver volume before major hepatic resection: current guidelines and a narrative review. Int J Surg 52:74–81

7.

Asenbaum U, Kaczirek K, Ba-Ssalamah A et al (2018) Post-hepatectomy liver failure after major hepatic surgery: not only size matters. Eur Radiol. https://doi.org/10.1007/s00330-018-5487-y

8.

Manizate F, Hiotis SP, Labow D, Roayaie S, Schwartz M (2010) Liver functional reserve estimation: state of the art and relevance to local treatments. Oncology 78(Suppl 1):131–134

9.

Hoekstra LT, de Graaf W, Nibourg GA et al (2013) Physiological and biochemical basis of clinical liver function tests: a review. Ann Surg 257:27–36

10.

de Graaf W, van Lienden KP, Dinant S et al (2010) Assessment of future remnant liver function using hepatobiliary scintigraphy in patients undergoing major liver resection. J Gastrointest Surg 14:369–378

11.

de Graaf W, van Lienden KP, van den Esschert JW, Bennink RJ, van Gulik TM (2011) Increase in future remnant liver function after preoperative portal vein embolization. Br J Surg 98:825–834

12.

Shen YN, Zheng ML, Guo CX et al (2018) The role of imaging in prediction of post-hepatectomy liver failure. Clin Imaging 52:137–145

13.

Yoon JH, Choi JI, Jeong YY et al (2016) Pre-treatment estimation of future remnant liver function using gadoxetic acid MRI in patients with HCC. J Hepatol 65:1155–1162

14.

Verloh N, Haimerl M, Zeman F et al (2014) Assessing liver function by liver enhancement during the hepatobiliary phase with Gd-EOB-DTPA-enhanced MRI at 3 tesla. Eur Radiol 24:1013–1019

15.

Haimerl M, Verloh N, Fellner C et al (2014) MRI-based estimation of liver function: Gd-EOB-DTPA-enhanced T1 relaxometry of 3T vs. the MELD score. Sci Rep 4:5621

16.

Yamada A, Hara T, Li F et al (2011) Quantitative evaluation of liver function with use of gadoxetate disodium-enhanced MR imaging. Radiology 260:727–733

17.

Yoon JH, Lee JM, Paek M, Han JK, Choi BI (2016) Quantitative assessment of hepatic function: modified look-locker inversion recovery (MOLLI) sequence for T1 mapping on Gd-EOB-DTPA-enhanced liver MR imaging. Eur Radiol 26:1775–1782

18.

Geisel D, Ludemann L, Hamm B, Denecke T (2015) Imaging-based liver function tests--past, present and future. Rofo 187:863–871

19.

Costa AF, Tremblay St-Germain A, Abdolell M, Smoot RL, Cleary S, Jhaveri KS (2017) Can contrast-enhanced MRI with gadoxetic acid predict liver failure and other complications after major hepatic resection? Clin Radiol 72:598–605

20.

Kim DK, Choi JI, Choi MH et al (2018) Prediction of posthepatectomy liver failure: MRI with hepatocyte-specific contrast agent versus indocyanine green clearance test. AJR Am J Roentgenol 211:580–587

21.

Chuang YH, Ou HY, Lazo MZ et al (2018) Predicting post-hepatectomy liver failure by combined volumetric, functional MR image and laboratory analysis. Liver Int 38:868–874

22.

Geisel D, Ludemann L, Keuchel T et al (2013) Increase in left liver lobe function after preoperative right portal vein embolisation assessed with gadolinium-EOB-DTPA MRI. Eur Radiol 23:2555–2560

23.

Geisel D, Raabe P, Ludemann L et al (2017) Gd-EOB-DTPA-enhanced MRI for monitoring future liver remnant function after portal vein embolization and extended hemihepatectomy: a prospective trial. Eur Radiol 27:3080–3087

24.

Sato Y, Matsushima S, Inaba Y et al (2015) Preoperative estimation of future remnant liver function following portal vein embolization using relative enhancement on gadoxetic acid disodium-enhanced magnetic resonance imaging. Korean J Radiol 16:523–530

25.

Shindoh J, Truty MJ, Aloia TA et al (2013) Kinetic growth rate after portal vein embolization predicts posthepatectomy outcomes: toward zero liver-related mortality in patients with colorectal liver metastases and small future liver remnant. J Am Coll Surg 216:201–209

26.

Johnson PJ, Berhane S, Kagebayashi C et al (2015) Assessment of liver function in patients with hepatocellular carcinoma: a new evidence-based approach-the ALBI grade. J Clin Oncol 33:550–558

27.

Stockmann M, Lock JF, Malinowski M, Niehues SM, Seehofer D, Neuhaus P (2010) The LiMAx test: a new liver function test for predicting postoperative outcome in liver surgery. HPB (Oxford) 12:139–146

28.

Nuzzo G, Giuliante F, Giovannini I, Vellone M, De Cosmo G, Capelli G (2001) Liver resections with or without pedicle clamping. Am J Surg 181:238–246

29.

Nuzzo G, Giuliante F, Vellone M et al (2004) Pedicle clamping with ischemic preconditioning in liver resection. Liver Transpl 10:S53–S57

30.

Madoff DC, Gaba RC, Weber CN, Clark TW, Saad WE (2016) Portal venous interventions: state of the art. Radiology 278:333–353

31.

Simoneau E, Aljiffry M, Salman A et al (2012) Portal vein embolization stimulates tumour growth in patients with colorectal cancer liver metastases. HPB (Oxford) 14:461–468

32.

Verloh N, Haimerl M, Zeman F et al (2015) Multivariable analysis of clinical influence factors on liver enhancement of Gd-EOB-DTPA-enhanced 3T MR. Rofo 871:29–35

33.

Besa C, Bane O, Jajamovich G, Marchione J, Taouli B (2015) 3D T1 relaxometry pre and post gadoxetic acid injection for the assessment of liver cirrhosis and liver function. Magn Reson Imaging 33:1075–1082

34.

Unal E, Akata D, Karcaaltincaba M (2016) Liver function assessment by magnetic resonance imaging. Semin Ultrasound CT MR 37:549–560

35.

Yoon JH, Lee JM, Kim E, Okuaki T, Han JK (2017) Quantitative liver function analysis: volumetric T1 mapping with fast multisection B1 inhomogeneity correction in hepatocyte-specific contrast-enhanced liver MR imaging. Radiology 282:408–417

36.

Talakic E, Steiner J, Kalmar P et al (2014) Gd-EOB-DTPA enhanced MRI of the liver: correlation of relative hepatic enhancement, relative renal enhancement, and liver to kidneys enhancement ratio with serum hepatic enzyme levels and eGFR. Eur J Radiol 83:607–611
Acknowledgements
The authors thank Bettina Herwig for language editing.
Funding
The authors state that this work has not received any funding.
Ethics declarations
Guarantor
The scientific guarantor of this publication is Dominik Geisel.
Conflict of interest
Drs Geisel, Hamm, and Denecke have received travel support and honoraria from Bayer AG.
Statistics and biometry
One of the authors has significant statistical expertise.
Informed consent
Written informed consent was obtained from all patients in this study.
Ethical approval
Institutional review board approval was obtained.
Study subjects or cohorts overlap
The 36 patients included in the current study have already been the subject of an earlier report [23]. The prior study investigated the increase in liver volume and the potential of gadoxetic acid-enhanced MRI to predict the volume increase and monitor the functional increase of the future liver remnant after portal vein embolization. With a longer observation period until the point well after extended hemihepatectomy following portal vein embolization and newly available information of the outcome of surgery and clinical status afterwards, the focus of the current study is on clinical outcome and means of predicting this outcome using several functional parameters including gadoxetic acid-enhanced MRI.
Methodology
• prospective study
• diagnostic or prognostic study
• performed at one institution
Additional information
Publisher's note
Springer Nature remains neutral with regard to jurisdictional claims in published maps and institutional affiliations.
About this article
Cite this article
Theilig, D., Steffen, I., Malinowski, M. et al. Predicting liver failure after extended right hepatectomy following right portal vein embolization with gadoxetic acid-enhanced MRI. Eur Radiol 29, 5861–5872 (2019). https://doi.org/10.1007/s00330-019-06101-2
Received:

Revised:

Accepted:

Published:

Issue Date:
Keywords
Liver

Hepatectomy

Contrast agent

Magnetic resonance imaging