Abstract
Purpose
To assess the diagnostic potential of dynamic real-time MRI for fundoplication failure in patients with persistent or recurrent GERD-like (gastroesophageal reflux disease) complaints.
Material and methods
Twenty-two consecutive patients (male n = 11; female n = 11; median age 59 years) with recurrent or persistent GERD-like symptom after fundoplication were enrolled between 2015 and 2017. Median duration of GERD-like symptoms was 21 months. Real-time MRI (3 Tesla) was performed at 40 ms temporal resolution using undersampled radial fast low-angle shot acquisitions with nonlinear inverse image reconstruction. MRI movies dynamically visualized bolus transit of pineapple juice through the gastroesophageal junction, position of the fundoplication wrap and recurring hernia or reflux during Valsalva maneuver. MRI results were compared to endoscopic findings.
Results
Real-time MRI was successfully completed in all patients without adverse events (average examination time 15 min). Morphological correlates for GERD-like symptoms were evident in 20 patients (90.1%) with gastric reflux in 19 cases. Nine patients (40.1%) had wrap disruption and recurrent gastric hernia. Wrap migration or telescoping hernia was detected in nine patients (40.1%). One patient presented with continued reflux despite intact fundoplication wrap. Esophageal dysmotility with delayed bolus passage was observed in one case. On endoscopy, gastric hernia or wrap disruption was diagnosed in seven cases, and esophagitis or Barret's metaplasia in nine cases.
Conclusion
Real-time MRI is a fast and safe modality for dynamic imaging after fundoplication, without radiation exposure or administration of gadolinium-based contrast media. In a relevant number of cases, real-time MRI reveals correlates for GERD-like symptoms.
Key Points
• Real-time MRI reliably visualizes the gastroesophageal junction after fundoplication surgery.
• Patients with recurring GERD-like symptoms have a high rate of morphological failure patterns that can be identified by real-time MRI.
• Dynamic assessment of gastroesophageal junction by real-time MRI is a perspective diagnostic tool for detection of fundoplication failure.
This is a preview of subscription content, log in to check access.
Access options
Buy single article
Instant access to the full article PDF.
US$ 39.95
Price includes VAT for USA
Subscribe to journal
Immediate online access to all issues from 2019. Subscription will auto renew annually.
US$ 199
This is the net price. Taxes to be calculated in checkout.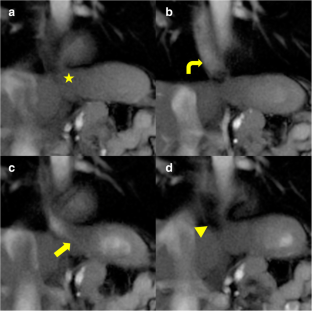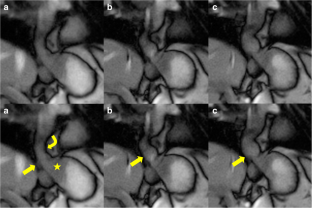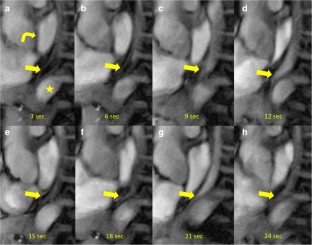 Abbreviations
GERD:

Gastroesophageal reflux disease

PPI:

Proton pump inhibitor
References
1.

Dent J, El-Serag HB, Wallander MA, Johansson S (2005) Epidemiology of gastro-oesophageal reflux disease: a systematic review. Gut 54:710–717

2.

Katz PO, Gerson LB, Vela MF (2013) Guidelines for the diagnosis and management of gastroesophageal reflux disease. Am J Gastroenterol 108:308–328 quiz 329

3.

Nissen R (1956) A simple operation for control of reflux esophagitis. Schweiz Med Wochenschr 86:590–592

4.

Dallemagne B, Weerts JM, Jehaes C, Markiewicz S, Lombard R (1991) Laparoscopic Nissen fundoplication: preliminary report. Surg Laparosc Endosc 1:138–143

5.

Anvari M, Allen C (2003) Five-year comprehensive outcomes evaluation in 181 patients after laparoscopic Nissen fundoplication. J Am Coll Surg 196:51–57 discussion 57-58; author reply 58-59

6.

Lafullarde T, Watson DI, Jamieson GG, Myers JC, Game PA, Devitt PG (2001) Laparoscopic Nissen fundoplication: five-year results and beyond. Arch Surg 136:180–184

7.

Hashemi M, Peters JH, DeMeester TR et al (2000) Laparoscopic repair of large type III hiatal hernia: objective follow up reveals high recurrence rate. J Am Coll Surg 190:553–560 discussion 560-551

8.

Smith CD, McClusky DA, Rajad MA, Lederman AB, Hunter JG (2005) When fundoplication fails: redo? Ann Surg 241:861–871

9.

Hunter JG, Smith CD, Branum GD et al (1999) Laparoscopic fundoplication failures: patterns of failure and response to fundoplication revision. Ann Surg 230:595–604 discussion 604-596

10.

Abdelmoaty WF, Swanstrom LL (2017) Endoscopic evaluation of post-fundoplication anatomy. Curr Gastroenterol Rep 19:51

11.

Juhasz A, Sundaram A, Hoshino M, Lee TH, Filipi CJ, Mittal SK (2011) Endoscopic assessment of failed fundoplication: a case for standardization. Surg Endosc 25:3761–3766

12.

Raeside MC, Madigan D, Myers JC, Devitt PG, Jamieson GG, Thompson SK (2012) Post-fundoplication contrast studies: is there room for improvement? Br J Radiol 85:792–799

13.

Carbo AI, Kim RH, Gates T, D'Agostino HR (2014) Imaging findings of successful and failed fundoplication. Radiographics 34:1873–1884

14.

Frahm J, Schätz S, Untenberger M et al (2014) On the temporal fidelity of nonlinear inverse reconstructions for real- time MRI – the motion challenge. Open Med Imaging J 8:1–7

15.

Uecker M, Zhang S, Voit D, Karaus A, Merboldt KD, Frahm J (2010) Real-time MRI at a resolution of 20 ms. NMR Biomed 23:986–994

16.

Zhang S, Joseph AA, Gross L, Ghadimi M, Frahm J, Beham AW (2015) Diagnosis of gastroesophageal reflux disease using real-time magnetic resonance imaging. Sci Rep 5:12112

17.

Seif Amir Hosseini A, Beham A, Uhlig J et al (2018) Intra- and interobserver variability in the diagnosis of GERD by real-time MRI. Eur J Radiol 104:14–19

18.

Kulinna-Cosentini C, Schima W, Ba-Ssalamah A, Cosentini EP (2014) MRI patterns of Nissen fundoplication: normal appearance and mechanisms of failure. Eur Radiol 24:2137–2145

19.

Wehrli NE, Levine MS, Rubesin SE, Katzka DA, Laufer I (2007) Secondary achalasia and other esophageal motility disorders after laparoscopic Nissen fundoplication for gastroesophageal reflux disease. AJR Am J Roentgenol 189:1464–1468

20.

Jailwala J, Massey B, Staff D, Shaker R, Hogan W (2001) Post-fundoplication symptoms: the role for endoscopic assessment of fundoplication integrity. Gastrointest Endosc 54:351–356
Funding
The authors state that this work has not received any funding.
Ethics declarations
Guarantor
The scientific guarantor of this publication is Ali Seif Amir Hosseini.
Conflict of interest
Jens Frahm and Martin Uecker are co-inventors of a patent covering the real-time MRI technique used in this study.
Statistics and biometry
Statistical analyses were performed by a co-author with MPH degree.
Informed consent
Written informed consent was obtained from all subjects (patients) in this study.
Ethical approval
Institutional Review Board approval was obtained.
Methodology
• descriptive diagnostic study
• performed at one institution
Additional information
Publisher's note
Springer Nature remains neutral with regard to jurisdictional claims in published maps and institutional affiliations.
Electronic supplementary material
Real-time MRI (40 ms resolution) of the gastroesophageal junction during bolus passage (pineapple juice). Regular bolus transit while normal position of fundoplication wrap with expected bolus arrival in the distal esophagus on time and bolus transit through fundoplication wrap. Subsequently regular clearance of the distal esophagus. (M4V 26,502 kb)
Real-time MRI (40 ms resolution) of the gastroesophageal junction during bolus passage (pineapple juice), while the subject performs a Valsalva maneuver. During Valsalva maneuver parts of the stomach herniate through the fundoplication wrap. By the end of the video maximum extent of telescoping during Valsalva maneuver is reached. (M4V 28,208 kb)
Real-time MRI (40 ms resolution) of the gastroesophageal junction during bolus passage (pineapple juice), showing passage in sagittal planes. Video reveals delayed esophageal bolus transit and reduced propulsive peristalsis of the distal esophagus. The video indicates esophageal dysmotility with non-propulsive contractions and a considerably delayed incomplete esophageal clearance after 24 s. (M4V 49,209 kb)
About this article
Cite this article
Seif Amir Hosseini, A., Uhlig, J., Streit, U. et al. Real-time MRI for the dynamic assessment of fundoplication failure in patients with gastroesophageal reflux disease. Eur Radiol 29, 4691–4698 (2019). https://doi.org/10.1007/s00330-019-06025-x
Received:

Revised:

Accepted:

Published:

Issue Date:
Keywords
Magnetic resonance imaging

Gastroesophageal reflux disease (GERD)

Fundoplication