Abstract
Objectives
To investigate the clinical potential of fat-free muscle area (FFMA) to predict outcome in patients with liver-predominant metastatic colorectal cancer (mCRC) undergoing radioembolization (RE) with 90Yttrium microspheres.
Methods
Patients with mCRC who underwent RE in our center were included in this retrospective study. All patients received liver magnetic resonance imaging including standard T2-weighted images. The total erector spinae muscle area and the intramuscular adipose tissue area were measured at the level of the origin of the superior mesenteric artery and subtracted to calculate FFMA. Cutoff values for definition of low FFMA were 3644 mm2 in men and 2825 mm2 in women. The main outcome was overall survival (OS). For survival analysis, the Kaplan-Meier method and Cox regressions comparing various clinic-oncological parameters which potentially may affect OS were performed.
Results
Seventy-seven patients (28 female, mean age 60 ± 11 years) were analyzed. Mean time between MRI and the following RE was 17 ± 31 days. Median OS after RE was 178 days. Patients with low FFMA had significantly shortened OS compared to patients with high FFMA (median OS: 128 vs. 273 days, p = 0.017). On multivariate Cox regression analysis, OS was best predicted by FFMA (hazard ratio (HR) 2.652; p < 0.001). Baseline bilirubin (HR 1.875; p = 0.030), pattern of tumor manifestation (HR 1.679; p = 0.001), and model of endstage liver disease (MELD) score (HR 1.164; p < 0.001) were also significantly associated with OS.
Conclusions
FFMA was associated with OS in patients receiving RE for treatment of mCRC and might be a new prognostic biomarker for survival prognosis.
Key Points
• Fat-free muscle area (FFMA) as a measure of lean muscle area predicts survival in metastatic colorectal liver cancer following radioembolization.
• FFMA can easily be assessed from routine pre-interventional liver magnetic resonance imaging.
• FFMA might be a new promising biomarker for assessment of sarcopenia.
Access options
Buy single article
Instant access to the full article PDF.
US$ 39.95
Tax calculation will be finalised during checkout.
Subscribe to journal
Immediate online access to all issues from 2019. Subscription will auto renew annually.
US$ 119
Tax calculation will be finalised during checkout.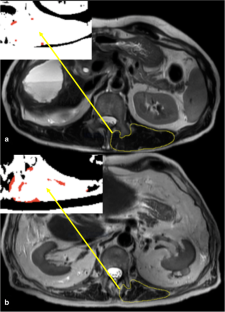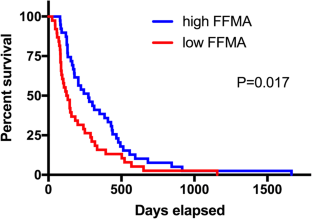 Abbreviations
ATA:

Adipose tissue area

CRC:

Colorectal cancer

CT:

Computed tomography

ECOG:

Eastern Cooperative Oncology Group performance status

FFMA:

Fat-free muscle area

mCRC:

Liver-predominant metastatic colorectal cancer

MELD:

Model of endstage liver disease

MRI:

Magnetic resonance imaging

OS:

Overall survival

PDFF:

Proton density fat fraction

RE:

Radioembolization

SMI:

Skeletal muscle index

TIPS:

Transjugular intrahepatic portosystemic shunt

TMA:

Total muscle area

Y-90:

90Yttrium microspheres
References
1.

Siegel RL, Miller KD, Fedewa SA et al (2017) Colorectal cancer statistics, 2017. CA Cancer J Clin 67:177–193

2.

Dendy MS, Ludwig JM, Kim HS (2017) Predictors and prognosticators for survival with Yttrium-90 radioembolization therapy for unresectable colorectal cancer liver metastasis. Oncotarget 8:37912–37922

3.

Ahmadzadehfar H, Biersack HJ, Ezziddin S (2010) Radioembolization of liver tumors with yttrium-90 microspheres. Semin Nucl Med 40:105–121

4.

Garden OJ, Rees M, Poston GJ et al (2006) Guidelines for resection of colorectal cancer liver metastases. Gut 55(Suppl 3):1–8

5.

Boas FE, Bodei L, Sofocleous CT (2017) Radioembolization of colorectal liver metastases: indications, technique, and outcomes. J Nucl Med 58(Suppl 2):104S–111S

6.

Schmeel FC, Simon B, Sabet A et al (2017) Diffusion-weighted magnetic resonance imaging predicts survival in patients with liver-predominant metastatic colorectal cancer shortly after selective internal radiation therapy. Eur Radiol 27:966–975

7.

Barabasch A, Heinzel A, Bruners P, Kraemer NA, Kuhl CK (2018) Diffusion-weighted MRI is superior to PET/CT in predicting survival of patients undergoing Y radioembolization of hepatic metastases. Radiology 288:764–773

8.

Chang KV, Chen JD, Wu WT, Huang KC, Hsu CT, Han DS (2017) Association between loss of skeletal muscle mass and mortality and tumor recurrence in hepatocellular carcinoma: a systematic review and meta-analysis. Liver Cancer 87:90–103

9.

Martin L, Birdsell L, Macdonald N et al (2013) Cancer cachexia in the age of obesity: skeletal muscle depletion is a powerful prognostic factor, independent of body mass index. J Clin Oncol 31:1539–1547

10.

Praktiknjo M, Book M, Luetkens J et al (2018) Fat-free muscle mass in magnetic resonance imaging predicts acute-on-chronic liver failure and survival in decompensated cirrhosis. Hepatology 67:1014–1026

11.

Yamashima M, Miyaaki H, Honda T et al (2017) Significance of psoas muscle thickness as an indicator of muscle atrophy in patients with hepatocellular carcinoma treated with sorafenib. Mol Clin Oncol 7:449–453

12.

Cruz-Jentoft AJ, Landi F, Schneider SM et al (2014) Prevalence of and interventions for sarcopenia in ageing adults: a systematic review. Report of the International Sarcopenia Initiative (EWGSOP and IWGS). Age Ageing 43:748–759

13.

Xiao J, Caan BJ, Weltzien E et al (2018) Associations of pre-existing co-morbidities with skeletal muscle mass and radiodensity in patients with non-metastatic colorectal cancer. J Cachexia Sarcopenia Muscle 9:654–663

14.

Nattenmüller J, Hoegenauer H, Boehm J et al (2016) CT-based compartmental quantification of adipose tissue versus body metrics in colorectal cancer patients. Eur Radiol 26:4131–4140

15.

Nattenmüller J, Rom J, Buckner T et al (2018) Visceral abdominal fat measured by computer tomography as a prognostic factor for gynecological malignancies? Oncotarget 9:16330–16342

16.

Miyamoto Y, Baba Y, Sakamoto Y et al (2015) Negative impact of skeletal muscle loss after systemic chemotherapy in patients with unresectable colorectal cancer. PLoS One 10:e0129742

17.

van Vledder MG, Levolger S, Ayez N, Verhoef C, Tran TC, Ijzermans JN (2012) Body composition and outcome in patients undergoing resection of colorectal liver metastases. Br J Surg 99:550–557

18.

Levolger S, van Vugt JL, De Bruin RW, IJzermans JN (2015) Systematic review of sarcopenia in patients operated on for gastrointestinal and hepatopancreatobiliary malignancies. Br J Surg 102:1448–1458

19.

Buckinx F, Landi F, Cesari M et al (2018) Pitfalls in the measurement of muscle mass: a need for a reference standard. J Cachexia Sarcopenia Muscle 9:269–278

20.

Dunfee BL, Riaz A, Lewandowski RJ et al (2010) Yttrium-90 radioembolization for liver malignancies: prognostic factors associated with survival. J Vasc Interv Radiol 21:90–95

21.

Cruz-Jentoft AJ, Baeyens JP, Bauer JM et al (2010) Sarcopenia: European consensus on definition and diagnosis. Age Ageing 39:412–423

22.

Lewandowski RJ, Thurston KG, Goin JE et al (2005) 90Y microsphere (TheraSphere) treatment for unresectable colorectal cancer metastases of the liver: response to treatment at targeted doses of 135-150 Gy as measured by [18F]fluorodeoxyglucose positron emission tomography and computed tomographic imaging. J Vasc Interv Radiol 16:1641–1651

23.

Peng PD, van Vledder MG, Tsai S et al (2011) Sarcopenia negatively impacts short-term outcomes in patients undergoing hepatic resection for colorectal liver metastasis. HPB (Oxford) 13:439–446

24.

Kalantar-Zadeh K, Horwich TB, Oreopoulos A et al (2007) Risk factor paradox in wasting diseases. Curr Opin Clin Nutr Metab Care 10:433–442

25.

Imbeault P, Tremblay A, Simoneau JA, Joanisse DR (2002) Weight loss-induced rise in plasma pollutant is associated with reduced skeletal muscle oxidative capacity. Am J Physiol Endocrinol Metab 282:E574–E579

26.

Fromer MW, Aloia TA, Gaughan JP, Atabek UM, Spitz FR (2016) The utility of the MELD score in predicting mortality following liver resection for metastasis. Eur J Surg Oncol 42:1568–1575

27.

Pan CC, Kavanagh BD, Dawson LA et al (2010) Radiation-associated liver injury. Int J Radiat Oncol Biol Phys 76(Suppl 3):94–100

28.

Kennedy AS, Ball D, Cohen SJ et al (2017) Baseline hemoglobin and liver function predict tolerability and overall survival of patients receiving radioembolization for chemotherapy-refractory metastatic colorectal cancer. J Gastrointest Oncol 8:70–80

29.

Grimm A, Meyer H, Nickel MD et al (2018) A comparison between 6-point DIXON MRI and MR spectroscopy to quantify muscle fat in the thigh of subjects with sarcopenia. J Frailty Aging. https://doi.org/10.14283/jfa.2018.16

30.

Schlaeger S, Inhuber S, Rohrmeier A et al (2018) Association of paraspinal muscle water–fat MRI-based measurements with isometric strength measurements. Eur Radiol. https://doi.org/10.1007/s00330-018-5631-8

31.

Wasan HS, Gibbs P, Sharma NK et al (2017) First-line selective internal radiotherapy plus chemotherapy versus chemotherapy alone in patients with liver metastases from colorectal cancer (FOXFIRE, SIRFLOX, and FOXFIRE-global): a combined analysis of three multicentre, randomised, phase 3 trials. Lancet Oncol 18:1159–1171

32.

van Hazel GA, Heinemann V, Sharma NK et al (2016) SIRFLOX: randomized phase III trial comparing first-line mFOLFOX6 (plus or minus bevacizumab) versus mFOLFOX6 (plus or minus bevacizumab) plus selective internal radiation therapy in patients with metastatic colorectal cancer. J Clin Oncol 34:1723–1731
Funding
The authors state that this work has not received any funding.
Ethics declarations
Guarantor
The scientific guarantor of this publication is PD Dr. Julian A. Luetkens.
Conflict of interest
The authors of this manuscript declare relationships with the following companies: C.M. is a consultant for SIRTEX Medical; C.C.P. received speakers' fees from Philips Healthcare.
Statistics and biometry
One of the authors (R.F.) has significant statistical expertise.
Informed consent
Written informed consent was waived by the Institutional Review Board.
Ethical approval
Institutional Review Board approval was obtained.
Methodology
• retrospective
• prognostic study
• performed at one institution
Additional information
Publisher's note
Springer Nature remains neutral with regard to jurisdictional claims in published maps and institutional affiliations.
About this article
Cite this article
Faron, A., Pieper, C.C., Schmeel, F.C. et al. Fat-free muscle area measured by magnetic resonance imaging predicts overall survival of patients undergoing radioembolization of colorectal cancer liver metastases. Eur Radiol 29, 4709–4717 (2019). https://doi.org/10.1007/s00330-018-5976-z
Received:

Revised:

Accepted:

Published:

Issue Date:
Keywords
Sarcopenia

Colorectal cancer

Brachytherapy

Magnetic resonance imaging