Abstract
Objectives
To identify CT parameters independently associated with infectious mediastinitis after cardiac surgery and to improve the discrimination of patients with acute infection from those with normal postoperative changes.
Methods
In this single-center, retrospective, observational cohort study, we evaluated thoracic CT scans of poststernotomy cardiac surgery patients. Inclusion criteria were clinically suspected mediastinitis, unclear CT signs (e.g., retrosternal mass), and subsequent deep revision surgery. Revision surgery and microbiological samples determined the mediastinitis status. Overall, 22 qualitative and quantitative CT imaging parameters were assessed and associated with infectious mediastinitis in univariate and multivariate regression models. Discriminative capacity and incremental value of the CT features to available clinical parameters were determined by AUC and likelihood-ratio tests, respectively.
Results
Overall 105 patients (82% men; 67.0 ± 10.3 years) underwent CT and deep revision surgery. Mediastinitis was confirmed in 83/105 (79%) patients. Among available clinical parameters, only C-reactive protein (CRP) was independently associated with infectious mediastinitis (multivariate odds ratio (OR) (per standard deviation) = 2.3; p < 0.001). In the CT, the presence of free gas, pleural effusions, and brachiocephalic lymph node size were independently associated with mediastinitis (multivariate ORs = 1.3–6.3; p < 0.001–0.039). Addition of these CT parameters to CRP increased the model fit significantly (X2 = 17.9; p < 0.001; AUC, 0.83 vs. 0.73).
Conclusion
The presence of free gas, pleural effusions, and brachiocephalic lymph node size in CT is independently associated with infectious mediastinitis in poststernotomy patients with retrosternal mass. These imaging features may help to differentiate mediastinitis from normal postoperative changes beyond traditional clinical parameters such as CRP.
Key Points
• Presence of free gas, pleural effusions, and brachiocephalic lymph node size on CT are associated independently with infectious mediastinitis.
• Combination of these CT parameters increases the discriminatory capacity of clinical parameters such as CRP.
Access options
Buy single article
Instant access to the full article PDF.
US$ 39.95
Tax calculation will be finalised during checkout.
Subscribe to journal
Immediate online access to all issues from 2019. Subscription will auto renew annually.
US$ 119
Tax calculation will be finalised during checkout.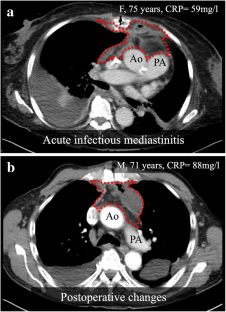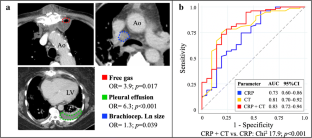 Abbreviations
CRP:

C-reactive protein

HU:

Hounsfield unit

ICC:

Intra-class correlation coefficient

IQR:

Inter-quartile range

Ln:

Lymph node

OR:

Odds ratio

ROI:

Region of interest

SD:

Standard deviation

VOI:

Volume of interest
References
1.

Barsoum EA, Azab B, Shah N et al (2015) Long-term mortality in minimally invasive compared with sternotomy coronary artery bypass surgery in the geriatric population (75 years and older patients). Eur J Cardiothorac Surg 47:862–867. https://doi.org/10.1093/ejcts/ezu267

2.

Brown ML, McKellar SH, Sundt TM, Schaff HV (2009) Ministernotomy versus conventional sternotomy for aortic valve replacement: a systematic review and meta-analysis. J Thorac Cardiovasc Surg 137:670–679.e5. https://doi.org/10.1016/j.jtcvs.2008.08.010

3.

Buja A, Zampieron A, Cavalet S et al (2012) An update review on risk factors and scales for prediction of deep sternal wound infections. Int Wound J 9:372–386. https://doi.org/10.1111/j.1742-481X.2011.00896.x

4.

Gorlitzer M, Wagner F, Pfeiffer S et al (2013) Prevention of sternal wound complications after sternotomy: results of a large prospective randomized multicentre trial. Interact Cardiovasc Thorac Surg 17:515–522. https://doi.org/10.1093/icvts/ivt240

5.

Brown PP, Kugelmass AD, Cohen DJ et al (2008) The frequency and cost of complications associated with coronary artery bypass grafting surgery: results from the United States Medicare Program. Ann Thorac Surg 85:1980–1986. https://doi.org/10.1016/j.athoracsur.2008.01.053

6.

Speir AM, Kasirajan V, Barnett SD, Fonner E (2009) Additive costs of postoperative complications for isolated coronary artery bypass grafting patients in Virginia. Ann Thorac Surg 88:40–46. https://doi.org/10.1016/j.athoracsur.2009.03.076

7.

Chan M, Yusuf E, Giulieri S et al (2016) A retrospective study of deep sternal wound infections: clinical and microbiological characteristics, treatment, and risk factors for complications. Diagn Microbiol Infect Dis 84:261–265. https://doi.org/10.1016/j.diagmicrobio.2015.11.011

8.

Athanassiadi KA (2009) Infections of the mediastinum. Thorac Surg Clin 19:37–45. https://doi.org/10.1016/j.thorsurg.2008.09.012

9.

van Wingerden JJ, Maas M, Braam RL, de Mol BA (2016) Diagnosing poststernotomy mediastinitis in the ED. Am J Emerg Med 34:618–622. https://doi.org/10.1016/j.ajem.2015.12.048

10.

Bitkover CY, Cederlund K, Aberg B, Vaage J (1999) Computed tomography of the sternum and mediastinum after median sternotomy. Ann Thorac Surg 68:858–863. https://doi.org/10.1016/S0003-4975(99)00549-4

11.

Exarhos DN, Malagari K, Tsatalou EG et al (2005) Acute mediastinitis: spectrum of computed tomography findings. Eur Radiol 15:1569–1574. https://doi.org/10.1007/s00330-004-2538-3

12.

Jolles H, Henry DA, Roberson JP, Cole TJ, Spratt JA (1996) Mediastinitis following median sternotomy: CT findings. Radiology 201:463–466. https://doi.org/10.1148/radiology.201.2.8888241

13.

Misawa Y, Fuse K, Hasegawa T (1998) Infectious mediastinitis after cardiac operations: computed tomographic findings. Ann Thorac Surg 65:622–624

14.

Yamaguchi H, Yamauchi H, Yamada T, Ariyoshi T, Aikawa H, Kato Y(2001) Diagnostic validity of computed tomography for mediastinitis after cardiac surgery. Ann Thorac Cardiovasc Surg 7:94–98

15.

Yamashiro T, Kamiya H, Murayama S et al (2008) Infectious mediastinitis after cardiovascular surgery: role of computed tomography. Radiat Med 26:343–347. https://doi.org/10.1007/s11604-008-0238-7

16.

Breatnach E, Nath PH, Delany DJ (1986) The role of computed tomography in acute and subacute mediastinitis. Clin Radiol 37:139–145. https://doi.org/10.1016/S0009-9260(86)80383-X

17.

Carrol CL, Jeffrey RB Jr, Federle MP, Vernacchia FS (1987) CT evaluation of mediastinal infections. J Comput Assist Tomogr 11:449–454

18.

Elia S, End A, Canalis E, Lode H, Granai Vittoria A, Petrella G (2013) Mediastinitis: causes, management and outcomes. In: Rohde G, Subotic D (eds) Complex pleuropulmonary infections. European Respiratory Society, Norwich, UK, pp 122–140

19.

Kay HR, Goodman LR, Teplick SK, Mundth ED (1983) Use of computed tomography to assess mediastinal complications after median sternotomy. Ann Thorac Surg 36:706–714

20.

Herrmann M, Kniehl E, Mauch H, Podbielski A (2007) MiQ: Qualitätsstandards in der mikrobiologisch-infektiologischen Diagnostik, MiQ Grundwerk Heft 1–29. Urban & Fischer, Munich

21.

Horan TC, Andrus M, Dudeck MA (2008) CDC/NHSN surveillance definition of health care–associated infection and criteria for specific types of infections in the acute care setting. Am J Infect Control 36:309–332. https://doi.org/10.1016/j.ajic.2008.03.002

22.

Abramowitz Y, Simanovsky N, Goldstein MS, Hiller N (2009) Pleural effusion: characterization with CT attenuation values and CT appearance. AJR Am J Roentgenol 192:618–623. https://doi.org/10.2214/AJR.08.1286

23.

Kim SH, Chung JH, Kwon BJ, Song SW, Choi WS (2014) The associations of epicardial adipose tissue with coronary artery disease and coronary atherosclerosis. Int Heart J 55:197–203

24.

McWilliams SR, O'Connor OJ, McGarrigle AM et al (2012) CT-based estimation of intracavitary gas volumes using threshold-based segmentation: in vitro study to determine the optimal threshold range: gas volume estimation with CT. J Med Imaging Radiat Oncol 56:289–294. https://doi.org/10.1111/j.1754-9485.2012.02375.x

25.

Riquet M, Le Pimpec-Barthes F, Hidden G (2001) Lymphatic drainage of the pericardium to the mediastinal lymph nodes. Surg Radiol Anat 23:317–319. https://doi.org/10.1007/s00276-001-0317-2

26.

Balthazar EJ, Robinson DL, Megibow AJ, Ranson JH (1990) Acute pancreatitis: value of CT in establishing prognosis. Radiology 174:331–336. https://doi.org/10.1148/radiology.174.2.2296641

27.

Klein AL, Abbara S, Agler DA et al (2013) American Society of Echocardiography clinical recommendations for multimodality cardiovascular imaging of patients with pericardial disease: endorsed by the Society for Cardiovascular Magnetic Resonance and Society of Cardiovascular Computed Tomography. J Am Soc Echocardiogr 26:965–1012.e15. https://doi.org/10.1016/j.echo.2013.06.023

28.

Vaidyanathan S, Patel CN, Scarsbrook AF, Chowdhury FU (2015) FDG PET/CT in infection and inflammation—current and emerging clinical applications. Clin Radiol 70:787–800. https://doi.org/10.1016/j.crad.2015.03.010
Acknowledgments
BF received unrelated funding from the German Research Foundation (DFG) project 290004377 (FO 993/1).
Funding
The authors state that this work has not received any funding.
Ethics declarations
Guarantor
The scientific guarantor of this publication is Prof. Dr. Matthias Gutberlet.
Conflict of interest
The authors of this manuscript declare no relationships with any companies, whose products or services may be related to the subject matter of the article.
Statistics and biometry
One of the authors has significant statistical expertise. No complex statistical methods were necessary for this paper.
Informed consent
Written informed consent was waived by the Institutional Review Board.
Ethical approval
Institutional Review Board approval was obtained.
Methodology
• retrospective
• observational
• performed at one institution
Additional information
Publisher's note
Springer Nature remains neutral with regard to jurisdictional claims in published maps and institutional affiliations.
Electronic supplementary material
About this article
Cite this article
Foldyna, B., Mueller, M., Etz, C.D. et al. Computed tomography improves the differentiation of infectious mediastinitis from normal postoperative changes after sternotomy in cardiac surgery. Eur Radiol 29, 2949–2957 (2019). https://doi.org/10.1007/s00330-018-5946-5
Received:

Revised:

Accepted:

Published:

Issue Date:
Keywords
Multidetector computed tomography

Mediastinitis

Sternotomy

Cardiac surgery