Abstract
Purpose
Cortical biopsy is the cornerstone to reveal a cause of unexplained dysfunction of the kidney transplant. Nevertheless, only a few studies have reported the biopsy technique with its performance. We described a novel technique of ultrasound (US)-guided kidney transplant biopsy using cortex-only view and analyzed its diagnostic efficacy and safety.
Materials and methods
Between January 2014 and December 2016, a consecutive series of 188 patients who underwent US-guided kidney transplant biopsy using cortex-only view by an experienced radiologist were evaluated (mean age, 46.1 ± 12.5 years; range, 21–79 years). Biopsy time, biopsy distance, biopsy core number, and glomerular number per patient were recorded. Successful biopsy (e.g., adequate, 10 or more glomeruli; marginal, 7–9 glomeruli) and complication rates were investigated, using Banff criteria and Clavien-Dindo classification, respectively.
Results
Mean biopsy time, distance, and core number were 20.6 ± 6.7 min (range, 10–44 min), 3.2 ± 0.7 cm (range, 2.1–5.4 cm), and 1.9 ± 0.3 (range, 1.0–3.0), respectively. Mean glomerular number per patient was 20.4 ± 10.0 (range, 0–54). Adequate and marginal biopsy rates were 87.2% (164/188) and 95.2% (179/188), respectively. There was no major complication requiring treatment (no patient with Clavien-Dindo grade 2 or greater complication), while there were self-limiting minor complications in 5 patients (overall complication rate, 2.7%).
Conclusion
US-guided biopsy using cortex-only view is feasible and safe in sampling cortical tissues of kidney transplant.
Key Points
• Ultrasound (US)-guided kidney transplant biopsy using cortex-only view is feasible and safe.
• Adequate and marginal biopsy rates were 87.2% and 95.2%, respectively.
• No major complication requiring treatment occurred after biopsy.
This is a preview of subscription content, log in to check access.
Access options
Buy single article
Instant access to the full article PDF.
US$ 39.95
Price includes VAT for USA
Subscribe to journal
Immediate online access to all issues from 2019. Subscription will auto renew annually.
US$ 199
This is the net price. Taxes to be calculated in checkout.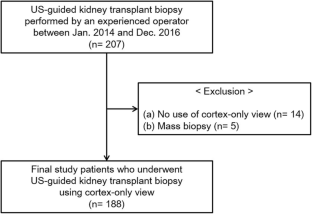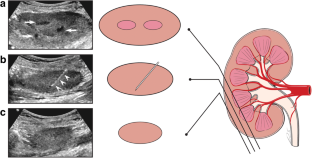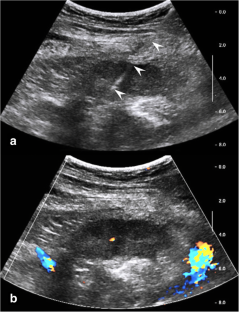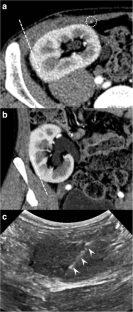 Abbreviations
BMI:

Body mass index

US:

Ultrasound
References
1.

Serón D, Moreso F, Bover J et al (1997) Early protocol renal allograft biopsies and graft outcome. Kidney Int 51:310–316

2.

Williams WW, Taheri D, Tolkoff-Rubin N, Colvin RB (2012) Clinical role of the renal transplant biopsy. Nat Rev Nephrol 8:110–121

3.

Benjamens S, Glaudemans AWJM, Berger SP, Slart RHJA, Pol RA (2018) Have we forgotten imaging prior to and after kidney transplantation? Eur Radiol 28:3263–3267

4.

Steiger P, Barbieri S, Kruse A, Ith M, Thoeny HC (2017) Selection for biopsy of kidney transplant patients by diffusion-weighted MRI. Eur Radiol 27:4336–4344

5.

Al-Awwa IA, Hariharan S, First MR (1998) Importance of allograft biopsy in renal transplant recipients: correlation between clinical and histological diagnosis. Am J Kidney Dis 31:S15–S18

6.

Ahmad I (2004) Biopsy of the transplanted kidney. Semin Intervent Radiol 21:275–281

7.

Patel MD, Young SW, Scott Kriegshauser J, Dahiya N (2018) Ultrasound-guided renal transplant biopsy: practical and pragmatic considerations. Abdom Radiol (NY) 43:2597–2603

8.

Patel MD, Phillips CJ, Young SW et al (2010) US-guided renal transplant biopsy: efficacy of a cortical tangential approach. Radiology 256:290–296

9.

Boban MD, Tiefenthaler M (2017) Tangential extraperitoneal retrorenal approach: a specified uniform technique for renal transplant biopsy. Transpl Int 30:947–950

10.

Racusen LC, Solez K, Colvin RB et al (1999) The Banff 97 working classification of renal allograft pathology. Kidney Int 55:713–723

11.

Yoshinari M, Suzuki R, Watanabe K, Katoh T, Watanabe T (2002) How long is enough: length of renal needle biopsy specimen for histological diagnosis. Am J Nephrol 22:402

12.

Schwarz A, Gwinner W, Hiss M, Radermacher J, Mengel M, Haller H (2005) Safety and adequacy of renal transplant protocol biopsies. Am J Transplant 5:1992–1996

13.

Preda A, Van Dijk LC, Van Oostaijen JA, Pattynama PM (2003) Complication rate and diagnostic yield of 515 consecutive ultrasound-guided biopsies of renal allografts and native kidneys using a 14-gauge Biopty gun. Eur Radiol 13:527–530

14.

Dindo D, Demartines N, Clavien PA (2004) Classification of surgical complications: a new proposal with evaluation in a cohort of 6336 patients and results of a survey. Ann Surg 240:205–213

15.

Nicholson ML, Wheatley TJ, Doughman TM et al (2000) A prospective randomized trial of three different sizes of core-cutting needle for renal transplant biopsy. Kidney Int 58:390–395

16.

Furness PN, Philpott CM, Chorbadjian MT et al (2003) Protocol biopsy of the stable renal transplant: a multicenter study of methods and complication rates. Transplantation 76:969–973

17.

Patel MD, Miranda R, Phillips CJ et al (2011) Impact of a quality assessment program on radiologist performance in ultrasound-guided renal transplant biopsy. J Am Coll Radiol 8:355–359

18.

Laute M, Vanholder R, Voet D et al (2013) Safety and sample adequacy of renal transplant surveillance biopsies. Acta Clin Belg 68:161–165

19.

Torres-Rodriguez IB, Castella-Fierro E, Serres-Creixans X et al (2014) Safety and efficacy of outpatient biopsy in renal transplantation. Nefrologia 34:749–755

20.

Redfield RR, McCune KR, Rao A et al (2016) Nature, timing, and severity of complications from ultrasound-guided percutaneous renal transplant biopsy. Transpl Int 29:167–172

21.

Morgan TA, Chandran S, Burger IM, Zhang CA, Goldstein RB (2016) Complications of ultrasound-guided renal transplant biopsies. Am J Transplant 16:1298–1305

22.

Tsai SF, Chen CH, Shu KH et al (2016) Current safety of renal allograft biopsy with indication in adult recipients: an observational study. Medicine (Baltimore) 95:e2816

23.

Beckingham IJ, Nicholson ML, Bell PR (1994) Analysis of factors associated with complications following renal transplant needle core biopsy. Br J Urol 73:13–15

24.

Bataille S, Jourde N, Daniel L et al (2012) Comparative safety and efficiency of five percutaneous kidney biopsy approaches of native kidneys: a multicenter study. Am J Nephrol 35:387–393

25.

Hogan JJ, Mocanu M, Berns JS (2016) The native kidney biopsy: update and evidence for best practice. Clin J Am Soc Nephrol 11:354–362

26.

Boyvat F, Tarhan NC, Coşkun M, Ağildere AM, Tutar NU, Bilgin N (1998) Comparison of two biopsy techniques for renal transplant assessment. Transplant Proc 30:777–779

27.

Cozens NJ, Murchison JT, Allan PL, Winney RJ (1992) Conventional 15 G needle technique for renal biopsy compared with ultrasound-guided spring-loaded 18 G needle biopsy. Br J Radiol 65:594–597

28.

Beland MD, Walle NL, Machan JT, Cronan JJ (2010) Renal cortical thickness measured at ultrasound: is it better than renal length as an indicator of renal function in chronic kidney disease? AJR Am J Roentgenol 195:W146–W149
Acknowledgements
The authors would like to thank Dong-Su Jang, MFA, (Medical Illustrator, Medical Research Support Section, Yonsei University College of Medicine, Seoul, Korea) for his help with the illustrations.
Funding
The authors state that this work has not received any funding.
Ethics declarations
Guarantor
The scientific guarantor of this publication is Sung Yoon Park, M.D.
Conflict of interest
The authors of this manuscript declare no relationships with any companies, whose products or services may be related to the subject matter of the article.
Statistics and biometry
No complex statistical methods were necessary for this paper.
Informed consent
Written informed consent was waived by the Institutional Review Board.
Ethical approval
Institutional Review Board approval was obtained.
Methodology
• Retrospective
• Cross sectional study
• Performed at one institution
Additional information
Publisher's note
Springer Nature remains neutral with regard to jurisdictional claims in published maps and institutional affiliations.
The original version of this article was revised: The name of Jaeseung Shin was presented incorrectly.
About this article
Cite this article
Shin, J., Park, S.Y. Diagnostic efficacy and safety of ultrasound-guided kidney transplant biopsy using cortex-only view: a retrospective single-center study. Eur Radiol 29, 5272–5279 (2019). https://doi.org/10.1007/s00330-018-5910-4
Received:

Revised:

Accepted:

Published:

Issue Date:
Keywords
Kidney

Biopsy

Transplant

Allograft

Ultrasonography