Abstract
Objectives
The purpose of this study was to (1) evaluate proton density fat fraction (PDFF) distribution across liver segments at baseline and (2) compare longitudinal segmental PDFF changes across time points in adult patients undergoing a very low-calorie diet (VLCD) and subsequent bariatric weight loss surgery (WLS).
Methods
We performed a secondary analysis of data from 118 morbidly obese adult patients enrolled in a VLCD-WLS program. PDFF was estimated using magnitude-based confounder-corrected chemical-shift-encoded (CSE) MRI in each hepatic segment and lobe at baseline (visit 1), after completion of VLCD (visit 2), and at 1, 3, and 6 months (visits 3–5) following WLS. Linear regressions were used to estimate the rate of PDFF change across visits. Lobar and segmental rates of change were compared pairwise.
Results
Baseline PDFF was significantly higher in the right lobe compared to the left lobe (p < 0.0001). Lobar and segmental PDFF declined by 3.9–4.5% per month between visits 1 and 2 (preoperative period) and by 4.3–4.8% per month between visits 1 and 3 (perioperative period), but no significant pairwise differences were found in slope between segments and lobes. For visits 3–5 (postoperative period), lobar and segmental PDFF reduction was much less overall (0.4–0.8% PDFF per month) and several pairwise differences were significant; in each case, a right-lobe segment had greater decline than a left-lobe segment.
Conclusions
Baseline and longitudinal changes in fractional fat content in the 5-month postoperative period following WLS vary across segments, with right-lobe segments having higher PDFF at baseline and more rapid reduction in liver fat content.
Key Points
• Baseline and longitudinal changes in liver fat following bariatric weight loss surgery vary across liver segments.
• Methods that do not provide whole liver fat assessment, such as liver biopsy, may be unreliable in monitoring longitudinal changes in liver fat following weight loss interventions.
Access options
Buy single article
Instant access to the full article PDF.
USD 39.95
Price includes VAT (USA)
Tax calculation will be finalised during checkout.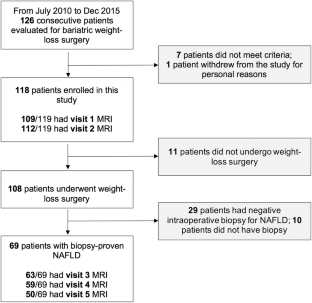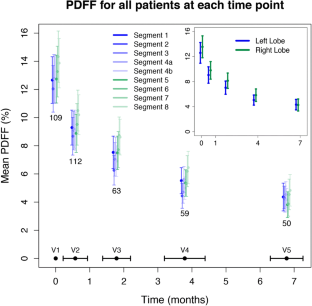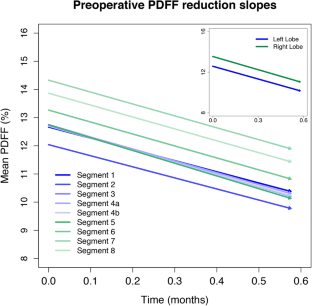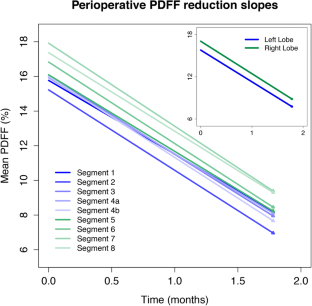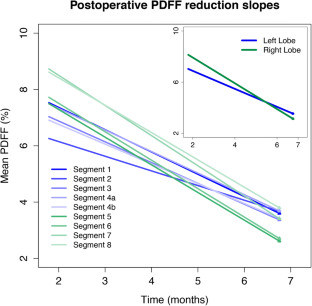 Abbreviations
2D:

Two-dimensional

CLD:

Chronic liver disease

CSE:

Chemical-shift-encoded

ME:

Multi-echo

NAFLD:

Nonalcoholic fatty liver disease

PDFF:

Proton density fat fraction

SPGR:

Spoiled gradient-recalled echo

TE:

Echo time

TR:

Repetition time

VLCD:

Very low-calorie diet (VLCD)

WLS:

Weight loss surgery
References
1.

Loomba R, Sanyal AJ (2013) The global NAFLD epidemic. Nat Rev Gastroenterol Hepatol 10:686–690

2.

Eguchi Y, Hyogo H, Ono M et al (2012) Prevalence and associated metabolic factors of nonalcoholic fatty liver disease in the general population from 2009 to 2010 in Japan: a multicenter large retrospective study. J Gastroenterol 47:586–595

3.

Lazo M, Clark JM (2008) The epidemiology of nonalcoholic fatty liver disease: a global perspective. Semin Liver Dis 28:339–350

4.

Hannah WN Jr, Torres DM, Harrison SA (2016) Nonalcoholic steatohepatitis and endpoints in clinical trials. Gastroenterol Hepatol (N Y) 12:756–763

5.

Younossi ZM, Stepanova M, Afendy M et al (2011) Changes in the prevalence of the most common causes of chronic liver diseases in the United States from 1988 to 2008. Clin Gastroenterol Hepatol 9:524–530.e1

6.

Torres DM, Harrison SA (2008) Diagnosis and therapy of nonalcoholic steatohepatitis. Gastroenterology 134:1682–1698

7.

Dixon JB, Bhathal PS, Hughes NR, O'Brien PE (2004) Nonalcoholic fatty liver disease: improvement in liver histological analysis with weight loss. Hepatology 39:1647–1654

8.

Tang A, Tan J, Sun M et al (2013) Nonalcoholic fatty liver disease: MR imaging of liver proton density fat fraction to assess hepatic steatosis. Radiology 267:422

9.

Middleton MS, Heba ER, Hooker CA et al (2017) Agreement between magnetic resonance imaging proton density fat fraction measurements and pathologist-assigned steatosis grades of liver biopsies from adults with nonalcoholic steatohepatitis. Gastroenterology 153:753–761

10.

Le TA, Chen J, Changchien C et al (2012) Effect of colesevelam on liver fat quantified by magnetic resonance in nonalcoholic steatohepatitis: a randomized controlled trial. Hepatology 56:922–932

11.

Bonekamp S, Tang A, Mashhood A et al (2014) Spatial distribution of MRI-determined hepatic proton density fat fraction in adults with nonalcoholic fatty liver disease. J Magn Reson Imaging 39:1525–1532

12.

Sofue K, Mileto A, Dale BM, Zhong X, Bashir MR (2015) Interexamination repeatability and spatial heterogeneity of liver iron and fat quantification using MRI-based multistep adaptive fitting algorithm. J Magn Reson Imaging 42:1281–1290

13.

Reeder SB, Cruite I, Hamilton G, Sirlin CB (2011) Quantitative assessment of liver fat with magnetic resonance imaging and spectroscopy. J Magn Reson Imaging 34:spcone

14.

Reeder SB, Hu HH, Sirlin CB (2012) Proton density fat-fraction: a standardized mr-based biomarker of tissue fat concentration. J Magn Reson Imaging 36:1011–1014

15.

Bydder M, Yokoo T, Hamilton G et al (2008) Relaxation effects in the quantification of fat using gradient echo imaging. Magn Reson Imaging 26:347–359

16.

Hamilton G, Yokoo T, Bydder M et al (2011) In vivo characterization of the liver fat 1H MR spectrum. NMR Biomed 24:784–790

17.

Yokoo T, Serai SD, Pirasteh A et al (2018) Linearity, bias, and precision of hepatic proton density fat fraction measurements by using MR imaging: a meta-analysis. Radiology 286:486–498

18.

Copher GH, Dick BM (1928) "Stream line" phenomena in the portal vein and the selective distribution of portal blood in the liver. Arch Surg 17:408–419

19.

Fuchs HF, Broderick RC, Harnsberger CR et al (2015) Benefits of bariatric surgery do not reach obese men. J Laparoendosc Adv Surg Tech A 25:196–201
Acknowledgements
We acknowledge NIH T32 EB005970-09, R01 DK083380, R01 DK088925, R01 DK100651, and K24 DK102595 grants, and GE Healthcare for providing research support.
Funding
This study has received funding from NIH T32 EB005970-09, R01 DK083380, R01 DK088925, R01 DK100651, and K24 DK102595 grants, and GE Healthcare.
Ethics declarations
Guarantor
The scientific guarantor of this publication is Claude B Sirlin.
Conflict of interest
Claude Sirlin has received grants from Gilead, GE Healthcare, Siemens, GE MRI, Bayer, GE Digital, GE Ultrasound, ACR Innovation, and Philips. He also is a consultant for GE Healthcare, Bayer, Boehringer Ingelheim, AMRA, and Fulcrum, and is on advisory board for AMRA, Guerbet, and VirtualScopics. The remaining authors of this manuscript have no conflict of interest to declare.
Statistics and biometry
All statistical analyses were performed by a staff statistician (Tanya Wolfson) under the supervision of a faculty statistician (Anthony Gamst) from the University of California San Diego who are both co-authors of this paper and have over 20 years of experience.
Informed consent
Written informed consent was obtained from all subjects (patients) in this study.
Ethical approval
Institutional Review Board approval was obtained.
Study subjects or cohorts overlap
The cohort of a recent study by Luo et al published in Surgical Endoscopy, although not entirely identical, quite overlaps with our cohort. This paper was published in a surgical journal by the surgical team involved in this research. In contrast to our study, Luo et al have examined changes in liver volume and total liver fat rather than assessing and comparing segmental liver fat. They have also included data from complex-based MR exams, whereas in our study, only magnitude-based MR examinations were included.
Methodology
• prospective
• diagnostic or prognostic study
• multi-center study
Electronic supplementary material
About this article
Cite this article
Fazeli Dehkordy, S., Fowler, K.J., Mamidipalli, A. et al. Hepatic steatosis and reduction in steatosis following bariatric weight loss surgery differs between segments and lobes. Eur Radiol 29, 2474–2480 (2019). https://doi.org/10.1007/s00330-018-5894-0
Received:

Revised:

Accepted:

Published:

Issue Date:
Keywords
Fatty liver

Bariatric surgery

Magnetic resonance imaging