Abstract
Purpose
This study was conducted in order to investigate the safety and accuracy of percutaneous transluminal forceps biopsy (PTFB) during percutaneous biliary drainage (PTBD) in patients with a suspicion of malignant biliary stricture.
Material and methods
Fifty consecutive patients with obstructive jaundice underwent PTFB during PTBD. Biopsy specimens were obtained using 5.2-F flexible biopsy forceps and these specimens were independently analysed by two pathologists. Consensus was obtained in case of discrepancy. Biopsy was considered as a true positive when tumour cells were retrieved. In the absence of tumour cells, comparison with available surgical findings and/or endoscopic ultrasound fine-needle aspiration (EUS-FNA) and/or percutaneous liver biopsy and/or imaging or clinical follow-up was made to distinguish true and false negatives. Specificity, sensitivity, positive predictive value, negative predictive value and accuracy were calculated. Influence of tumour location and pre-operative imaging findings was evaluated. Adverse events were reported.
Results
Biliary drainage and tissue sampling were achieved in 100% of patients. Sensitivity and specificity were 70 and 100%, respectively, while overall accuracy was 72%. After excluding the first 25 patients, accuracy and sensitivity for tissue sampling reached 80 and 78%, respectively. Sensitivity was better (87%) if stenosis was located at the upper part of the biliary tree, compared to the lower part (55%). In case of cholangiocarcinoma or intraductal invasion suspected on imaging, biopsy was contributive in 84 and 81% of patients, respectively. Four complications occurred consisting of one bile leak, two haemobilia and one pneumoperitoneum.
Conclusion
PTFB combined with PTBD is a safe and effective technique for both histopathological diagnosis and biliary decompression of biliary strictures.
Key Points
Implications for patient care:
• Percutaneous transbiliary forceps biopsy is technically feasible (100% of tissue sampling in our study) and is a safe technique.
• Radiological management combining PTFB plus PTBD may allow diagnosis and treatment of the biliary stricture at the same time.
• Sensitivity and accuracy for PTFB reached 78 and 80%, respectively, with a 100% specificity.
Access options
Buy single article
Instant access to the full article PDF.
USD 39.95
Price excludes VAT (USA)
Tax calculation will be finalised during checkout.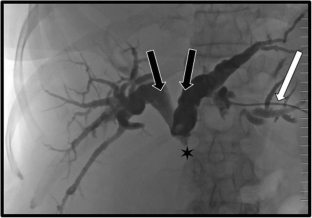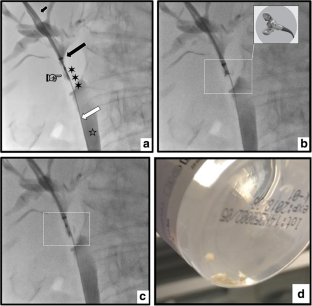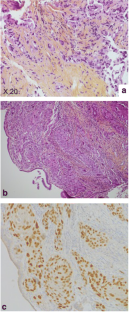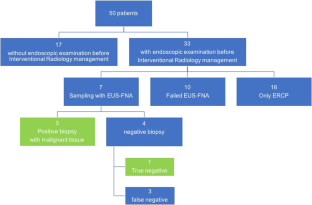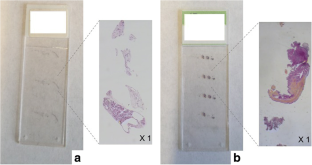 Abbreviations
ALT:

Alanine aminotransferase

AST:

Aspartate aminotransferase

CDHP:

Cystic dystrophy in heterotopic pancreas

CE-CT:

Contrast-enhanced computed tomography

CI:

Confidence interval

CRP:

C-reactive protein

CT:

Computed tomography

DAP:

Dose area product

ERCP:

Endoscopic retrograde cholangiopancreatography

EUS-FNA:

Endoscopic ultrasound-guided fine-needle aspiration

GGT:

Gamma-glutamyltransferase

H&E:

Haematoxylin and eosin

IBS:

Indeterminate biliary stricture

MRI:

Magnetic resonance imaging

NPV:

Negative predictive value

PPV:

Positive predictive value

PTBD:

Percutaneous biliary drainage

PTFB:

Percutaneous transhepatic forceps biopsy

SD:

Skin dose

SIR:

Society of Interventional Radiology
References
Katabathina VS, Dasyam AK, Dasyam N, Hosseinzadeh K (2014) Adult bile duct strictures: role of MR imaging and MR cholangiopancreatography in characterization. Radiographics 34:565–586

Arrivé L, Hodoul M, Arbache A, Slavikova-Boucher L, Menu Y, El Mouhadi S (2015) Magnetic resonance cholangiography: current and future perspectives. Clin Res Hepatol Gastroenterol 39:659–664

Singh A, Gelrud A, Agarwal B (2014) Biliary strictures: diagnostic considerations and approach. Gastroenterol Rep (Oxf) 3:22–31

Tabibian JH, Visrodia KH, Levy MJ, Gostout CJ (2015) Advanced endoscopic imaging of indeterminate biliary strictures. World J Gastrointest Endosc 7:1268–1278

Tringali A, Lemmers A, Meves V et al (2015) Intraductal biliopancreatic imaging: European Society of Gastrointestinal Endoscopy (ESGE) technology review. Endoscopy 47:739–753

de Bellis M, Sherman S, Fogel EL et al (2002) Tissue sampling at ERCP in suspected malignant biliary strictures (part 2). Gastrointest Endosc 56:720–730

Rösch T, Hofrichter K, Frimberger E et al (2004) ERCP or EUS for tissue diagnosis of biliary strictures? A prospective comparative study. Gastrointest Endosc 60:390–396

Weilert F, Bhat YM, Binmoeller KF et al (2014) EUS-FNA is superior to ERCP-based tissue sampling in suspected malignant biliary obstruction: results of a prospective, single-blind, comparative study. Gastrointest Endosc 80:97–104

De Moura DTH, Moura EGH, Bernardo WM et al (2016) Endoscopic retrograde cholangiopancreatography versus endoscopic ultrasound for tissue diagnosis of malignant biliary stricture: systematic review and meta-analysis. Endosc Ultrasound 7:10–19

Lin M, Hair CD, Green LK et al (2014) Endoscopic ultrasound-guided fine-needle aspiration with on-site cytopathology versus core biopsy: a comparison of both techniques performed at the same endoscopic session. Endosc Int Open 2:220–223

Elyaderani MK, Gabriele OF (1980) Brush and forceps biopsy of biliary ducts via percutaneous transhepatic catheterization. Radiology 135:777–778

Jung GS, Huh JD, Lee SU, Han BH, Chang HK, Cho YD (2002) Bile duct: analysis of percutaneous transluminal forceps biopsy in 130 patients. Radiology 7:725–730

Omary RA, Bettmann MA, Cardella JF et al (2003) Quality improvement guidelines for the reporting and archiving of interventional radiology procedures. J Vasc Interv Radiol 14:S293–S295

Saad WE, Wallace MJ, Wojak JC, Kundu S, Cardella JF (2010) Quality improvement guidelines for percutaneous transhepatic cholangiography, biliary drainage, and percutaneous cholecystostomy. J Vasc Interv Radiol 21:789–795

Ierardi AM, Mangini M, Fontana F et al (2013) Usefulness and safety of biliary percutaneous transluminal forceps biopsy (PTFB): our experience. Minim Invasive Ther Allied Technol 3:1–6

Li TF, Ren KW, Han XW (2014) Percutaneous transhepatic cholangiobiopsy to determine the pathological cause of anastomotic stenosis after cholangiojejunostomy for malignant obstructive jaundice. Clin Radiol 69:13–17

Patel P, Rangarajan B, Mangat K (2015) Improved accuracy of percutaneous biopsy using "cross and push" technique for patients suspected with malignant biliary strictures. Cardiovasc Intervent Radiol 38:1005–1010

Brown DB, Nikolic B, Covey AM et al (2012) Quality improvement guidelines for transhepatic arterial chemoembolization, embolization, and chemotherapeutic infusion for hepatic malignancy. J Vasc Interv Radiol 23:287–294

Kim KM, Park JW, Lee JK, Lee KH, Lee KT, Shim SG (2015) A comparison of preoperative biliary drainage methods for perihilar cholangiocarcinoma: endoscopic versus percutaneous transhepatic biliary drainage. Gut Liver 9:791–799

Al Mahjoub A, Menahem B, Fohlen A et al (2017) Preoperative biliary drainage in patients with resectable perihilar cholangiocarcinoma: is percutaneous transhepatic biliary drainage safer and more effective than endoscopic biliary drainage? A meta-analysis. J Vasc Interv Radiol 28:576–582

Miller DL, Vañó E, Bartal G et al (2010) Occupational radiation protection in interventional radiology: a joint guideline of the Cardiovascular and Interventional Radiology Society of Europe and the Society of Interventional Radiology. J Vasc Interv Radiol 21:607–615

Karavasilis E, Dimitriadis A, Gonis H, Pappas P, Georgiou E, Yakoumakis E (2014) Effective dose in percutaneous transhepatic biliary drainage examination using PCXMC2.0 and MCNP5 Monte Carlo codes. Phys Med 30:432–436

Etard C, Bigand E, Salvat C et al (2017) Patient dose in interventional radiology: a multicentre study of the most frequent procedures in France. Eur Radiol 27:4281–4290

Degiorgio S, Gerasia R, Liotta F et al (2018) Radiation doses to operators in hepatobiliary interventional procedures. Cardiovasc Intervent Radiol 41:772–780

Yoshinaga S, Suzuki H, Oda I, Saito Y (2011) Role of endoscopic ultrasound-guided fine needle aspiration (EUS-FNA) for diagnosis of solid pancreatic masses. Dig Endosc 23(Suppl 1):29–33

Vander Noot MR 3rd, Eloubeidi M, Chen VK et al (2004) Diagnosis of gastrointestinal tract lesions by endoscopic ultrasound-guided fine-needle aspiration biopsy. Cancer 102:157–163

Chen VK, Eloubeidi MA (2005) Endoscopic ultrasound-guided fine-needle aspiration of intramural and extraintestinal mass lesions: diagnostic accuracy, complication assessment, and impact on management. Endoscopy 37:984–989

Mohkam K, Malik Y, Derosas C et al (2017) Percutaneous transhepatic cholangiographic endobiliary forceps biopsy versus endoscopic ultrasound fine needle aspiration for proximal biliary strictures: a single-centre experience. HPB (Oxford) 19:530–537

Savader SJ, Prescott CA, Lund GB, Osterman FA (1996) Intraductal biliary biopsy: comparison of three techniques. J Vasc Interv Radiol 7:743–750

Navaneethan U, Njei B, Lourdusamy V, Konjeti R, Vargo JJ, Parsi MA (2015) Comparative effectiveness of biliary brush cytology and intraductal biopsy for detection of malignant biliary strictures: a systematic review and meta-analysis. Gastrointest Endosc 81:168–176

Tapping CR, Byass OR, Cast JE (2012) Cytological sampling versus forceps biopsy during percutaneous transhepatic biliary drainage and analysis of factors predicting success. Cardiovasc Intervent Radiol 35:883–889
Funding
The authors state that this work has not received any funding.
Ethics declarations
Guarantor
The scientific guarantor of this publication is Prof. Jean Pierre Pelage.
Conflict of interest
The authors declare that they have no conflict of interest.
Statistics and biometry
One of the authors has significant statistical expertise.
No complex statistical methods were necessary for this paper.
Informed consent
Written informed consent was not required for this study because it was a retrospective study, based on acquired data.
Ethical approval
Institutional Review Board approval was obtained.
CPP Nord Ouest-France, reference: CPP A15-D30-VOL.26.
Methodology
• Retrospective
• Observational
• Performed at one institution
Electronic supplementary material
About this article
Cite this article
Fohlen, A., Bazille, C., Menahem, B. et al. Transhepatic forceps biopsy combined with biliary drainage in obstructive jaundice: safety and accuracy. Eur Radiol 29, 2426–2435 (2019). https://doi.org/10.1007/s00330-018-5852-x
Received:

Revised:

Accepted:

Published:

Issue Date:

DOI: https://doi.org/10.1007/s00330-018-5852-x
Keywords
Bile

Obstructive jaundice

Drainage

Biopsy

Bile duct neoplasms