Abstract
Objective
The aim of this study is to present a 6-year prospective evaluation of second-look ultrasound (US) using volume navigation (V Nav) for MRI-detected additional breast lesions.
Methods
After IRB approvals in both institutions, 1930 consecutive prone MRI breast examinations in 1437 patients were prospectively evaluated. All patients with an MRI-detected additional lesion underwent second-look US, and if occult, contrast-enhanced MRI in supine position was performed for US and MRI co-registration. For patients with breast hypertrophy, MRI-guided biopsy was performed directly. Pathologic examination was the standard of reference. One-way ANOVA and chi-square tests were used.
Results
In 490 MRI examinations (25.4%, 490/1930), at least one additional breast lesion was detected for a total of 722 only MRI-detected lesions. Second-look US identified 549 additional lesions (23 ± 8 mm); 362 (65.9%, 362/549) proved benign at pathology and 187 (34.1%, 187/549) malignant. Second-look US with V Nav identified 151 additional lesions (17 ± 9 mm, p = n.s.); 67 (44.4%, 67/151) proved benign at pathology and 84 (55.6%, 84/151) malignant. MRI-guided biopsy was performed on 22 additional breast lesions (22 ± 8 mm, p = n.s.); pathology revealed 20 (90.9%, 20/22) benign lesions and 2 (9.1%, 2/22) malignant ones. Mass lesions were significantly higher in the second-look US group (p < 0.001). No significant difference in lesion dimension was found between the three groups (p = 0.729).
Conclusions
Second-look US with V Nav can be effective in detecting a large number of additional breast lesions occult at second-look US and to biopsy a significant number of malignant lesions safely and irrespective of distance from skin or lesion position.
Key Points
• Second-look US with volume navigation is effective in detecting occult additional lesions.
• Permits safe biopsies irrespective of position and depth
• Reduces the need for MRI-guided biopsy
This is a preview of subscription content, log in to check access.
Access options
Buy single article
Instant access to the full article PDF.
US$ 39.95
Price includes VAT for USA
Subscribe to journal
Immediate online access to all issues from 2019. Subscription will auto renew annually.
US$ 199
This is the net price. Taxes to be calculated in checkout.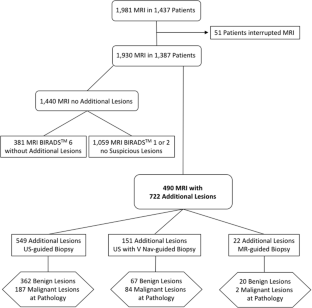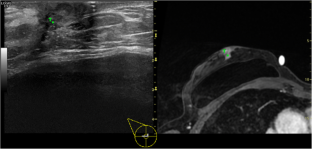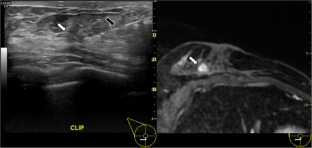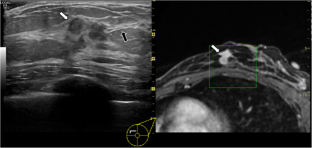 Abbreviations
BI-RADS™ :

Breast Imaging Reporting and Data System

CT:

Computed tomography

DCIS:

Ductal carcinoma in situ

Gd-BOPTA:

Gadobenic acid

IDC:

Invasive ductal carcinoma

ILC:

Invasive lobular carcinoma

LAVA:

Liver acquisition volume acceleration

MRI:

Magnetic resonance imaging

THIVE SPAIR:

Three-dimensional turbo field echo sequence with T1-weighted high-resolution isotropic examination volume and spectral attenuated inversion recovery

US:

Ultrasound

V Nav:

MRI volume navigation

VAB:

Vacuum-assisted biopsy
References
1.

Beran L, Liang W, Nims T, Paquelet J, Sickle-Santanello B (2005) Correlation of targeted ultrasound with magnetic resonance imaging abnormalities of the breast. Am J Surg 190:592–594. https://doi.org/10.1016/j.amjsurg.2005.06.019

2.

Destounis S (2006) The role of MRI and "second-look" ultrasound for evaluation of breast cancer. Appl Radiol 35:10–20

3.

Erguvan-Dogan B, Whitman GJ (2007) Breast ultrasound MR imaging correlation. Ultrasound Clin 1:593–601. https://doi.org/10.1016/j.cult.2006.10.001

4.

Demartini WB, Eby PR, Peacock S, Lehman CD (2009) Utility of targeted sonography for breast lesions that were suspicious on MRI. AJR Am J Roentgenol 192:1128–1134. https://doi.org/10.2214/AJR.07.3987

5.

Carbognin G, Girardi V, Calciolari C et al (2010) Utility of second-look ultrasound in the management of incidental enhancing lesions detected by breast MR imaging. Radiol Med 115:1234–1245. https://doi.org/10.1007/s11547-010-0561-9

6.

Candelaria R, Fornage BD (2011) Second-look US examination of MR-detected breast lesions. J Clin Ultrasound 39:115–121. https://doi.org/10.1002/jcu.20784

7.

Spick C, Baltzer PA (2014) Diagnostic utility of second-look US for breast lesions identified at MR imaging: systematic review and meta-analysis. Radiology 273:401–409. https://doi.org/10.1148/radiol.14140474

8.

Fausto A, Casella D, Mantovani L, Giacalone G, Volterrani L (2012) Clinical value of second-look ultrasound: is there a way to make it objective? Eur J Radiol 81:S36–S40. https://doi.org/10.1016/S0720-048X(12)70015-3

9.

Rizzatto G, Fausto A (2009) Breast imaging and volume navigation: MR imaging and ultrasound coregistration. Ultrasound Clin 4:261–271. https://doi.org/10.1016/j.cult.2009.10.006

10.

Fausto A, Rizzatto G, Preziosa A et al (2012) A new method to combine contrast-enhanced magnetic resonance imaging during live ultrasound of the breast using volume navigation technique: a study for evaluating feasibility, accuracy and reproducibility in healthy volunteers. Eur J Radiol 81:332–337. https://doi.org/10.1016/j.ejrad.2011.11.001

11.

Pons EP, Azcón FM, Casas MC, Meca SM, Espona JL (2014) Real-time MRI navigated US: role in diagnosis and guided biopsy of incidental breast lesions and axillary lymph nodes detected on breast MRI but not on second look US. Eur J Radiol 83:942–950. https://doi.org/10.1016/j.ejrad.2014.03.006

12.

Sardanelli F, Giuseppetti GM, Canavese G et al (2008) Indications for breast magnetic resonance imaging. Consensus document "Attualità in senologia", Florence 2007. Radiol Med 113:1085–1095. https://doi.org/10.1007/s11547-008-0340-z

13.

Mann RM, Kuhl CK, Kinkel K, Boetes C (2008) Breast MRI: guidelines from the European Society of Breast Imaging. Eur Radiol 18:1307–1318. https://doi.org/10.1007/s00330-008-0863-7

14.

Sigurdson LJ, Kirkland SA (2006) Breast volume determination in breast hypertrophy: an accurate method using two anthropomorphic measurements. Plast Reconstr Surg 118:313–320. https://doi.org/10.1097/01.prs.0000227627.75771.5c

15.

Heywang-Köbrunner SH, Sinnatamby R, Lebeau A et al (2009) Interdisciplinary consensus on the uses and technique of MR-guided vacuum-assisted breast biopsy (VAB): results of a European consensus meeting. Eur J Radiol 72:289–294. https://doi.org/10.1016/j.ejrad.2008.07.010

16.

LaTrenta LR, Menell JH, Morris EA, Abramson AF, Dershaw DD, Liberman L (2003) Breast lesions detected with MR imaging: utility and histopathologic importance of identification with US. Radiology 227:856–861. https://doi.org/10.1148/radiol.2273012210

17.

Kuhl CK, Schrading S, Leutner CC et al (2005) Mammography, breast ultrasound, and magnetic resonance imaging for surveillance of women at high familial risk for breast cancer. J Clin Oncol 23:8469–8476. https://doi.org/10.1200/JCO.2004.00.4960

18.

Smith RA, Cokkinides V, Brawley OW (2009) Cancer screening in the United States, 2009: a review of current American Cancer Society guidelines and issues in cancer screening. CA Cancer J Clin 59:27–41. https://doi.org/10.3322/caac.20008

19.

Telegrafo M, Rella L, Stabile Ianora AA, Angelelli G, Moschetta M (2016) Supine breast US: how to correlate breast lesions from prone MRI. Br J Radiol 89:20150497. https://doi.org/10.1259/bjr.20150497

20.

Perlet C, Heywang-Kobrunner SH, Heinig A et al (2006) Magnetic resonance-guided, vacuum-assisted breast biopsy: results from a European multicenter study of 538 lesions. Cancer 106:982–999. https://doi.org/10.1002/cncr.21720

21.

Fischer U, Schwethelm L, Baum FT, Luftner-Nagel S, Teubner J (2009) Effort, accuracy and histology of MR-guided vacuum biopsy of suspicious breast lesions--retrospective evaluation after 389 interventions. Rofo 181:774–781. https://doi.org/10.1055/s-0028-1109532

22.

Guo Y, Sivaramakrishna R, Lu CC, Suri JS, Laxminarayan S (2006) Breast image registration techniques: a survey. Med Biol Eng Comput 44:15–26. https://doi.org/10.1007/s11517-005-0016-y

23.

Nakano S, Yoshida M, Fujii K et al (2009) Fusion of MRI and sonography image for breast cancer evaluation using real-time virtual sonography with magnetic navigation: first experience. Jpn J Clin Oncol 39:552–559. https://doi.org/10.1093/jjco/hyp087

24.

Wein W, Brunke S, Khamene A, Callstrom MR, Navab N (2008) Automatic CT-ultrasound registration for diagnostic imaging and image-guided intervention. Med Image Anal 12:577–585. https://doi.org/10.1016/j.media.2008.06.006

25.

Tozaki M, Fukuda K (2006) Supine MR mammography using VIBE with parallel acquisition technique for the planning of breast-conserving surgery: clinical feasibility. Breast 15:137–140. https://doi.org/10.1016/j.breast.2005.03.003

26.

Alderliesten T, Loo C, Paape A et al (2010) On the feasibility of MRI-guided navigation to demarcate breast cancer for breast-conserving surgery. Med Phys 37:2617–2626. https://doi.org/10.1118/1.3429048

27.

Aribal E, Tureli D, Kucukkaya F, Kaya H (2017) Volume navigation technique for ultrasound-guided biopsy of breast lesions detected only at MRI. AJR Am J Roentgenol 208:1400–1409. https://doi.org/10.2214/AJR.16.16808

28.

Clauser P, Mann R, Athanasiou A et al (2018) A survey by the European Society of Breast Imaging on the utilisation of breast MRI in clinical practice. Eur Radiol 28:1909–1918. https://doi.org/10.1007/s00330-017-5121-4

29.

Nakamura R, Nagashima T, Sakakibara M et al (2008) Breast-conserving surgery using supine magnetic resonance imaging in breast cancer patients receiving neoadjuvant chemotherapy. Breast 17:245–251. https://doi.org/10.1016/j.breast.2007.10.007
Funding
The authors state that this work has not received any funding.
Ethics declarations
Guarantor
The scientific guarantor of this publication is Prof. Luca Volterrani.
Conflict of interest
The authors of this manuscript declare no relationships with any companies, whose products or services may be related to the subject matter of the article.
Statistics and biometry
No complex statistical methods were necessary for this paper.
Informed consent
Written informed consent was obtained from all subjects (patients) in this study.
Ethical approval
Institutional Review Board approval was obtained.
Methodology
• Prospective
• Diagnostic study/observational
• Multicentre study
Electronic supplementary material
Video – Ultrasound images (left side) with the corresponding multiplanar reconstructed MR images (right side) of a 49-year-old woman with rounded-irregular lesion of 11 mm in the lower external quadrant of the right breast detected at second-look US. However, second-look US with volume navigation (V Nav) revealed the intraductal component extension without any correlation at US images. Pathology demonstrated an invasive ductal carcinoma of 13 mm and a ductal carcinoma in situ of 47 mm impossible to detect with second-look US. The green box represents the corresponding US area on MR image showing additional lesion shape and conspicuity. (MOV 830 kb)
About this article
Cite this article
Fausto, A., Bernini, M., La Forgia, D. et al. Six-year prospective evaluation of second-look US with volume navigation for MRI-detected additional breast lesions. Eur Radiol 29, 1799–1808 (2019). https://doi.org/10.1007/s00330-018-5765-8
Received:

Revised:

Accepted:

Published:

Issue Date:
Keywords
Breast ultrasonography

Magnetic resonance imaging

Breast tumours

Multimodal imaging

Image-guided biopsy