Abstract
Objectives
The aim of this study was to compare image quality of single-source dual-energy CT (SS-DECT) with third-generation dual-source dual-energy CT (DS-DECT) in head and neck cancer.
Materials and methods
One hundred two patients with histologically proven head and neck cancer were prospectively randomized to undergo radiation dose-matched SS-DECT (n = 51, 120 kV, split-filter technique, 384 ref. mAs) or DS-DECT (n = 51, 80/Sn150 kV, tube A 100/tube B 67 ref. mAs). Inline default images (DI) and virtual monoenergetic images (VMI) for two different low energies (40 and 60 keV) were reconstructed. Objective image quality was evaluated as dose-normalized contrast to noise ratio (CNRD), and subjective image quality was rated on a 5-point Likert scale.
Results
In both groups, highest CNRD values for vessel and tumor attenuation were obtained at 40 keV. DS-DECT was significantly better than SS-DECT regarding vessel and tumor attenuation. Overall subjective image quality in the SS-DECT group was highest on the DI followed by 40 keV and 60 keV. In the DS-DECT group, subjective image quality was highest at 40 keV followed by 60 keV and the DI. Forty kiloelectron volts and 60 keV were significantly better in the DS-DECT compared to the SS-DECT group (both p < 0.01).
Conclusions
In split-filter SS-DECT as well as in DS-DECT, highest overall image quality in head and neck imaging can be obtained with a combination of DI and low keV reconstructions. DS-DECT is superior to split-filter SS-DECT in terms of subjective image quality and vessel and tumor attenuation.
Key Points
• Image quality was diagnostic with both dual-energy techniques; however, the dual-source technique delivered significantly better results.
• Highest overall image quality in head and neck imaging can be obtained with a combination of default images and low keV reconstructions with both dual-energy techniques.
• The results of this study may have relevance for the decision-making process regarding replacement of CT scanners and focused patient examination considering image quality and subsequent therapeutic decision-making.
Access options
Buy single article
Instant access to the full article PDF.
US$ 39.95
Tax calculation will be finalised during checkout.
Subscribe to journal
Immediate online access to all issues from 2019. Subscription will auto renew annually.
US$ 119
Tax calculation will be finalised during checkout.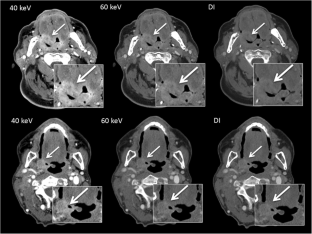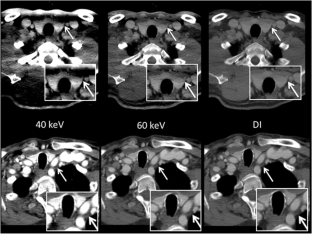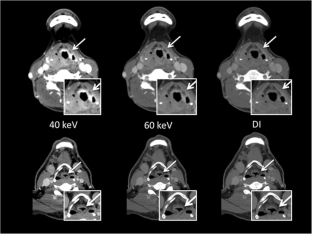 Abbreviations
A:

Mean attenuation

CNR:

Contrast to noise ratio

DI:

Default image

DLP:

Dose-length product

DS-DECT:

Dual-source dual-energy CT

ED:

Effective radiation dose

HU:

Hounsfield units

keV:

Energy levels

N:

Image noise

SS-DECT:

Single-source dual-energy CT

ROIs:

Regions of interest

VMI:

Virtual monoenergetic images
References
1.

May MS, Bruegel J, Brand M et al (2017) Computed tomography of the head and neck region for tumor staging-comparison of dual-source, dual-energy and low-kilovolt, single-energy acquisitions. Invest Radiol 52(9):522–528

2.

McCollough CH, Leng S, Yu L, Fletcher JG (2015) Dual- and multi-energy CT: principles, technical approaches, and clinical applications. Radiology 276(3):637–653

3.

Wichmann JL, Nöske EM, Kraft J et al (2014) Virtual monoenergetic dual-energy computed tomography: optimization of kiloelectron volt settings in head and neck cancer. Invest Radiol 49:735–741

4.

Scholtz JE, Kaup M, Kraft J et al (2015) Objective and subjective image quality of primary and recurrent squamous cell carcinoma on head and neck low-tube-voltage 80-kVp computed tomography. Neuroradiology 57:645–651

5.

Toepker M, Czerny C, Ringl H et al (2014) Can dual-energy CT improve the assessment of tumor margins in oral cancer? Oral Oncol 50(3):221–227

6.

Faby S, Kuchenbecker S, Sawall S et al (2015) Performance of today's dual energy CT and future multi energy CT in virtual non-contrast imaging and in iodine quantification: a simulation study. Med Phys 42(7):4349–4366

7.

Kaemmerer N, Brand M, Hammon M et al (2016) Dual-energy computed tomography angiography of the head and neck with single-source computed tomography: a new technical (split filter) approach for bone removal. Invest Radiol 51(10):618–623

8.

Euler A, Parakh A, Falkowski AL et al (2016) Initial results of a single-source dual energy computed tomography technique using a split-filter: assessment of image quality, radiation dose, and accuracy of dual-energy applications in an in vitro and in vivo study. Invest Radiol 51:491–498

9.

Uhrig M, Simons D, Kachelrieß M, Pisana F, Kuchenbecker S, Schlemmer HP (2016) Advanced abdominal imaging with dual energy CT is feasible without increasing radiation dose. Cancer Imaging 16(1):15

10.

Deak PD, Smal Y, Kalender WA (2010) Multisection CT protocols: sex- and age-specific conversion factors used to determine effective dose from dose-length product. Radiology 257:158–166

11.

Landis JR, Koch GG (1977) The measurement of observer agreement for categorical data. Biometrics 33(1):159–174

12.

Lam S, Gupta R, Levental M, Yu E, Curtin HD, Forghani R (2015) Optimal virtual monochromatic images for evaluation of normal tissues and head and neck cancer using dual-energy CT. AJNR Am J Neuroradiol 36(8):1518–1524

13.

Almeida IP, Schyns LE, Öllers MC et al (2017) Dual-energy CT quantitative imaging: a comparison study between twin-beam and dual-source CT scanners. Med Phys 44(1):171–179

14.

Wuest W, May MS, Brand M et al (2015) Improved image quality in head and neck CT using a 3D iterative approach to reduce metal artifact. AJNR Am J Neuroradiol 36:1988–1993
Funding
The authors state that this work has not received any funding.
Ethics declarations
Guarantor
The scientific guarantor of this publication is Wolfgang Wuest.
Conflict of interest
The authors of this manuscript declare relationships with the following companies: Rafael Heiss, Marco Wiesmueller, Michael Uder, Matthias Stefan May, and Wolfgang Wuest are members of Siemens Healthcare GmbH speakers' bureau.
Statistics and biometry
One of the authors has significant statistical expertise.
Informed consent
Written informed consent was obtained from all subjects in this study.
Ethical approval
Institutional Review Board approval was obtained.
Methodology
• prospective
• cross-sectional study
• performed at one institution
About this article
Cite this article
May, M.S., Wiesmueller, M., Heiss, R. et al. Comparison of dual- and single-source dual-energy CT in head and neck imaging. Eur Radiol 29, 4207–4214 (2019). https://doi.org/10.1007/s00330-018-5762-y
Received:

Revised:

Accepted:

Published:

Issue Date:
Keywords
Diagnostic imaging

Head and neck neoplasms

Image enhancement