Abstract
Purpose
To compare the diagnostic performance of 18-FDG-PET/MR and PET/CT for the N- and M- staging of breast cancer.
Methods and materials
Two independent readers blinded to clinical/follow-up data reviewed PET/MR and PET/CT examinations performed for initial or recurrent breast cancer staging in 80 consecutive patients (mean age = 48 ± 12.9 years). The diagnostic confidence for lesions in the contralateral breast, axillary/internal mammary nodes, bones and other distant sites were recorded. Sensitivity, specificity, positive (PPV) and negative predictive values (NPV) were calculated. The standard of reference included pathology and/or follow-up > 12 months.
Results
Nine of 80 patients had bone metastases; 13/80 had other distant metastases, 44/80 had axillary, 9/80 had internal mammary and 3/80 had contralateral breast tumours. Inter-reader agreement for lesions was excellent (weighted kappa = 0.833 for PET/CT and 0.823 for PET/MR) with similar reader confidence for the two tests (ICC = 0.875). In the patient-per-patient analysis, sensitivity and specificity of PET/MRI and PET/CT were similar (p > 0.05). In the lesion-per-lesion analysis, the sensitivity of PET/MR and PET/CT for bone metastases, other metastases, axillary and internal mammary nodes, contralateral tumours and all lesions together was 0.924 and 0.6923 (p = 0.0034), 0.923 and 0.923 (p = 1), 0.854 and 0.812 (p = 0.157), 0.9 and 0.9 (p = 1), 1 and 0.25 (p = 0.083), and 0.89 and 0.77 (p = 0.0013) respectively. The corresponding specificity was 0.953 and 1 (p = 0.0081), 1 and 1 (p = 1), 0.893 and 0.92 (p = 0.257), 1 and 1 (p = 1), 0.987 and 0.99 (p = 1) and 0.96 and 0.98 (p = 0.0075) respectively.
Conclusions
Reader confidence, inter-reader agreement and diagnostic performance per patient were similar with PET/MR and PET/CT. However, for all lesions together, PET/MR had a superior sensitivity and lower specificity in the lesion-per-lesion analysis.
Key Points
• N and M breast cancer staging performance of PET/MR and PET/CT is similar per patient.
• In a lesion-per-lesion analysis PET/MR is more sensitive than PET/CT especially for bone metastasis.
• Readers' diagnostic confidence is similar for both tests.
Access options
Buy single article
Instant access to the full article PDF.
USD 39.95
Price excludes VAT (USA)
Tax calculation will be finalised during checkout.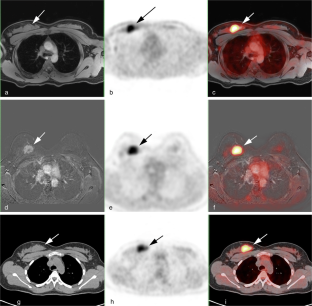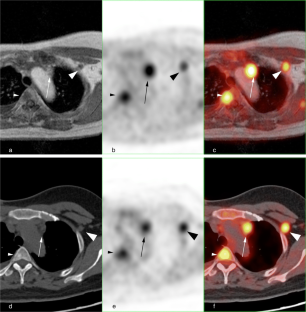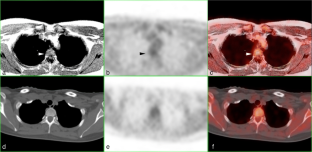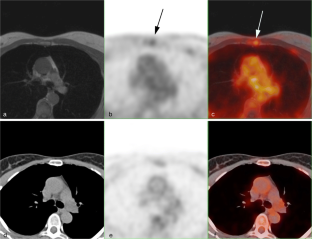 Similar content being viewed by others
Abbreviations
18-FDG:

2-deoxy-2-(18F) fluoro-D-glucose

MIP:

Maximum intensity projection

NAC:

Neo-adjuvant chemotherapy

NPV:

Negative predictive value

PET/CT:

Positron emission tomography/computed tomography

PET/MR:

Positron emission tomography/magnetic resonance

PPV:

Positive predictive value
References
Organisation WH (2017) Cancer Fact Sheet. In: World Health Organisation. Available via http://www.who.int/news-room/fact-sheets/detail/cancer.

Houssami N, Ciatto S, Macaskill P et al (2008) Accuracy and surgical impact of magnetic resonance imaging in breast cancer staging: systematic review and meta-analysis in detection of multifocal and multicentric cancer. J Clin Oncol 26:3248–3258

Mariscotti G, Houssami N, Durando M et al (2014) Accuracy of mammography, digital breast tomosynthesis, ultrasound and MR imaging in preoperative assessment of breast cancer. Anticancer Res 34:1219–1225

Sardanelli F, Boetes C, Borisch B et al (2010) Magnetic resonance imaging of the breast: recommendations from the EUSOMA working group. Eur J Cancer 46:1296–1316

Mann RM, Kuhl CK, Kinkel K, Boetes C (2008) Breast MRI: guidelines from the European Society of Breast Imaging. Eur Radiol 18:1307–1318

Dietzel M, Baltzer PA, Vag T et al (2010) Application of breast MRI for prediction of lymph node metastases—systematic approach using 17 individual descriptors and a dedicated decision tree. Acta Radiol 51:885–894

Baltzer PA, Dietzel M, Burmeister HP et al (2011) Application of MR mammography beyond local staging: is there a potential to accurately assess axillary lymph nodes? evaluation of an extended protocol in an initial prospective study. AJR Am J Roentgenol 196:W641–W647

Weigelt B, Peterse JL, van 't Veer LJ (2005) Breast cancer metastasis: markers and models. Nat Rev Cancer 5:591–602

Gradishar WJ, Anderson BO, Blair SL et al (2014) Breast cancer version 3.2014. J Natl Compr Canc Netw 12:542–590

Lauenstein TC, Freudenberg LS, Goehde SC et al (2002) Whole-body MRI using a rolling table platform for the detection of bone metastases. Eur Radiol 12:2091–2099

Gutzeit A, Doert A, Froehlich JM et al (2010) Comparison of diffusion-weighted whole body MRI and skeletal scintigraphy for the detection of bone metastases in patients with prostate or breast carcinoma. Skeletal Radiol 39:333–343

Taneja S, Jena A, Goel R, Sarin R, Kaul S (2014) Simultaneous whole-body 183F-FDG PET-MRI in primary staging of breast cancer: a pilot study. Eur J Radiol 83:2231–2239

Tabouret-Viaud C, Botsikas D, Delattre BM et al (2015) PET/MR in Breast Cancer. Semin Nucl Med 45:304–321

Catalano OA, Nicolai E, Rosen BR et al (2015) Comparison of CE-FDG-PET/CT with CE-FDG-PET/MR in the evaluation of osseous metastases in breast cancer patients. Br J Cancer 112:1452–1460

Botsikas D, Kalovidouri A, Becker M et al (2016) Clinical utility of 18F-FDG-PET/MR for preoperative breast cancer staging. Eur Radiol 26:2297–2307

Melsaether AN, Raad RA, Pujara AC et al (2016) Comparison of whole-body (18) F FDG PET/MR imaging and whole-body (18) F FDG PET/CT in terms of lesion detection and radiation dose in patients with breast cancer. Radiology 281:193–202

Cho IH, Kong EJ (2017) Potential clinical applications of 18F-fluorodeoxyglucose positron emission tomography/magnetic resonance mammography in breast cancer. Nucl Med Mol Imaging 51:217–226

Grueneisen J, Sawicki LM, Wetter A et al (2017) Evaluation of PET and MR datasets in integrated 18F-FDG PET/MRI: A comparison of different MR sequences for whole-body restaging of breast cancer patients. Eur J Radiol 89:14–19

Ohno Y, Kauczor HU, Hatabu H, Seo JB, van Beek EJR; International Workshop for Pulmonary Functional Imaging (IWPFI) (2018) MRI for solitary pulmonary nodule and mass assessment: current state of the art. J Magn Reson Imaging 47:1437–1458

Sawicki LM, Grueneisen J, Schaarschmidt BM et al (2016) Evaluation of (1)(8)F-FDG PET/MRI, (1)(8)F-FDG PET/CT, MRI, and CT in whole-body staging of recurrent breast cancer. Eur J Radiol 85:459–465

Pace L, Nicolai E, Luongo A et al (2014) Comparison of whole-body PET/CT and PET/MRI in breast cancer patients: lesion detection and quantitation of 18F-deoxyglucose uptake in lesions and in normal organ tissues. Eur J Radiol 83:289–296

Dregely I, Lanz T, Metz S et al (2015) A 16-channel MR coil for simultaneous PET/MR imaging in breast cancer. Eur Radiol 25:1154–1161

Kong EJ, Chun KA, Bom HS, Lee J, Lee SJ, Cho IH (2014) Initial experience of integrated PET/MR mammography in patients with invasive ductal carcinoma. Hell J Nucl Med 17:171–176

Wang J, Shih TT, Yen RF (2017) Multiparametric evaluation of treatment response to neoadjuvant chemotherapy in breast cancer using integrated PET/MR. Clin Nucl Med 42:506–513

Wangerin KA, Muzi M, Peterson LM et al (2015) Effect of 18F-FDG uptake time on lesion detectability in PET imaging of early stage breast cancer. Tomography 1:53–60

Boerner AR, Weckesser M, Herzog H et al (1999) Optimal scan time for fluorine-18 fluorodeoxyglucose positron emission tomography in breast cancer. Eur J Nucl Med 26:226–230

Catalano OA, Daye D, Signore A et al (2017) Staging performance of whole-body DWI, PET/CT and PET/MRI in invasive ductal carcinoma of the breast. Int J Oncol 51:281–288

van Nijnatten TJA, Goorts B, Vöö S et al (2018) Added value of dedicated axillary hybrid 18F-FDG PET/MRI for improved axillary nodal staging in clinically node-positive breast cancer patients: a feasibility study. Eur J Nucl Med Mol Imaging 45:179–186
Funding
The authors state that this work has not received any funding.
Ethics declarations
Guarantor
The scientific guarantor of this publication is Diomidis Botsikas. MD, Privat Docent (PD).
Conflict of interest
All authors declare no conflict of interest.
Statistics and biometry
One of the authors has significant statistical expertise.
No complex statistical methods were necessary for this article.
Informed consent
Written informed consent was obtained from all subjects (patients) in this study.
Ethical approval
Institutional Review Board approval was obtained.
Study subjects or cohorts overlap
Data of PET/MR examinations of 42 patients were included in the article below. This article focused on the diagnostic performance of PET/MR in loco-regional staging of breast cancer and data of PET/CT were not analysed. This same article also included PET/MR after neoadjuvant systemic treatment while the present manuscript includes only data from the initial PET/MR study.
Clinical utility of 18F-FDG-PET/MR for preoperative breast cancer staging. Botsikas D, Kalovidouri A, Becker M, Copercini M, Djema DA, Bodmer A, Monnier S, Becker CD, Montet X, Delattre BM, Ratib O, Garibotto V, Tabouret-Viaud C. Eur Radiol. 2016 Jul;26(7):2297-307. doi: 10.1007/s00330-015-4054-z. Epub 2015 Oct 17.
Methodology
• prospective
• diagnostic or prognostic study
• performed at one institution
About this article
Cite this article
Botsikas, D., Bagetakos, I., Picarra, M. et al. What is the diagnostic performance of 18-FDG-PET/MR compared to PET/CT for the N- and M- staging of breast cancer?. Eur Radiol 29, 1787–1798 (2019). https://doi.org/10.1007/s00330-018-5720-8
Received:

Revised:

Accepted:

Published:

Issue Date:

DOI: https://doi.org/10.1007/s00330-018-5720-8
Keywords